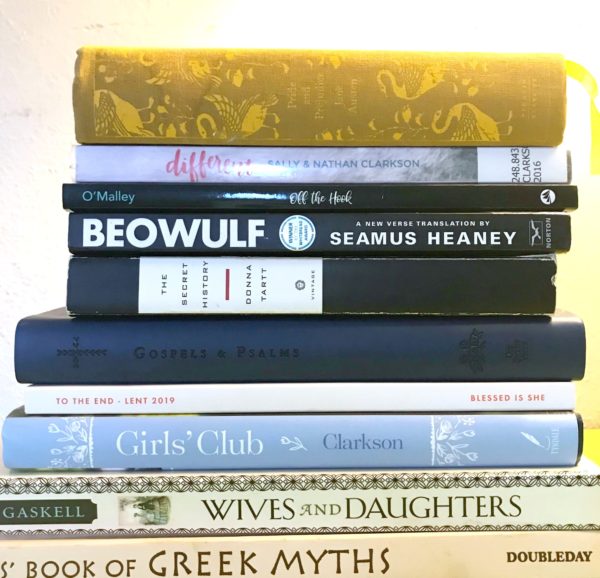 Since I love chatting about books, I've been trying to share our family's current reads on a regular basis here on the blog. And I like sharing the love by giving away books to my readers!
Here's a few of the great titles I've picked up lately as well as my #cathLIT2019 reads (And just scroll down to see how to enter the giveaway!):
(This post contains affiliate links. If a sale is made through an affiliate link, I may be compensated but all opinions are my own.)
Lately I Finished…:
Off the Hook: God, Love, Dating, and Marriage in a Hookup World by Timothy O'Malley
This was my pick for the "Recently Published Catholic Book" category of the #cathLIT2019 challenge! I think it's a fabulous book for singles looking toward marriage, engaged couples, or married couples who want to dive deeper into living out the sacramental nature of their vocation in a culture with toxic ideas about love, sex, and marriage. Really looking forward to having the author on the FoC podcast!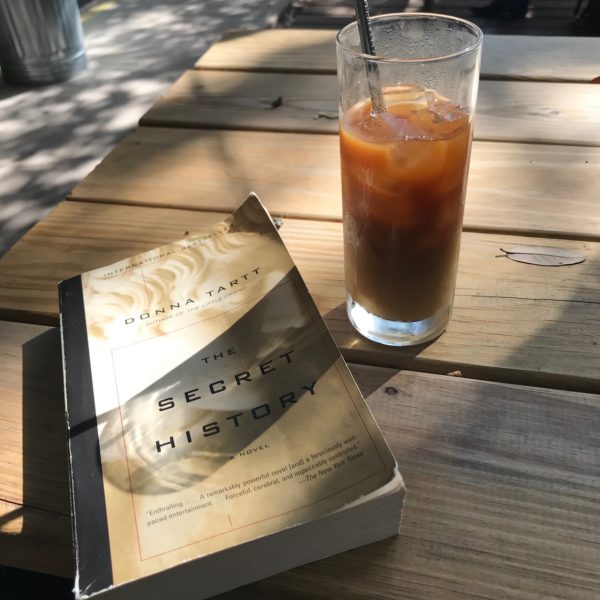 The Secret History by Donna Tartt
My Twitter friend turned real life friend, Boze, gifted me this book for Christmas and wow! I absolutely loved it. It's a murder mystery but more the how and fallout of the murder than a whodunnit. Tartt is so brilliant and all the literary references, incredible characters, and clever dialogue made this is incredible read. Highly recommend if you're not opposed to a little grit and death. I will definitely be picking up her other novels!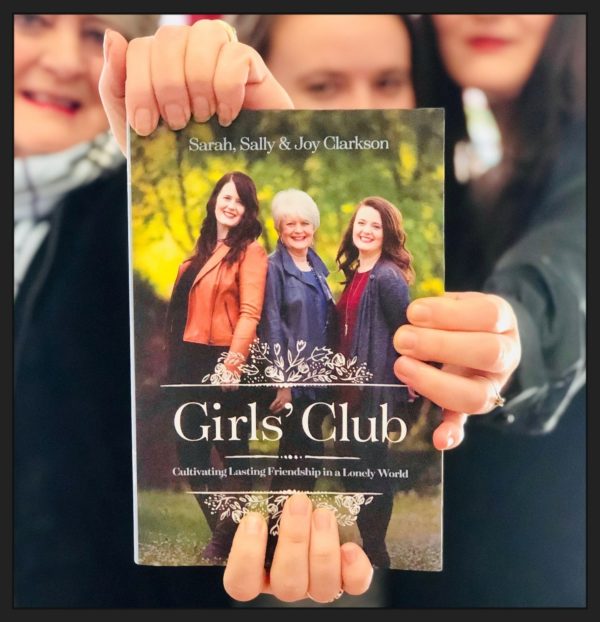 Girls' Club by Sarah, Sally, and Joy Clarkson
This book was an absolute treat and it encouraged me of the significance of some of my priorities as well as inspired me in new ways in cultivating my own "Girls' Club" of friendship with my daughters. Joy and Sarah are both a delight and I'm becoming a little bit obsessed with Sally which is why I picked up…
Different: The Story of an Outside-the-Box Kid and the Mom Who Loved Him by Sally Clarkson and Nathan Clarkson
If I'm going to read a parenting book, I'd really like it to be by someone who is a grandparent, not a young mom. Hence my obsession with Sally Clarkson. I absolutely love her whole perspective on parenthood and basically want to be her when I grow up. After I devoured Girls' Club I discovered she'd written this book with one of her sons and promptly checked it out of my library. When one of your kids is extraordinary in ways that make ordinary life challenging, it's so easy to feel alone. I feel like this book is already completely revitalizing the way I parent one of my kids and has made me more aware of when my expectations for my other kids will simply not fit with this particular child. Different also helped me realize that sometimes my reactions to this child are coming from a place of fear of judgement from other people for behavioral issues when MY focus needs to be on what my child needs even if it means they are wiggler, louder, more intense, or just MORE than my other kids or what is generally considered acceptable for the typical child. This Lent I felt guided by the Holy Spirit not to give up something else but to focus on loving my family well through the sleep-deprivation and challenges of this season of life. And I think He's doing lots of good work in my heart and this book is part of that good work. Highly recommend.
For the Brit Lit class I'm teaching for our homeschool co-op:
Beowulf (translated by Seamus Heaney)
Sir Gawain and the Green Knight (translated by J.R.R. Tolkien)
Current Reads:
The Blessed Is She To the End Lenten Journal
I shared about this one and other lenten reads in this post.
Journaling through the Gospels and Psalms from Our Sunday Visitor
This is a really lovely volume with space for journaling on each page of Scripture.
On Audiobook
Pride and Prejudice by Jane Austen (read by Rosamund Pike)
Wives and Daughters by Elizabeth Gaskell (read by Nadia May)
Audiobooks with the kids
The First Four Years by Laura Ingalls Wilder (read by Cherry Jones)
My Father's Dragon by Ruth Stiles Gannett (read by Kevin Killavey)
Homeschool Read Aloud
D'Aulaires' Book of Greek Myths
GIVEAWAY
I have a lovely copy of To Middle-earth and Back Again by Tea with Tolkien's Kaitlyn Facista to give away to a lucky reader!
This workbook journal explores Tolkien's Catholic faith and the influence it had on his writings, inspiring the reader to reflection as we seek to carry the spirit of Middle-Earth into our own daily lives. So fun!
Head over to my Instagram account: @haleycarrots to enter the giveaway!
What are you reading and enjoying lately? Let me know in the comments!
P.S. I've been doing a lot more podcasting and freelance work lately and I rarely have a chance to direct Carrots readers over to these episodes or articles via blog post. If you want to stay current on my writing and podcast blabbing (as well as general Carrots news/family updates, etc), make sure you're signed up to receive my weekly email newsletter. It's free, of course, and lots of fun!