Last October I did something I have never, ever done before. I went to Europe.
I traveled to France and spent 10 days on pilgrimage with more than 50 other women, mostly Catholics, a mix of moms, marrieds, singles, teenagers, and grandmothers. If 2020 taught me anything, it's to seize the day and so when the opportunity arose, Daniel and I figured out childcare and I flew to France with Select International Tours. We had daily Mass, visited gothic cathedrals, went sight seeing in Paris, walked in the footsteps of St. Therese in Lisieux and prayed at her tomb, stood in the square where St. Joan of Arc was martyred, and so much more. It was life-changing. I came home feeling more clear-headed and restored than I have since my oldest child was born 13 years ago. It was a gift.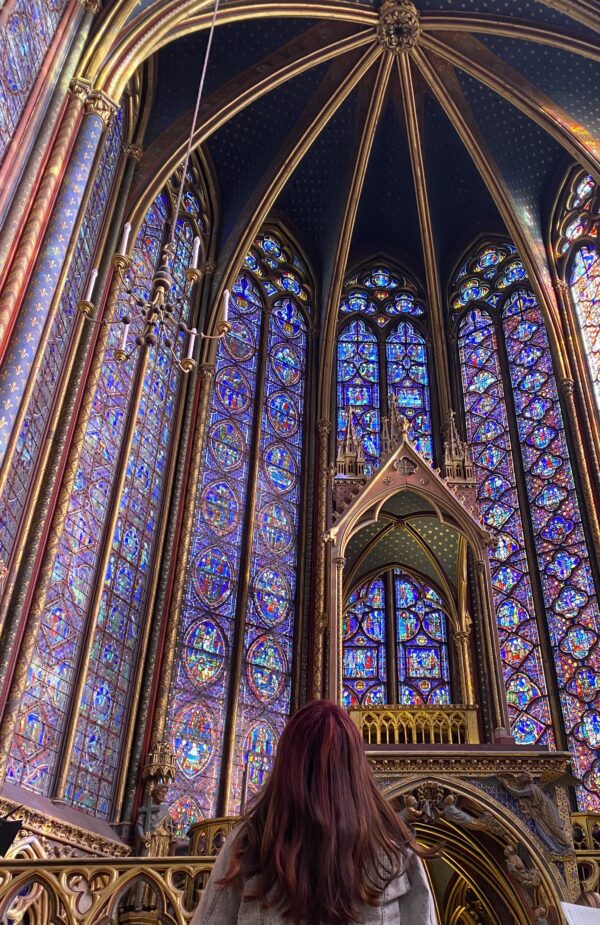 This summer, I want to invite you to travel with me to the UK. I'm partnering with Select International Tours because they have 35 years experience organizing pilgrimages all over the world and I continue to be astounded at how beautifully they coordinate these trips. There is no way I would have the confidence to lead a trip if I were responsible for all the behind-the-scenes work that they do to make these pilgrimages amazing and seamless!
So let me tell you about my 2022 trips that I would love for you to join me on! First of all, both trips will be smaller and more intimate than the trip I took to France (which was by boat rather than by bus). Neither trip is sold out yet, but they are filling up quickly!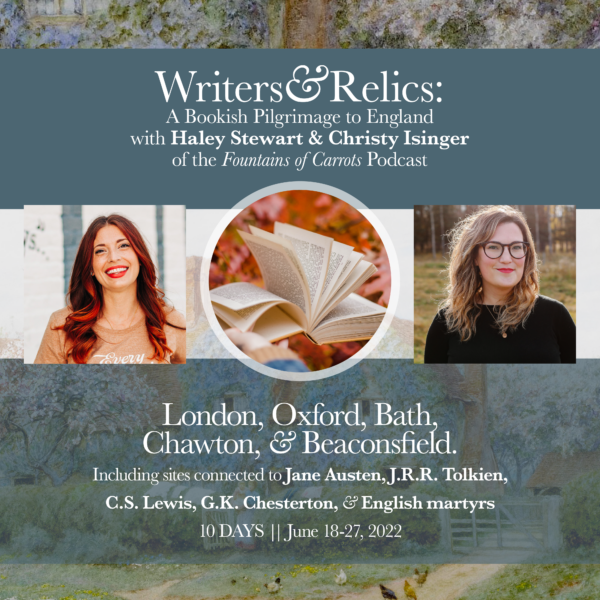 In June (18-27th) my Fountains of Carrots podcasting co-host and partner in crime Christy Isinger and I are leading a bookish pilgrimage to England. We will be visiting the homes and cities of our favorite authors including C.S. Lewis, J.R.R. Tolkien, Jane Austen, and G.K. Chesterton! We'll see London, Oxford, Bath, Chawton, and Beaconsfield to name a few. And we'll be spending a day in Oxford with Joy and Sally Clarkson. We'll also be visiting sites and relics of the English martyrs like the Tower of London and Tyburn Convent! View full itinerary here.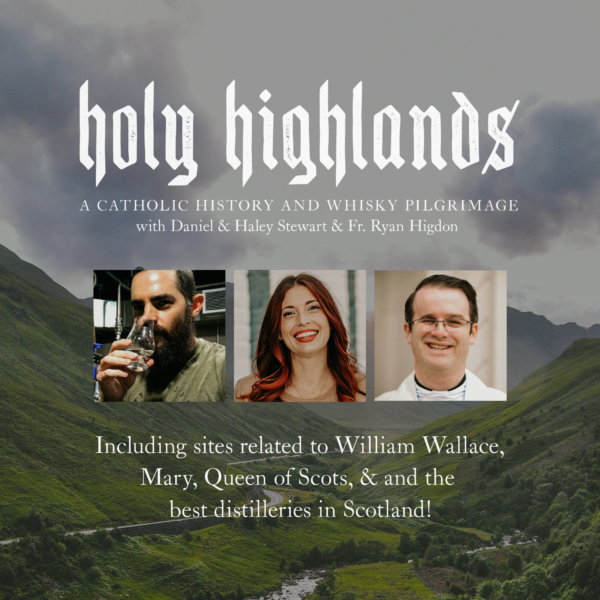 Then in July (20-30th) my whisky distiller husband Daniel and I and our pastor Fr. Ryan Higdon and our friend Fr. Harrison Ayre will be leading a trip to Scotland focusing on Catholic history and…whisky! So far the pilgrims are a fun mix of couples and singles. The trip will feature daily Mass, Edinburgh, Loch Ness, Islay, Inverness, St. Andrews, and more as we see sites connected to Mary Queen of Scots, William Wallace, and Catholic history and taste some of the best whisky in the world as we tour Scottish distilleries. View full itinerary here.
Frequently asked questions:
How soon do I need to register?
As soon as possible! In order to reserve the proper number of hotel rooms, flights, and transportation in the UK, Select needs your registration and deposit ASAP! You can click here to view the full brochure of each trip and register as well as view Select's number to call if you have any questions about the registration process: https://selectinternationaltours.com/haley-stewart/
Are children allowed?
For the England trip, kids age 8 and up are welcome. For Scotland, because we will be touring distilleries, pilgrims need to be at least 18–the legal drinking age in Scotland.
Can I go if I'm not Catholic?
Absolutely. The trip to England will offer Mass on Sundays and the trip to Scotland will offer daily Mass but there's no obligation to attend–although you're always welcome! As long as you are comfortable traveling with Catholics and visiting some cool relics, then come on down. We'd love to have you.
Will you be doing these trips again?
At this point we do not have any plans to repeat these trips. And we definitely will not be repeating either trip in 2023.
What about Covid restrictions?
While we don't anticipate that the UK will close to tourists, we do know that this pandemic has thrown some curveballs so travel insurance is a must. I can say that traveling in France last October, the policies in place were not onerous. I would expect that the UK will continue to require vaccination (if you want to travel without several days of quarantining upon arrival).
Got another question? Join us on a live Zoom Friday the 21st at 8pm Central!
Daniel, Fr. Harrison, and I will be having a wee dram this Friday and answering your questions about Scotland. We'd love for you to join us! Shoot me an email (haley.s.stewart@gmail.com) and I'll send over the link. And feel free to reach out if you have any questions about either trip! If you're ready to sign up, then head to Select's website and let's get this party started!