Welcome to Carrots! I'm so glad you're back. You can sign up for my email newsletter here to stay in touch, or look me up on Facebook or Instagram!
One of my favorite things about the internet is having more people to talk about books with. And I love seeing reading challenges from my favorite writers and bloggers pop into my inbox this time of year.
I thought it would be fun (mostly to get some accountability for my own 2019 reading list!) to set up a reading challenge of 19 Catholic books for 2019 so we could all dive a little deeper into our faith and work our intellectual muscles a bit.
Enter CathLIT. Get it? Catholic literature? I asked Twitter for name ideas and there were some HILARIOUS ones like
Waugh To Those Who Do Not Read
Flanne-readers
Pages for Papists
Books for Catholics Who Are Still Avoiding Reading the Bible
Summa READalogica
Reading: No Longer Just for Prots!
But CathLIT is short, sweet, and easy to remember (and hashtag). So ta da!
Here's how it works: Choose one book for each category below. You can choose from the suggestions listed in each category, or pick your own read that fits the bill (if you pick your own, please share what it is in the comments so other folks joining in have more suggestions at their fingertips!). If you want to share your Catholic reads on social media you can use #cathlit2019
If reading 19 books in a year is simply too much for your life right now (new baby, busy year at work, moving, illness, etc) just choose a book from half of the categories! You can do that, right?! Of course you can!
(Before we dive into the categories, here's a few tips for reading more in the new year and my reasons for crafting a yearly reading list for myself and how to create your own.)
Caveat: I've read many of these but some were suggested by others and I haven't read them yet. So…if you detest one of the suggested books, my apologies.
(Links to Amazon are affiliate links which manes if a purchase is made I will receive a small percentage of the sale–at no additional cost to you, of course.)
A Spiritual Memoir
Suggestions:
The Long Loneliness by Dorothy Day
The Seven Storey Mountain by Thomas Merton
My Sisters, the Saints by Colleen Carroll Campbell
A Classic Spiritual Work
Suggestions:
Introduction to the Devout Life by St. Francis de Sales
The Imitation of Christ by Thomas a Kempis
Interior Castle by St. Teresa of Avila
Story of a Soul by St. Therese of Lisieux
The Three Ages of the Interior Life by Rev. Reginald Garrigou-Lagrange
A Book about Mary
Suggestions:
Mary and the Fathers of the Church by Luigi Gambero
Jesus and the Jewish Roots of Mary by Brant Pitre
True Devotion to Mary by St. Louis de Montfort
Book by a Catholic Novelist 
Suggestions:
The Power and the Glory by Graham Greene
Brideshead Revisited by Evelyn Waugh
Memento Mori by Muriel Spark
Silence by Shusaku Endo
The Violent Bear It Away by Flannery O'Connor
Love in the Ruins by Walker Percy
Diary of a Country Priest by George Bernanos
Lord of the World by Robert Hugh Benson
Book by a Pope
Suggestions:
Laudato Si by Pope Francis
Veratatis Splendor by Pope St. John Paul II
Jesus of Nazareth by Pope Benedict XVI
Book by a Catholic Woman
Suggestions:
The Reed of God by Caryll Houselander
Essential Writings by St Edith Stein
The Privilege of Being a Woman by Alice von Hildebrand
Revelations of Divine Love by Lady Julian of Norwich
A Book about the Liturgy
Suggestions:
The Spirit of the Liturgy by Pope Benedict XVI
The Biblical Roots of the Mass by Thomas J. Nash
Jesus and the Jewish Roots of the Eucharist by Brant Pitre
The Lamb's Supper by Scott Hahn
Book by an Early Church Father
Suggestions:
The Letters of St Ignatius of Antioch
On Social Justice by St. Basil the Great
On Faith, Hope, and Love by St Augustine
A Conversion Story
Suggestions:
Something Other Than God by Jennifer Fulwiler
An Immovable Feast by Tyler Blanski
The Confessions by St. Augustine
A Book about Apologetics
Suggestions:
Why I Am Catholic by Brandon Vogt
Orthodoxy by G.K. Chesterton
Handbook of Christian Apologetics by Peter Kreeft
Answering Atheism by Trent Horn
The Light of Christ by Thomas Joseph White
A Book by an Orthodox Christian
Suggestions:
Laurus by Eugene Vodolazkin
The Brothers Karamazov by Fyodor Dostoevsky
A Hagiography
Suggestions:
Catherine of Siena by Sigrid Undset
Black Elk: Holy Man of the Oglala by Michael Steltenkamp
St. Thomas Aquinas: The Dumb Ox by G.K. Chesterton
Magnus by George Mackay Brown
Helena by Evelyn Waugh
A LONG Catholic Book
Suggestions:
In This House of Brede by Rumer Godden
Kristin Lavransdatter by Sigrid Undset
Island of the World by Michael O'Brien
The Lord of the Rings by J.R.R. Tolkien
A Book by a Catholic Philosopher
Suggestions:
After Virtue by Alasdair MacIntyre
Leisure: the Basis of Culture by Josef Pieper
Aquinas's Shorter Summa by St. Thomas Aquinas
A Catholic Classic
Suggestions:
The Divine Comedy by Dante Alighieri
The Canterbury Tales by Geoffrey Chaucer
Beowulf (don't beef with me, this book is totally Catholic)
Book by a Saint
Suggestions:
Hildegard of Bingen: A Spiritual Reader by St. Hildegard von Bingen
On Loving God by St. Bernard of Clairvaux
The Scandal of Redemption by St. Oscar Romero
Life of Christ by Ven. Fulton Sheen
A Book by a Non-Catholic that All the Catholics are Reading
Suggestions:
Middlemarch by George Eliot
Mere Christianity by C.S. Lewis
Death Comes for the Archbishop by Willa Cather
Love in the Void by Simone Weil
Gilead by Marilynne Robinson
On Reading Well by Karen Swallow Prior
All the Light We Cannot See by Anthony Doerr
Book about a Catholic Monarch
Suggestions:
Mary, Queen of Scots by Antonia Fraser
The Once and Future King by T.H. White (a fictional monarch counts, right?)
Before Church and State by Anthony Willard Jones
A Recently Published Catholic Book
Suggestions:
The Power of Silence by Robert Cardinal Sarah
The Bloody Habit by Eleanor Bourg Nicholson
One Beautiful Dream by Jennifer Fulwiler
and ending this list with a shameless plug…
The Grace of Enough: Pursuing Less and Living More in a Throwaway Culture by Haley Stewart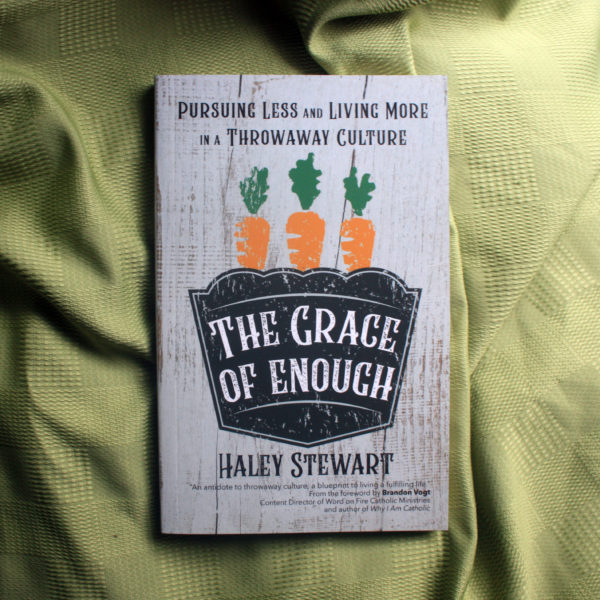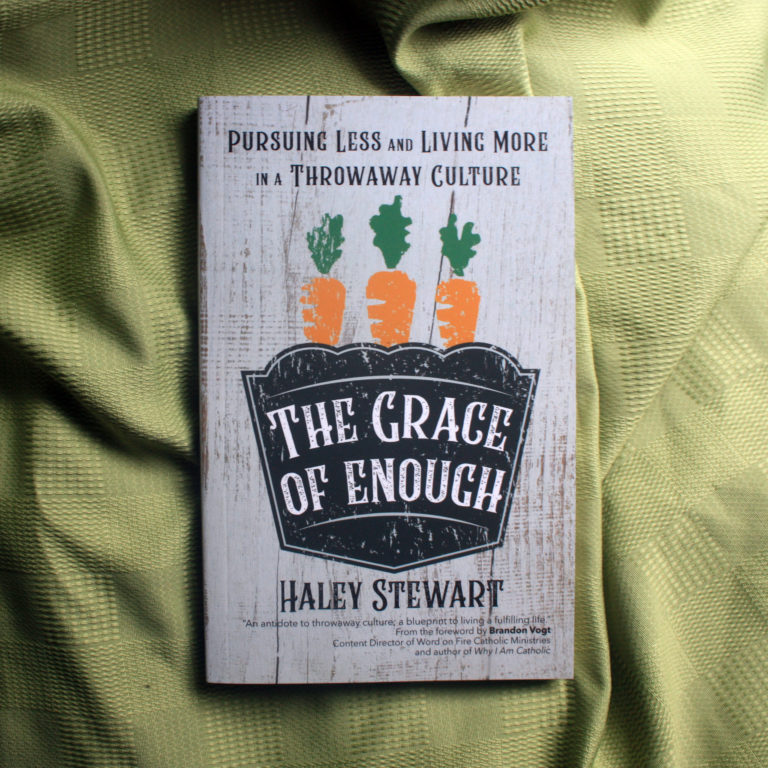 Happy reading! And feel free to tag me (@haleycarrots on Instagram and Twitter) when you share your #cathlit2019 reads because I'd love to see what's on your bookshelf this year!
Psst! Don't miss new Carrots posts! Sign up to get new posts delivered straight to your inbox here .