It finally happened. After years of encountering only lovely folks in Mass we finally got a negative comment about our kids. And it wasn't even about our kids behavior, just that they were THERE.
We sat down in the pew and the woman behind us immediately said (loudly) "Ugh. Why don't people leave their kids in the nursery!"
Boy, nothing gives a great start to Mass like knowing the person behind you is hating that your family is merely existing in your pew. (And it's not like I was carrying in a fussy newborn or a shrieking two-year-old. Our kids are 4, 5.5, and 8!)
The processional hymn was beginning so I didn't have a chance to enlighten this woman with an answer to her question, but I did turn around to give her a BIG SMILE to which she gave a nervous smile in return.
I admit to sending up some desperate prayers, "Please don't let this be the Sunday that the four-year-old has a meltdown, Lord. I'm not sure how much humiliation I can handle today." Heaven took pity on me and everyone did great–even the wiggly, chatty four-year-old.
Our critical friend in the pew behind us hightailed it out of there before the recessional hymn so I didn't get a chance to answer her question after Mass. Allow me to do so here:
"Why don't we leave our kids in the nursery?
Because they are baptized Christians with as much right to be there as anyone else on the planet.
Why don't we leave our kids in the nursery?
Because our children are part of the Body of Christ and we worship as a FAMILY, not in age-segregated rooms.
Why don't we leave our kids in the nursery?
Because we think being in Mass is the most important thing we do every week. Why wouldn't we want our kids to be a part of that?
Why don't we leave our kids in the nursery?
Because we want them to understand how to behave in Mass and going to Mass is the best way to practice that.
Why don't we leave our kids in the nursery?
Because Mass is the only hour of their week that they will encounter EVERYONE together. Newborns all the way up to grandfathers. At our church in central Texas sitting in the pew next to my white family are black families, Mexican families, and Vietnamese families. Rich people, poor people, people with special needs. We are all together. Even the crying babies and the bad singers and the gentleman whose hearing aid makes that high pitched sound.
Why don't we leave our kids in the nursery?
Because the altar isn't in the nursery. We go to Mass to encounter JESUS in the Blessed Sacrament. And the Holy Scriptures tell us that He wants the little children to come to him.
The reason you see our kids in the pew in front of you is because Jesus told us to bring them. A reason that trumps your unfortunate preference for a child-free Mass. I hope that answers your question, ma'am. Happy Sunday!"
Remember to encourage families with young children when you see them at Mass. You will never know how much that means to them. During the craziest season of our Mass days–newborn, a 19mo, and a 4yo–when just getting to Mass was a Herculean effort and surviving Mass felt almost impossible, I was brought to TEARS by parishioners who made a point to come up to me and say, "You are doing a great job! I love seeing your beautiful family here."
And when priests encourage families to bring their children to Mass and advocate for them? It means the world. The priest that baptized our daughters would even give a shout out to families with crying babies during his homily, "Isn't it great to hear babies in here?! What a gift to have a church filled with life!" Another priest told me that whenever a parishioner complains to him about the sound of babies in Mass he reminds them that they are going to die and those babies are the future of the Church.
P.S. If you're in an insane season of life or a difficult situation (I'm thinking of you, single parents, military wives, moms of multiples, fill-in-the-blank with your crazy circumstance) and you NEED to use that nursery, that is ok. Jesus knows exactly what is going on in your life. Do your best and use that nursery if you need to, guilt-free!
P.P.S. "But I've seen some kids that aren't well-behaved" is not a good argument for making families feel unwelcome and unwanted at Mass. As is clear from our experience at Mass this week, polite behavior can't always be exhibited by grown ups, either.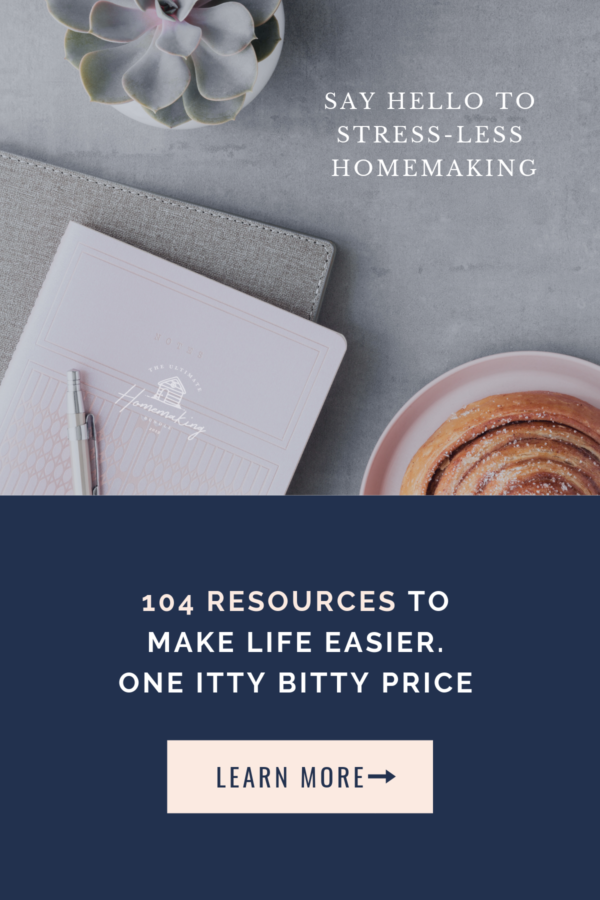 Psst! Now through May 6th the Ultimate Homemaking Bundle sale is here! They handpick ebooks, ecourses, printables and more from great writers, bloggers, and online influencers to create a helpful and inspiring collection at an unbeatable price.
When you buy the Ultimate Homemaking Bundle you'll get access to:
27 eBooks (including mine on motherhood)
30 eCourses & videos
25 printables
16 workbooks
3 summits
2 membership sites
Fabulous bonuses (like You Need a Budget membership, free handmade soap and lip balm, free mineral makeup, free children's books, and much more!)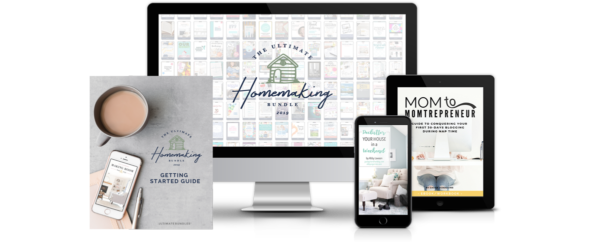 The creators behind these resources are 100+ women who have struggled with the same things as you, but strive (and will teach you) to simplify their homes, declutter & organize, put healthy meals on the table, nurture strong family relationships, and practice good self-care.
Best of all, you can get all 104 resources for just $29.97.
Many of the INDIVIDUAL products included in the bundle cost more than this if bought separately with the total value of the 104 products included being $2,294.37.  So it is truly the steal of the year with contributions from Erin Odom of The Humbled Homemaker, Kendra Adachi of The Lazy Genius and so many more!
But the sale ends May 6th! So run, don't walk, to the bundle site to see all the great books and resources that are included to inspire and encourage you in your homemaking.