It's here! I've been working for a few months on compiling my writing on my first decade of motherhood and creating an ebook designed to encourage, help you reflect on the spiritually rich transformation of becoming a mother, and affirm you by showing you that you are not alone in your struggles! It's called Burning Bright, Not Burning Out: Notes from a Decade of Surviving Motherhood.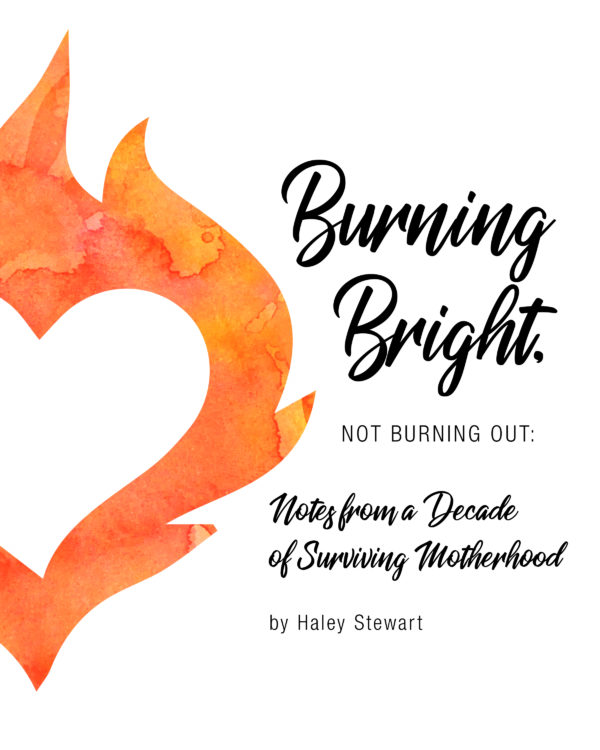 And it's available today and tomorrow as part of the Ultimate Homemaking Bundle. If you want to learn more about the ebook, keeping reading! Or just head over to grab your copy of the bundle head over with my author affiliate link right here!
Nothing in my life has changed me like becoming a mother to my children. It has been the most joyful and painful experience of my life and sometimes I hardly recognize the woman I was before I had children.
After a decade of motherhood, I'm obviously not an expert on parenting. And this is not a book about how to parent your kids. But I have been through the misery of hyperemesis gravidarum pregnancies, the beside myself with exhaustion season of new motherhood, the touched out and overwhelmed 3 kids age 4 and under season, the new challenges of having big kids, learning self-care after falling apart, and the change that has taken root in my own heart through it all.
While I look with awe at how much my children have changed as they learn and grow, perhaps it's me that has changed the most over the past ten years.
For me, motherhood has been at its heart a deeply spiritual experience. It's been a process of learning to open myself up to the Love of Christ so that I can shine brightly in my motherhood (and not allow lies, unreasonable expectations, and neglect of my physical and emotional health to cause burn out and discouragement.) It is a long road that I am still learning to walk–I am not yet at my destination. But these chapters are travel notes from the journey.

Here's an endorsement from Lauren Gulde, mom of 5:
"Haley's words are life and truth! Even as a "seasoned" mom of five, with one in college and a two year old tugging at my leg, I found so much beauty, encouragement and soul-strengthening wisdom in this gem."
Looking back on my first ten years of motherhood I see how far the Lord has brought me and how his Grace has carried me through so many difficult seasons. It's been a wild ride. To create this eBook, I gathered my writing on motherhood from the four winds of the internet and reworked, polished, and added new content to tell a story of motherhood, encouragement, struggles, faith, and hope. Nothing in this book was published in The Grace of Enough or in any of my self-published books! For the first time ever these reflections are all in one place, formatted for easy reading via PDF or kindle (or other eReader).

To kick off the release of Burning Bright, Not Burning Out I'm offering the ebook (PDF and kindle version) as part of the Ultimate Homemaking Bundle 2019–my favorite book sale of the year which is back for a final flash sale before it's retired! If you're been around Carrots for awhile, you probably know the drill because I participate almost every year. If you don't, here's the quick run down: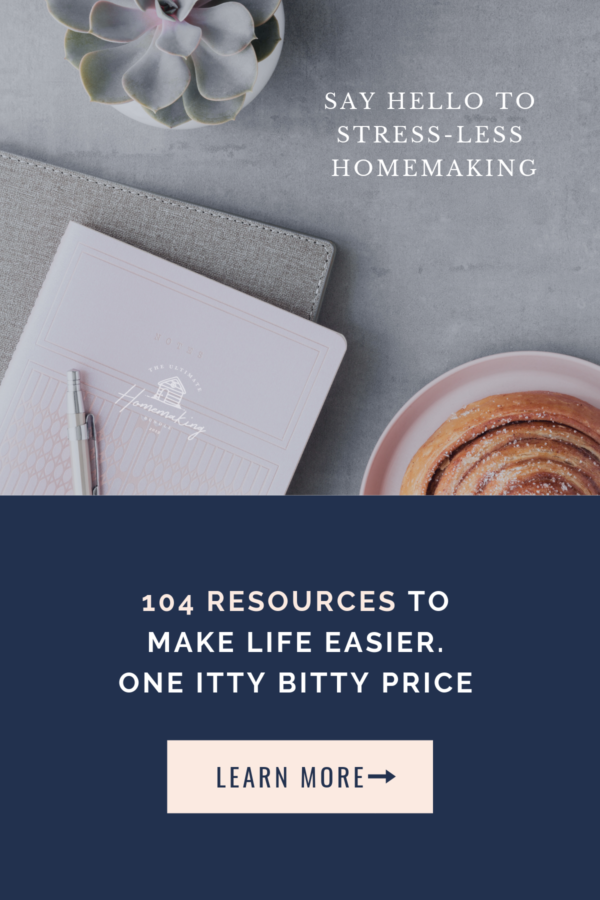 The Ultimate Homemaking Bundle is a super short sale that happens once a year (but with new books and resources each year). They choose ebooks, ecourses, printables and more from great writers, bloggers, and online influencers to create a helpful and inspiring collection at an unbeatable price. It's a win-win. Purchasers get the bundle for a tiny fraction of the resources' normal price, and writers get to share their work with thousands of new readers by briefly deeply discounting their work.
When you buy the Ultimate Homemaking Bundle you'll get access to:
27 eBooks (mine included)
30 eCourses & videos
25 printables
16 workbooks
3 summits
2 membership sites
Fabulous bonuses (like free handmade soap and lip balm, free mineral makeup, free children's books, and much more!)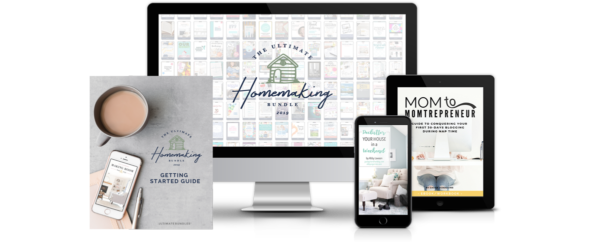 The creators behind these resources are 100+ women who have struggled with the same things as you, but strive (and will teach you) to simplify their homes, declutter & organize, put healthy meals on the table, nurture strong family relationships, and practice good self-care.
Best of all, you can get all 104 resources for just $29.97.
Many of the INDIVIDUAL products included in the bundle cost more than this if bought separately with the total value of the 104 products included being $2,294.37. So it is truly the steal of the year with contributions from Erin Odom of The Humbled Homemaker, Kendra Adachi of The Lazy Genius and so many more!
But the sale ends Thursday October 17th! So run, don't walk, to the bundle site to see all the great books and resources that are included to inspire and encourage you in your homemaking.
P.S. After you order through my author affiliate link, be sure to fill out this google doc to receive a special bonus just from me–a copy of any of my other self-published ebooks, including The Literary Medicine Cabinet! So go ahead and check out all the great resources included in the bundle (especially the bonuses!)
Grab yours now because the sale ends TOMORROW at midnight, October 17th!