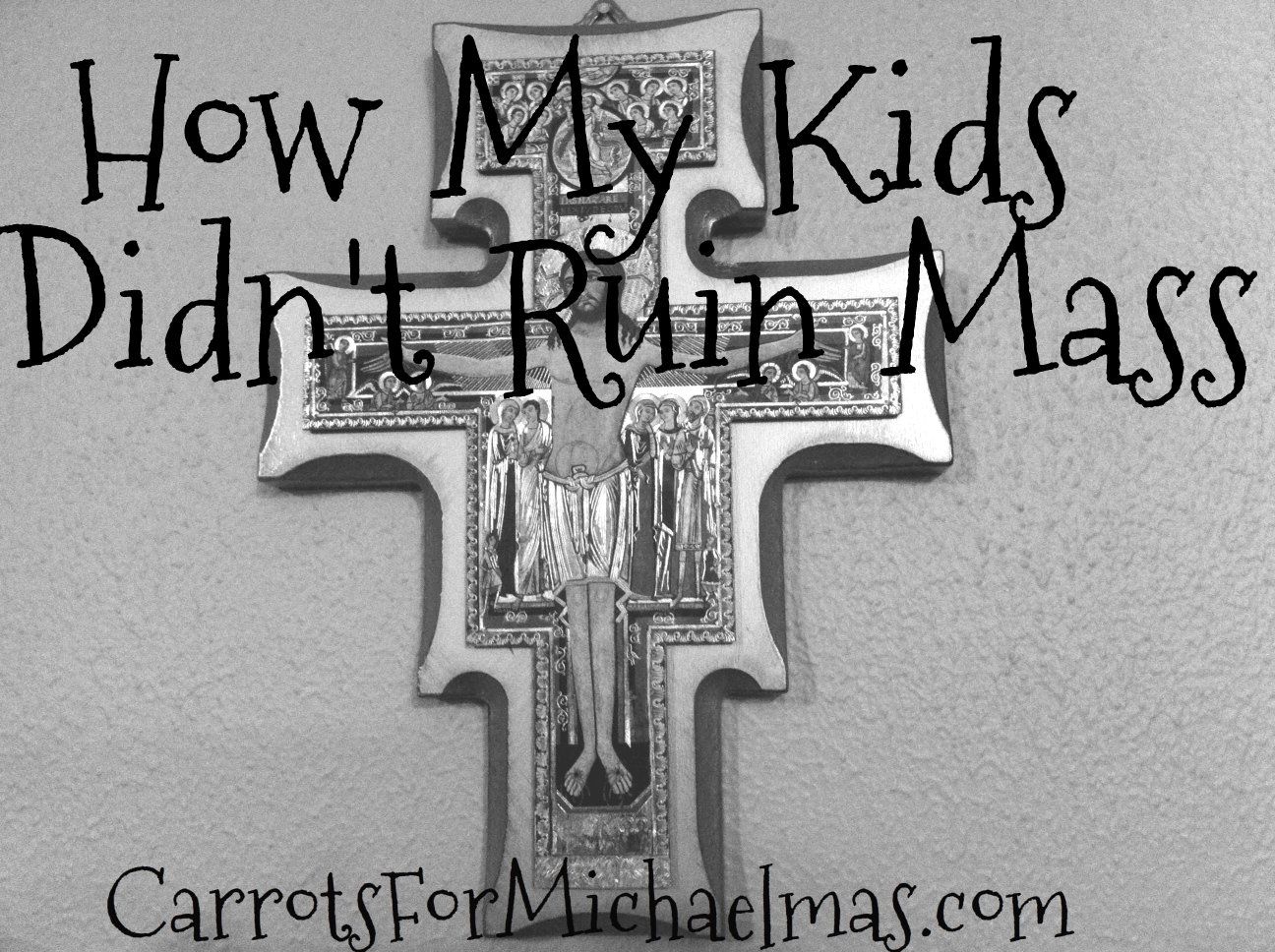 Confession: my kids are not typically little angels at Mass. 'Typical" Mass behavior being our 3-year-old banging the kneeler open and closed and then dropping it on his own foot. Commence siren-like wailing. Or the kids tussling over who gets to hold the Baby Jesus finger puppet. And, to no one's surprise, the preschooler throwing the St. Joseph finger puppet at his baby sister's head doesn't solve the dilemma. The newborn is startled out of a deep slumber by the bells heralding the Consecration and starts screaming. The toddler yelling (and I mean yelling) "Jesus! Jesus COME OUT!" as the Consecration approaches and he knows that "Jesus is coming." And, yes, I said "typical" behavior. Don't even get me started on the extraordinarily humiliating days.
Have you been there? When you just want to crawl into the floor and die of shame because surely your kids are ruining Mass for everyone? Your cheeks are burning? You consider a cross-country move?
You see, I grew up Protestant in a tradition in which young children do not attend "the service" until they can sit quietly with their families. It's quiet, it's composed, and you can actually hear the words of the sermon. I am still getting used to "the hum" that graces the background of every Mass: squirming toddlers, whispering preschoolers, fussing babies. Children are not banished to the nursery. Our Parish doesn't even have a cry room. You see, children are not just tolerated, they are welcome. And what my parish has shown me, is that my children are wanted.
So that moment when I thought I would surely die because my 3-year-old made a mad dash for the altar when I was about to receive the Blessed Sacrament and I had to make an awkward wrangling motion to grab hold of his Houdini body in between the "Amen" and the moment the Host touched my tongue…well, the priest's eyes didn't narrow. He didn't give me a stern look that said, "I hope the grace of Our Lord helps you recover from being the worst mother ever." Nope. His eyes sparkled. He smiled. And, dear me, was that a quiet chuckle?
It's the moments when I think my kids are the ultimate distraction that my parish family shows me that they are gifts of God's grace. When the baby is fussy and the toddler is grumpy and loud and I think that surely the homily is going to be a desperate plea for our family to high tail it out of the church so everyone else can enjoy Mass in peace, the priest says, "Look around you. Look at all the babies and children in Mass today. As I've been hearing the sounds of infants and children this morning, it reminds me of the amazing gift of new life. What a blessing. I am so glad they are all here." Gift? Blessing? My kids could have passed themselves off as small dragons this morning, and you heard their whispers and shrieks as echoes of God's grace?
Or when the baby is insistent on nursing, even though I nursed her right before Mass and the only way to avoid a screaming fit is to nurse right there in the pew. I can feel my cheeks get warm and pink. Is my scarf covering us up? Am I flashing anyone? Is this ok? Is everyone looking at us? That lady in the back certainly is. Is she glaring at us? After Mass, there she is again. She's probably coming to tell me off… But to my surprise she touched my shoulder and said, "I just wanted to tell you what a good job you did nursing that baby. You are such a good mom. It was so special to see a mother nursing in Mass. I remember having small kids in Mass and how hard it is. Your kids are always excellent." Well…that last part was surely a kind-hearted fib, but could our family have blessed her by being there? By not sending our kids to the nursery? By trying to make it through Mass without causing a fire or anyone needing stitches? By choosing to nurse my baby, did that image of love between a mother and child actually make Mass more meaningful to her?
Because I think that's part of what it means to be pro-life. To see children always as gifts of grace, not inconveniences. As always welcome as part of God's family, not as distractions to be avoided. To encourage and love them and show them that they are wanted. That we want them there because Jesus wants them there. 
There's one sweet couple and their adult daughter who have adopted our family during Mass. They make it a point to always sit near us. The mother is a bonafide baby whisperer and when Lucy gets fussy she will say in my ear, "You pass me that baby!" and she will snuggle a shockingly calm Baby Lucy sometimes for the entirety of Mass. Benjamin adores their daughter and on one occasion, we weren't sitting close enough to "Miss Kerri" for his satisfaction. So he snuck out of our pew, tip-toed across the aisle, and plopped down right on her lap. As I prepared to stand up, bring him back, and reprimand him for leaving his spot, this dear soul gave me a look that said, "Don't you dare! He's FINE." He sat like an angel with them for the rest of Mass. He even knelt quietly during the whole Consecration (usually our wrestling-match time). And as I knelt and peeked at him out of the corner of my eye, I started to feel tears roll down my cheeks. Because he looked so wanted, beloved, and cherished. Because this family's love for my children communicates a vital message: Jesus loves them. Jesus wants them. They are not inconveniences and distractions. They are blessed outpourings of God's grace.
I pray that during Mass, and every day, I can remember to see my children the way Jesus sees them. The way my parish sees them. I am so thankful for the love my children receive, even at their worst. And thankful for the reminder that Jesus wants all of us, even at our worst, to come and love and be loved.