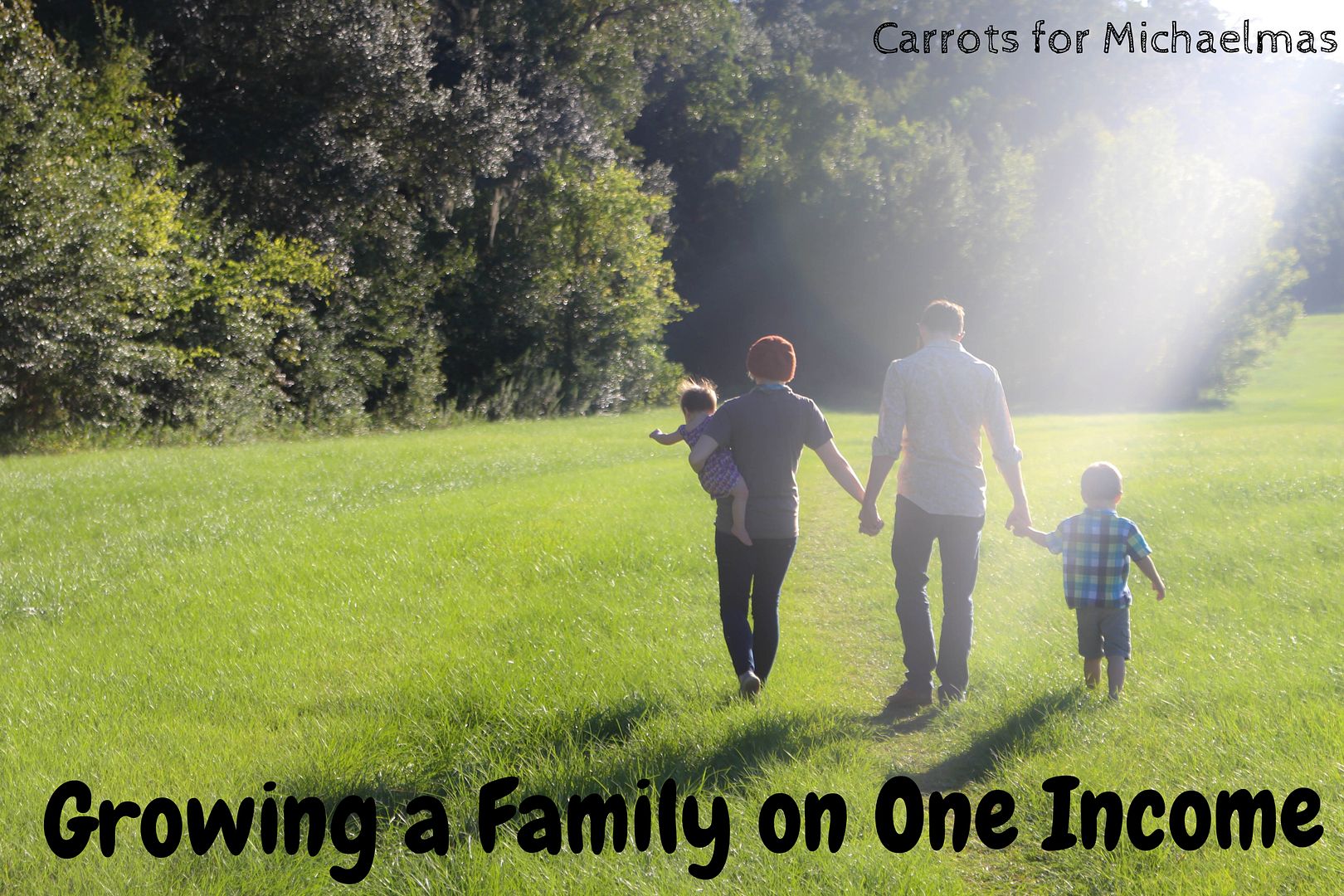 (Growing a Family on One Income is an ongoing series at Carrots. Previous posts are about being a one-car family and fitting three car seats in a Camry.)
New clothes are fun. If I had the cash to spare, I would spend way too much on clothes. But when you're on a budget, this is a great area to make some sacrifices. When you're expecting, it's hugely tempting to go hog wild buying new baby clothes and maternity clothes. But it's also completely unnecessary. Buying used clothes and accepting hand-me-downs is just the thrifty way to go (and green!).
A Few Notes on Baby/Kids Clothes:
Kids grow fast. They go from size to size in a blink of an eye. Whatever it is they're wearing will only be worn a few months tops.
Kids wreck clothes. The harsh reality is that babies poop and vomit all over their outfits. Dressing them in anything that costs more than $5 is just silly. Older kids get dirt, grass stains, paint, and anything else you can imagine on their clothes. Now, I'm not saying you shouldn't outfit your kid in something awesome for special occasions like baptisms, weddings, professional photos, etc. but for the everyday? You just don't need brand new clothes.
People are always trying to get rid of kids clothes and maternity clothes. I can't tell you how many garbage bags full of baby and children's clothes friends and family have handed down to us. I bought one pair of cute leggings for Gwen and one pair of shoes for Lucy, otherwise, everything for the girls has been hand-me-downs and baby gifts from showers and they still have more clothes than their drawers can hold!
If you're planning a baby shower, don't put clothes on your registry! You'll get a bajillion teensy onesies as gifts and if you don't, you can get them second-hand for almost nothing.
If you're buying baby clothes and cloth diapers, go gender-neutral as much as you can. If you're blessed with another baby, you'll have little to no clothing/cloth diapering expenses during those first months. (And cloth diapers are a great thing to add to your baby registry!)
Give needed new clothing items as gifts. We exchange gifts with our kids on St. Nicholas Day instead of Christmas and everyone gets a new pair of shoes as part of their present. It might sound stingy to give your children something they need as a gift, but that's just how we do things at the Stewart house and our kids love St. Nicholas Day. If you fill them with treats, your kids will be excited about a new pair of shoes, promise.
And keep in mind that all you will need, regardless of how many children you have, is one girl's wardrobe and one boy's wardrobe that can be passed down to the next child (except if you have twins!). Having more children doesn't mean you have to purchase an entirely new wardrobe each time!
Maternity/Women's Wear:
Host a clothing exchange. My friends and I have been doing clothing exchanges twice a year to declutter our closets and share cute items with each other instead of sending them to Goodwill. If you've never done a clothing exchange, Simple Homemade has a great post about how to host one. We just pile our unwanted clothes in the car, meet at someone's house in the evening after the kiddos are in bed, and proceed to drink red wine and eat brownies while we peruse everyone's clothes: maternity clothes, women's wear, kids' clothes, baby clothes, etc. We pick out our favorites and then donate whatever is left over. It's an excuse to have a girl's night and everybody leaves with new-to-them clothes and a decluttered closet!
How do you keep your family's clothing expenses at a minimum?