The answer is yes! Delaying purchasing a minivan is another way we're trying to make it as a five-person family on one income. And after I mentioned our 3-car-seats-in-a-Camry system on the Carrots page on Facebook, some of you sent me emails asking how we did it. So here it goes!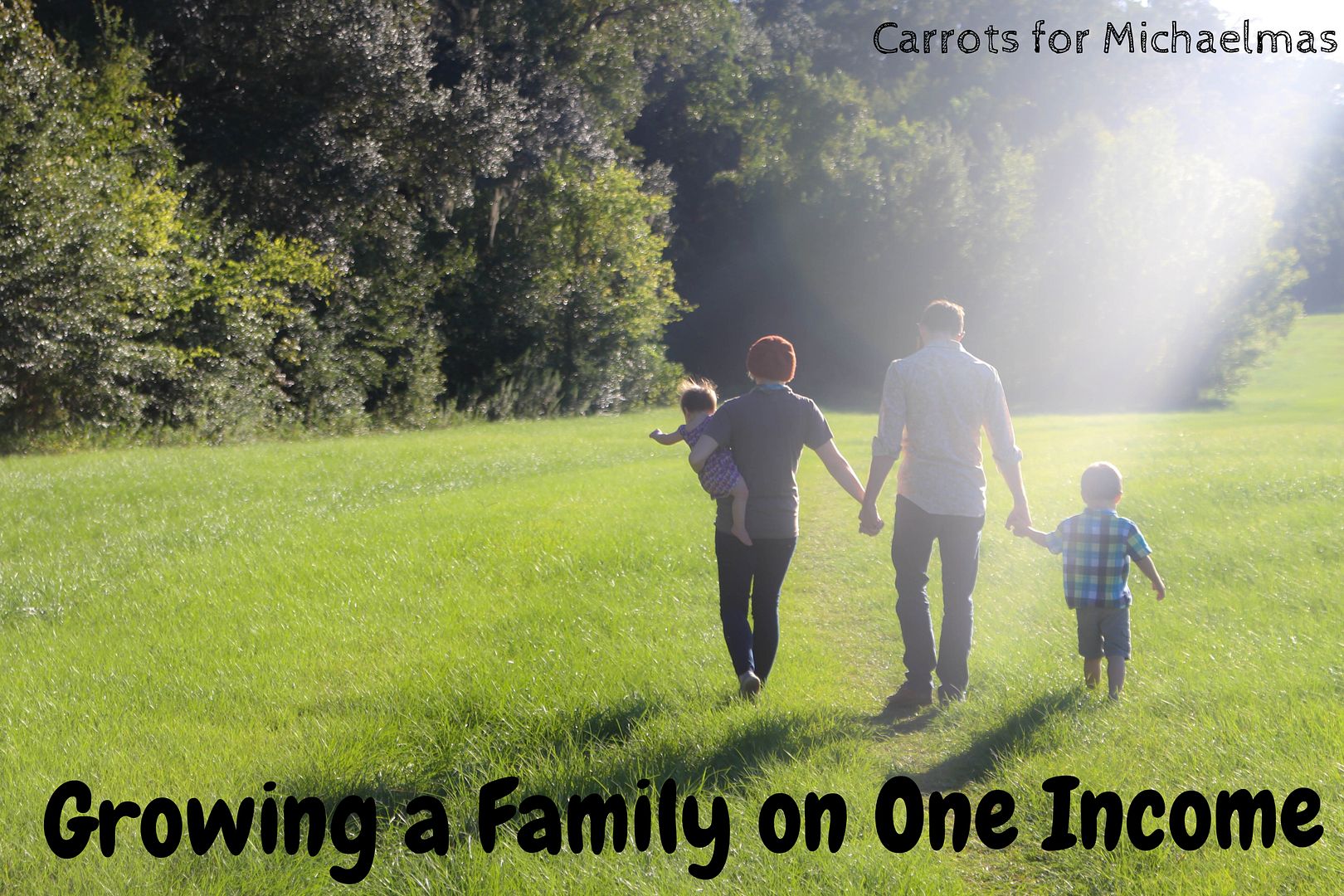 (Check out Part I of this series on being a one-car family and how we make it work.)
While we were thrilled to find out we were pregnant with Baby #3, the one thing we didn't have a plan for was how we'd cart a third child around in our Camry. We were convinced that our only option was to purchase a minivan and honestly, I don't know where the money for a car payment would have come from.
But thankfully, before we started pricing used minivans, some friends encouraged me to look into purchasing different car seats instead because, to my astonishment, sometimes three car seats can fit in the backseat of a car. So, we started researching whether it would work for us! We knew we would need to purchase different car seats, but that's a whole lot cheaper than buying a new vehicle!
First, I measured the backseat of our car so we would know what we were working with. Then I went on Amazon to find out which car seats were the slimmest models and had good safety ratings. Amazon tells you the dimensions of the car seat, so I made sure that adding up the width of the three models we planned to have in the back seat left us with a couple inches of wiggle room.
We wanted to stick with our Graco SnugRide*** that Lucy had been using to have for Baby Gwen because we discovered that having an infant carrier that fits into a base and can easily be removed from the car without unbuckling and waking baby is necessary to our sanity. For Lucy, our toddler, we went with the Combi Cocorro** which is a convertible car seat that can be rear facing or front facing. She's 21 months and we'll keep her rear-facing as long as we can (it's recommended that kids stay in rear-facing seats until age 2 because it's five times safer…don't have to tell me twice). For Benjamin, our 4-year-old, we went with the Diono RadianR100, a car seat that can be converted into a booster when the time comes. It can also be rear-facing for infants and toddlers. (Again, I'm delaying that next step as long as I can because it's so much safer for kids to be in a five point harness.) When they arrived, I said a little prayer that they would all fit while Daniel installed them and thank goodness they did!
So here's the lineup:
Newborn: Graco SnugRide (***We have the SnugRide 32 model. I didn't see the "32" model is still available, so I'm linking to the SnugRide 35 which has the same dimensions.)
*Update: When our Graco SnugRide was old enough to be retired, we replaced it with a Chicco KeyFit30 and I like it even better than the Graco.
Toddler: Combi Cocorro **Update: This car seat has served us really well, but I have one beef with it. It's very difficult to buckle. It's not such a big deal with a young toddler since you'll be doing all the buckling anyway, but with an older toddler who wants to buckle herself, it's really not possible without assistance from an adult. If I had it to do over, I would just have bought a second Diono Radian like we bought for our preschooler (link below).
Preschooler: Diono RadianR100
There they are! Car seats reinforced with anti-whining technology. (I wish.)
We put the preschooler in the middle because he can climb in and get buckled by himself (praise the Lord!) and so that the toddler wouldn't poke the newborn in the face when she's sleeping and it's been working really well. Because the preschooler is facing front, he can talk to the toddler and keep her entertained or tell us why she's throwing a fit (reasons being: she dropped her hair bow, she doesn't want a tiger to live on her farm someday, she wishes she was eating a granola bar, etc).
Although, it gets a tad loud sometimes and I find myself dreaming of a little more space between the driver's seat and the kiddos, it can be convenient to pass back a granola bar or cups of water and a little family togetherness never hurt anyone, right? (Remind me of that on the days when I tell my husband when he gets home "I just need to go somewhere for a few minutes where no little people are touching me or talking to me!")
So far, so good! But if we're blessed with a baby #4….we're gonna have to bite the bullet and go with the van, folks!
Did you delay the minivan as long as possible? How did you make it work?
Disclosure: This post contains Amazon affiliate links.