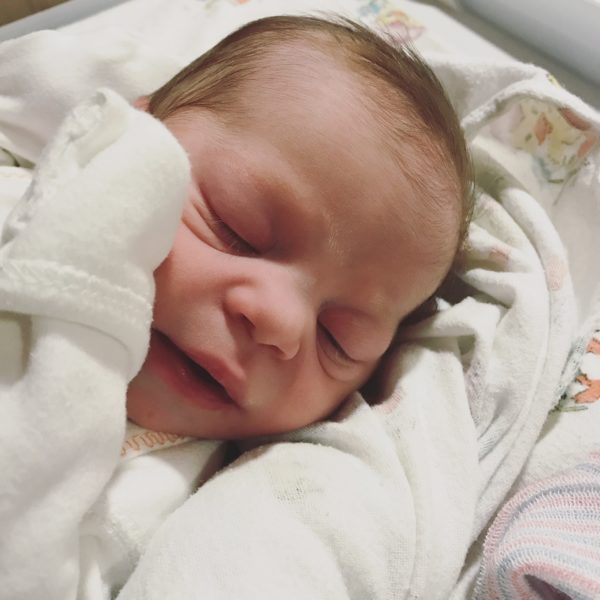 This is Part II. You definitely want to start with Part I to hear about how I was sent home from the hospital and told I was "not in labor."
Back at home I laid on the couch with one leg over a couch pillow while Daniel dozed on a yoga mat on the floor next to me, holding my hand through contractions. The contractions were becoming unbearable and I started to feel overheated during them and then shaking afterwards. I started vomiting from the pain.
I was obviously in transition. But because I was in transition, I was too out of it to realize that it was CLEARLY time to be at the hospital and that even though I had been at only 2cm dilated an hour ago, things had obviously progressed.
"You're not in labor, " is what they'd told me at the hospital, though. And I did not want to go back there. Everything was getting foggy and confusing.
"Daniel. This isn't right. I think I'm about to have the baby. What if we just have the baby here? I don't want to go back."
Daniel is THE BEST at staying calm in a crisis. He wisely didn't say, "Are you out of your mind? We're changing our birth plan from hospital birth to UNASSISTED HOME BIRTH with no preparation?"
Instead, he took a deep breath and said calmly, "Why don't I draw you a bath and after a few contractions in the warm water we make a decision then?"
I got on my hands and knees in the tub while he poured hot water over my lower back where the worst back labor pain was.
"This has GOT to be the real thing. I mean it has to be, right? But what if it's not?"
I was praying the Hail Mary through my contractions. At first I only needed to pray it slowly once but now I was praying four Hail Mary's through each contraction. "These are getting long," I realized through the fog. "I know I need to be at the hospital but I can't imagine getting back there with how intense the pain is."
I told Daniel I thought we should go. He asked if he had time to make a cup of coffee. "Sure" I said. "After all, maybe I'll just show up again and they'll say I'm 2cm and they'll send me home again in misery." I sat on the couch for a minute while his coffee brewed and he packed up the car.
I had a contraction and something was different. "Daniel. Daniel, I think I'm feeling the urge to push. We gotta go now."
It was 4:30am. A little over 2 hours since being sent home.
The contractions on the drive back were absolutely horrible. We parked the car. Daniel was offering to drop me off in front of labor and delivery but I needed to not be separated from him even if it was just for a couple of minutes so I preferred to walk with him across the parking lot.
This was when things got real serious real fast. I could barely make it a few steps before having to stop and hold onto him through long contractions. He was very calm and didn't panic but he realized that I was minutes away from delivering and started looking around for places to deliver the baby if he needed to. He wisely didn't verbalize these thoughts because he didn't want to alarm me and just got me inside as best he could.
We went up the elevator called "The Baby Express" (which sounded absurdly chipper to me) that leads to the hallway outside of triage and L&D. I had a contraction while stepping out of the elevator.
I started screaming. "SHE'S COMING OUT!" Daniel threw the birth ball he was holding into the waiting room and ran for help. I couldn't move. I grabbed onto a water fountain for support whilst continuing to scream.
In all my previous labors, I have been a silent birther. I don't make noise during contractions. I just go into my own head and breathe the baby down while I pray through them. When pushing I SOMETIMES make a low moaning sound. I do not scream. So this was…ahem, RATHER A DIFFERENT EXPERIENCE.
Apparently there were no wheelchairs to be easily found (we're still confused about how that's possible. Daniel pointed out that they're not like grocery carts that need to be rounded up all over the parking lot…like surely you should be able to find a wheelchair on the L&D floor but ANYHOW) so they brought out a rolling office chair.
They put me on the chair and raced me down the hall while Daniel and a nurse held my legs up and I screamed bloody murder. I'm sure it was a sight to be seen and it's tragic that we don't have a video.
Nurses were pulling articles of clothing off of me and rolled me onto a bed and I started pushing the baby out whilst yelling, "I. TOLD. YOU. NOT. TO. SEND. ME. HOME."
A nurse started trying to get an IV in and I said, "NOT RIGHT NOW! I'm pushing a baby out!"
She gave me a condescending look and said, "Well, it's important in case of an emergency."
Having just been wheeled down the hall screaming in an office chair with a baby about to crown I was a bit confused about what other emergencies she had in mind.
Within a minute the baby had crowned and in another minute she was born still inside the intact bag of waters! A nurse and Daniel caught her. I didn't realize this at the time but Daniel said he could see her "en caul," wiggling inside the bag of waters trying to cry and as soon as they opened it up I could hear her blessed little voice and they lifted her onto my chest.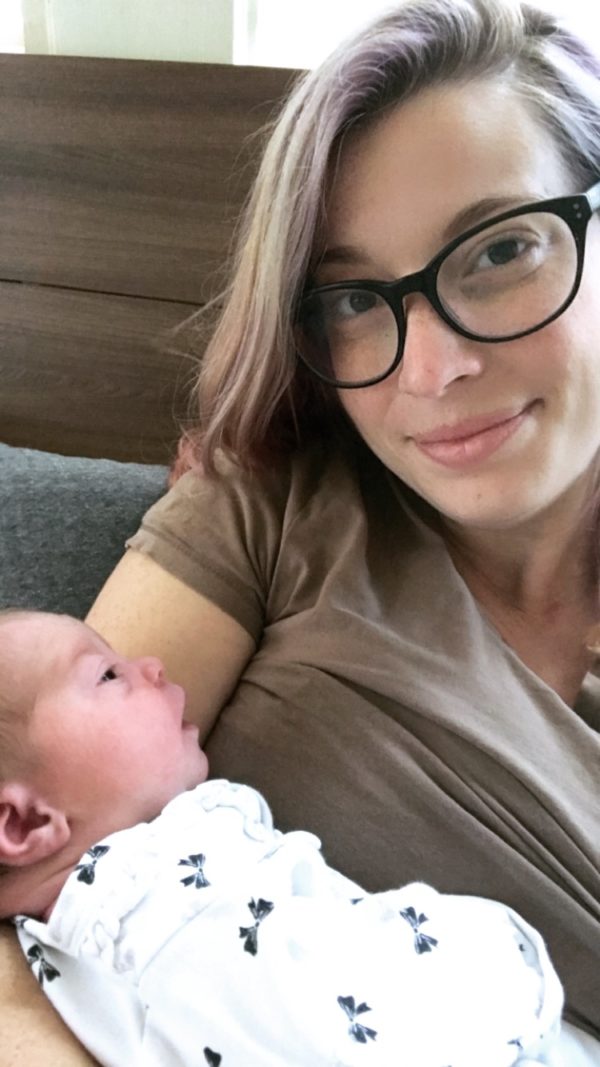 "Daniel! It's over! It's all over, she's here! I'm done! I REALLY WAS IN LABOR!"
They wiped her off a little bit and I started nursing her skin to skin. I kept repeating, "I love you, Hildie!" to the baby and "I'm SO RELIEVED IT'S OVER!" to Daniel.
So approximately 3 hours after being told I was not in labor, Hildegard Rose Stewart (I wrote about her naming a few months ago) was born at a dainty 6lbs 8oz, pink as her rosy name with a head of ginger brown hair and grey eyes that will turn brown like her brother and sisters'.
And I think she's pretty remarkable, considering her exciting entrance and the fact that only 1 in 80,000 babies are born en caul! I wish I had a photo of that since I missed seeing it and didn't get a good look at her until they had opened up the bag of waters. She is the sweetest baby! She nursed like a champ from the very beginning and has been content from the start except when getting her diaper changed.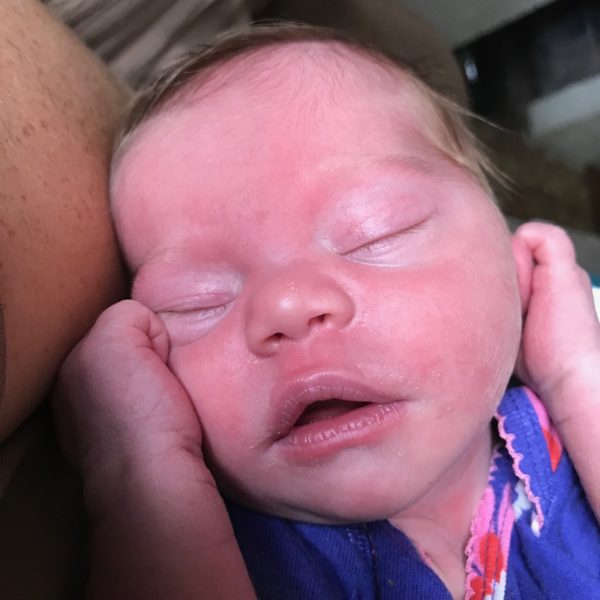 A friend asked me how I'm doing emotionally after that labor. I do feel angry that my instincts were dismissed and that I was told not to listen to my body. I really don't understand how you can watch a 4th time mother moan through contractions and send her home. And the emotions I felt while laboring through transition at home lacking all confidence that I was even in labor were very hard. I don't know when I've felt so confused and despairing. But her birth was very satisfying, despite being so crazy! I probably need to keep processing everything but emotionally I feel pretty good.
It's been my easiest recovery yet. My midwives really stayed on top of my anemia and I think that's why I had less bleeding (first delivery that I didn't need pitocin after delivery) and less lightheadedness than I usually do. After Gwen's birth my blood pressure dropped alarmingly and I felt weak and dreadful. But I really felt great as soon as the placenta was delivered (my midwife got there for that).
My parents drove out from Florida and are watching the kids at a hotel while Daniel and Hildie and I recover and take a few days to settle in. What a gift! We feel like we're on vacation, especially since my recovery has been so easy so far and baby is thriving.
We're just soaking up these sweet moments. Watching Netflix. Taking naps. Eating snacks and enjoying being together. I feel high on postpartum bonding hormones and every few minutes I think, "it feels so good not to be pregnant anymore!"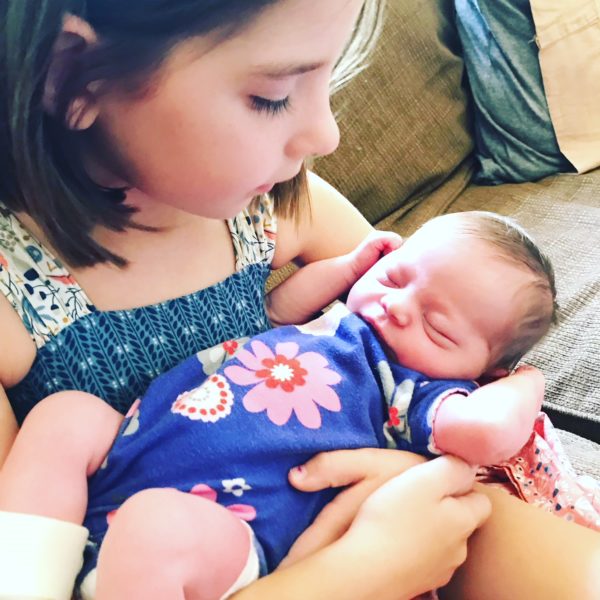 We are falling in love with Hildie Rose. The kids are smitten and Olaf, our goldendoodle, considers it his duty to guard her with constant vigilance. He seems quite concerned that we might not know what we're doing and refuses to leave her side.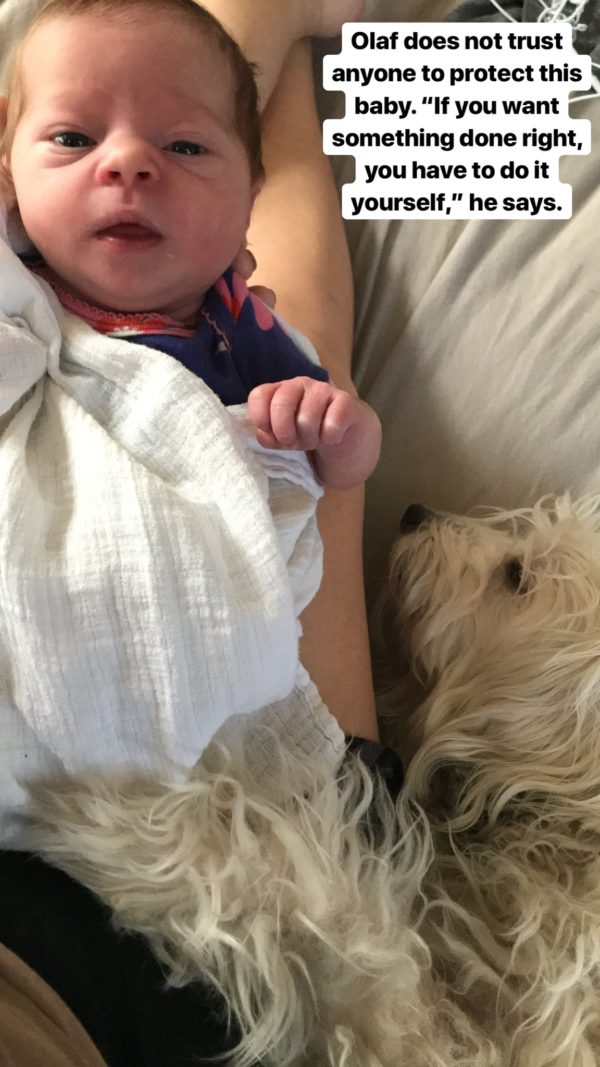 It was a tough pregnancy for me in so many ways. It really challenged my pride in my own self-reliance during so many months of being too sick with HG to take care of myself. I had to face a lot of my need for control and difficulty trusting God. I was stretched and broken in ways I needed to be. Then the past month has been a whirlwind of anxiety over the breech/transverse situation, the ECV, and labor. But the past few days of knowing Hildie have more than made up for all of it.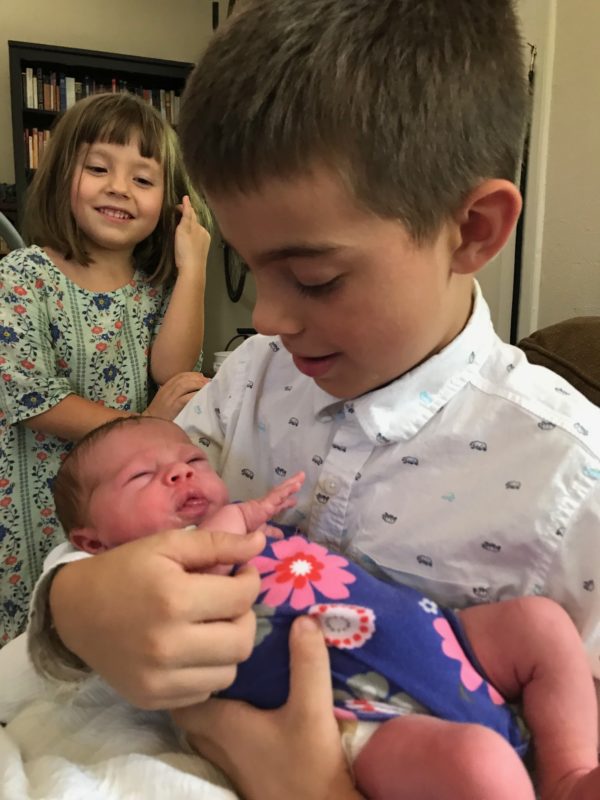 There is no joy like the joy of a new baby. I can't believe that we get to keep her. That she's ours to love for always. I am overwhelmed by gratitude and I appreciate all the prayers and encouragement that have supported us over the past 9 months. It's always hard to imagine that your heart can expand and love multiply all over again with a new baby, but each time it happens. I can't imagine life before Hildie anymore. I'm so glad I'm her mom.