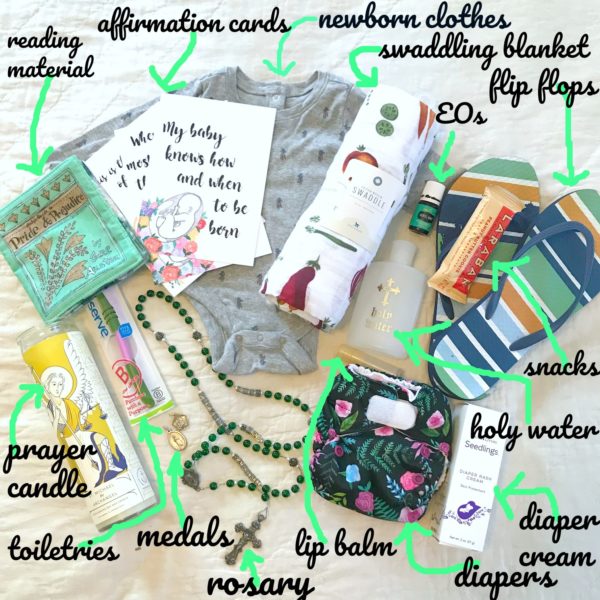 I am 38 weeks tomorrow. My baby girl continues to stubbornly stay breech and transverse in there so this week is chock full of chiropractor visits, more handstands at the pool, acupuncture, moxibustion, and if all that fails (as it has been) an external version at the hospital on Friday.
I am feeling very not in control of much right now. But I can pack my hospital bag (and I plan to take it with me on Friday just in case there's complications with the version and we need to switch gears for a c-section).
This post contains affiliate links.
This will be my fourth birth. We weren't Catholic when our first baby was born and so bringing Catholic faith into the delivery room wasn't even on our radar! But for our other births (and especially after reading Mary Haseltine's great book on birth for Catholics, Made for This) I've been inspired to plan for a few Catholic items in our hospital bag. Here's some ideas:
Catholic Items
–Rosary. I found a lot of comfort in praying the Rosary with my husband during my labor over my last two births. Highly recommend! The one I have packed is my mother's rosary from Trendy Traditions.
–Birth Affirmation Cards. I am OBSESSED with these birth affirmation cards from Behold the Heart. They are so beautiful. Some are quotes from saints. Others are about birth in general. All are encouraging and uplifting. I'm actually pulling them out occasionally just to prepare my heart and mind for labor. If I get to tackle another natural birth I plan to read them during contractions and once contractions get too intense to focus on them, I plan to ask my husband Daniel to read them aloud to me.
–Saints medals. My friend Mountain sent me two medals (one blessed by Pope Francis and one blessed by Pope Benedict XVI) when I was experiencing the very worst weeks of hyperemesis gravidarum in the first half of this pregnancy. I plan to take them with me to the delivery room.
–Prayer candle. Not every hospital allows you to light a candle but if yours does or if you're birthing at home, have one ready! This one is from Providential Co.
–Holy Water. Nobody (including me) wants to dwell on the "what ifs" of something going wrong at birth, but I want holy water on hand in case of an emergency baptism.
–Litany of saints. I'm planning on writing down a list of saints that are important to our family and that I think will comfort me during labor so that during contractions I can ask for their intercession.
–Intentions. Labor involves a lot of suffering. So why not offer it up? Bring some intentions with you to the delivery room!
Other Essentials
–Newborn clothes. There's lots of items that aren't essential but are nice to have. This one is a must, though. You need something for that baby to wear home! I plan on taking a teeny tiny newborn outfit as well as the sweet 0-3 month onesie with carrots on it in the picture from my sweet friend Shannon since it's hard to know in advance how big the baby will be! If you want to support a Catholic creative check out Brick House in the City's cute onesies.
–Clothes for YOU. Comfy layers, my friends. You want something flowy, soft, and comfortable. I usually take a sports bra with me, too, so I have something to wear if I want to labor in the tub in the delivery room. Socks and a nursing-friendly warm top like a cardigan are nice since the hospital AC is usually cranked up (not that I'm complaining! The high this week in central TX is 109. Yes, I am dying in the heat, thank you for asking.)
–Flip flops. Flip flops are literally the only thing I can stand to wear right now so that what I plan to walk the halls in during labor, but they're also a must for the hospital shower.
–Swaddling blanket. The hospital usually provides blankets so this one isn't a must, but it's nice to have a sweet swaddling blanket you love to wrap up baby in! A popular brand of muslin swaddling blankets is Aden + Anais.
–Essential Oils and diffuser. I have a special blend called Gentle Baby that I plan to diffuse during labor that should be calming and comforting. Not a must, of course, but if you're into oils you might enjoy having them with you (if the hospital allows). I get my oils from Young Living.
–Diapers. The hospital usually provides disposable diapers so don't worry too much about cramming a bunch in your hospital bag. But if you want to take any photos at the hospital you might want a cute cloth diaper like the one that a sweet reader (thanks, Tara!) sent me. The print is roses for our little Hildegard Rose! Yes, I'm dying of cuteness.
–Diaper Cream. Again, the hospital might provide this but if you're picky about what kind you want to use, just put it in your bag. Mine if from Young Living's baby line called  Seedlings.
–Toiletries. Makeup might be the last thing on your mind or you might want to put some on after your first shower at the hospital so drop some in your bag just in case. But you'll definitely want a toothbrush, toothpaste, and any other essential toiletries!
–Lip balm. This is, in my opinion, an absolute essential. I use a balm that my beekeeper husband makes from beeswax from his hives, but use whatever floats your boat.
–Ponytail holders. I definitely want my hair out of my face during labor. Make sure you have something to put your hair up with!
–Snacks. Do. not. forget. snacks. If you get to eat during labor, you might want snacks then. But you will be FAMISHED after labor and sometimes it takes awhile to get food brought in. I'm partial to Lara Bars. And in my opinion, the Peanut Butter Chocolate Chip is the best flavor.
–Reading material. A lot of your time in the hospital is spent just staring at your sweet new baby. But if you think you might want additional entertainment, pack a book to enjoy. I really just wanted to include the sweet little cloth Pride & Prejudice that my friend Kaitlyn sent me in the photo for this post. It's from Sweet Sequels and it's making me happy during the last few miserable days of pregnancy.
–Phone chargers. Don't forget your phone because everyone is going to want to hear about that new baby! But also, don't forget a phone charger.
–Laptop or something to play music on. I plan to finish up a playlist for labor of calming music and will be bringing my laptop to play it on. Also nice for watching Netflix if labor is going really slow.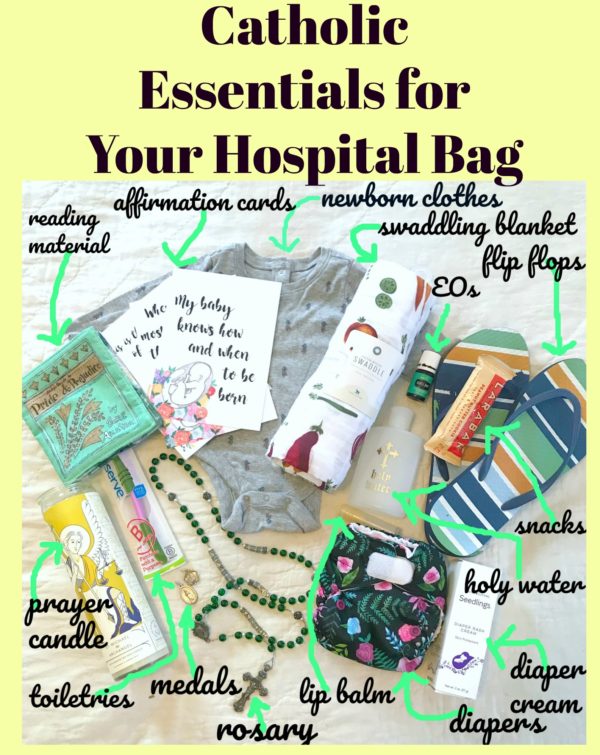 Did I miss anything? Please share in the comments!
UPDATE: Don't forget comfy socks! My version procedure at the hospital (which went great!) reminded me that comfy socks are a must in the cold hospital AC.