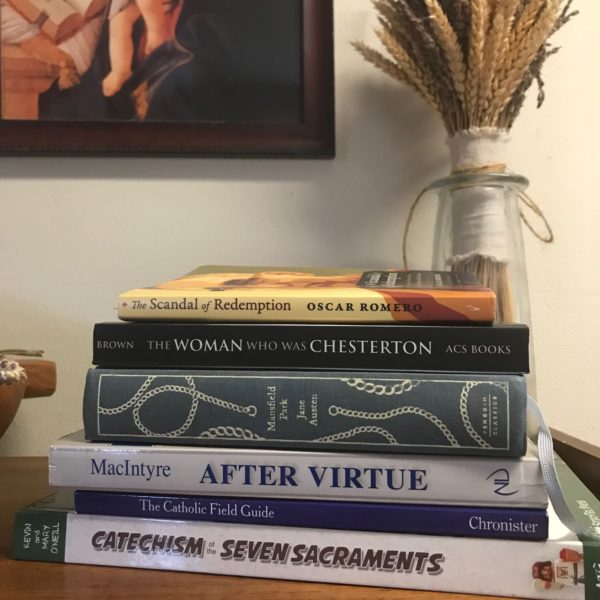 So many books and so little time. Since I love chatting about books, I was thinking I might start sharing what we're reading around here on a monthly basis. Love the idea? Hate the idea? Tell me in the comments. Here's a few of the great titles I've picked up lately:
(This post contains Amazon affiliate links.)
The Scandal of Redemption by Bl. Oscar Romero:
I started learning more about Blessed (soon to be canonized!) Oscar Romero when my husband Daniel took a trip to El Salvador last year. We learned about how he spoke out against the horrific injustices in his country and was martyred as a result. This little volume has selections from Romero's diaries and radio broadcasts and his words really are amazing! A great way to learn more about Bl. Oscar Romero before his canonization in October!
The Woman Who Was Chesterton by Nancy Carpentier Brown
I'm beginning a project that will require me to do some research on the Chestertons and I remembered that a former guest on the podcast recently published a biography of Frances Chesterton, G.K.'s wife! I'm not very far into it yet, but it's already fascinating.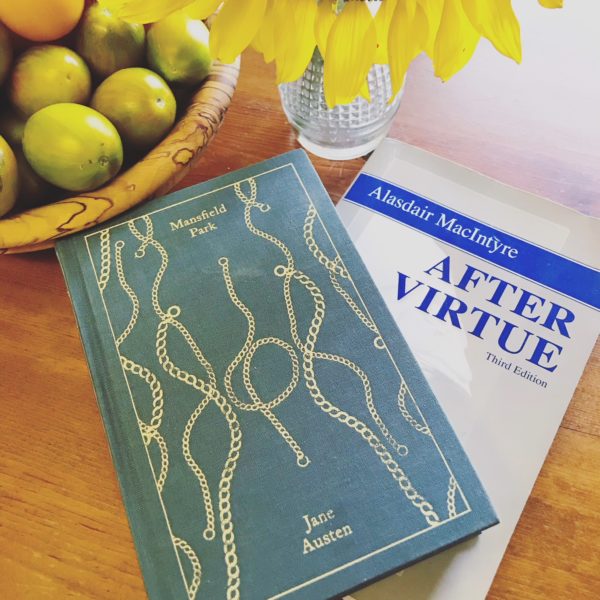 After Virtue by Alasdair MacIntyre
Remember when I shared about taking on a writing project that scared me last week? Well it was for this piece for Notre Dame's Church Life Journal on Jane Austen and Alasdair MacIntyre. So I had to brush up on my MacIntyre and did a quick re-read of Mansfield Park!
Books I'm Reading with the Kids: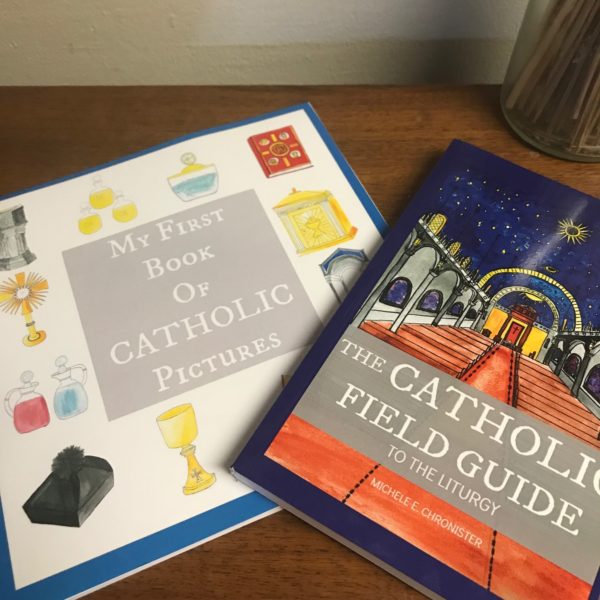 The Catholic Field Guide to the Liturgy by Michele E. Chronister
I love these sweet books that were just released! The Catholic Field Guide to the Liturgy is an illustrated guide to vestments, prayers, parts of a church, vessels, cloths, objects, and books that you might encounter in the Mass. A great gift for godchildren (and helpful to converts like me who don't know the difference between an alb and an amice!). My First Book of Catholic Pictures is perfect for younger children to become familiar with the objects they will see in the church. (To enter a giveaway to win a copy of The Catholic Field Guide to the Liturgy, head over to my Instagram account: @haleycarrots).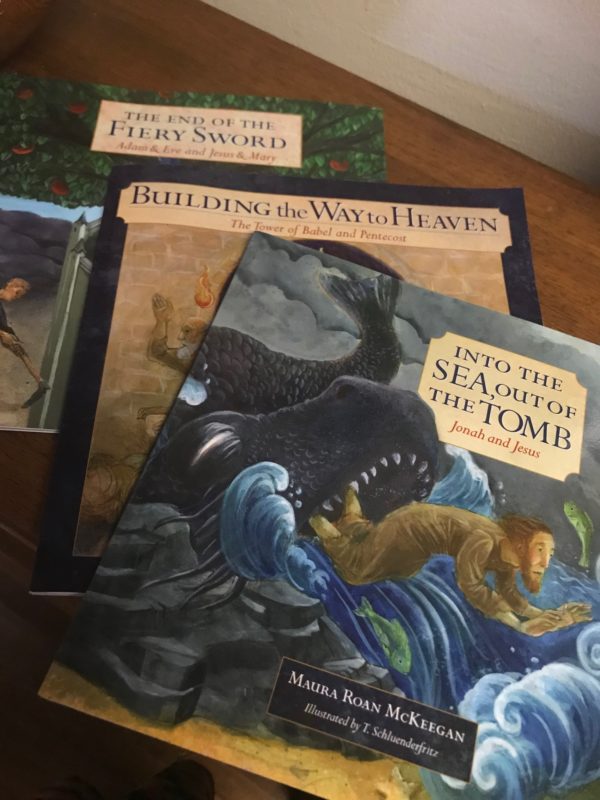 Building the Way to Heaven: The Tower of Babel and Pentecost by Maura Roan McKeegan
This series of picture books that show the beautiful way the Old and New Testament illuminate each other has been a favorite around here. There are now three in the series and I'm giving away a copy of Building the Way to Heaven and Into the Sea, Out of the Tomb! (To enter a giveaway to win a copy of these lovely books, head over to my Instagram account: @haleycarrots).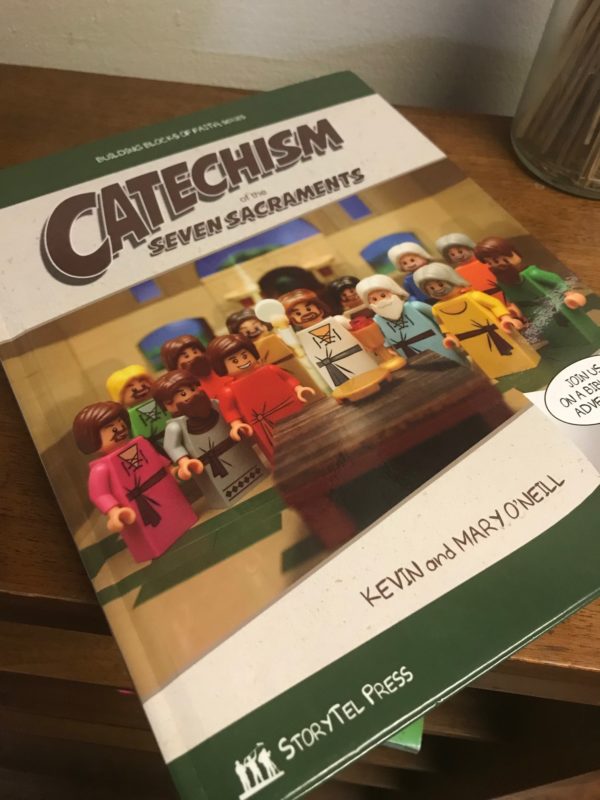 Catechism of the Seven Sacraments by Kevin and Mary O'Neill
My nine-year-old thought this book was a delight and read the whole thing in one day! It's set in comic-book format with photographs of LEGO–very well done. It focuses on the Church's teachings on the sacraments and touches on salvation history. It's a beautiful hardback and would also make a great gift for godchildren who are too old for simple picture books but too young to gift a copy of the Catechism!
The House at Pooh Corner by A.A. Milne
We're still finishing this sweet book up!
Ella Enchanted by Gail Carson Levine
This is the girl's current read aloud at bedtime. My first time reading it so it's a treat to all three of us.
Out of the Silent Planet by C.S. Lewis
We're almost done with this one and it's also been a first time read for me!
Audiobooks:
I'm currently listening to Anne of Ingleside. I remember not liking it much and it's certainly not as good as Anne of the Island (the BEST Anne book!) but it's better than I remember. Of course I haven't made it to that weird part where Anne has a fit of jealousy so…jury's still out.
Listening with the kids:
From the Mixed Up Files of Mrs. Basil E. Frankweiler 
What are you reading and enjoying lately? Let me know in the comments! And DON'T FORGET to head over to Instagram (@haleycarrots) to enter the book giveaways!