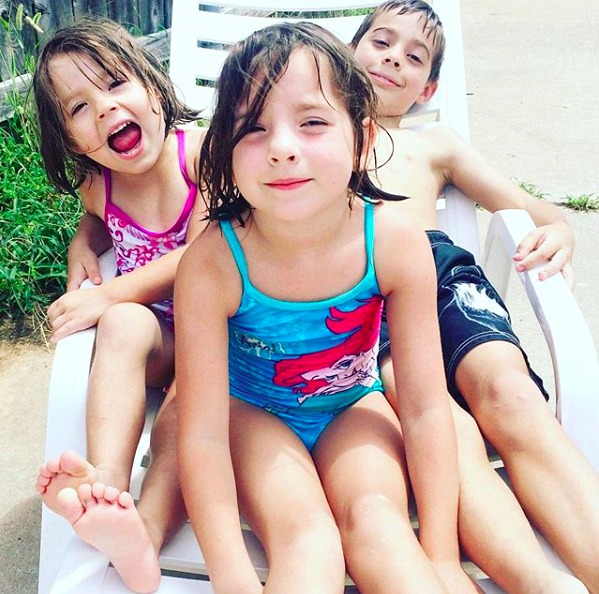 "So are you done having kids? Is this your last pregnancy?"
I've been asked this after each one of my pregnancies. And until this one (my 4th), I have always responded with a resounding "no!" (with the caveat that none of us are entitled to a baby and we can't always predict secondary infertility). But keep the babies coming! No plans to stop! Enough for a quidditch team!
But this time my answer is different. "Yes. Maybe. I don't know. I can't imagine doing this again."
This is my 4th pregnancy with Hyperemesis Gravidarum (severe morning sickness that can stick around through the whole pregnancy). While I'm now 25 weeks and functioning although queasy 24/7, there were 6-8 weeks I couldn't get out of bed due to the severity of the nausea/dizzyness/vomiting and then months of being too sick to prepare food or sometimes even walk through the kitchen.
Even being treated with prescription anti-nausea drugs, I could barely get myself showered, dressed, and out of the house for ages. It left me feeling very broken. And the months of illness have taken a toll on my whole family.
I've had rough pregnancies before, and after my third I took an almost five year break to recover physically and emotionally, but this is the first time I can't imagine going through it again AT ALL. And these feelings surprised me.
Because I'm only 32. I don't feel like I'm "done" with newborns and diapers and mothering little ones. But I'm starting to entertain the idea that my family won't be as big as I dreamed. That maybe our future as parents won't be in biological parenthood, but maybe in foster care and/or adoption.
You'd think with my experience of pregnancy that the Catholic Church's teachings on contraception would really cramp my style. In fact I've had people ask, "do you wish you could just get your tubes tied and never have to go through this again?" But to be honest, no. I'm so relieved that's not on the table. I am so grateful that our options are limited to Natural Family Planning, that we will continue to take things one month at a time. That I can't just do something permanent while I'm still traumatized from another HG pregnancy,.
Asking a laboring mother in transition if she wants to have more kids would be insane, right? Because how can she make that decision in the midst of her agony? Nobody wants to sign up for more kids during transition! During each of my labors I remember thinking, "Important mental note from Haley to Haley: DO NOT EVER DO THIS AGAIN." But once the baby is born, the joy overcomes the pain. The love is so big that I would do it all over a thousand times it that's what it would take to meet that tiny person in my arms.
"When a woman is giving birth, she has sorrow because her hour has come, but when she has delivered the baby, she no longer remembers the anguish, for joy that a human being has been born into the world."- John 16:21
I know our future family planning decisions shouldn't be made when I'm curled up in fetal position on the bathroom floor, too nauseous to move. Because the truth is I don't know what the future holds. And I've learned enough in three decades of life to know that my plans shouldn't be set in stone.
My life doesn't look much like I imagined it would 15 years ago. It is so much better than I imagined. I hope I know better than to hold my plans for life too close.
So if you asked me today what the future holds I would probably say NFP indefinitely and that this is my last pregnancy. I'd tell you that foster care has been an unexpected call on my heart in recent months and that in the future we plan to pursue it. But I'll hold those plans with open palms. I have to hold them up to God resting in the grace that is the openness to life and generous love that He calls us to.
Maybe down the road my soul will long for those baby kicks again and our family will be in a situation that makes a few months in bed something we can handle in that season. Or maybe we'll have an unexpected pregnancy someday and I can rest in knowing that God's plan to bring a new life into the world overcame my expectations. Or maybe God will bring other little souls into our home through foster care and adoption.
Whatever happens, I know it probably won't look like I expect. And I'm okay with that.
So are we done having kids? Yes. No. Maybe. We don't plan to actively pursue another pregnancy. This little girl may be our last baby. But will those plans change? Maybe. We don't have to know what our lives will look like or how our hearts will move in the future. It's all part of the adventure God has in store for us. And I'm looking forward to seeing how it unfolds. (And also looking forward to the suffering of this pregnancy being replaced by the joy of having this child in my arms.)