I was so excited when my daughters were old enough to take ballet classes. Dance was such a precious part of my girlhood. I studied ballet from elementary school through high school, performing in ballet companies and musical theatre productions. I rediscovered ballet after my oldest child was born when I started teaching at my former studio and working as a rehearsal assistant for the ballet company.
The opening notes of Tchaikovsky's Nutcracker raise my blood pressure as years of memories of waiting in the wings ready to emerge as a toy soldier, a party guest, or Clara rush back to me. It's in my bones and I was thrilled when my oldest daughter was absolutely overcome with love for ballet. She danced through the house, wore her leotard and tights everywhere, and insisted on listening to classical music at all times. I adored watching her love it all.
When we moved to a different state, I knew it might be a task finding a good studio. All ballet classes are not created equal. I asked around and settled on what seemed to be the most professional studio with the best training. Unfortunately, the class my daughters were placed in was underwhelming.
They were losing interest. But we had already paid for recital costumes and I was going to insist they finish out the year–that is until I watched them learning their ballet recital dance through the observation window. It started with their backs to the mirror (or audience), hands on their hips, shaking their little booties.
I'm just gonna state the obvious that shaking your butt at the audience isn't ballet, not by any stretch of the imagination. And maybe I'm in the minority here, but I don't think sexualizing small children is "cute." Cute is little ballerinas chasse-ing across the stage and plie-ing at the wrong time and you say "aw." Cute is not sexualized movement imposed on small children who don't understand what they're doing.
For anyone who has spent time in the dance world,  it's well-known that it's difficult to find studios that continue teaching age appropriate choreography to the 12 and older crowd. But let me remind you that my daughters are THREE and FIVE. Even toddlers aren't safe from being sexualized?!
I'm not okay with someone sexualizing my small children, but I'm even less okay with paying someone a hefty monthly fee to do it.
When class was over I tried not to freak out. I helped the girls get their sneakers on, packed up their ballet shoes in the dance bag, and didn't mention the recital dance on the way home. They chatted in their car seats and I decided to discuss the situation with Daniel before saying anything to them or to the studio.
We brainstormed some options. Maybe I could discuss my concerns with the teacher about the choreography or move them to a different class? Maybe we should just let it go and find a different studio for the next year? The girls were excited about the recital and we didn't want to raise a big stink unless we were sure it was worth it. Was I making a big deal out of nothing? We decided to sleep on it.
A couple of days later my five-year-old was chattering to me about the chalk picture she was drawing on the concrete and then began a new topic.
"Mama……I don't like my recital dance. My teacher told me to shake my booty at the mirror, but that makes me feel embarrassed. I don't want to do that, but she said I had to because it's our recital dance. Do I really have to?"
OH HELL NO….is not what I said, but certainly what I thought.
"Of course not, babe. You don't EVER have to do anything with your body that makes you feel uncomfortable. Even if someone tells you you're supposed to. If you feel embarrassed or uncomfortable or scared, you can ALWAYS say "no." And you can always tell Mom or Dad if someone's asking you to do something that makes you feel uncomfortable and we will make sure it never happens again."
"Oh good! Do I have to keep going to that class?"
"No. You don't have to keep going."
And then I sent an email to the studio and pulled them out of class.
Having a class without great instruction isn't ideal. Choreography that sexualizes toddler and young children is unacceptable. But training kids to ignore their inner voice about things pertaining to their bodies that make them uncomfortable is downright dangerous. I want to teach my kids to LISTEN to their intuition, not be taught to ignore it.
God forbid my kids encounter someone who would want to cause them harm. I don't like to think about it and you probably don't want to dwell on it either. But let's get real: sexual abuse happens. It happens all the time. While we can't protect our children from everything no matter how vigilant we are, we can help them avoid dangers by teaching them to pay attention if they feel uncomfortable about what someone is asking them to do with their body–even if that person is a teacher or someone they think they should be able to trust. And to tell a parent about it immediately.
So we didn't go back. My five-year-old started Jiu Jitsu the next week and is the fiercest little ninja on the mat, or in her words, "warrior princess." She loves it and I adore watching her love it.
I know there are good teachers and good studios out there (although few and far between) that teach beautiful movement that's respectful of their students and of ballet itself. I've taught for amazing studios like that and trained with them. But I'd really appreciate it if dance culture could just STOP sexualizing young girls so my daughters could enjoy pursuing all their interests. I'm trying to put together a free community ballet class so they can at least keep up their training a little bit and have fun with some other kids–although, admittedly, dance class isn't as exciting if your mom is the teacher.
Someday I hope we can find a good studio. But until then, we're gonna pass. And in the meantime my warrior princesses will have some training in martial arts in case they're ever asked to do something with their bodies that makes their internal radar go off again. I would watch out. Though they be but little, they are fierce.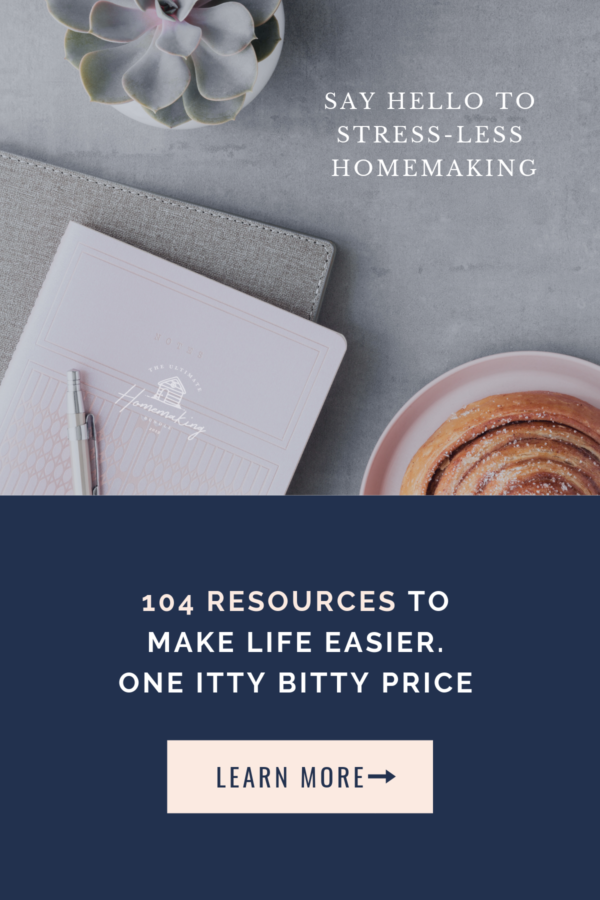 Psst! Now through May 6th the Ultimate Homemaking Bundle sale is here! They handpick ebooks, ecourses, printables and more from great writers, bloggers, and online influencers to create a helpful and inspiring collection at an unbeatable price.
When you buy the Ultimate Homemaking Bundle you'll get access to:
27 eBooks (including mine on motherhood)
30 eCourses & videos
25 printables
16 workbooks
3 summits
2 membership sites
Fabulous bonuses (like You Need a Budget membership, free handmade soap and lip balm, free mineral makeup, free children's books, and much more!)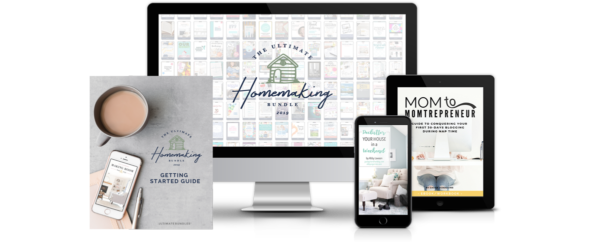 The creators behind these resources are 100+ women who have struggled with the same things as you, but strive (and will teach you) to simplify their homes, declutter & organize, put healthy meals on the table, nurture strong family relationships, and practice good self-care.
Best of all, you can get all 104 resources for just $29.97.
Many of the INDIVIDUAL products included in the bundle cost more than this if bought separately with the total value of the 104 products included being $2,294.37.  So it is truly the steal of the year with contributions from Erin Odom of The Humbled Homemaker, Kendra Adachi of The Lazy Genius and so many more!
But the sale ends May 6th! So run, don't walk, to the bundle site to see all the great books and resources that are included to inspire and encourage you in your homemaking.