Since our conversion, I've gained more appreciation for the rhythms of the Christian Year and that by observing those seasons, the story of the Gospel unfolds. One way to participate in the Christian Year is to feast and fast according to the traditions of the Church which, obviously, involves food! Sharing food with family and friends should ideally be a daily reminder of sacred things: The Last Supper, the Holy Eucharist, and the Wedding Feast of the Lamb (all connected, of course). If we consider the partaking of food not as a mundane event but as an intersection with the sacred, then what we eat, where it came from, and who grew it becomes more important.
Something we try to add to the rhythm of our lives is the practice of eating seasonal food. It seems elementary to eat according to what's growing but until recently I never knew what was in season–produce is available at the grocery store all year round! Until we started growing a garden, I really had no idea if it was the season for tomatoes or for butternut squash.
A few books have been really helped me understand some of these ideas.
I love this collection of Wendell Berry's agrarian essays: The Art of the Commonplace. I've written about how Berry's emphasis on the value of home has helped me embrace my vocation as a mother, but his essays have been just as life-changing in regards to food ethics. Please read ASAP!
Barbara Kingsolver's farm memoir Animal, Vegetable, Miracle is a wonderful introduction to eating local and seasonal foods. It chronicles her family's experience moving back to a family farm and producing almost all of their food for a year. I don't agree with every little thing she says, but it's a delightful read that found informative and inspirational.
Seasonally-organized cookbooks have also been really helpful in training me about what's in season and how to cook according to what's growing in our garden.
If you're just starting out, I highly recommend Simply in Season (by the creators ofMore with Less, an essential on my mother's cookbook shelf). It is organized by Spring, Summer, Fall, and Winter recipes and is very real food friendly. For someone like me who didn't have the first idea how to cook an eggplant or a spaghetti squash when they showed up in our CSA bag or our frontyard garden, there's a handy and simple guide in the introduction explaining how to prepare different kinds of produce in a myriad of ways. It is definitely my first stop when I'm trying to figure out how to prepare a veggie I've never cooked with or when I want to attempt a seasonal meal. The recipes sometimes need additional spice added but then again, we like things spicy!
And I also adore Brother Victor-Antoine d'Avila Latourrette's cookbooks. They contain simple, frugal, almost entirely vegetarian natural food recipes by a monk who cooks with ingredients from his monastery garden. I love that they're organized according to season and the Christian Year! Although, because Brother Victor-Antoine's monastery is in the northeast, we have to make some substitutions because what's in season in sunny Florida is usually a little different.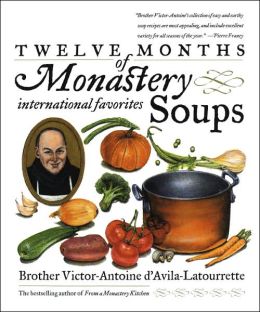 Twelve Months of Monastery Soups is a great and easy way to incorporate all those seasonal veggies. This one was gifted to us and we use it often. "The Monk," as we affectionately refer to him, also has a Twelve Months of Monastery Salads, but we haven't added it to our Cookbook Library yet.
We also love Sacred Feasts which is organized by month according to the feasts and fasts of the Christian Year. January, for example, contains seasonal recipes as well as specific ideas for Epiphany and Saint Anthony's Day.
We recently acquired From a Monastery Kitchen which is similar to Sacred Feasts, but organized according to the four seasons instead of by month. We've never tried a recipe by Brother Victor-Antoine that didn't turn out delicious!
Do you try to cook seasonally? What books have inspired and assisted you?
Update: My husband Daniel and I created our own cookbook of real food recipes that follow the Christian Year! Check it out!