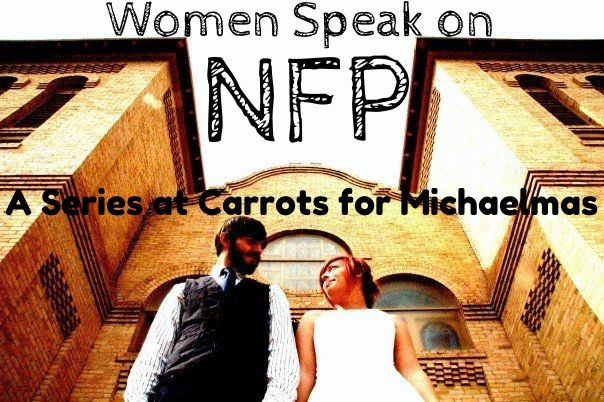 This is a guest post by my dear friend Kaitlin of More Like Mary~More Like Me. in the Women Speak on NFP series. In this series you will hear from women using various methods of NFP, some to avoid pregnancy, some trying to conceive, and their experiences.
Disclaimer: This series is not meant to be a substitute for any method of training in NFP! If you are interested in one of the methods introduced in this series, please contact a certified instructor for information about training in that method of NFP. 
My experience with NFP has been different than most. I'm coming up on five years of marriage to my husband, Ted, and we've yet to actually use NFP to avoid a pregnancy. Because of my history, we knew we might have trouble conceiving and started trying for a baby pretty much from the get-go. Even though we haven't needed to chart to postpone getting pregnant, we are eternally grateful for the knowledge that came with our pre-marriage NFP courses. NFP led us to NaPro technology, a technology that uses a woman's NFP charts to direct its diagnoses and treatments for infertility.
We have NFP (and NaPro) to thank for getting us pregnant. Here's how:
1. NFP helps to identify key days of your cycle to make diagnostic testing and treatment more accurate. One example: Anyone who has gone through the initial rounds of testing for infertility has probably heard of  "day 21 blood work". In theory, day 21 is one week after ovulation and a good time to check your hormone levels to get an idea of what your body is doing. This is based on the idea that women have 28 day cycles and ovulate on day 14. But, last I checked, a woman who has 28 day cycles 100% of the time….. doesn't really exist. So if you ovulate a few days later than the doctor thinks you "should", your blood work could be horribly inaccurate and even misleading. A much better approach is to complete the blood work on "peak + 7". That is to say, seven days after you identify your "peak" which is ovulation. If you don't chart, you can't identify this crucial time and complete the blood work with this level of accuracy.
The first OB we sought help from when we realized we couldn't get pregnant was not trained in NaPro. He suggested the "day 21 blood work" and an ultrasound series on days 12, 14, and 16 to watch my follicles grow, hopefully erupt, and produce an egg. We opted to do the blood work (and paid thousands of dollars out of pocket. Don't even get me started on that….) but weren't able to do the ultrasound series. He ended up putting me on a high risk medication for a hormone level he thought was too high. When I was tested by a NaPro doc on "peak + 7" months later, it was perfectly normal and the medication wasn't needed. I'm thankful we didn't do the ultrasound series because if I didn't ovulate on the exact days he thought I would, it could have been a complete waste of time.
We did several ultrasound series with our NaPro doctor a year later and discovered I wasn't ovulating. Thanks to my charts, we were able to identify the best days for me to take a medication that helped with this. We then used my charts to identify my peak and watch my follicles grow in order to determine if more medication was needed. We have NFP to thank for giving us this amazing picture:
Three follicles. All of which erupted later that day. One of which released the egg that held half the DNA for her
who has known grown into this.
Amazing.
2. NFP helps doctors heal your body rather than just get you pregnant. I think that many doctors, in their quest to "get you pregnant" really miss an opportunity to get you pregnant. 
Let me back up first.
I saw my first OB when I was 15 years old. I had horrible, horrible, horrible periods that were causing me to miss school every month. Cramps that sent me to the floor in agony. Puking for the first several days of my cycle. I saw just about every OB our small town had to offer and they all said the exact. same. thing. They all suggested I take the pill. It sounded like a great idea to me…except my mom refused to let me. My long term boyfriend probably had something to do with her refusal, but all I could see at 15 was her refusing to let me feel better. "This is the only thing that will help me!" I argued. She finally consented when I was 18 and my cramps instantly went away. But after only a few months I began to wonder what I was actually putting into my body every day. Even more so, I began to wonder what this meant for my future. I knew I wanted children, so what was going to happen to me when I went off the pill? I came to realize that I wasn't healed, I was patched. And I desperately wanted to be healed.
As a sophomore in college, I sought out our local NFP instructor and asked her if she knew of any doctors who would treat me without prescribing the pill. She knew of one, several hours away, and I called immediately. The office said I had to learn NFP before meeting with him so he could review my charts. So I signed up for the class and took it with a friend who was having similar issues. After a few months, I met with my first NaPro doctor, told him about my symptoms, and showed him my charts.
Endometriosis.
Not yet a diagnosis, but a strong suspicion. He suggested surgery.
I cried and cried. In part because I was worried about what this meant for a future family (Ted and I were newly dating but pretty serious at this point). But I also cried tears of joy and relief. Finally, after five years and countless doctors, I had one who was actually going to try to help. He even gave me this analogy. "If your car breaks down, you don't call a tow truck to tow you around in a broken car forever. You call a mechanic and get it fixed. Birth control is just a tow truck. I want to actually fix your car."
Cut forward a few years when Ted and I are seeking help for infertility. Our blood work experience has already taught us to only work with doctors trained in NaPro, but we needed to meet with a local OB to arrange for ultrasounds to be sent to our doctor. (He was three hours away. NaPro is worth. the. drive.) I started to tell the OB just a tad about my history and was about to ask him if he would simply order ultrasounds for me and let us use his technician when he interrupted me. "It looks like, with your history, you're going to need In-Vitro. I highly doubt you'll ever get pregnant on your own." I told him that, as a Catholic, that was not a moral option and not something I wanted to do. He just restated his stupid opinion and acted like I was crazy. He did consent to ordering the ultrasounds, however, which was all we needed from him.
A year later, after his technician conducted our ultrasound series and our NaPro doctor prescribed the right medicine, I gave birth to our beautiful daughter just two hours before Dr. In-Vitro went on call. If she had been born just a bit later he would have been the doctor catching her. I was actually disappointed it didn't work out that way. I would have loved to have had the opportunity to look him the eye and say, "Remember me?". Don't think I wouldn't have done it.
Because I had a doctor who understood NFP and was able to read my charts, he never once suggested that I wasn't able to get pregnant without artificial reproductive technology. He fixed the problem. He healed my body. And he gave us our Hannah.
3. NFP helps you identify the best possible days for conception. If you've been following Haley's series, you are aware of the fact that you can use NFP to avoid pregnancy by avoiding sex on certain days. But you can also increase your chances of getting pregnant by having lots of sex at the right times!
Anyone who has dealt with infertility knows that's not nearly as fun as it sounds.
Nuff said?
4. NFP treats the whole person. We are body and soul. We cannot find healing in a system of medicine that only seeks to treat our body. When I sought out doctors who were committed to treating me with NFP and NaPro technology I found doctors who truly cared about me. I've worked with four different NFP only doctors in three different states and each of them has helped me deal with the spiritual and emotional aspects of infertility just as much as the physical. One doctor told me of his prayers for me the morning of my first surgery. Another allowed Ted to bless his hands with holy water before going in for surgery a second time. Each of them took the time to fully explain things to me, allowed me time to process and grieve, offered me tissues, and assured me of their prayers. I'm not saying you can't also find that in mainstream medicine, but holy doctors seem to abound the world of NaPro. And the world needs holy doctors to treat more than just medical conditions.
NFP is powerful. It's information that every women deserves to have about her body. Especially women struggling to get pregnant.
That's real medicine. That's what got me pregnant.
Kaitlin is a Catholic wife who, by the grace of God, has gone from blogging about infertility to blogging about motherhood. She writes at More Like Mary~More Like Me.