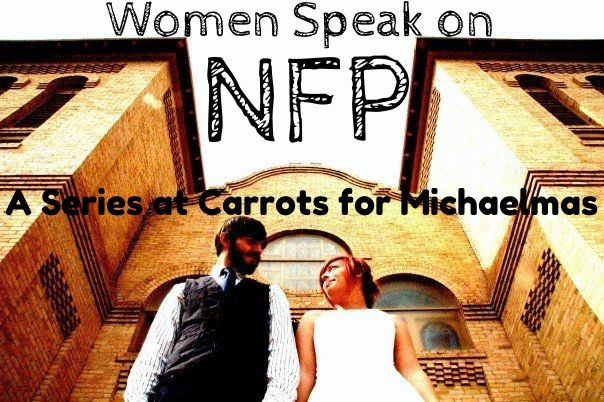 This is a guest post by Kate of be merry, kate in the Women Speak on NFP series. In this series you will hear from women using various methods of NFP, some to avoid pregnancy, some trying to conceive, and their experiences.
Disclaimer: This series is not meant to be a substitute for any method of training in NFP! If you are interested in one of the methods introduced in this series, please contact a certified instructor for information about training in that method of NFP. 
I have many glowing things I could say about NFP. I love how informative it is. I love how natural it is. I love that there is this option for families who truly need it. What I hate? Having to use it. I had big dreams of graduating college, getting married, and having children right away. I kind of forgot that children cost money and there is the little fact that I was in mountains of college debt and I was married to a graduate student. We prayed and we tried to figure out a way to make it work, but it just wasn't in the cards yet. To be frank? It sucked.
So how do you deal with that time when you have to postpone pregnancy when you (whine) just don't want to? Here's a few do's and don't's.
(Disclaimer: I only have experience in using NFP at the very early days of our marriage. I have no clue how much more difficult it would be to have to use NFP indefinitely because of a health issue or what it would be like to postpone when you already have kids. So take what I say with a big ole grain of salt.)
DO: PRAY. I shouldn't have to list this, but seriously, do it. I'm horrible at prayer. Pray for patience. Pray for cheerfulness. Pray that you may properly discern God's will for your family.
DON'T: Get mad at God. Well, you shouldn't get mad at Him at any point. But I mean, we're all human and we like to blame things on others. He has a plan for you and your marriage. Don't doubt Him. Trust Him.
DO: Enjoy the time with your husband. Once you start having kids, your marriage will change. Not everyone gets to have significant time as a family of two. That isn't to say you should use NFP for that reason alone, but if you're in that situation anyway, make the most of it. Enjoy Saturday mornings watching movies and staying in bed until noon. Enjoy going on spur-of-the-moment dates. Go get drinks at a bar on a Wednesday night at 11pm… because you can. (Note: If you're waiting, but you already have children, enjoy the time with the family as it currently stands. Snuggle the kids you have a little extra now, because they will only be little once and you already know how drastically things change once a new baby comes along.)
DON'T: Mope. Yes, it stinks. Especially when you have friends having babies. Especially when people ask you why you don't have babies yet. Especially when nosey people ask you your reasons for using NFP (I've been that nosey person before. Sorry to those affected!).
DO: Find hobbies. If you don't have any children yet, this is a little easier. I learned to sew, started hiking and camping, practiced my baking and cooking, learned to cross stitch, took spinning classes… Also? Find hobbies to occupy yourself during the fertile times. SERIOUSLY. It is much easier to deal with that window of time if you have lots of stuff going on. Just being honest here…
DON'T: Live like you'll never eventually have those children… especially if you know your wait is temporary. If your situation is more permanent, this of course doesn't apply (and my heart goes out to you). Enjoy the time, sure, but be sure to prepare your family for the possibility of an addition. I mean financially, practically, emotionally… etc.
DO: Get counsel. Sometimes it is hard to know what is best. Get counsel from your priest or even your NFP instructors. Have a serious reevaluation of your situation every so often (every month even!). It is much easier to deal with waiting when you know you are doing it for the right reason and that you made the decision with good and wise counsel.
DON'T: Compare your life with others. What is good for one family isn't necessarily what is good for your family. I had a hard time with this one. Realize that appearances are merely that, appearances. "Comparison is the thief of joy." Say that over and over again until it sticks.
And one final note, remember that just because this part of your life may be hard, it doesn't mean that it isn't good. What you are going through now could very well be preparing you for something better. The Lord is pretty awesome that way. Stay strong and remember that, this too, shall pass.
Kate is a wife and a full time working mama to one. In her copious amounts of free time she likes to run, sew and craft. She has dreams of spending her days raising a litter of kids on her own little homestead while her husband is off teaching philosophy to the youth of America. You can find her over at be merry, kate where she (usually) writes about her attempts to balance it all.