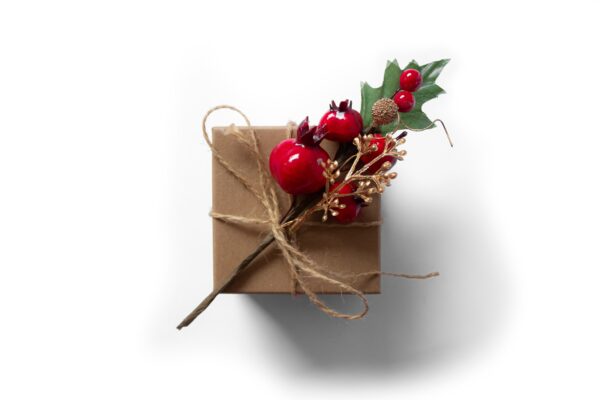 In 2016 I created my first Christmas gift guide post, so this is the 5th anniversary of the Carrots gift guide! Readers have requested a new guide each year and over time I've intentionally pivoted to including ONLY small businesses.
This year we've all seen restaurants and storefronts close due to the pandemic. 2020 has hit small businesses so hard! This year more than ever it's clear that we need to support them and help keep these makers and their families afloat. So I collaborated with 24 shops to put together this guide of products I think you and your families will love.
Shop small and shop early (so that makers have plenty of time to get your items to your door)!
I'm including lots of discount codes just for you and don't forget to enter the HUGE giveaway featuring 15 shops! (All the details [UPDATE: AND WINNER!] are at the end of this post and you can enter over on Instagram!)
Some of the following links are affiliate links. I'm sharing an item (or more) from each shop. Keep an eye out for discount codes that I share in bolded text! Without further ado, feast thine eyes on some beautiful things!
House of Joppa
This lovely shop created by Matthew and Tabitha offers modern Catholic Home Decor, jewelry and gifts to help others "live out the beauty" of the beloved Catholic faith.
Mini Mary Garden: This garden kit comes with everything you need to create a lovely, delicate homage to Our Lady. The all glass and gold terrarium comes with a white Our Lady statue, a sprinkle of green moss, an assortment of small faux flowers, including a coupling of babies breath stems.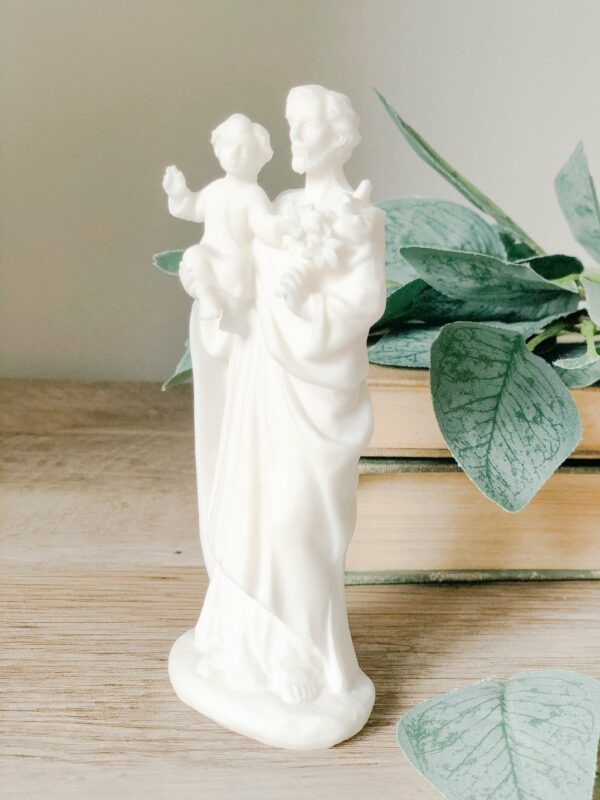 St. Joseph Statue: Hand sculpted in Poland and made of white alabaster, this Saint Joseph statue features him lovingly holding the Child Jesus and lilies in the other hand.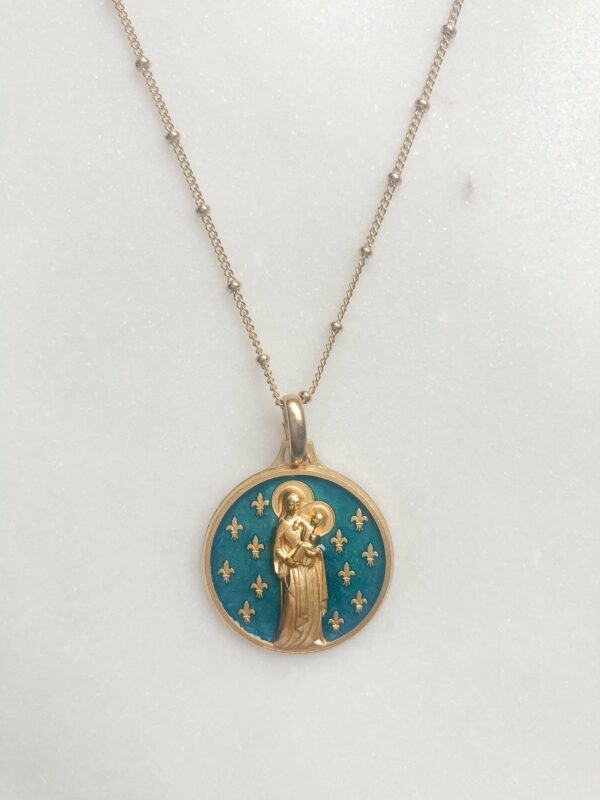 Virgin of the Lilies Necklace: Featuring a stunning hand poured dark blue enamel image of Our Lady holding the Infant Christ surrounded by twelve Fleur de Lis. Modeled after the famous painting by French artist William-Adolphe Bouguereau. The image is surrounded by a gold brass pendant which hangs from an 14 kt gold filled satellite chain.
Use code: CARROTS15% at House of Joppa.
Shining Light Dolls
Shining Light Dolls is a Catholic family owned small business creating premium toys designed to nurture the hearts and imaginations of children.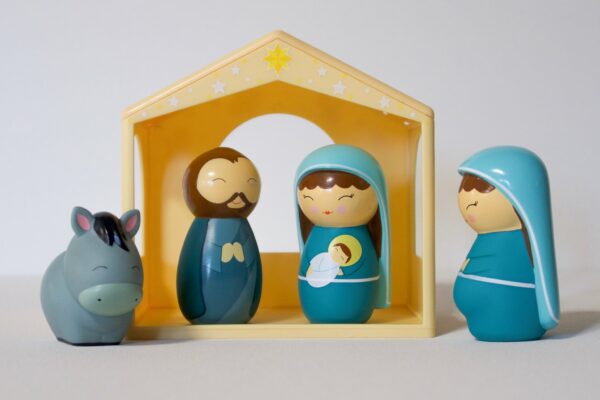 The Holy Family Nativity Playset: includes The Virgin Mary with baby Jesus, St. Joseph, a donkey, a stable- and a very special Expectant Virgin Mary. A great option for babies and toddlers so they can play with a Nativity that won't break!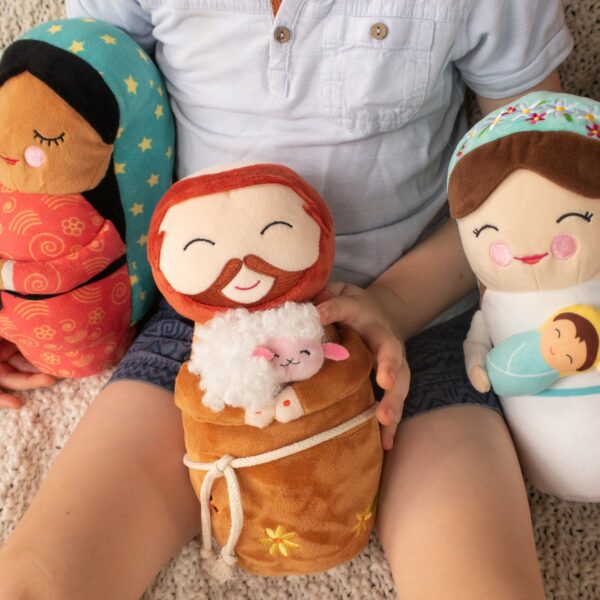 Plush Saint Dolls: Plush material is surface washable. Each doll made lovingly by hand.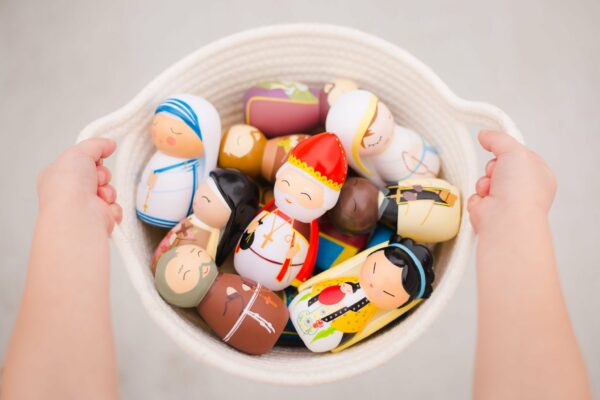 Classic Saint Dolls: These dolls are safe for babies and toddlers, and continue to engage preschool and school age children with imaginative play centered around the "characters" of their Faith. We have several and my kids have loved them all!
Reliquary Supply
Reliquary Supply is a Catholic, woman-owned small business bringing you re-imagined Catholic classics like holy water bottles, crucifixes, prints, and Advent decor. Each piece is crafted in small batches, often through partnerships with talented creatives who are dedicated to Catholic values like ethical sourcing and sustainability.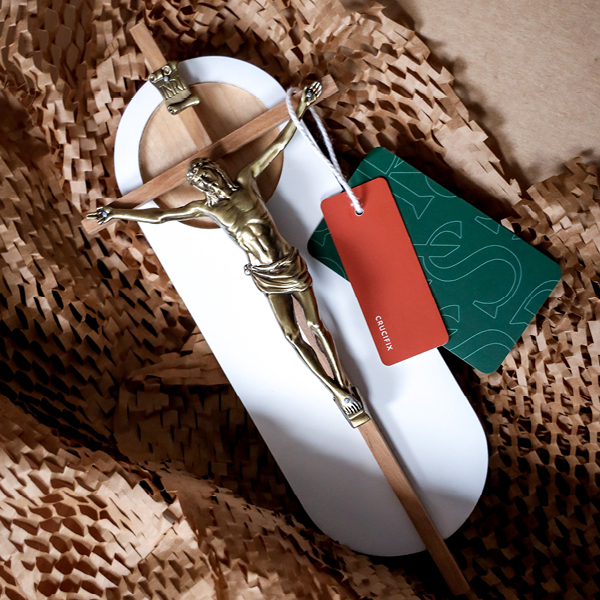 Agnus Dei Crucifix: This 10″ crucifix is hand-crafted from Baltic birch, melamine, and maple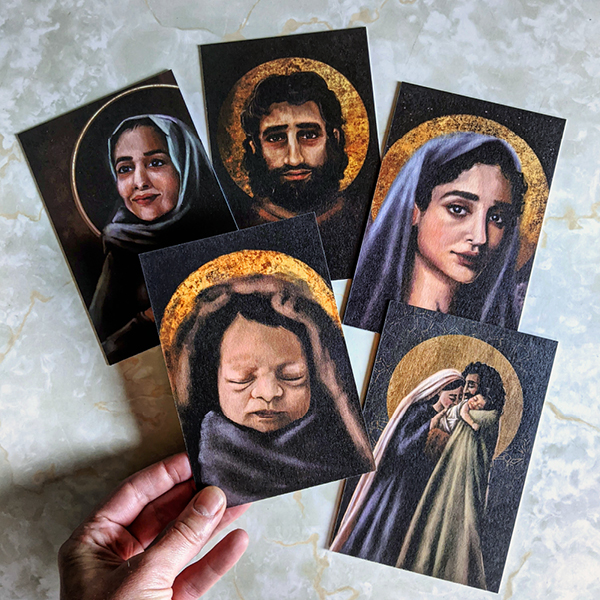 Advent Meditation Cards: this card set explores the themes of hope, faith, joy, peace, and belonging, corresponding to the four Sundays of Advent and Christmas Day.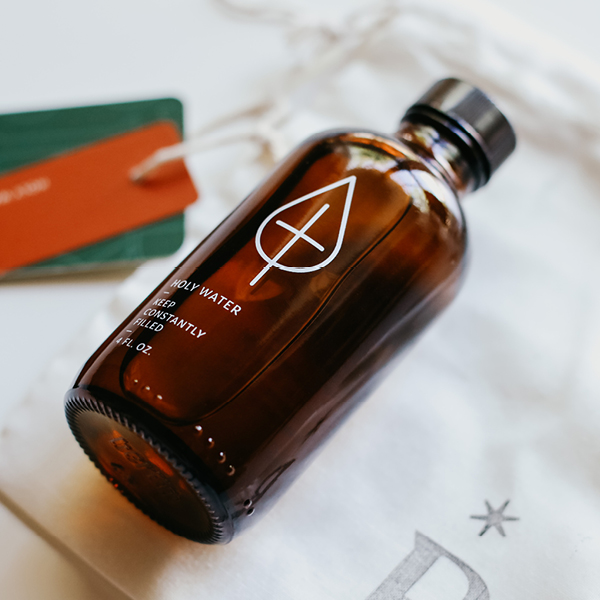 Holy Water Bottle: This 4 oz. amber glass bottle is a reminder of the gift of sacramental grace.
Go to Reliquary Supply and use Coupon Code: Carrots10 for 10% off through Dec. 7th
The Crazy Cactus Designs
Good friends of mine started a creative business this year! The Crazy Cactus Designs makes handmade custom tumblers, wooden signs, and home decor from an incredible husband and wife team! All items are custom made for you in at their home studio in Waco, TX.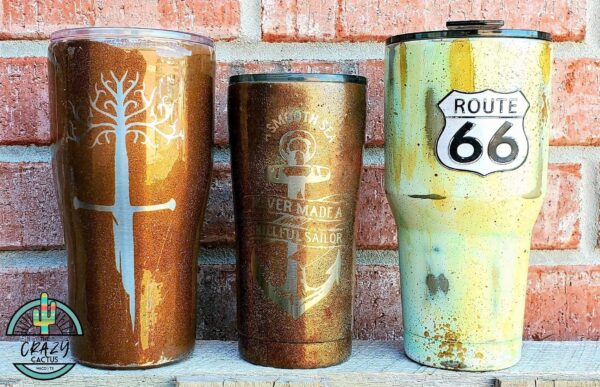 My husband has the Tolkien-inspired one on the left and it even has his name (Daniel) in elvish on the back!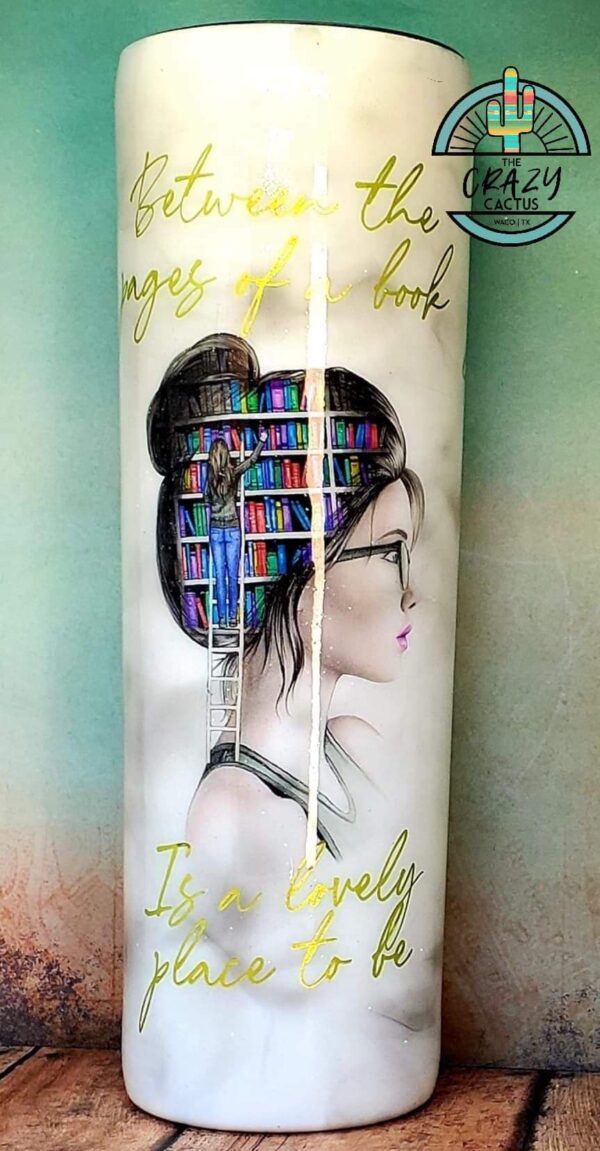 I have this bookish design with my name on it!
And I think a manly custom tumbler would be a great gift for that hard to shop for guy in your life! You can find The Crazy Cactus on Facebook or email them your request for a custom design at thecrazycactusdesigns@gmail.com
Chews Life
Chews Life is a mama owned and run business that creates beautiful, practical rosaries and other devotional aids that foster a love for Our Lord and His Mother.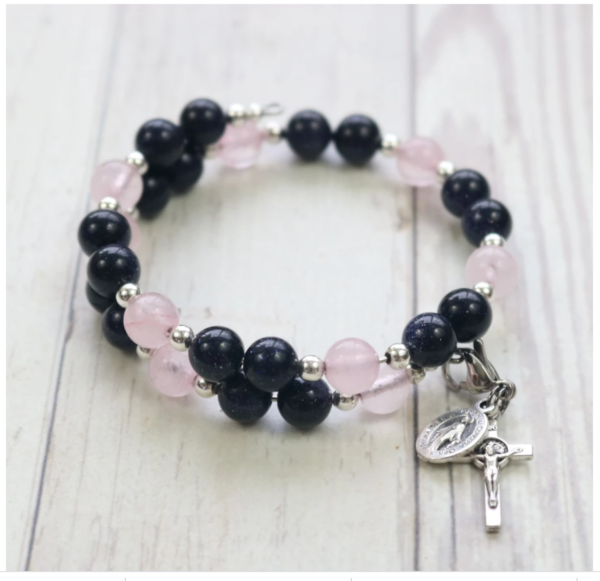 Novena Bracelet so you can keep track of your prayers. The moveable crucifix charm helps you count the days of your Novena on the nine main beads. And if your Novena has different parts — a rosary and additional prayers, for example — then the pair of beads in between the single ones can help you remember to complete each part of your daily Novena.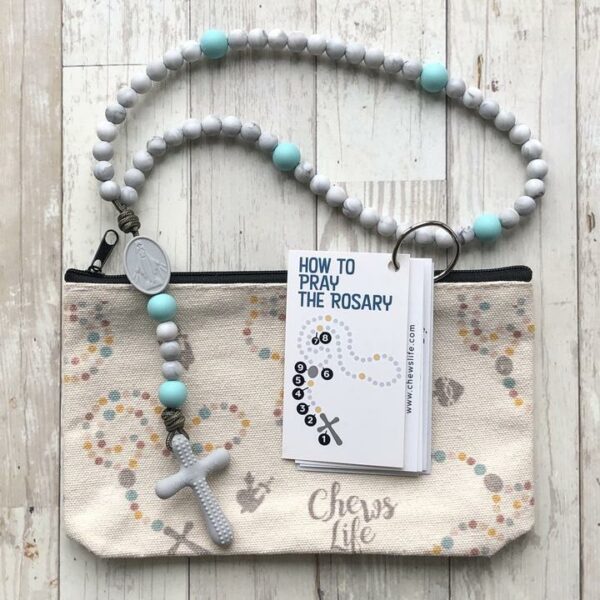 Shepherd's Kids Rosary: Durable enough for heavy use and "grown up" enough for the big kid crowd. My kids have these and they are great!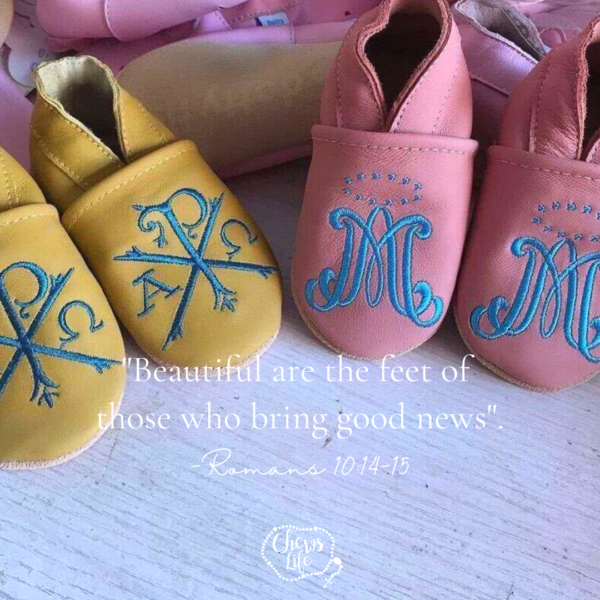 Emmaus Crib Shoes: Oh my goodness. These genuine leather baby and toddler shoes are too adorable!
Discount Code: Use CARROTS2020 for 10% off at Chews Life through Jan 15th
Marzipantz Shop
Marcy of Marzipantz Shop makes beautiful heirlooom saint dolls (we have St. Hildegard and love her!) and recently collaborated with her husband to create a beautiful children's book about the saints.
Sleepytime Saints A-Z is a collection of nursery rhymes about well-loved and some not-so-well-known saints of the Catholic Church in an ABC format. Each page features handmade dolls from Marzipantz doll shop beautifully and imaginatively photoed in colorful flat-lay. You can order here and books ship January 4th.
Catholic Sprouts
The mission of Catholic Sprouts is to help parents in the work of evangelizing their children.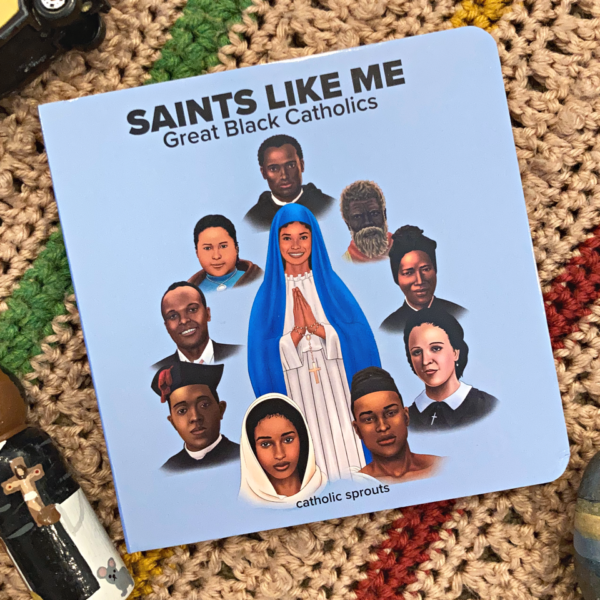 Saints Like Me: Great Black Catholics is a board book created so that no child will ever grow up thinking that Holy People don't "look like them". There has never been a better time to learn about the amazing Black Catholic saints honored by the Church.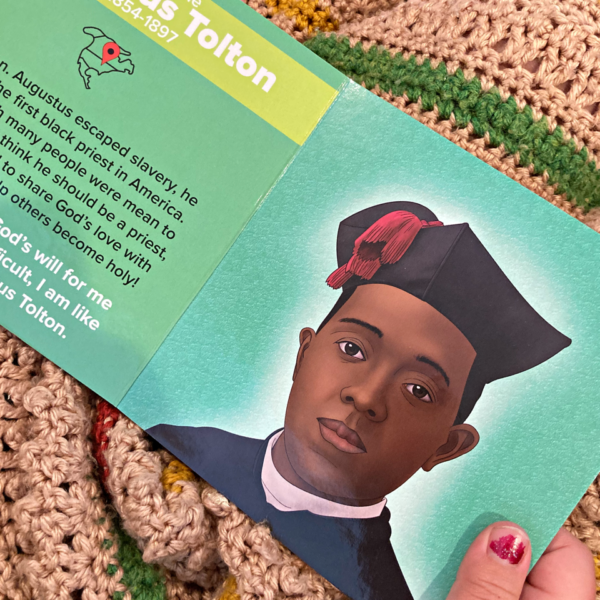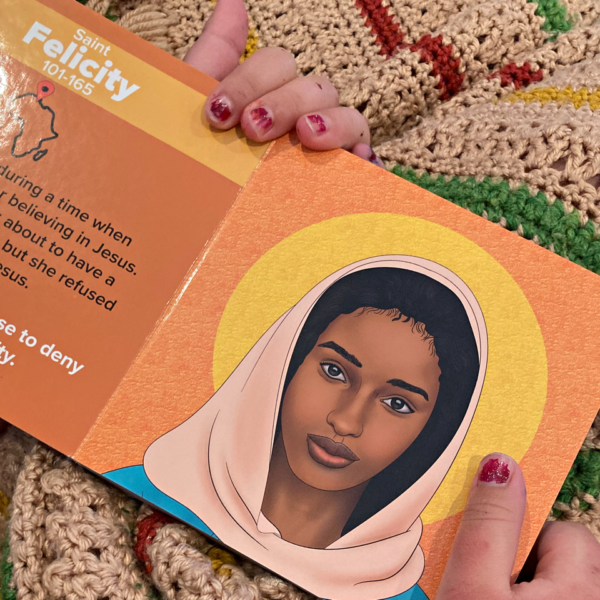 This wonderful board book will be available in December. Sign up for the Catholic Sprouts newletter to be notified when it's available!
Use CARROTS for 15% off all products at Catholic Sprouts
Rose Harrington Art
Rose Harrington, LLC was created by Katrina Harrington, who humbly attempts to marry floral beauty with saintly truth while designing her art, ceramic mugs, calendars, canvas banners and tote bags. Katrina prioritizes working with only manufacturers that are in the USA with the aim that her products are of high quality, made in ethical and clean production centers, to minimize costs to the environment in transport, and also as a helpful way to keep her in check from unintentionally contributing to a throwaway culture.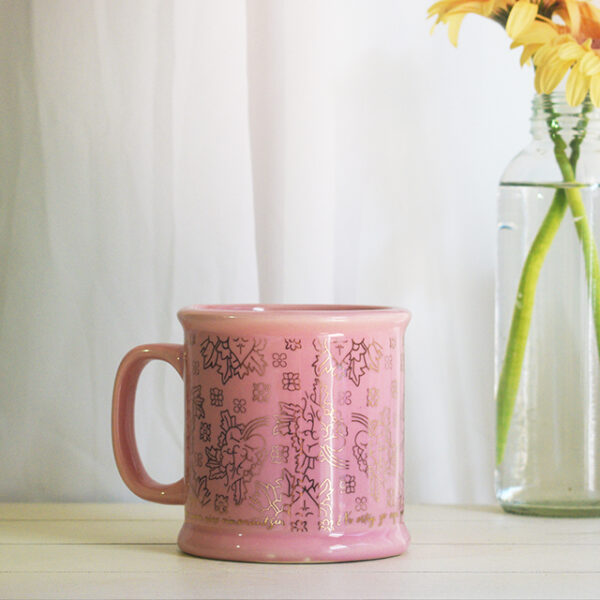 Our Lady of Guadalupe Mug: Wrapped with the words of Our Lady of Guadalupe to St. Juan Diego, "Am I not here, who am your Mother?" this rose pink mug with a 24ct gold design inspired by the dress pattern of Our Lady of Guadalupe reminds you to always remember that you are wrapped in the Blessed Mother's mantle. Our Lady's words are written in Nahuatl (that native language of St. Juan Diego in which he heard her message), Spanish, and English. Designed in California, manufactured in Ohio.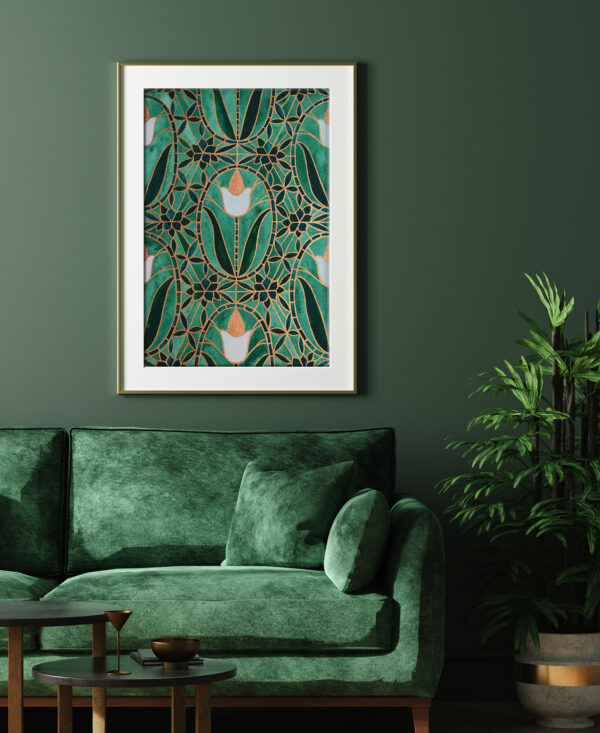 Mary's Prayer and Praise: from the new stained-glass inspired collection. Within each hexagon of the pattern, there are the following hidden meanings: 1) The flowers chosen are tulips and petunias. Tulips have the religious name Mary's Prayer as the flower looks like a cup pointed upward, always open to receiving the grace of God. Petunias were called Our Lady's Praise. 2) Luke 1:28 for when St. Gabriel greets Our Lady with, "Hail Mary, full of grace," is depicted by 1 golden drop of grace filling the tulip and 28 pieces creating an oval border. 3) 1 Samuel 2:1-10 is Hannah's Prayer in the Old Testament which has many similarities to Mary's prayer of praise in her Magnificat in the New Testament is shown with 1 white tulip, 2 tulip leaves and then the 10 pieces that create the tulip stem. Will be listed soon!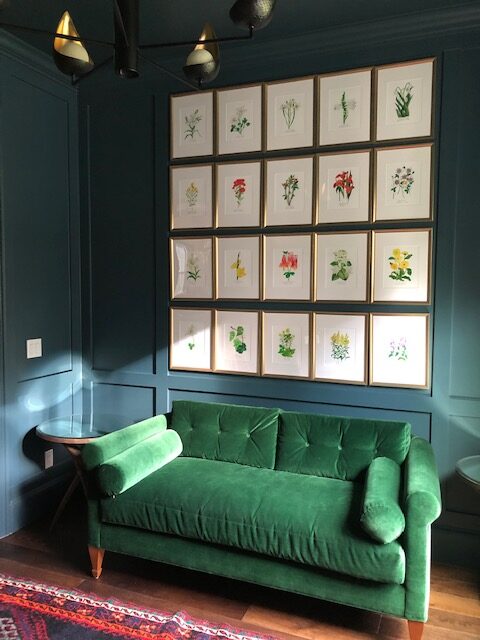 Botanical Rosary art prints. Katrina creates beautiful botanical prints and connects them to the different mysteries of the Rosary. I have the sorrowful mysteries in my living room and want too collect them all!
Use CARROTS15 for 15% off Botanical Art, Calendars, Hand Lettered Art and Banners at Rose Harrington Art
Tea with Tolkien
Everyone's favorite Tolkien-inspired maker, Kaitlyn Facista, created the planner we've all been waiting for!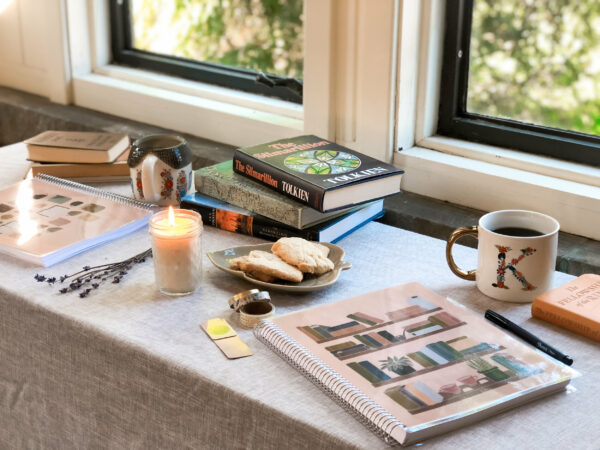 Pre-sale pricing ends November 28th.
30 Weekly Challenges + room to add your own
Growth: Space for Goal-Planning
Memorization pages
To-Be-Read Page featuring original artwork: fill in the books on your to-be-read list (this is my favorite page!)
Book Club Pages
Reading Schedule: The Lord of the Rings in a Year
Introduction to Tolkien's Shorter Works
Meal Planning pages
Weekly Rhythm pages
Year at a Glance
12 Monthly Spreads, with 5 Weekly Spreads per month
Dot Grid Pages at the end of every month
Notes Pages at the end of the planner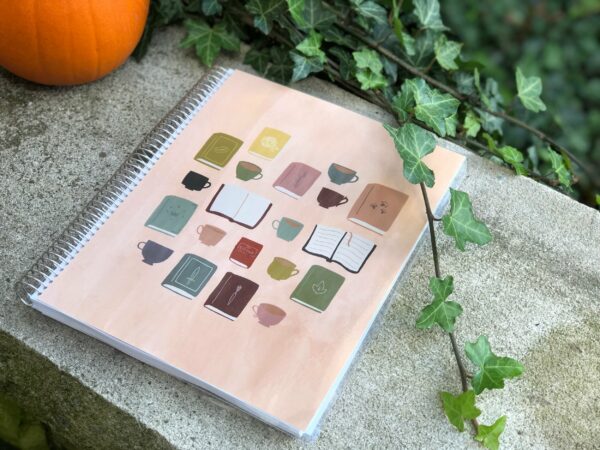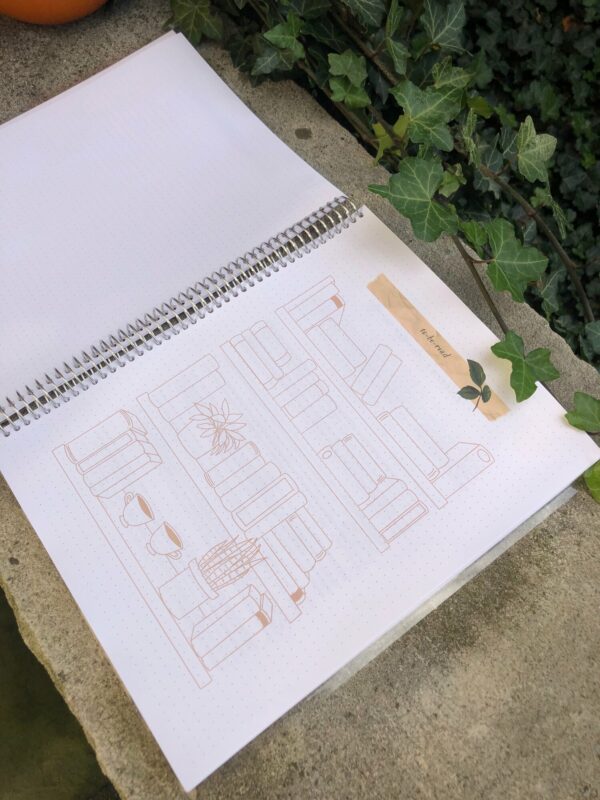 Use CARROTS10 for 10% off purchase at Tea with Tolkien
Annunciation Designs
Annunciation Designs is a Catholic shop focusing on ethically made practical products including apparel, gifts, kitchen goods, and more. Their goal is helping your family call to mind the Sacred in the midst of the ordinary.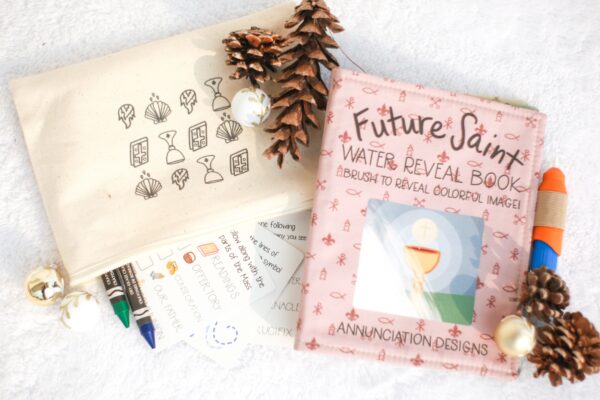 Future Saints Water Reveal Book: This reusable fabric book is perfect to engage your little future saint at Mass or Adoration.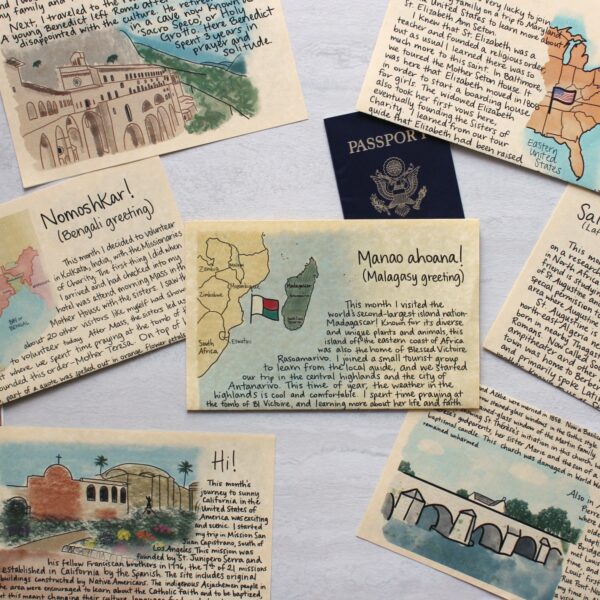 The Wanderlust Catholic Monthly Letters: Our Catholic faith encompasses so many beautiful locations, traditions, churches, Saint stories, and more. The Wanderlust Catholic will bring one of these treasures to life every month.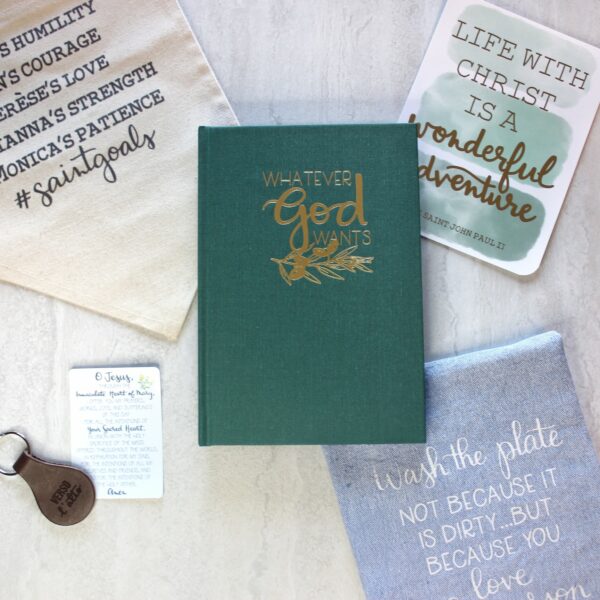 The Catholic Journal: This notebook works perfectly as a Bullet Journal™, prayer journal, keepsake journal , or Mass journal.
Happy Nest Home Goods
Theresa of Happy Nest Home Goods offers modern Catholic embroidery art and patterns, sacrifice beads, and diffuser jewelry to help us embrace everyday holiness at home.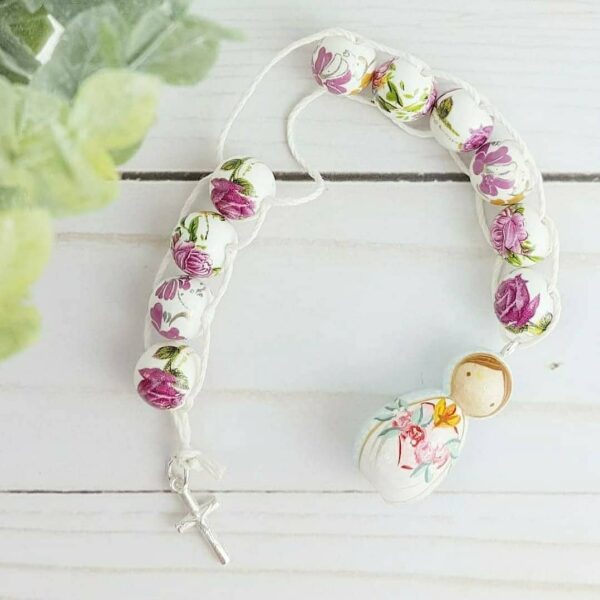 Immaculate Heart of Mary Peg Doll Sacrifice Beads: this set of sacrifice beads is modeled after those used by St. Therese of Lisieux to count little acts of kindness or little sacrifices made for love of others throughout the day.
St. Therese Sacrifice Beads in Ceramic Blue Flowers
Snowflakes Ornaments PDF Embroidery Pattern: Create a beautiful work of art for your home or as a gift with this modern Christian embroidery pattern. Book includes patterns for 3 different simple sweet snowflakes in 3″, 4″, & 5″ embroidery hoops.
Use CARROTS21 to get 10% off your entire order for all orders over $35 at Happy Nest Home Goods
Zelie Beans Coffee
Zelie Beans Coffee is a small family-owned business committed to sourcing high quality, ethically sourced coffee beans. They ensure that growers receive fair prices so they can reinvest in their farms and families. And they provide delicious coffee mailed straight to your doorstep. (And it's GOOD. I've been ordering from them for almost a year!)
Carrots readers have the chance to snag the first sampler pack of coffees before they go live to the general public! This will include 3 different coffees (4oz each), the El Salvador Mapache Estate, Guatemalan Pachup micro-lot, and Nicaraguan Los Robles.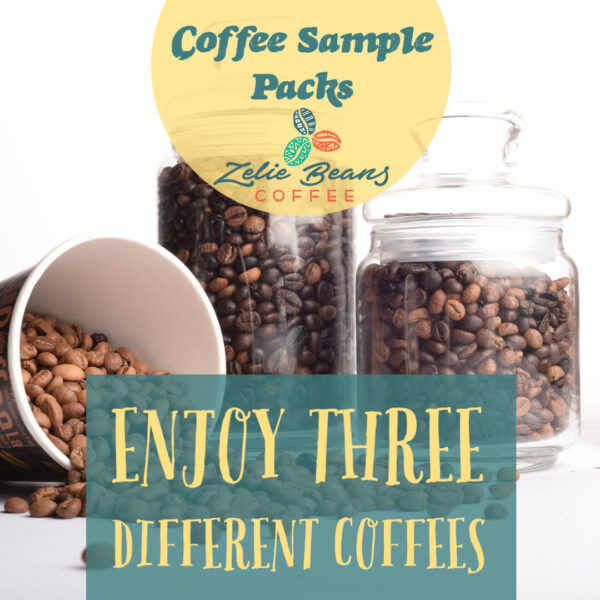 Order your sample pack here!
For other products, use discount code giftguide2020 at Zelie Beans for 15% for orders over $25 (code cannot be used for sampler pack or subscriptions). Follow Zelie Beans on social media for special offers for Black Friday, Small Business Saturday, and Cyber Monday!
Almond Rod Toys
The saint blocks from this beautiful family owned shop are my favorite baby/toddler gift. Hildie loves them. They're the perfect weight and size for babies to hold (and very durable for the inevitable drooling/teething).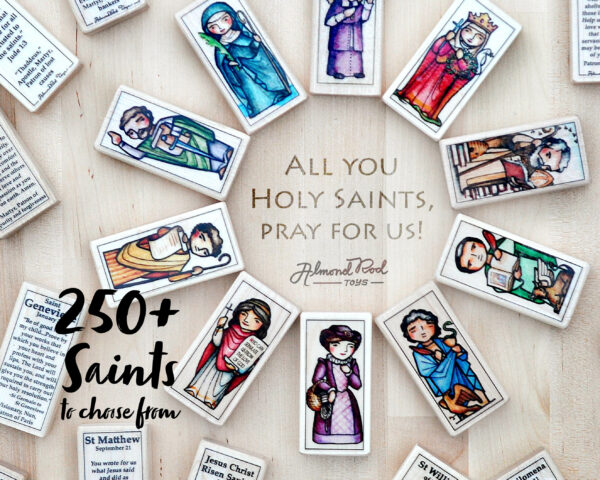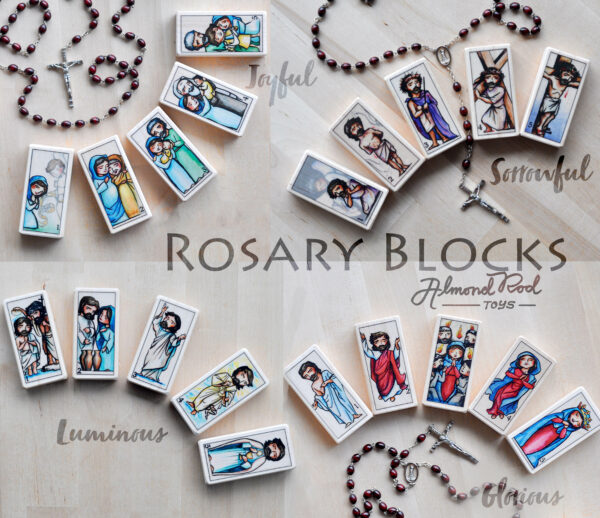 Mysteries of the Rosary blocks are the perfect thing for young children to hold when learning to pray the Rosary with the family. They're also a great gift for godchildren!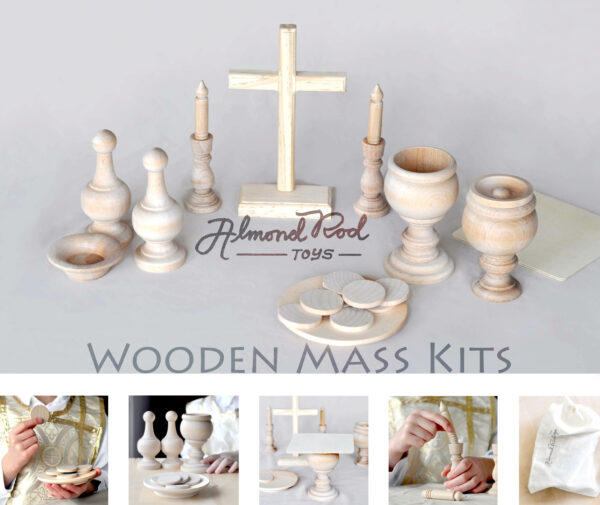 This Wooden Mass Kit offers children the opportunity to connect with the Mass through hands on learning and imaginativeplay.
Use CARROTS2020 for 10% off and free shipping on purchases over $35 at Almond Rod Toys.
Be a Heart
Founded by Erica Tighe Campbell, Be a Heart's vulnerability, spirituality and artistry consistently overflow into raw, original collections of textiles, apparel, accessories, party goods, art prints and award-winning calligraphy.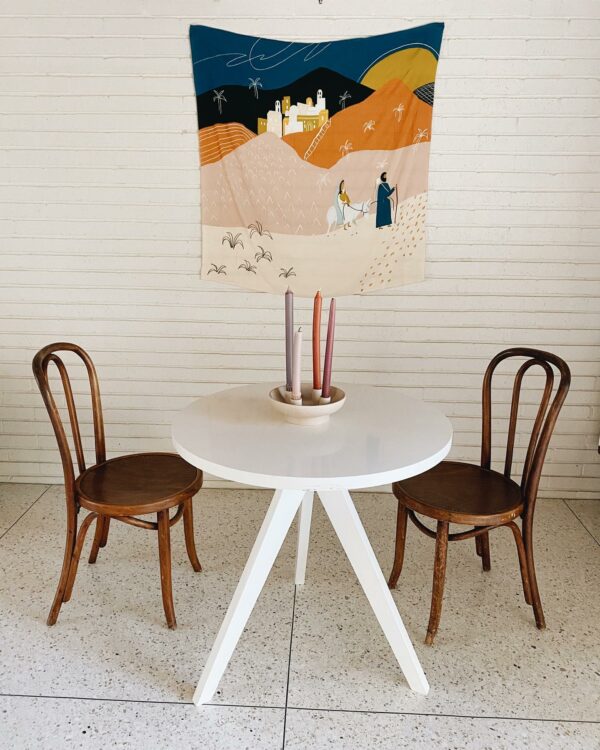 Holy Family Tapestry Scarf: this fabric makes for a beautiful scarf to wear both for fashion and warmth. The drape of the fabric also lends itself to be a gorgeous tapestry hung in your home both for the Christmas season as well as year round.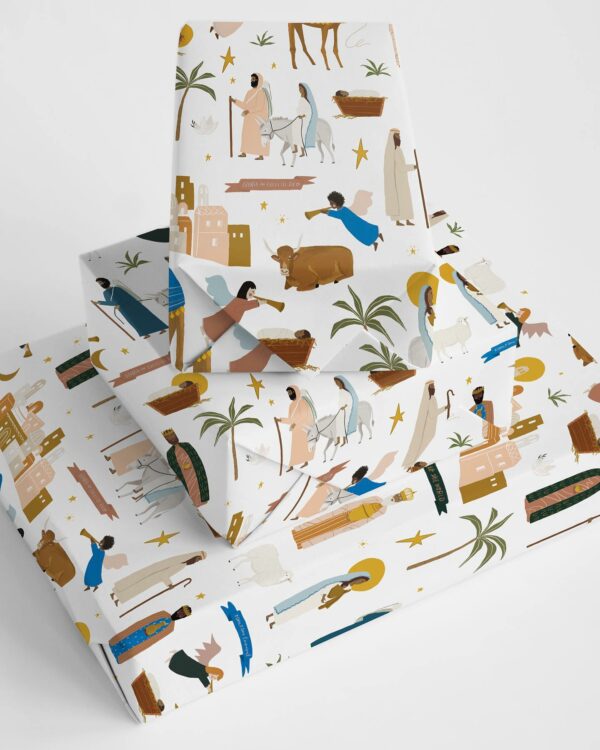 Christmas Emmanuel Wrapping Paper: This beautiful wrapping paper is 30inches x 12 feet. Cannot wait to wrap my kids presents in this!
Discount code: Use CARROTS10 for 10% off Be a Heart products (and check out the beautiful Mary doll just released!)!
Tamburn Bindery
Tamburn Bindery is a family business inspired by the consummate craftsmanship of Medieval illuminated texts, early printed incunabula, and the Victorian private presses.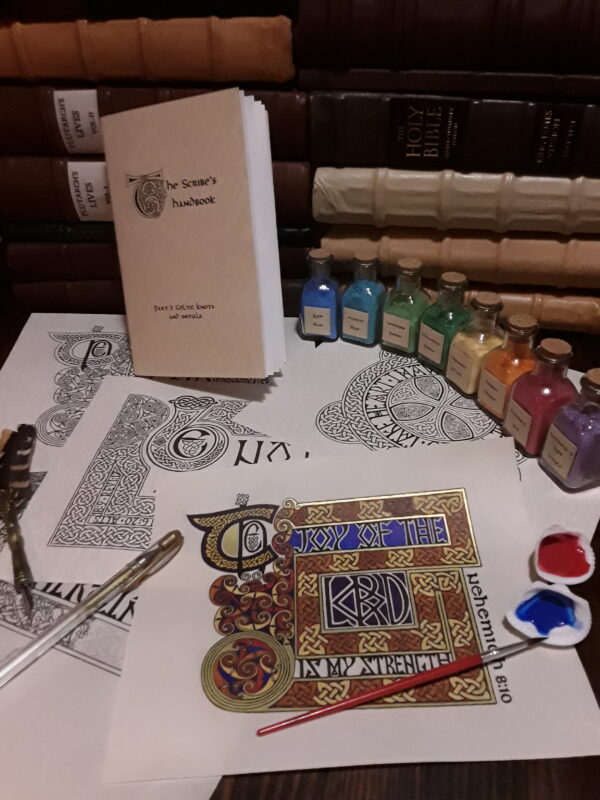 This box kit for young aspiring artists (8 years and up) is based around the Celtic illuminated manuscripts features.
1. A booklet guide for making Celtic knotwork and illuminated lettering.
2. Three original illuminations on parchment for coloring/painting.
3. Eight bottles of medieval pigment tempera powder for mixing.
4. Clam shells for holding paint, like the medieval scribes used.
5. Paint brushes and gold ink pen.
6. A digital download of the illuminations for printing as coloring pages.
I need this for my nine-year-old aspiring artist!
Use the code ILLUMINATE at Tamburn Bindery for $5 off!
SaintCards
SaintCards is a small family business run by the Williams Family based in the St. Louis Area. The idea for SaintCards was born out of a desire to teach their own children about the lives of the saints. Through learning about these holy men and women, the entire family can grow in holiness, all while having fun!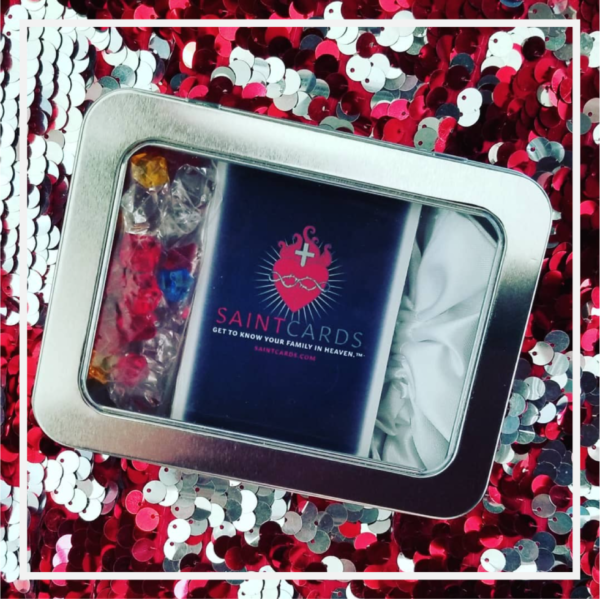 SaintCards Base Game. This is the starter set (and the one I purchased for my family.) My kids have loved it and it is simple enough even for young children to play.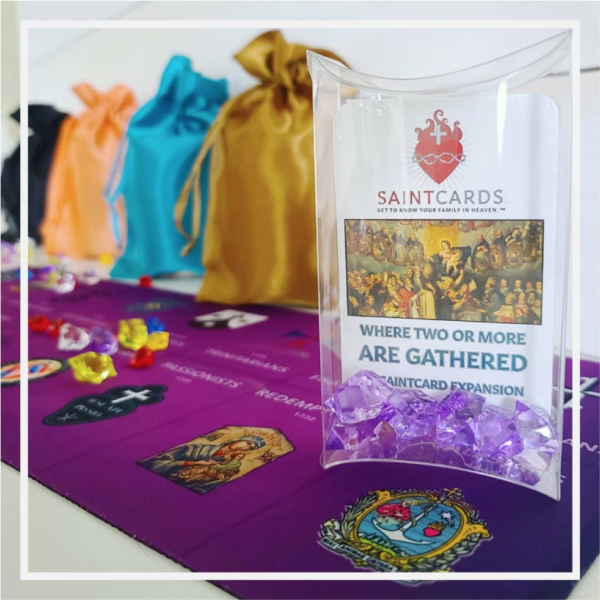 SaintCards: Where Two or More Are Gathered Expansion. This is from the new 2020 Collection. Each expansion adds brand new saints to your collection and also adds a new component to the gameplay to help reinforce different categories (Stigmatists, Bilocators, etc.) This Expansion emphasizes all of the "groups" of saints (Martyr Companions that died together, Sts. Peter and Paul, etc.) and gives each player the chance to gain even more Treasure on their turn.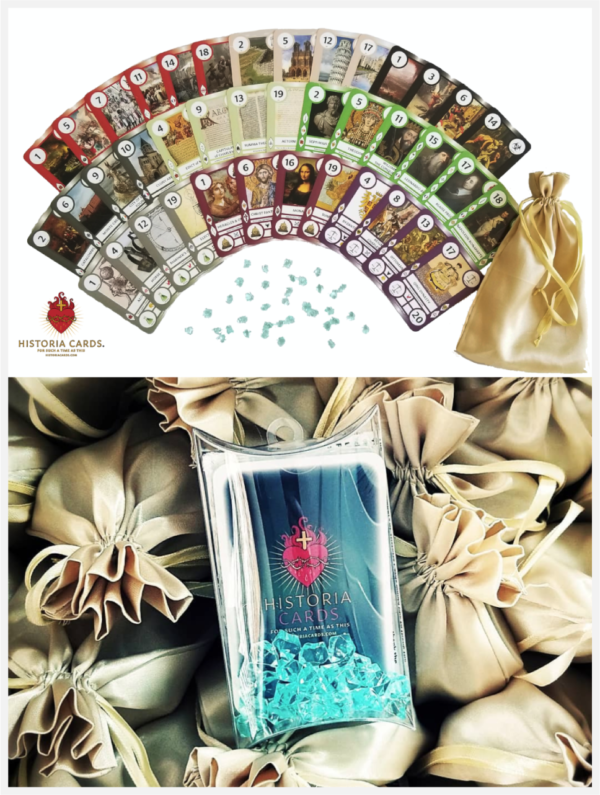 Historia Cards (Set I) You can also teach core school subjects (History, Geography, Social Studies) with Historia Cards! These can be played on their own or along with SaintCards and this set in particular has over 300 facts.
Note: The video tutorial of how to play really helped us when we got started with SaintCards. You can view tutorial videos and download the rules here: www.saintcards.com/rules
Any customer can use the code TENCARROTS for an additional 10% off their order at SaintCards
Pink Salt Riot
Pink Salt Riot is a family owned business creating true and beautiful goods designed and made in the USA for faith filled people.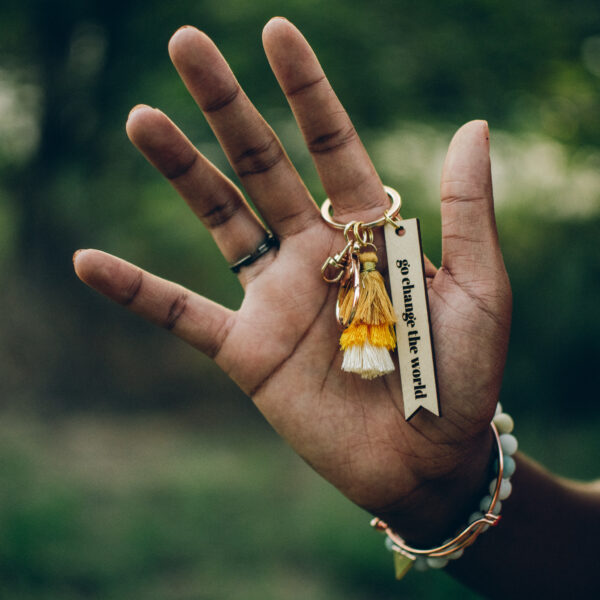 Go Change the World Wooden Banner Tassel Key Chain: These beautiful wooden keychains are durable, trendy, and full of meaning.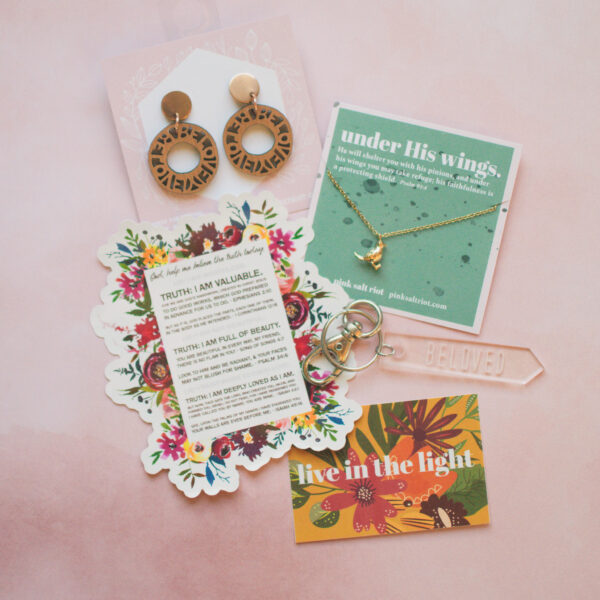 Pink Salt Riot features jewelry, apparel, accessories, paper goods, and more!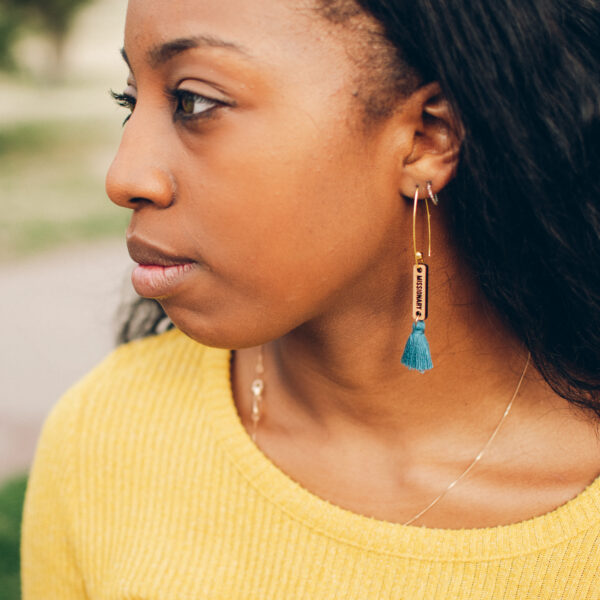 Missionary Peacock Blue Tassel Earrings: These lovely earrings are a reminder that we are all called to live missionary lives and share the truth of the Gospel.
Use coupon code CARROTS for 10% off at Pink Salt Riot and don't miss the Black Friday sale 11/25 (Wednesday)- 11/30 that automatically applies 30% off to all items not already reduced!
Providential Co
Providential Co. is a little studio in Texas that seeks to share the beauty of the Gospel through thoughtfully designed items and its creator, Tricia, is one of my favorite artists. We hired her to design our programs and logo for our Anne of Green Gables conference last year and they turned out amazing!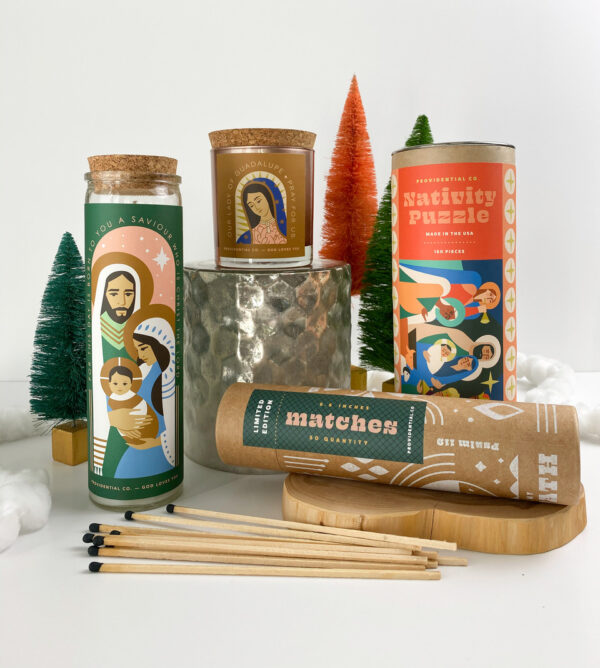 The new Christmas Collection is stunning!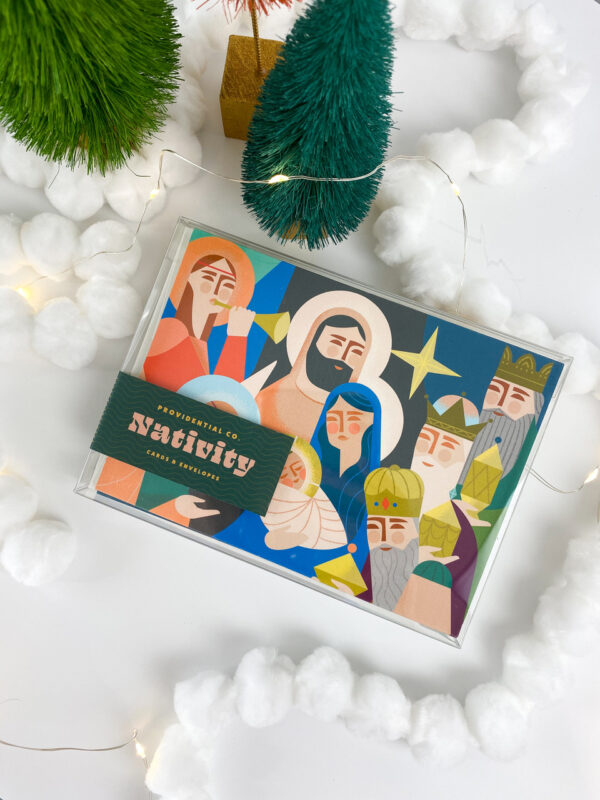 In addition to the beautiful candles and matches, it features Nativity cards and a Holy Family puzzle! I have always wanted to have a Christmas Day family puzzle tradition and perhaps this is the year to begin!
Head over to Providential Co and use CARROTS2020 for 10% off (valid through the end of 2020)
Brick House in the City
Brick House in the City is a mama-owned business creating Catholic apparel and home goods to inspire and bring us close to Jesus, Our Lady, and the Saints.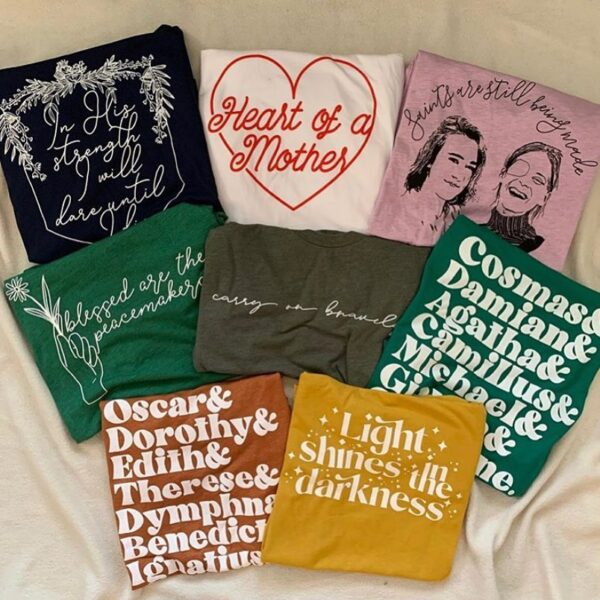 Head over to Brick House in the City to see their new t-shirt line (and check out the tea towels I've been eyeing in their new home goods section).
Adoramus Te Studio
Adoramus Te Studio is a woman-owned small business run by artist and homeschooling mother, Jessica Grosheim. The shop is named for Jessica's love of Adoration and the line "We Adore Thee" in the Gloria prayer. The shop features original artwork, home goods, and resin castings of vintage wax molds. Jessica's goal is to use her talents to glorify God and to help bring beauty into your domestic church.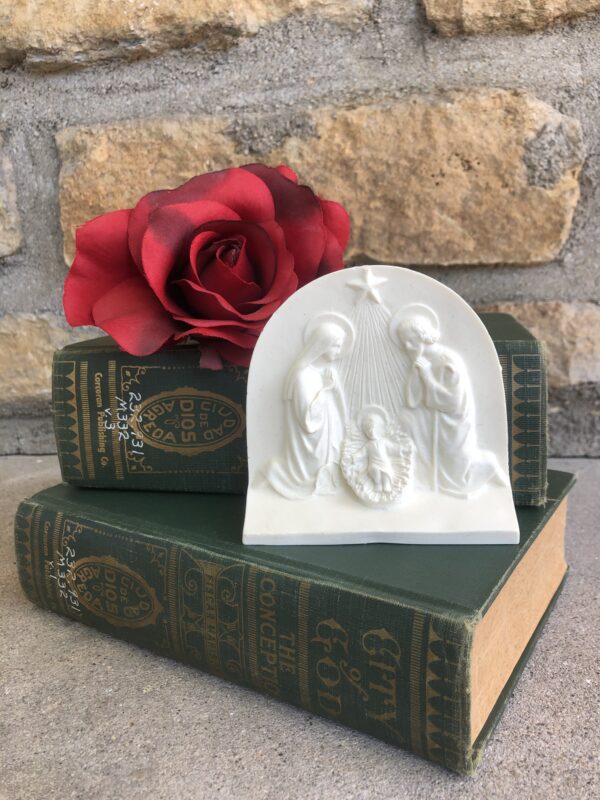 Use CHRISTMASCARROTS at Adoramus Te Studio for 10% off castings from November 20 through December 5
Telos Art Shop
Wear your faith proudly and share it with those you love! Telos Art is an online boutique offering unique, handmade Catholic gifts, liturgical calendars, and vintage-modern jewelry inspired by truth, goodness, and beauty.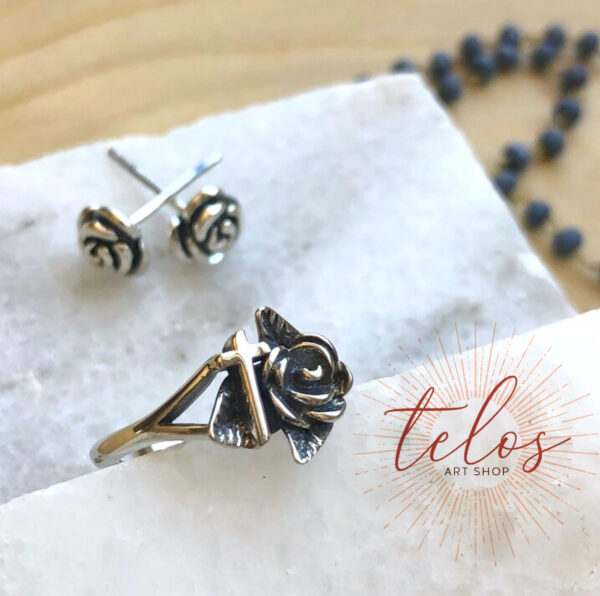 A popular item from Telos Art is the Therese Rose Ring made of solid sterling silver with dainty rose and cross at the center. Coordinating Therese Rose Earrings are also available.
Carrots for Michaelmas readers can use discount code CFM10 at Telos Art for for 10% off orders over $40. Additionally, during Black Friday weekend (November 27-30, 2020) you will also receive a FREE pair of earrings for orders over $75, no code needed!
Greenhouse Collective
The Greenhouse Collective creates safe and nurturing environments and resources for men, women, and families to be rooted in their identity and community, to cultivate their gifts and dreams, and to bloom into the calling that God has for them.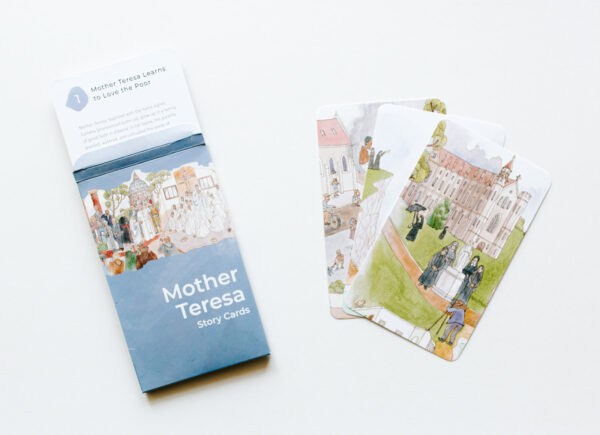 Saint Story Cards: Children will be delighted with this beautiful set of cards that, when placed together, form a large illustration of the life of a saint. Each flashcard-sized piece features a life event, while the reverse side tells a story and includes questions, Scripture, and an activity to help children learn to follow Jesus like the saints did.
There are four different variations of the saint story cards. Find them here and use GIVE10 for 10% off your entire order! (The Greenhouse Collective also has some really cool mugs!)
Ye Olde Goat Cart
Ye Olde Goat Cart is a small, Catholic, family run business specializing in
handcrafted goat milk soaps and lotions. Nestled among the hills of rural Upstate New York with eight goats and four young boys, owners Drew and Maria have developed carefully crafted recipes that make nourishing, skin-loving soap.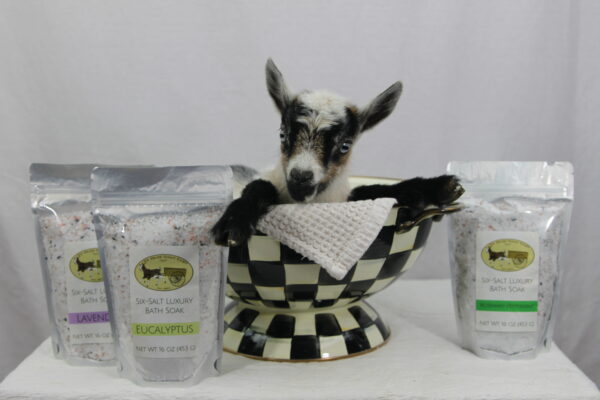 Recently, they have begun adding Catholic themed soaps, such as Auspice Maria, and more are planned. Try their beautiful Frankincense and Myrrh soap (I have this one and it is fabulous as well as stunning–it's the gold and blue soap pictured below) or go for a gift set! There is something for everyone, even bath soaks and beard oils, and their products would make great Christmas gifts.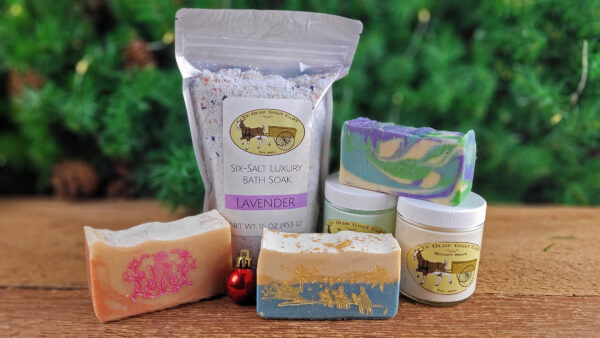 Use CARROTS10 for 10% off at Ye Olde Goat Cart
Sock Religious
Sock Religious is a family-owned Catholic company creating saint-inspired socks to rock on your favorite feast days.
Head over to Sock Religious to see their variety of designs. They are, in my humble opinion, the perfect "Dad gift."
Giveaway Details!
Head over to Instagram to enter! Good luck!
And the winner is…. @anna.bloomfield Thanks for entering, everybody!
A HUGE thank you goes to the shops who partnered with me to make this guide and giveaway happen. Be sure to share it far and wide so we can send lots of business and love to these small businesses!