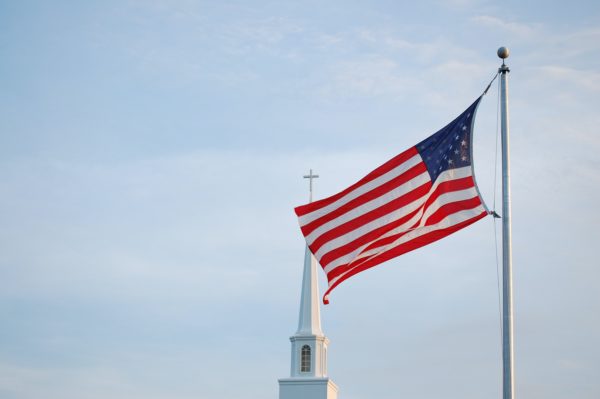 "I've been uncomfortable speaking out against racism because it sounds like something a liberal would say."
"I'm struggling to reconcile my pro-life beliefs with 'conservative' policies that that deny the dignity of immigrants and the poor."
"I'm politically homeless because I think that the lives of unborn babies and black and brown people should be protected."
"I love the beauty of traditional liturgy but my fellow parishioners have been posting racist memes that deny the dignity of my black children. How has this evil been twisted up into 'orthodox' Catholic culture?"
These are the sorts of messages filling my inbox right now.
In Catholic culture, we've created a terrible dichotomy that aligns with American politics but contradicts the Gospel. We've set things up so that you can care about 1) Abortion OR 2) Racial Inequality. Hypocritical ideologies that honor the dignity of only some lives are grasped onto and defended. They become false gospels.
This is why a Catholic who stands up for racial equality is dismissed by conservative Catholics as a"Social Justice Warrior LeftCath" and why some conservative Catholics are eager to point out the systemic racism in the abortion industry, highlighting Margaret Sanger's eugenicism and the targeting of people of color, but mock other examples of systemic racism, such as our criminal justice system, as "PC nonsense." March for Life attendees are lauded as brave heroes while peaceful protestors marching for justice for victims of public lynchings can be brutalized by the police without an outcry from conservatives. 
This is a mess. Neither American "left" nor "right" political ideology fits into the Gospel. If we are to be truly pro-life, our beliefs must be informed by the Gospel of Jesus Christ.
When we look at everything through the lens of "liberal" vs. "conservative" or "Democrat" vs. "GOP", we are viewing the world through one of two false gospels. If fighting racism is something a liberal would care about, then conservative Catholics will mock even these just efforts because it doesn't fit into their political narrative. While rightly pointing out the human rights violations against immigrants and racial minorities, the left will continue to ignore the genocide of the unborn in our country. Both sides will make every effort to manipulate Catholics into voting for them.
Since I attended my first protest against abortion as a small child, almost three decades ago, I remember hearing about how if every Christian just voted Republican, we can overturn Roe v. Wade. All we needed was a majority of supreme court justices. Spoiler: We have the majority. It still hasn't happened. The GOP knows that they can hold the anti-abortion vote hostage by dangling that carrot a few more decades. Pro-life friends, we've been had.
If you feel a pull on your conscience regarding racial injustice and destruction of the environment and human rights violations against immigrants, but feel like you can't speak out about those because they're issues liberals care about–please, stop and reflect. There is only one Gospel.
Friends, Catholics must reject the false gospels offered in our American political system. Our consciences must be formed by the Cross. The Church has never fit into the American political dichotomy. Let's stop kidding ourselves that it does.
Bishop Robert Barron said it well in an interview in 2017.
"Call it left-right, liberal-conservative, or, as we see it in the Catholic context often, this: Are you more on the life issues or more on the justice issues? And it's just a false dichotomy, and it's not in the great saints, it's not in the teaching of the church, it's not in Vatican II, but it's a divide that happened in the wake of the council. And I think it's really regrettable.

What we have to do is go back to Christ. You return to Christ, and what you find there is this integrated view of life. And you see, of course, this profound concern for the inherent dignity of every individual person and the respect for life from conception to natural death clearly on display. At the same time, you see a clear passion for justice, from the Hebrew prophets all the way up to Jesus and then through the great tradition. So, to my mind, it's just glaringly obvious: These two things have to be central to the church's preoccupation."
Reject these divisions, friends! If we want justice and peace in our land, we must be look beyond this false dichotomy toward Jesus.
I'm not always going to agree with everything someone who identifies as "pro-life" is going to say or do. I'm not always going to agree with everything someone who identifies with Black Lives Matter is going to say or do. But I will still speak up for the rights of unborn babies and I will still affirm that Black lives matter. Both of these issues regarding the dignity of human life require a personal conversion of heart but also action. If someone is pro-life, that doesn't just mean she would not personally have an abortion. If someone is against racism, that doesn't just mean she would not personally discriminate against a person of color. It means praying and taking action for a world in which unborn babies are safe and a world in which POC can be free from racial injustice.
So please don't take this critique of American political parties to mean that we should be paralyzed or make excuses for not being active politically. The problems in our system should make us more motivated to action. There is work to be done.
I love this comment on this video from my friend Brandon Vogt:
"For Christians, Christ sets the agenda for social policy, not politicians and media commentators. This seems blatantly obvious to me but, like you, I've been surprised how few Catholics are comfortable admitting that the correct moral categories are "right and wrong," in light of the Gospel, and not "left and right." On any question or issue, I care about being on the side of justice, whether that puts me in league with conservatives, liberals, Republicans, Democrats, or whoever. Who cares? These are questions of morality, not tribalism….None of the people our tradition holds with highest esteem can be so easily labeled. Then why expect us to be?""
His excellent book Saints and Social Justice looks to the saints who cannot be shoved into labels consistent with our political dichotomy.
How do we become saints in the modern world? We look to Jesus Christ. We look to the saints who modeled his love in the world. We stop listening to false gospels that divide the Church. We refuse to betray the Gospel for a political narrative.
The past few weeks have been very convicting to me, especially as I have listened to the experiences of Black Catholics. THow have I failed my Black brothers and sisters? How have I contributed to their exclusion? How have I failed to reach out and support them? How have I failed to stand up for them?
The Church should be at the forefront of the fight for the dignity of every human being. I have a lot of work to do. We have a lot of work to do. Let's do it together.
"I am astonished that you are so quickly deserting the one who called you in the grace of Christ and are turning to a different gospel–not that there is another gospel, but there are some who are confusing you and want to pervert the gospel of Christ." Galatians 1:6-7