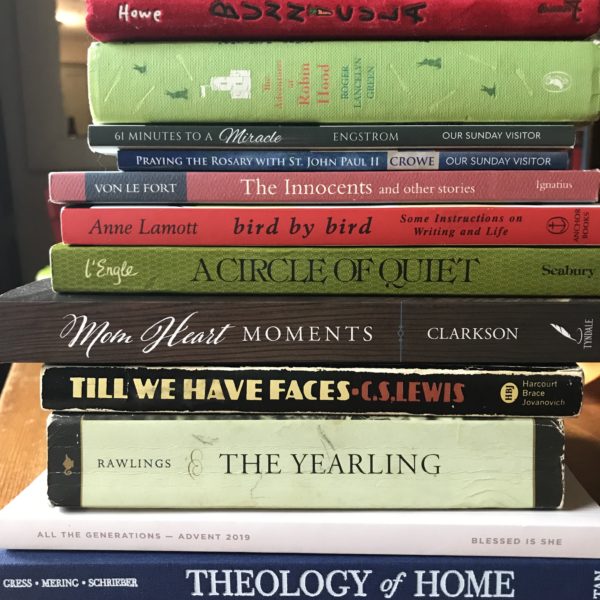 Since I love chatting about books, I've been trying to share our family's current reads on a regular basis here on the blog.
(This post contains affiliate links. If a sale is made through an affiliate link, I may be compensated but all opinions are my own.)
Lately I Finished…:
The Life-Giving Home by Sally Clarkson
Sally Clarkson continues to be my go-to voice on motherhood and homemaking. I LOVE her. I am super picky about parenting/homemaking books. I don't want to hear about how to raise kids from someone my age. I'm certainly not an expert and I doubt any other 34-year-olds are! I want to hear from grandmothers with thriving grown children. And I don't want to hear about checklists or formulas as if all children are exactly the same because they are not. There's no checklist and if you say there is I will immediately start tuning you out. Sally's passion for creating a home that nurtures each family member is so beautiful. I also look to her as a model for wholeheartedly pursuing family life while also cultivating your creative flame. This book she wrote with her daughter, Sarah, is just lovely.
And….I haven't dived in yet but she just released this beauty:
Mom Heart Moments by Sally Clarkson
While I'm on the subject of home and motherhood, I also loved this coffee table worthy book just released by TAN Books. Look forward to an interview on the podcast about it!
The Theology of Home by Carrie Gress, Noelle Mering, Megan Schrieber
And I was chuffed to get a pre-release review copy of Jeannie Gaffigan's memoir. It is a GEM. I was reading it in the waiting room at the dentist and laughed out loud, then wept. Because it is so good! Now all the staff at my dentist think I'm insane so THANKS ALOT, JEANNIE. For our interview with Jeannie on Fountains of Carrots, head here.
When Life Gives You Pears by Jeannie Gaffigan
We discovered this year that one of our kids has ADHD so I've been doing lots of reading and this book was good and helpful.
What Your ADHD Child Wishes You Knew by Dr. Sharon Saline
I re-read this favorite because I was writing a piece for Notre Dame's Church Life Journal that referenced it heavily. It gets better with each re-read!
Emma by Jane Austen
And I'm working on a piece inspired by this book so I had to re-read it as well…what a HARDSHIP.
Till We Have Faces by C.S. Lewis
Current Reads:
My in-laws got me this one for my birthday and I am savoring it. A must read for all writers, but a treat for anyone.
I have been meaning to read the Crosswicks Journals by Madeleine L'Engle for ages. L'Engle's fiction is a treasure. I've read so many over the years and keep going back to them (especially An Acceptable Time and Many Waters) but I've never dived into her non-fiction.
A Circle of Quiet: The Crosswicks Journal Book 1 by . Madeleine L'Engle
I have been wanting to get to know St. Catherine of Siena better. I loved Sigrid Undset's hagiography on St. Catherine but I've never read anything by this Doctor of the Church. OSV just released this beautiful edition of The Dialogues with an intro by Elizabeth Scalia whose writing I just adore.
The Dialogue by St. Catherine of Siena
I'm about halfway done with the collection of gripping short stories.
The Innocents and Other Stories by Gertrude von le Fort
And I'm so excited that this amazing story by a dear friend of mine is finally out into the world and being shared by so many now that this book is out!
61 Minutes to a Miracle by Bonnie Engstrom
Read Alouds with the Kids
Continuing D'Aulaires' Book of Greek Myths we are ALMOST DONE. The kids have really enjoyed it and I think we'll jump into D'Aulaires Norse Myths next.
We are also reading Robin Hood. The 6yo is not a fan but everyone else is enjoying it!
The Adventures of Robin Hood by Roger Lancelyn Green
I'm almost done reading Anne of Green Gables to the big girls. We often accompany reading time with a tea party. Gwen sobbed when Mrs. Barry said that Diana couldn't be friends with Anne anymore. She is invested and it is immensely gratifying. (And psst! If you are an Anne fangirl, have you ordered your tickets for The Raspberry Cordial Gathering on November 8th and 9th?!!!)
Anne of Green Gables by L.M. Montgomery
And Benjamin and I just started one of my all-time favorite books for our bedtime read. Have you read this one? It is a TREASURE.
The Yearling by Marjorie Kinnan Rawlings
And Benjamin is reading aloud one of his favorites to the family during spooky month (one of my favorites, too!):
Bunnicula by James and Deborah Howe
What are you reading and enjoying lately? Let me know in the comments!