This post is sponsored by Stitch Fix. All opinions are my own. This post contains affiliate links, which means that if you schedule through my link I'll earn a small commission at no cost to you.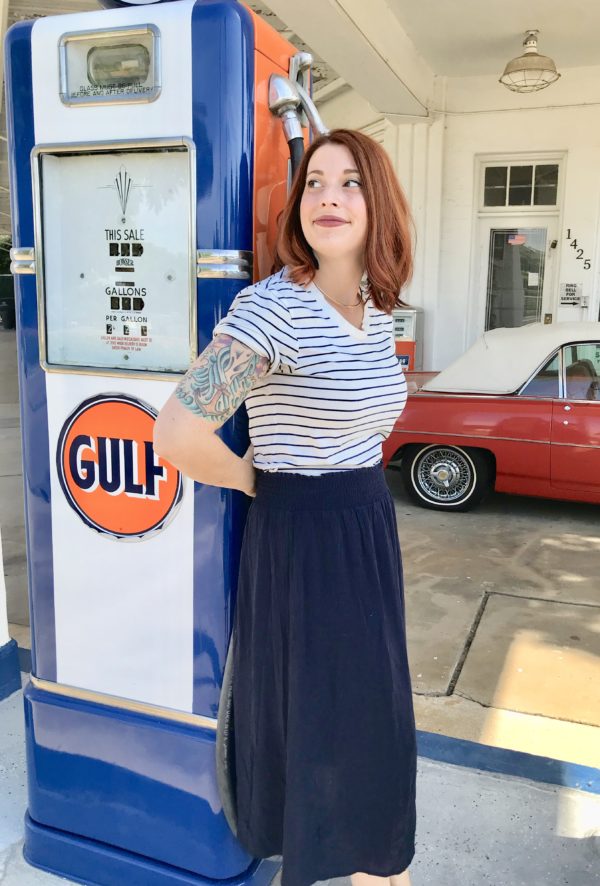 Let me just start out by saying that I've been looking for a midi skirt for FIVE years and each one has fit me all wrong until now. Thanks to my Stitch Fix stylist, I can spend the summer pretending I'm off on a summer road trip to the 1950s. But I'm getting way ahead of myself. Let me back up…
When the weather got truly hot in Texas a couple of weeks ago I brought down my summer clothes from the attic…and most of them don't fit me.
You see, I had a very cute baby semi-recently. Not that recently I guess because she's 10 months old…
…and walking! But I'm in the "don't kill yourself trying to fit into your pre-pregnancy jeans" camp. It'll happen, eventually. In the meantime I try to wear clothes that are forgiving around the middle and that I feel good in.
Anyhow, I knew this was a job for my Stitch Fix stylist (and I'm sharing photos of my favorite things she picked out in this post!)
I've been using Stitch Fix to slowly build up my wardrobe with things I love for the past few years. After my college days of t-shirts bought at concerts and jeans with holes in them, I needed clothes for a grown up. And I really like what Stitch Fix has helped me build up–a lot of my wardrobe just doesn't fit me postpartum!
If you're not familiar with Stitch Fix, it is a styling service that sends a box of five items handpicked for you to your doorstep. You only pay for the items you want to keep and your fix comes with a bag for returns that you can just drop in the mailbox. Easy peasy.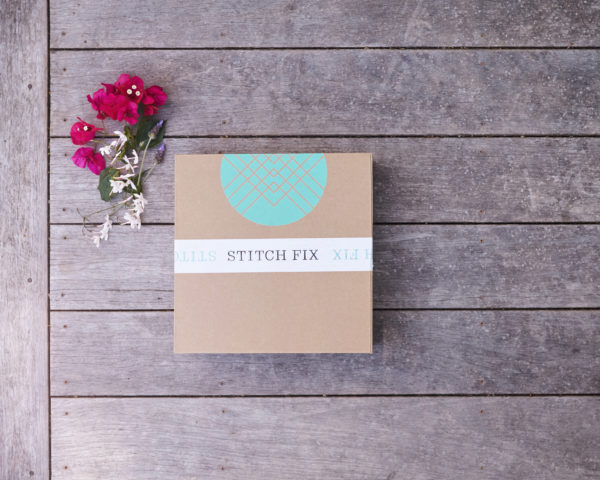 You can order a fix as frequently or infrequently as you want and you're not automatically signed up for anything! Stitch Fix charges a $20 styling fee for each fix, but if you keep even one item, the $20 goes toward your purchase. And for the next few days folks who order through my referral link will get a $25 credit from Stitch Fix for your first fix! (Details at the end of the post.)
So last week I told my Stitch Fix stylist all about how my clothes are currently fitting and she knocked this Fix out of the park. Now I have clothes to wear to our family reunion in three weeks!
Let's start with my favorite thing. THIS DRESS. It's a maxi by Wisp.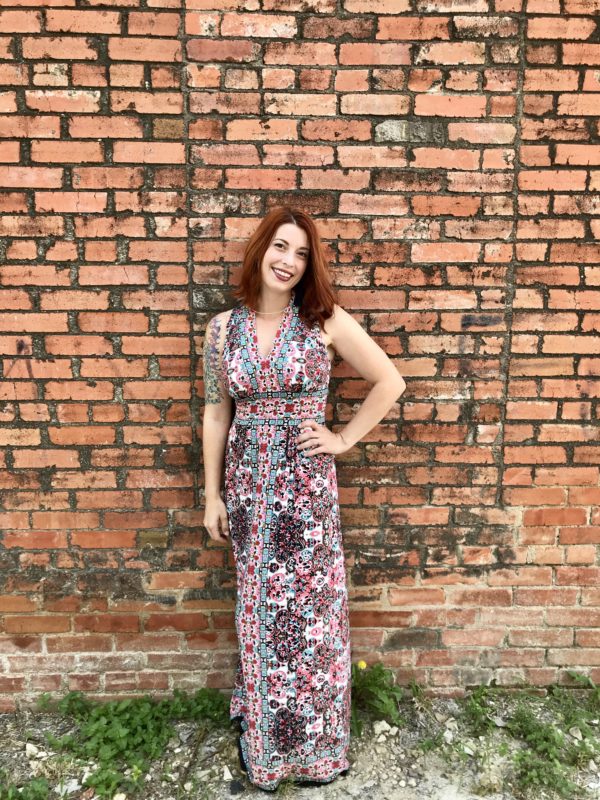 This is the most flattering postpartum outfit I've ever owned. Maybe it's just the most flattering dress I've ever owned full stop. It is practically perfect in every way. If you see me between now and December, I will be wearing this dress. I'm never taking it off. I'll just need to pair it with a light cardigan indoors to survive frigid Texas Air Conditioning.
Because of the empire-ish waist and the pattern, it is sooooo forgiving in the midsection and I couldn't love it more. And because Stitch Fix carries petite sizes (as well as plus and maternity!) my stylist is able to find items that don't gap in the underarm because your girl has a short torso.
By the way, my husband Daniel runs through downtown Waco to work every day and he's found some really cool little alleys and walls good for taking photos, places you wouldn't notice when getting around via car. So I decided to hire him as a location scout for my Instagram feed. Just kidding. Well, kidding about the paying him part. Not kidding about using his weird Waco knowledge to find places to take photos. This brick building is close by the distillery where he works.
My second favorite piece my stylist picked out was this navy blue midi skirt by Market & Spruce. After trying on a million midis and never once getting it right, I can't believe my stylist succeeded on the first try. Amazing.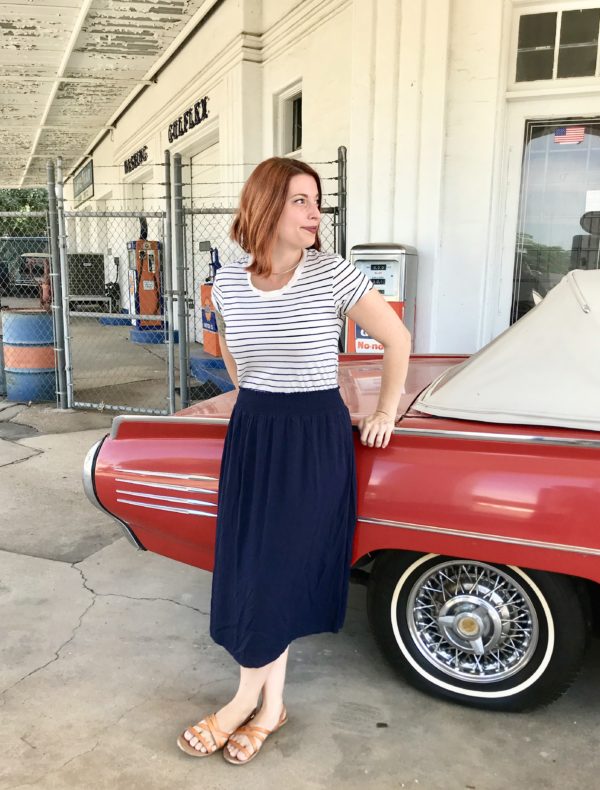 Location Scout Daniel found this vintage gas station that's closed. I was scared to touch the car but he said it was okay. He's an easy going location scout.
Just a girl, touching a car that's not her's, trying to pretend she's not terrified she's seconds away from getting in trouble. (Rule Follower over here.) But this is going to be my travel outfit for the summer. We're heading to North Carolina in a few weeks and this is my nursing-friendly summer momiform.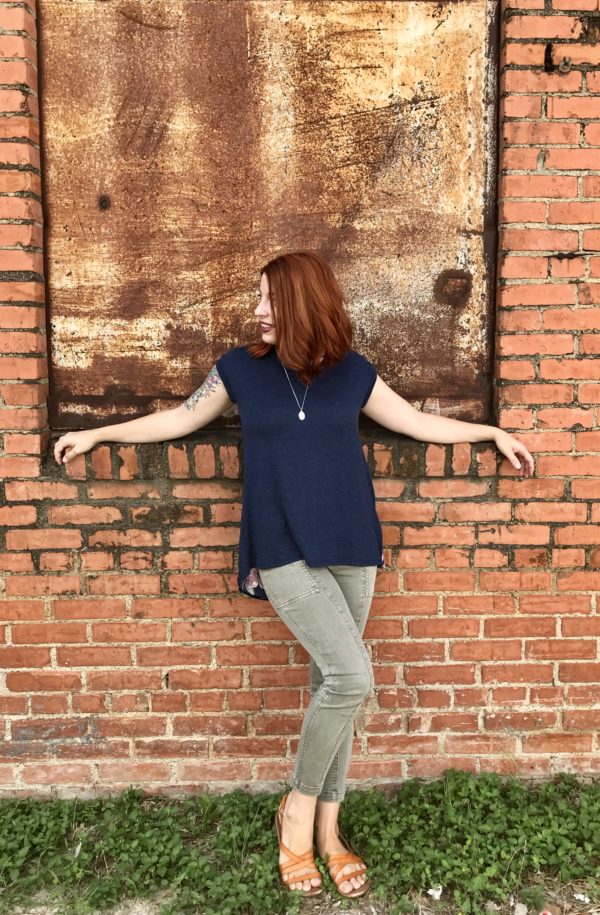 In other news, this top by Kaileigh is just the right amount of flowy. (And these pants are from a former Stitch Fix btw–my favorite pants.)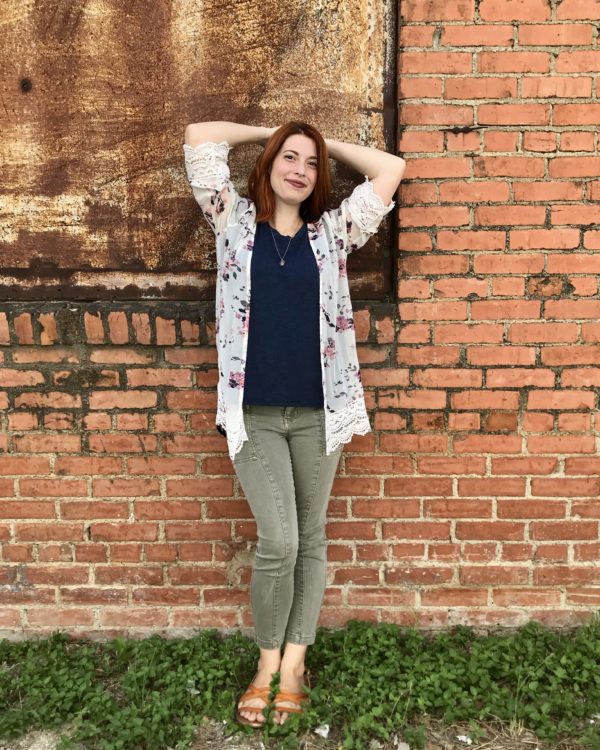 And this kimono from Mason & Belle is another winner. Since all the shirts I own are not as flowing and flattering as the blue Kaileigh top my stylist sent me, layering shirts with a kimono really helps me feel comfortable now that I'm moving out of elastic-waisted pants (but really–why aren't all pants elastic-waisted? It's the dream!)
So to sum up, this fix has reaffirmed my love for Stitch Fix because…
-The fit was so good! And I'm short, but busty AND postpartum so finding dresses in particular is always a nightmare. My stylist got it perfect.
-By investing in a few high quality items like what I get from Stitch Fix, I can have a wardrobe I love without filling up my closet (it's a 100 year old house so closet space is tight!) with clothes that will fall apart. (And while I tend toward minimalism–it's so tricky to keep your wardrobe simple when you're navigating pregnancy, postpartum, and nursing-friendly clothes every couple of years!)
-It saved me so much time. All I had to do was update my style profile with my postpartum sizing and mention what kind of things I was looking for and voila! No wasting time hunting through the racks–with 4 kids in tow. Now I'm set with warm weather items from dressy to casual.
Need anything for your summer wardrobe? Stitch Fix is offering a $25 credit to anyone ordering their first fix through my referral link today through June 29th!
That means you can try out Stitch Fix 100% risk free. The $25 credit means free styling +$5 in your account and the full $25 goes toward the Fix if at least one item is kept!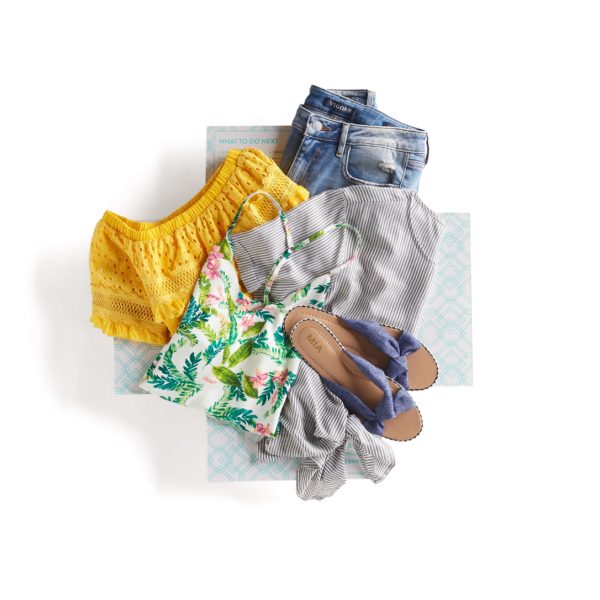 There is nothing to lose and a summer wardrobe to gain! So head on over before June 29th and schedule your Fix!