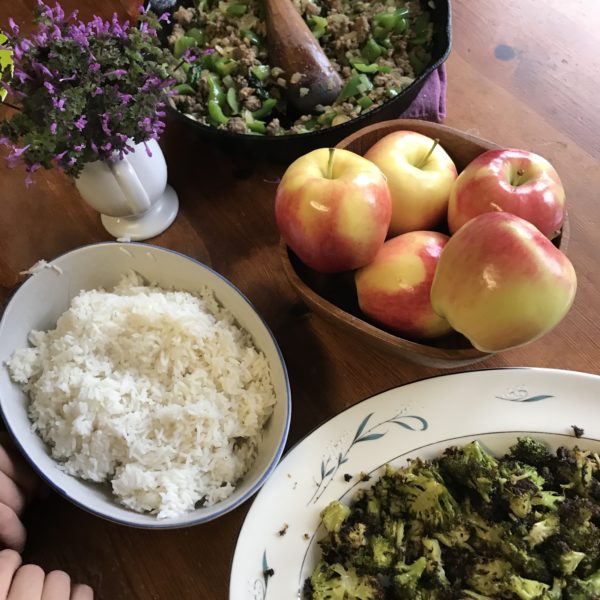 A couple of weeks ago I mentioned on Instagram that my husband Daniel and I have finally fallen into a good rhythm with meal planning and meal prep. There was a lot of interest! "How many hours does it take you?" "How meals do you prepare ahead of time?" "How do you decide what to make?" "Who does the grocery shopping?" etc. So I wanted to take some time and give you the run down in case it makes your life a little easier (it's definitely helped ours!)
I am not by nature an organized gal. And Daniel, although slightly more type A than I am, is also of the let's-just-wing-it variety. But with each new baby, I find that we simply must become more organized to stay afloat. As a couple (and even after our first baby was born) it was fine to do last minute meals, but with six hungry people in the house and big kids with afternoon extracurriculars we're having to be much more on top of meal prep and planning.

Okay, strap in. This is a LOOOOONG post.

Maybe 4:30pm hits and you're in a panic everyday because you didn't plan ahead and small children are literally climbing up your body as your look through the pantry and screaming that they are HANGRY. Maybe your grocery budget is astronomical and you want to figure out a better way. Maybe you don't have any system in place for figuring out reasonably healthy meals for your family and it's stressing you out. You're going to have to start meal planning but first…don't panic. This is going to be a baby steps kind of thing.

Don't Set Yourself Up for Failure

It's easy when we want to make a change in home life to jump in with both feet and try change ALL THE THINGS. Right now. Please don't do this! You're already busy which is why you need a good meal planning system. This is not the time to completely revamp how your family eats! It's time to make a system out of what you've already got going for you. Here's some basic dos and don't before we jump in to what works for our family.

The Don'ts
Don't spend hours scouring the internet for new recipes to try. Add a few new recipes in to the mix once you love your new meal prep system but not now, you'll get overwhelmed! Plus, trying out a new recipe for the first time takes significantly longer than something you can already cook with your eyes closed.
Don't be unreasonably optimistic about your grocery budget. If you decide you're going to cut your grocery budget in half immediately and survive on beans and rice, you'll probably give up before you get going. (But you should eat some beans and rice….more on than later.)
Don't spend all weekend prepping meals for the week and miss out on time with your family. The goal is to find a balance.

The Dos
Do think about what your family likes to eat already when you're drafting a meal plan.
Do brainstorm how many of those meals can be made ahead of time or made in double portions to save for later in the week.
Do be open to eating more leftovers.
Do block out a couple of hours here and there for meal planning, grocery shopping, and prep in a way that works for your family.
Do plan ahead (and watch that grocery bill drop significantly!)

Ok. Now that that's out of the way. Here's our system: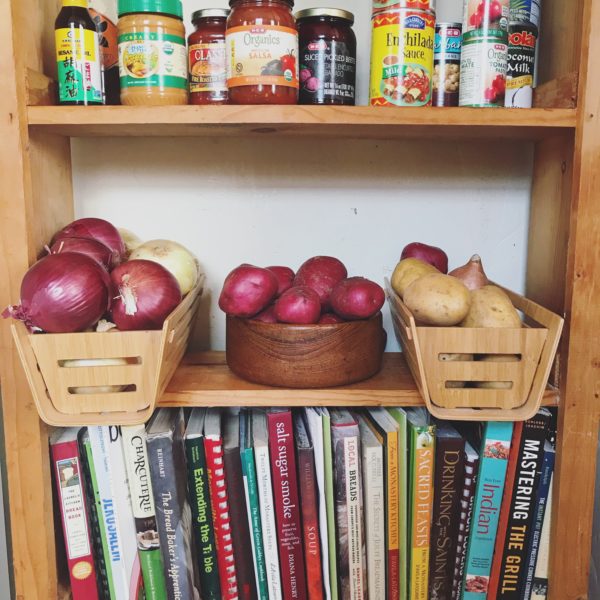 Step 1
We look at our calendar, at the staples in our pantry, and at the veggies in our garden to inform us and we come up with a plan for the next seven days. If there's a special feast day or something in the liturgical calendar we want to celebrate, then this is when we take that into consideration, too.

Obviously this will look different for everyone. For us, we start with some ideas about big meals we want to make ahead of time. Then we figure out which evenings we'll have the least amount of prep time when we should eat those meals and mark them down on our meal plan. If we have a morning with plenty of time, we'll designate that a fresh cooked meal and will pencil in an idea. From there, we work backwards, filling in gaps.

With a meal plan for breakfast, lunch, and dinner for the next week we craft a grocery list. When Daniel was working during the weekend, this was my turf but now that's he's off on weekends he's taken over this part and then we look over the meal plan/grocery list together.

Step 2
Go to the grocery store. We just get stuff on the list (curbside pickup can help with avoiding impulse buys). For us, planning our meals in detail keeps us from buying the things we MIGHT use but don't need. Also, when in the store Daniel hands off the grocery list to the hard-nosed five-year-old who questions any cart addition that isn't explicitly on the list.

Step 3
Prep two entrees and one breakfast on the weekend for the following week. We might also prep a bean dip or salsa or something like that we can offer the kids with carrot sticks or tortilla chips for snacks.

We usually make one soup and one beans and rice dish (Daniel tackles this). This will get us through 4-5 lunches or dinners. And then I make either a breakfast casserole or baked oatmeal (enough for two mornings). For us, meal prep does not look like 21 tupperware containers with meals organized in the fridge! But with a pot of soup, a beans and rice dish, and a breakfast dish in the fridge by Monday morning, we've already laid the groundwork for the week's meals.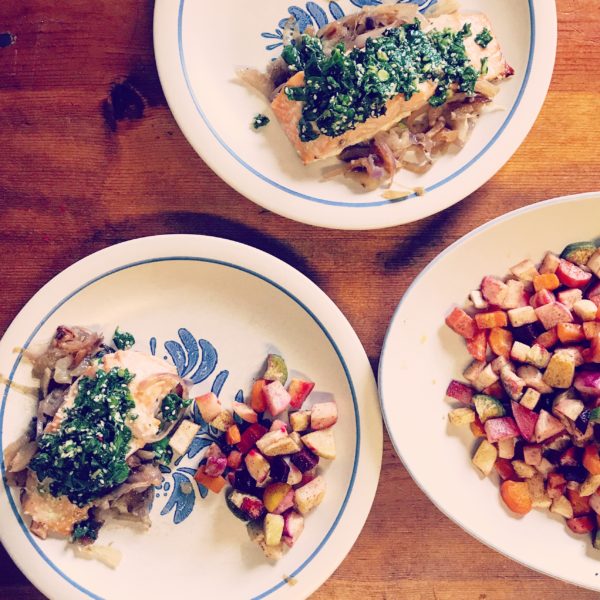 Make Your Meal Plan Work for YOUR Family:

The best meal plan for you is going to depend on how your home runs. When do family members leave for work? What nights do you have extracurriculars? When is your family time when you can devote more effort to make a meal special? Here's how it works for us:
Breakfasts: We have leisurely mornings because we homeschool and my husband's shift doesn't start until noon. So we have big sit down breakfasts: oven roasted potatoes and fried eggs. Sausage sauteed with greens and peppers. Bacon, gluten-free waffles (my kids are allergic) and fruit. Weekday breakfasts are our big meal together so we do it up big. The weekday morning when my husband goes in early is when we have our prepared baked oatmeal.
Lunches: Since we do such big breakfasts, we often do snack lunches (hummus and carrots, cherry tomatoes, granola bars, cheese, etc) or easy leftovers unless it's the weekend.
Dinners: M-Th are our prepped entrees or easy meals due to getting home late from afternoon activities. Fridays is usually family night and we cook a nice vegetarian meal (we're Catholic, but you knew that). During Lent and Advent, Friday is soup night and we have friends over.
The Weekend: Saturday lunch is when we drag all the leftovers out and have a free for all. Great way to clean out the fridge before grocery shopping for a new week. Saturday dinner is usually a potluck with our Latin Mass community after the Vigil Mass. And Sunday we cook a special dinner and prep some of the meals for the following week (we usually finish prepping those on Monday morning).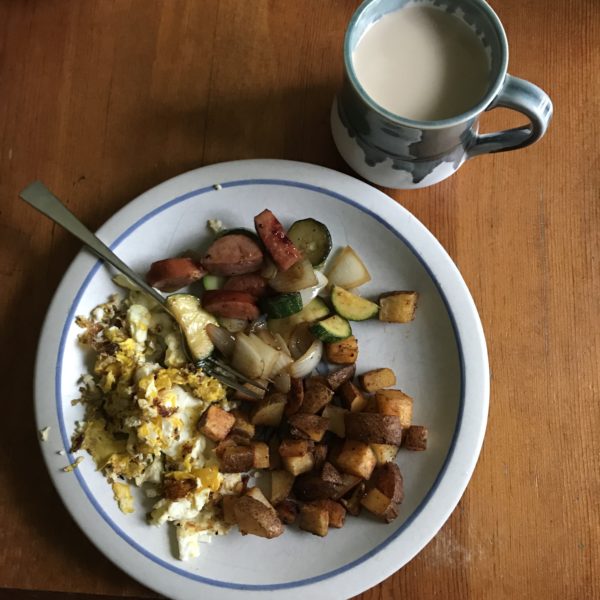 Sample Meal Plan:
Meals that are made ahead of time are marked with a *
Sunday: Pancakes. Roast Chicken with sweet potatoes, onions, and kale chips. Tacos with leftover chicken.
Monday: Eggs, Bacon, Oven-Roasted Potatoes. Stir Fry with garden veggies and beef. Black beans and Rice with sweet peppers*.
Tuesday: Sausage and waffles. Leftover Stir fry*. Vegetarian soup*.
Wednesday: Veggie Omelette. Hummus, veggies, granola bars (snack lunch)*. Leftover Black Beans and Rice*.
Thursday: Breakfast Tacos. Leftover Vegetarian Soup*. Easy Pasta Dish.
Friday: Baked Oatmeal*. Snack Lunch*. Tilapia, veggies, and rice with tahini sauce.
Saturday: Eggs, Bacon, Oven-Roasted Potatoes. Leftovers Lunch Free for All*. Potluck Dinner.
Affordability
Meal planning and meal prep cuts down on tons of waste which will, of course, save you money. Your grocery budget will also depend on other factors, though, such as food allergies or medical issues.
Leftovers

Friends, you gotta eat them. To make grocery bills affordable and to have room in the budget for healthy ingredients, you gotta eat leftovers. Much of the world eats basically the same thing everyday. You can definitely survive if you have to eat the same thing two nights in a row. Leftovers are your friends who want to make your life easier!

Vegetarian Meals
If you want to cut down on your grocery bill (especially for a large family) be willing to eat lots of vegetarian meals and get your protein in other ways. Eggs, beans and rice, and peanut butter are great ways to do this!

Making It Easy
By spending a couple of hours (but not all weekend!) prepping two big entrees and a breakfast dish for one or two mornings, you can fill in other meals with things you really like to cook or easy meals you know you won't have much prep time for.
On nights when Daniel is working and we're not having an already prepped meal we do gluten-free pasta and veggies, a baked potato bar, quesadillas, or breakfast for dinner.

Healthy Eating
Eating nourishing foods is important to us as a family. We raise our own chickens (layers and meat birds), and grow veggies in our backyard garden. But obsessing over each meal's nutritional value can cause unnecessary stress! (Obviously, some families have to be far more conscientious due to medical concerns.) But don't get caught up in every single meal having EACH nutritional component. You had eggs and toast for breakfast and no veggies? No worries. Toss some veggies into lunch and dinner! Having quesadillas for dinner? Great! Have a veggie omelette for breakfast and stir fry for lunch. Overall, it's fine. Don't kill yourself trying to make it perfect.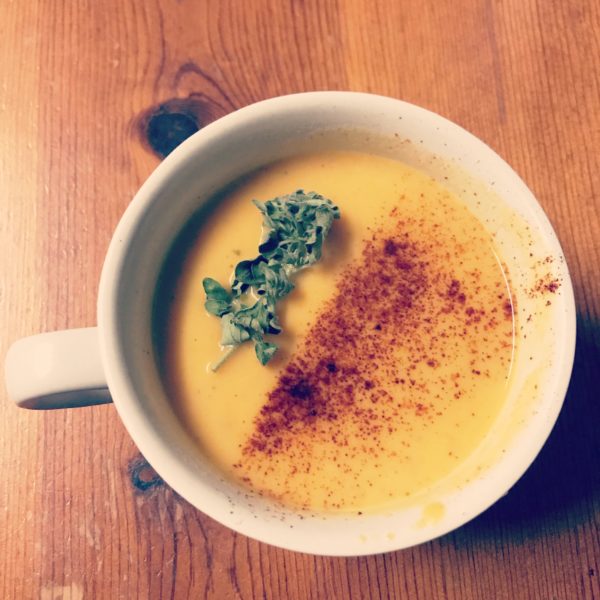 Keeping the Kids Happy
Most of our prepped meals are things we've made before or are very simple to make soups or one pot meals. We do try new recipes but only when we know we'll have the time. We also encourage the kids to look through cookbooks to pick out recipes they want us to try. We don't always comply (who knows where Benjamin even found that recipe for whole deep fried monkfish) but we do like to include them in the process. Partly to give them a sense of ownership and get them excited about cooking, but also to avoid complaints later.

How Much Time Does it Take?

1 hour for one of us to meal plan and make a grocery list
1 hour and 15 minutes for going to the store (with kids, so the other parent can get stuff done)
2 hours (or less) prepping meals for the week (soup, beans and rice dish, enough breakfast for two mornings)
So that's 4ish hours of time to get set up on the right foot for the week and not be stressed out. We used to spend a lot more time during the week scrambling around in the kitchen throwing things together at the last minute.

How much do you spend at the grocery store for a family of 6?

$150/week is our average. Some weeks it's more like $180. Some weeks it's more like $130.

In addition, we budget for eating out once a week.
I really hope this excessively long post was helpful to you! And feel free to leave other questions in the comments!