Give a warm Carrots welcome to one of my favorite people in the universe, my dear friend of 18 years and fellow writer, Katherine Grimm Bowers! I twisted her arm into writing a post for you for National Sibling Day.-Haley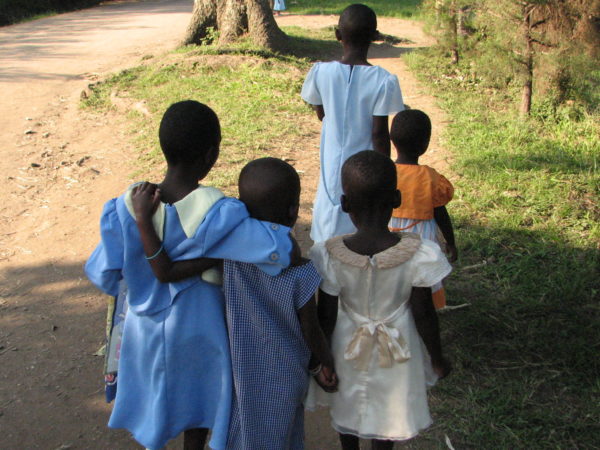 We were gathered around the bonfire, and our hosts had detected a trend. They couldn't believe it. We were, one and all, Brits and Americans alike, firstborn or maybe second-born children.

My new husband and I were hanging out at a bonfire in western Uganda, our fire a tiny fleck on a hillside of the lush Rwenzori Mountains. We were gathered with local people and other young expats, many of them medical students volunteering at the hospital down the hill. We were sipping glass bottle sodas, slathered in DEET against the malarial mosquitoes, and making friends a long way from home.

We were the guests of the Bakonzo people, a very rural Bantu tribe in the Ugandan mountains that spill into the Democratic Republic of Congo. And in this tribe, as we were learning, names follow specific conventions related to birth order. Now we were armed with our own, new Bakonzo names. I was Masika, firstborn daughter, my husband Mumbere, firstborn male child.

And most of us expats ended up designated one of these, or Muhindo, the one who changes the gender, if she were a daughter following a firstborn son, or a son following a firstborn daughter. There might be a Biira, second-born daughter, or Bwambale, second-born son. But we foreigners by and large didn't descend much further down the naming conventions than that.

Compare us with our hosts. Our bishop was Jackson Thembo, fifth born son. And the Lhukonzo language comes equipped for all kinds of naming scenarios: there are twin names, and a name for an eighth daughter, and names to acknowledge that a previous child in the family has died.

At first, filling out patient histories, this tradition perplexed and frustrated us. Family name — our Western last names — is surely a more helpful identification, right? But as I've grown older, I've begun to see just how much information can be conveyed by birth order names.

In our own lives, now a world away from our kind hosts, we've already welcomed three children who would be called as follows: Mumbere, Muhindo, Biira. It is lovely to think of all that my son shares with my husband, each of them firstborn sons, to have my youngest daughter share a name and position with her aunt, Biira Beca. And do you not receive a glimmer of understanding about a girl named Biira, knowing already that she's a little sister? Or upon learning that this man is the firstborn of his family, with all the mistakes and pressures and extra doting care such a position entails?

By comparison with the Bakonzo tribe, our families are anemic. Who among you is a fourth-born daughter (Mbambu)? Even our middle children are going extinct. As a result, our family ties are weaker. We are tiny islands lacking identities, rather than the robust associations of large, warm, chaotic families.

Certainly, many factors go into prayerfully determining a family's size, and a faithful family can't be spotted just by measuring the proportion of pew it commands. Welcoming a Thembo into a family doesn't automatically connote leveling up in holiness. But we need to remember that the size of a family is not simply a matter of our own preferences and pragmatism. Perhaps more than almost any other factor, siblings will concretely and dramatically affect the childhood our children receive and the people they ultimately become. The Bakonzo recognize this instinctively in their naming practices and in their cheerful openness to life.

The Bakonzo are, by and large, an impoverished people. But they are rich in something that really matters: the siblings that will shape their memories and form their support throughout life. The big families we met on the equator didn't have an ensuite bathroom for every child or even an easy road ahead in making ends meet. What they did have was an openness to the kind of large family life Kathleen Norris describes as "an atmosphere so dense, warm and lively that I felt as if I had been placed into a den of puppies" (x).
Katherine Grimm Bowers is a Catholic revert and former librarian. She lives in the Shenandoah Valley of Virginia with her husband, John, and their children, where she homeschools her eldest, bakes a mean loaf of sourdough, and helps run her church's chapter of Blessed is She. You can read more of her work at her blog and on Blessed Is She.