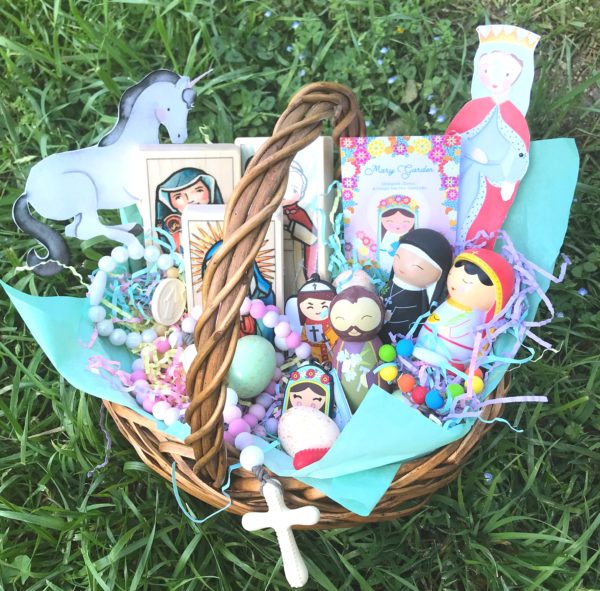 GIVEAWAY ENDED (This is a post from 2019 that I'm re-sharing so folks can support these small Catholic businesses.)
Lent is drawing to a close and it's time to get geared up for Easter baskets!
Our family usually attends the Easter Vigil late on Saturday night. That means wearing our fancy clothes and really hyping up the Mass for our kids: "There's gonna be a fire! We're all gonna get sprinkled with water! People be gettin' baptized and confirmed!"
It also means lots of bribes because that Mass is LONG (we've never made it home before midnight!). The kids actually always do great. But they know that after Mass, it's gonna be Easter basket time. We DO limit them to one piece of candy before bed because we learned the hard way that too-much-chocolate-induced vomiting all over the bunk beds at 1am is not the best way to start out the Easter season. (Surprise!)
At our house the yummy Easter candy is from grandma but we like to get a few sweet gifts for the kids ourselves from small businesses for their baskets. This year, I wanted to share the love by introducing you to some of my very favorite Easter basket stuffers and offering a huge giveaway for a lucky reader by collaborating with four of my favorite Catholic artisans.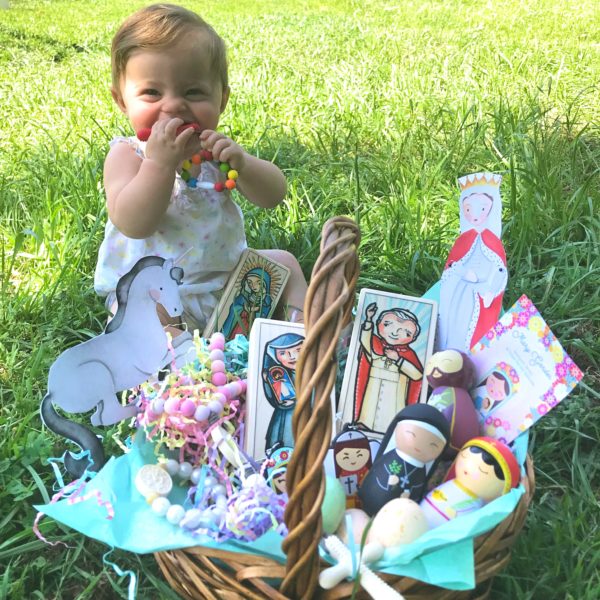 Baby Hildie is excited! To find out what's in the giveaway and how to enter, keep reading…
ChewsLife
Disclosure: Some of the links below are affiliate links. I only share about products that I love and would purchase myself.
Okay, let's start with ChewsLife founded by my friend, the lovely Shannon Wendt. I've been a fan of their wonderful rosaries since Gwen was my baby!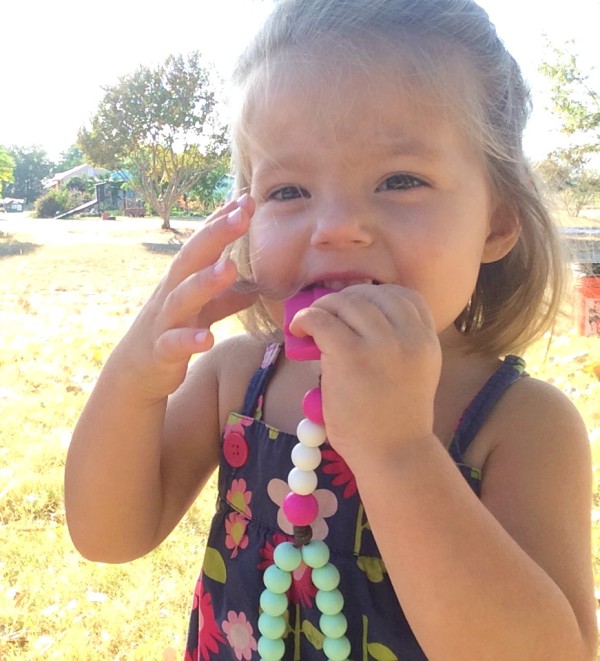 Their food-grade silicon rosaries are perfect for teething toddlers but my older kids love the saints bracelets and decade rosaries as well.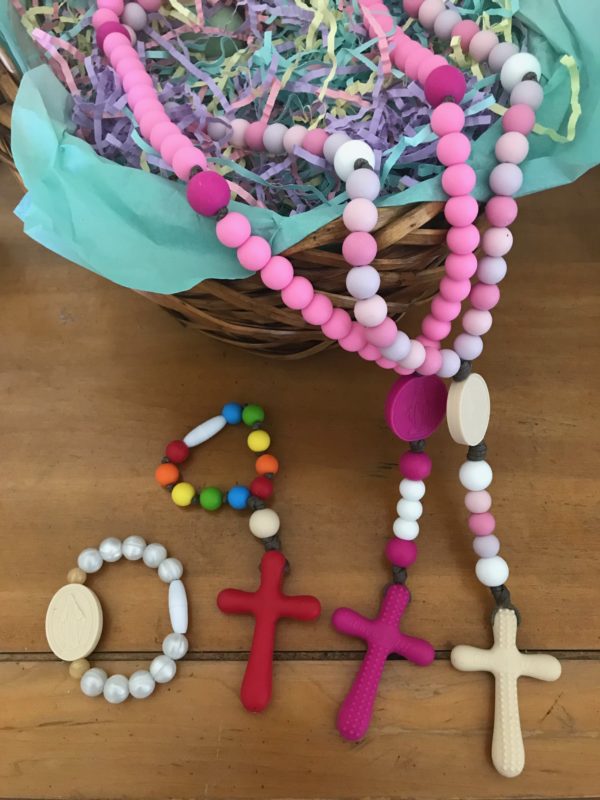 They also make gorgeous Rosary bracelets for women and teething necklaces (Hildie is a big fan of mine.)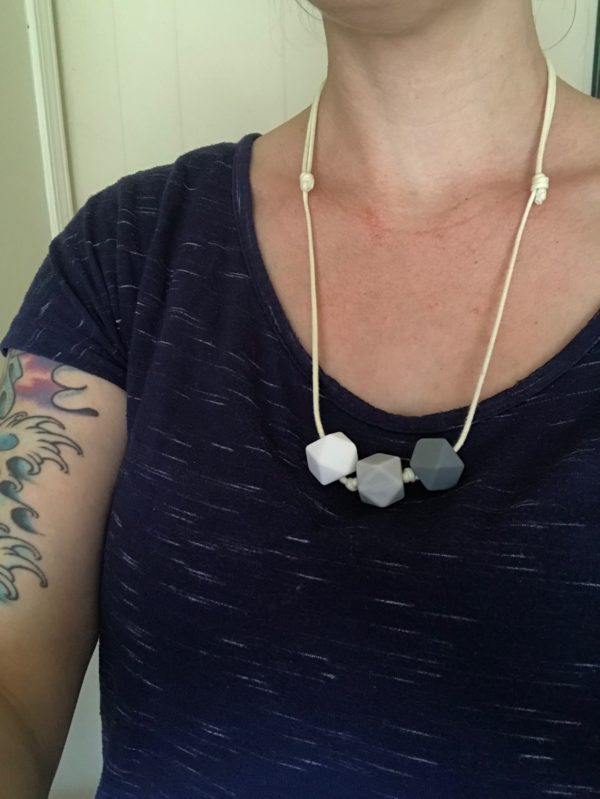 For the giveaway, ChewsLife is offering a $50 store credit for your Easter basket filling pleasure!
And psst! TODAY only (April 5th) they're having a B2G1 sale (buy two items get the third free) so head on over!
Almond Rod Toys
Ever since my friend Meg gifted us with some saints blocks from Almond Rod Toys when Hildie was born, I have been a little obsessed. They are just lovely and at 8 months, they are Hildie's favorite toys! She loves them. (And we've discovered the hold up quite well to teething babies.)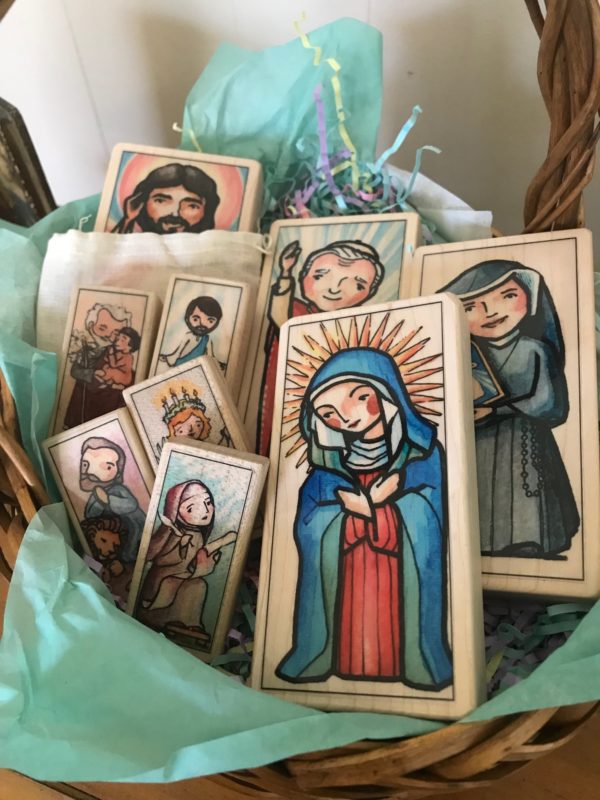 Each block has a beautiful image of a saint on the front and a short bio or a quote from the saint on the back.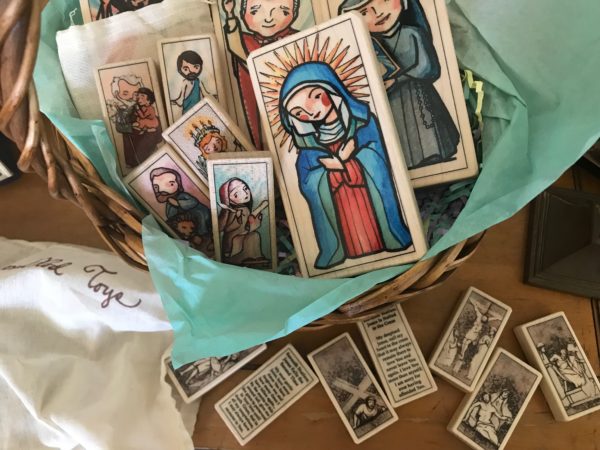 And check out these Stations of the Cross blocks that were JUST released! So stunning.
For the giveaway Almond Rod Toys is offering 4 of the Big Block Saints: Divine Mercy, Saint Faustina, Mother of Mercy, and St. John Paul II

Shining Light Dolls
I think our first Shining Light Dolls are from when Lucy was a baby! So it's been quite awhile and they've held up beautifully over the years.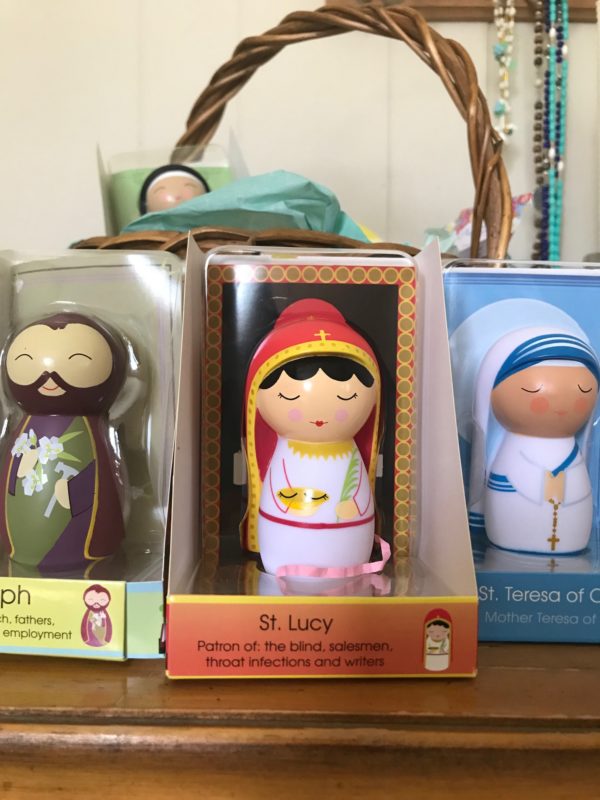 They release new dolls each year and I'm excited to get Lucy her namesake this Easter! Benjamin will get St. Joseph (my fave) and Gwen will get one of her very favorite saints, St. Teresa of Calcutta.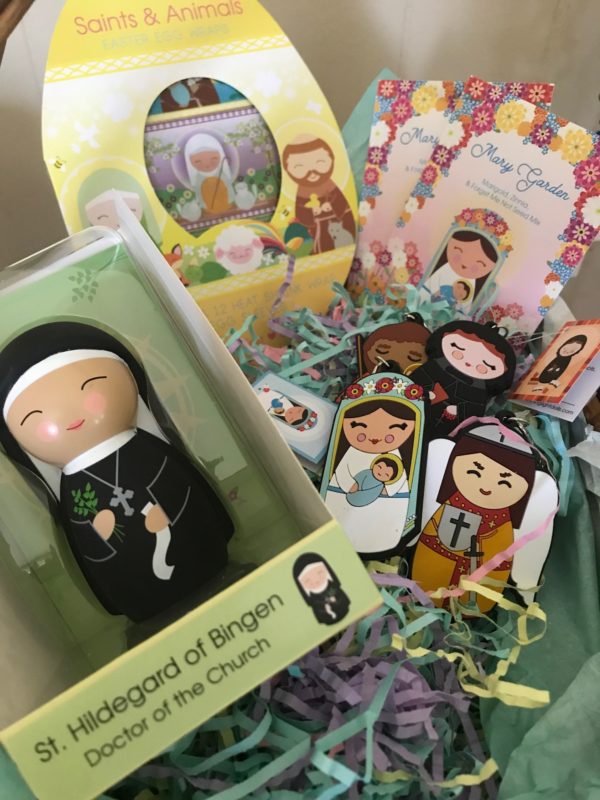 Of course I flipped out a little bit when I realized they have a St. Hildegard for my Hildegard Rose. And I can't wait to use these egg wrappers and get going on a Mary Garden with these seeds!
For the giveaway, Shining Light Dolls is offering a $75 store credit!
Studio Senn
I have been drooling over the beautiful art by Kortnee of Studio Senn ever since I first spied her literary maps (Narnia! Middle earth! Hogwarts! Neverland!). In my girls Easter baskets this year I'm giving them the new Princess saints and the unicorn paper doll sets.
Aren't those sweet? I printed them out on cardstock and put little dowel rods on the back because my girls love to do puppets and they are just lovely. Does anybody else find cutting out paperdolls to be super therapeutic?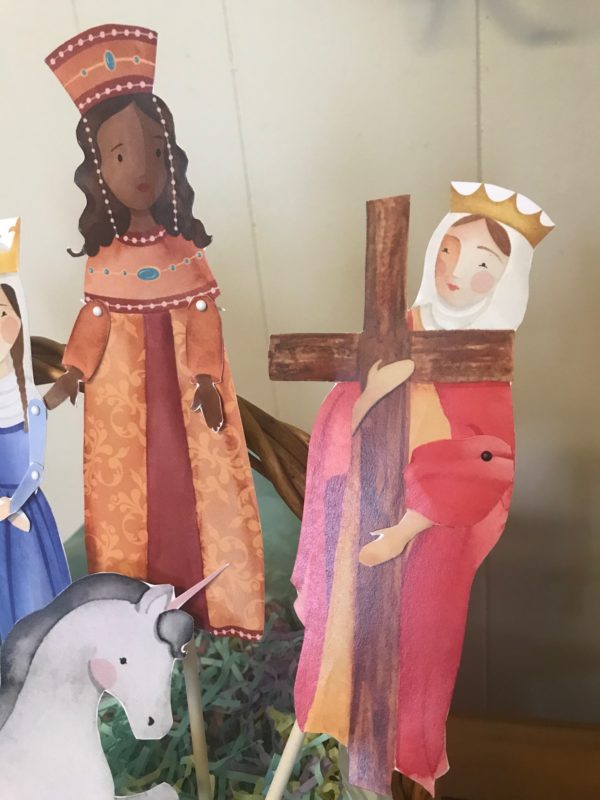 Look at St. Pulcheria and St. Helena of the True Cross! I just love them.
For the giveaway, Studio Senn is giving away their new Princess Saints and Unicorn Paper Doll downloads and a matching print of your choice!
Now…how to enter! Head over to Instagram (I'm @haleycarrots there!) and follow the instructions. But don't wait too long because the giveaway ends Monday night!