Trigger warning: stillbirth and infant loss. This post and the images included may be difficult to see for those who have suffered the loss of infant.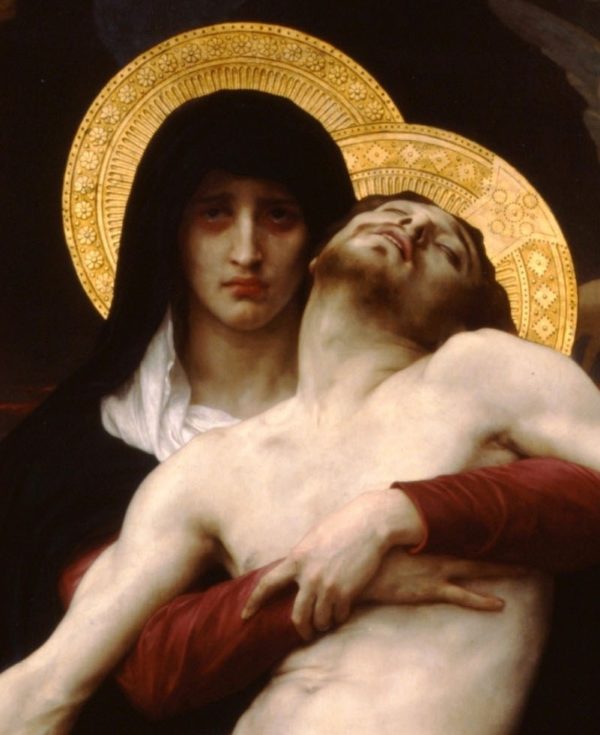 No matter how many times I pray the Stations of the Cross, the Holy Spirit shows me things I had never thought of before. This year going to Stations at our parish for Lent, one image almost knocked me to my knees.

The parish uses St. Alphonsus Liguori's Way of the Cross and his words are so beautiful, challenging, and vivid. The 13th and 14th Stations depict what happens after Jesus has died on the Cross:

"Consider how, after Our Lord had died, He was taken down from the cross by two of His disciples, Joseph and Nicodemus, and placed in the arms of His afflicted Mother. She received Him with unutterable tenderness and pressed Him close to her bosom…Consider how the disciples carried the body of Jesus to its burial, while His holy Mother went with them and arranged it in the sepulcher with her own hands."

The person who stood out to me was Mary, the grieving Mother. I have seen this moment of Our Lady receiving the body of Our Lord in sacred art over and over. As a mother who has never lost a child, I have tried to imagine Mary's grief over losing her only son, what her face must have looked like in those hours of deepest agony and separation.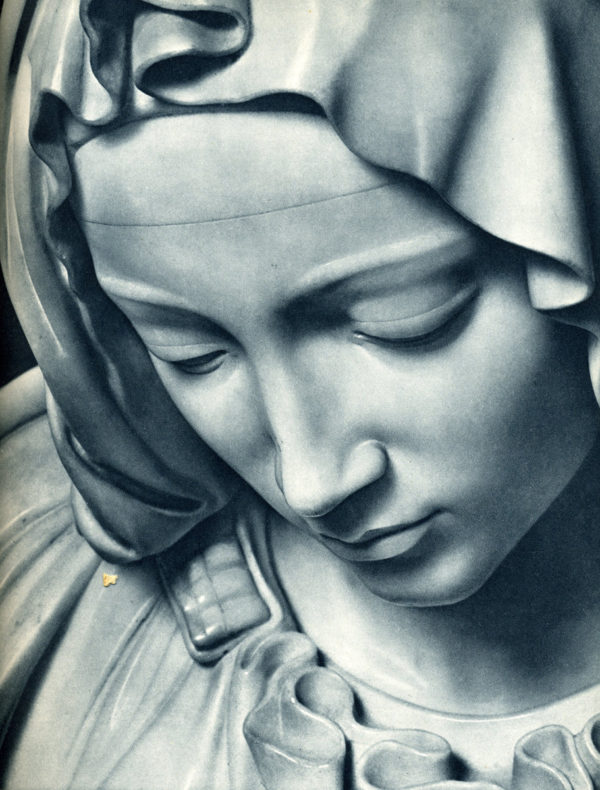 But on this night when the priest spoke St. Alphonsus Liguori's description of the Stations, a different image came to my mind's eye. One that is imprinted forever in my memory.

This past September, our very dear friends went to the hospital because their 38 week old baby in utero, Myra Lourdes, had stopped moving. They were told the terrible news that their daughter had passed away in the womb. The next day, my sweet, strong friend Helen labored to deliver her stillborn child. A cord accident had taken Myra away before she could say hello to her adoring family.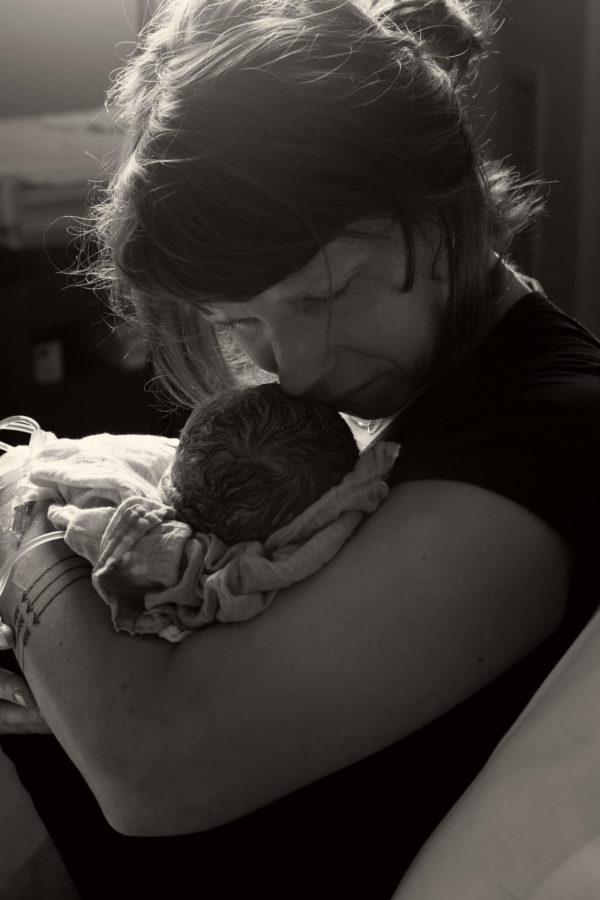 We had the great privilege to see sweet Myra at the visitation at their family home preceding the Requiem Mass. I will never forget how Helen looked as she sat with her perfect, tiny baby's body. She looked so beautiful with her arms tenderly resting on Myra's tiny casket. Her grief so fresh, eyes red from tears, no makeup, and yet her posture and face radiated love that made her stunning. Being in the room it was impossible not to feel the immeasurable love she had for her child filling the air. You could breathe it in as you walked into that holy space where the curtain between earth and Heaven was drawn back just an inch.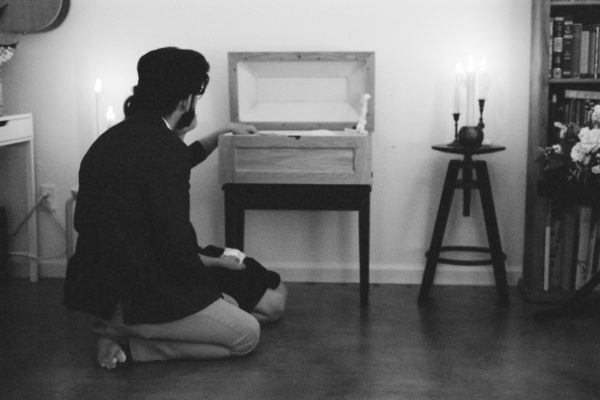 I will never forget the way Helen looked at her baby, adoringly, drinking in every detail of her little face. The curls of her hair, her dark eyelashes, the delicate baby bonnet that Helen had knit in anticipation of Myra's arrival. You could feel the pain so deep it could simply not be borne. As we drove away I thought, "I know what Mary looked like when they brought Jesus down from the Cross and laid him in her arms. I've seen the Pieta"

Mary's motherly love, oh so tender, but love so sharp she must have felt that she was being torn apart when she left her beloved Son's body in the tomb.

And a sword shall pierce your heart.

Now when I think about Mary's face, her posture as she tenderly prepared her son for burial, I see Helen's face. The weight of grief and the weight of love–inseparable.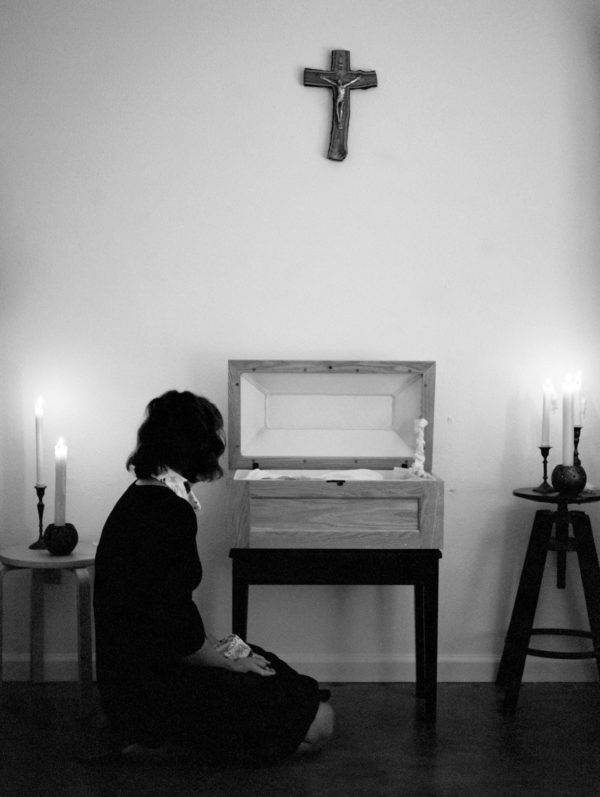 We have a God who was victorious over Death and has changed the end of our story from despair to hope. But we also have a God who suffers for us and with us and who gives us a Mother, his own Mother, who we cry out to from this our exile, this Valley of Tears. She will tenderly wrap her loving arms around us, her children, and will never abandon us. Our Lady of Sorrows, pray for us. St. Myra Lourdes, pray for us.

Images of the Thompson family used by permission and taken by Now I Lay Me Down to Sleep and Rebecca Egger of Cast Iron Photography.