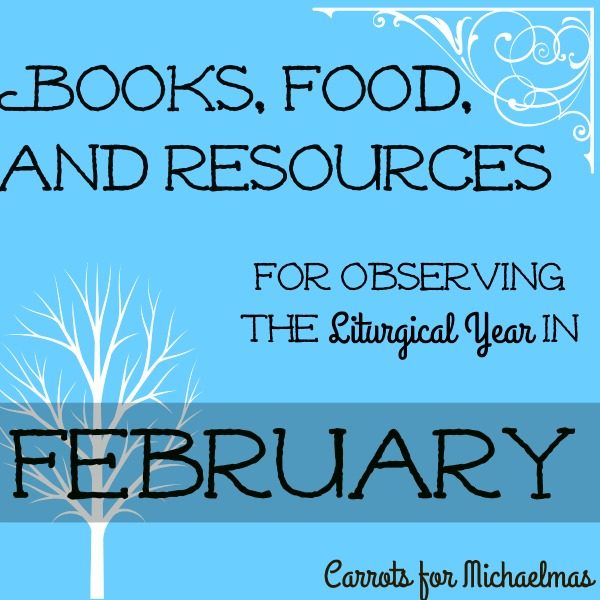 I'm always trying to figure out how to make it easier for families to observe the Christian Year because we felt so overwhelmed when we first started that journey (which is why we wrote the book we wish we had then).  I thought it might be helpful for our family to have resources compiled for the month ahead so that we can plan in advance which special saints days we want to observe and I hope having them all in one place is helpful to you, too!
(And remember, just start with one or two special days a month! Keep it simple!)
And I pinned all of the following resources on a February Liturgical Year board on pinterest for your convenience! My friend Kendra also created a fabulous booklet of prayers and resources for February.
February 1st: St. Brigid of Ireland
This post contains Amazon affiliate links.
We will read Brigid's Cloak by Bryce Milligan with the kids (beautiful story with gorgeous illustrations.)
Ideas for celebrating:
And check out this gorgeous St. Brigid print by Audrey Eclectic!
February 2nd: The Presentation of the Lord (Candlemas)
February 3rd: St. Blaise
February 5th: St. Agatha
February 6th: St. Paul Miki and Companions
February 8th: St. Josephine Bahkita
February 10th: St. Scholastica
Books:
The Holy Twins: Benedict and Scholastica by Kathleen Norris and Tomie DePaola
February 11th: Our Lady of Lourdes
February 14th: St. Valentine's Day
Books:
Saint Valentine by Robert Sabuda
February 21st: St. Peter Damian
February 22nd: The Chair of St. Peter the Apostle
Food for thought:
Books:

Peter, Apostle of Jesus by Boris Grebille
Feel free to share more resources in the comments!
Want to learn more about the liturgical seasons and how to celebrate the Christian Year and saints days with real food recipes? Check out our cookbook Feast! Real Food, Reflections, and Simple Living for the Christian Year.