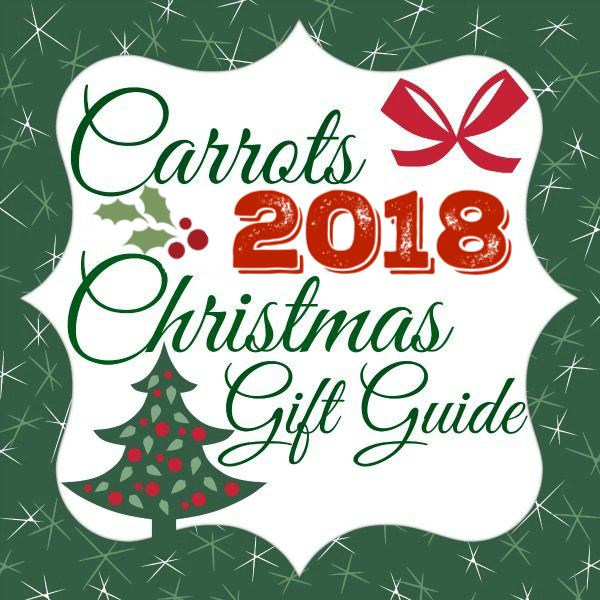 UPDATED FOR CYBER MONDAY
I hope you're snuggled up on the couch in your jammies today eating leftover pie and not fighting the crowds! We are recovering from a somewhat dramatic Thanksgiving Day.
Part of it was absolutely lovely! We cooked yummy food and feasted with new friends. But our nine-year-old, Benjamin, had the worst asthma attack he's had since he was three years old.
It was honestly terrifying and we thought we'd be spending Thanksgiving in the ER. After several breathing treatments and creating steam by keeping a hot shower going he finally turned a corner and we got to stay home. But he felt too crummy to participate in the festivities which was just SAD. He's significantly better this morning after a good night's sleep but still has a ways to go before he can be running around again.
Some Thoughts on Gift Giving
I get asked every year about whether I can offer a gift guide so here I am again! I find coupon codes and try to focus on small businesses, and I include a few Amazon links, too. But I really want all of us to keep some things in mind (and I am reminding myself of all these things because we're all in this together and the struggle is real).
Is gift-giving bad? No, of course not. But should Christmas shopping a free pass for unbridled consumerism? Also no.
Experiences > Stuff
Before you start ordering, consider whether you can replace an item with an EXPERIENCE. Get a membership to a local museum or zoo! Plan a camping trip!
Questions to Ask Yourself
Is this item necessary? If your child needs a new pair of shoes, that is a great thing to give for Christmas. Wants can be taken into account, too, of course! But first think, what does my child/friend/family member NEED? For example, my kids are all getting robes from me this year! I have friends who do four gifts/child. Everyone gets something they want, need, can wear, and can read. I love that!
Can this item be used more than once? There are certain toys and gifts that are really one-use only and then must be either thrown away or sit and collect dust. Steer clear of these sorts of things in favor of items that can be used over and over again. A tea set or LEGO or MagnaTiles all fit the bill here because they can be enjoyed for years!
Can this item be shared? I love gifts that the whole family can enjoy: board games, hot cocoa mix, Christmas ornaments.
And always remember, what your family wants most of all is the best of YOU. Don't stress out. Keep the Christmas shopping simple and get it done before Advent so you can relax and enjoy this season with your loved ones.
Okay, without further ado…
Disclosure: Some links below are affiliate links which means that if a purchase is made, I will be compensated–at no additional expense to you, of course! But all opinions are my own and I only share things I would purchase myself.
Bookish Gifts
I really try to keep things simple and minimalist, folks. But I totally fail in the book department because I WANT ALL THE BOOKS. #sorrynotsorry Here's some of the bookish deals going on:
Bearing Light Advent Devotional
This Advent devotional from Blessed Is She women's ministry, written by one of my favorite writers, Shannon Evans is gorgeous and wonderful. This is what I'm going to be using for my own spiritual reading for Advent. It's for women, but not just for married women or moms.
DISCOUNT CODE: Monday sitewide 25% off sale!
AND through Monday you can use the code NOVBOOK2018 to get $5 off any book purchase of $20 or more at Amazon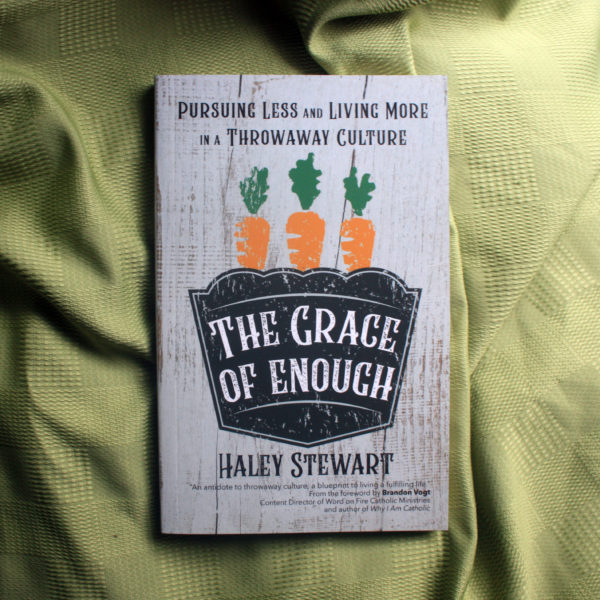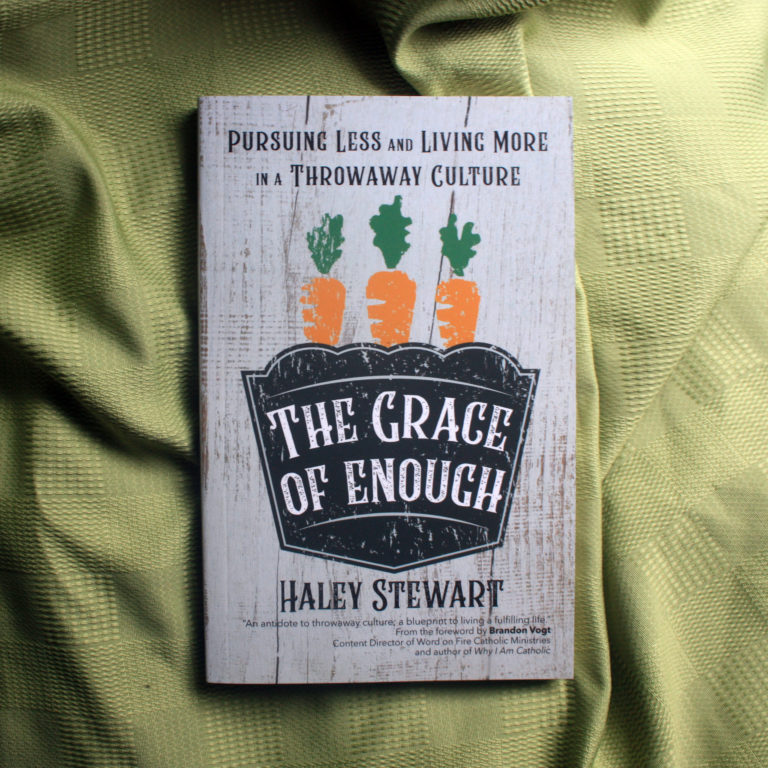 So you can grab my book, The Grace of Enough: Pursuing Less and Living More in a Throwaway Culture for for your friends, family, teachers, neighbors, mail man, or people you run into at the grocery store! 😉
And I'm offering 25% off three of my ebooks!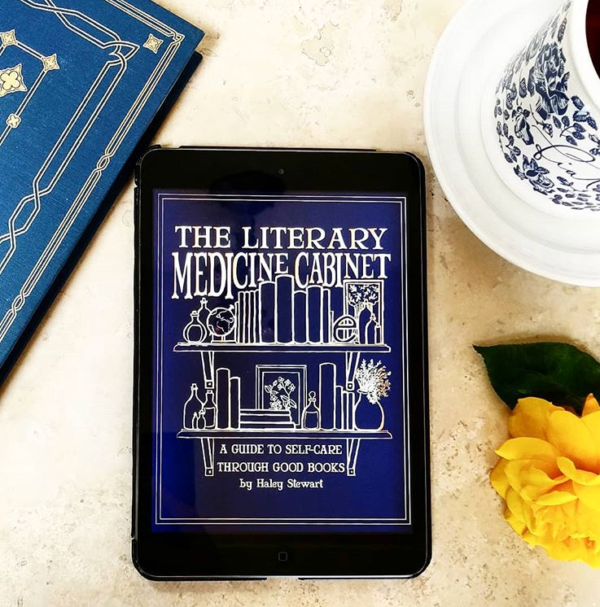 The Literary Medicine Cabinet is 25% off $7.99 through November 30th with code: BOOKISH2018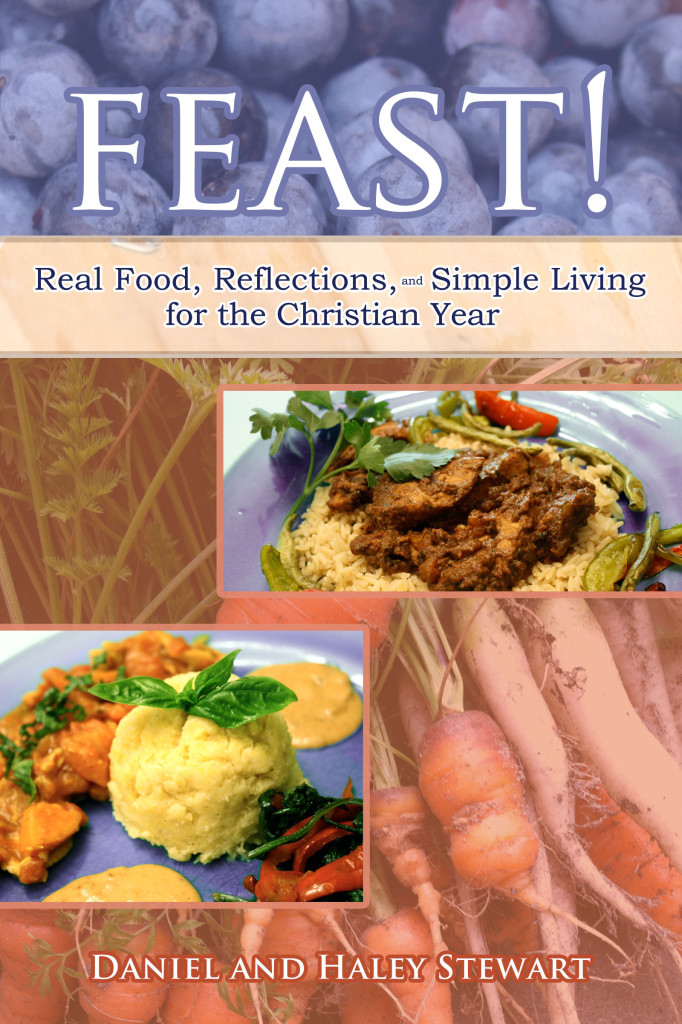 Feast! is 25% off $7.99 until the first day of Advent with ADVENT2018: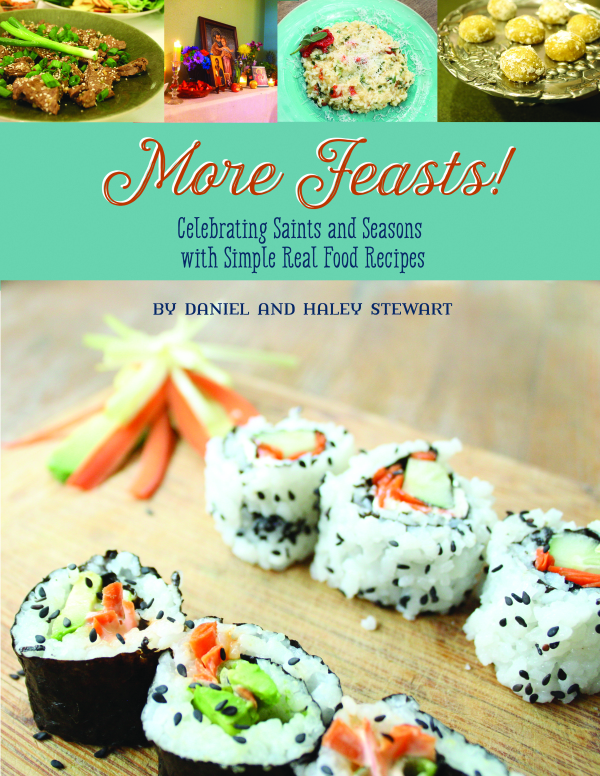 And More Feasts! is also 25% off $3.99 until Advent with ADVENT2018:
My Book Lists
Books are always my go-to gifts for my kids (and everyone else). Each kid gets a book on St. Nicholas Day when we exchange gifts as a family. They fit on a shelf nicely and can be enjoyed year after year by other kids in the family. They also don't involve glitter or tiny parts. You're welcome!
Not sure what to order? Well just click over to some of our favorite picture book authors, the books we keep in our Mass bag, or our favorite Advent/Christmas reads. And I've got a couple of lists geared for girls (find them here and here).
Storybook Maps from Studio Senn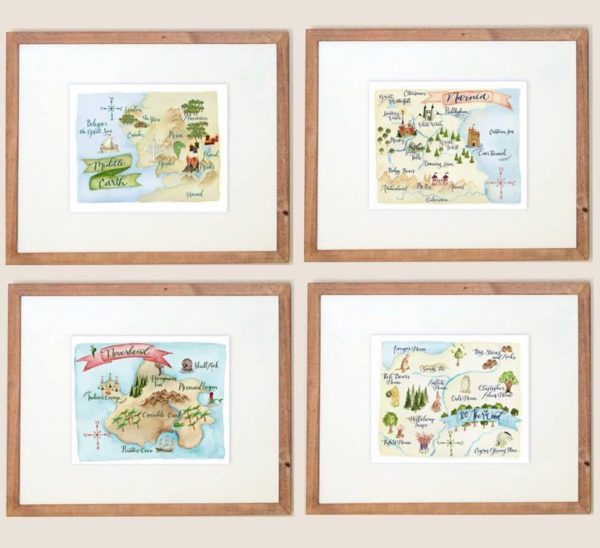 I am obsessed with these beautiful maps of literary worlds from a fabulous Catholic watercolorist.  I need Middle Earth, Hogwarts, and Narnia ASAP.
DISCOUNT CODE: 15% off your purchase with code SUPPORTSMALL through Friday Nov 30th.
Tea with Tolkien Etsy Shop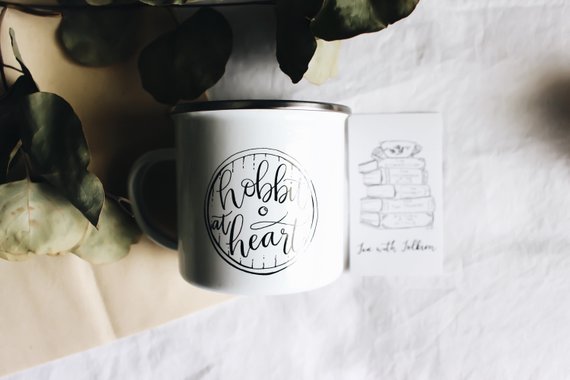 Y'all! This beautiful shop owned by a lovely Catholic mama is closing permanently after December 20th.
So get your goodies NOW. Everything is gorgeous and I'm planning to get enamel cups for each of my kids for Christmas so that everyone has ONE drinking cup and I don't keep finding 20 glasses spread all over the house each day.
Literary Films
And while we're on the subject of Tolkien…despite it's inferiority to the books, we actually love the Extended Edition of LOTR.

DISCOUNT: It's a whopping 58% off today on Amazon!
And this 8-film Collection of all the films on Blu-Ray . We watch these ALL the time. And for some reason, they feel like Christmas movies to me (especially the first one). We're sharing them with the kids one-by-one over the years. Benjamin has seen the first five and the girls have only seen the first three.
DISCOUNT: 52% off on Amazon today!
One Beautiful Dream: The Rollicking Tale of Family Chaos, Personal Passions, and Saying Yes to Them Both by Jennifer Fulwiler
This fabulous memoir would be a great gift for any mom in your life!
DISCOUNT: Currently 32% off on Amazon.
(AND through Monday you can use the code NOVBOOK2018 to get $5 off any book purchase of $20 or more at Amazon)
And I always put some of these gorgeous clothbound editions of classics on my own Christmas list!
Storiarts
I shared these last year, but I'm still obsessed with Storiarts. Get Sense and Sensibility writing gloves, Anne of Green Gables shirts, a Pride and Prejudice scarf or other literary delights.
Storytel's LEGO Catechism
This is such a fabulous book for kids! Highly recommend for children and godchildren. It delighted my 9yo and he learned a ton!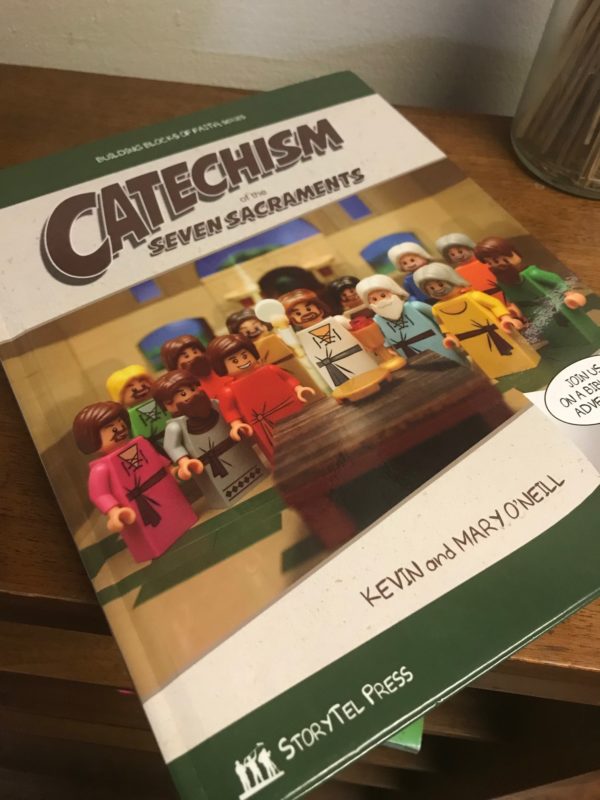 DISCOUNT: Currently 20% off with FREE shipping in the U.S. from Storytel
Illustrated Editions of Harry Potter
I ordered this gorgeous new illustrated hardcover edition of The Sorcerer's Stone to read aloud to the kids as one of our family gifts this year.
DISCOUNT: 40% off on Amazon today!
Blessed Is She Journaling Bible
This Catholic Journaling Bible from Blessed Is She would be a great thing to get a mom, sister, friend or put on your own Christmas list!!
DISCOUNT CODE: Monday sitewide 25% off sale!
Kindle Paperwhite eReader
DISCOUNT: Kindle Paperwhite's are 33% off today on Amazon today!
Catholic Gifts
Pink Salt Riot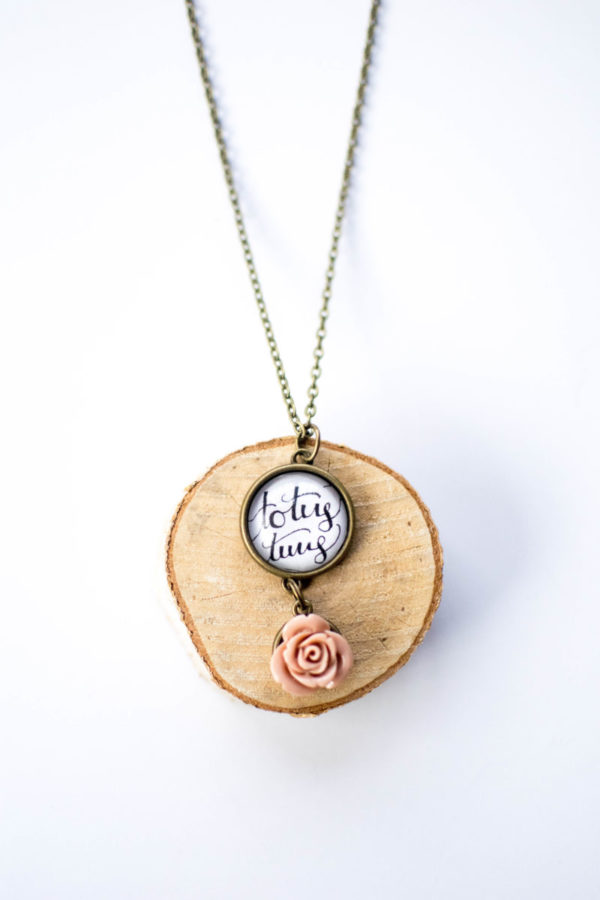 Love the beautiful jewelry over at Pink Salt Riot.
DISCOUNT: And everything is 20% off through Monday!
We have several of these and they have held up great over hard use. Since I just had a baby named Hildegard I'll share this one, but there are OODLES of saints:
DISCOUNT: 20% off through Cyber Monday. Grab yours at Amazon.
Be a Heart by Erica Tighe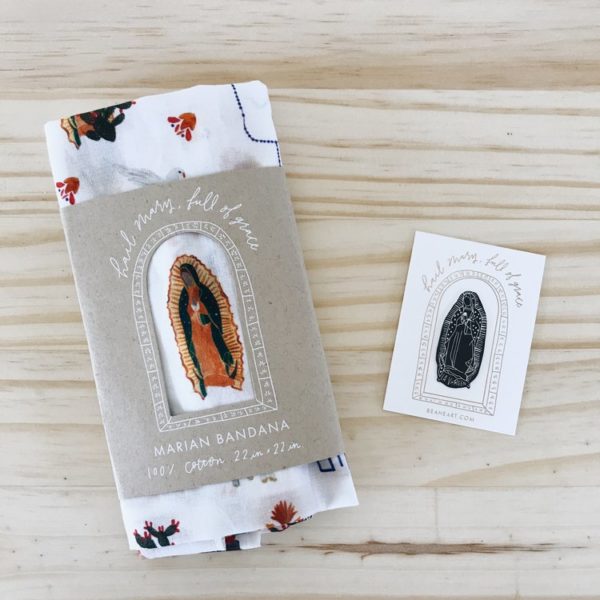 Lots of gorgeous things over at this shop including this gorgeous bandana!
DISCOUNT: 20% off through Monday (and a free Marian sticker)
Meaningful Market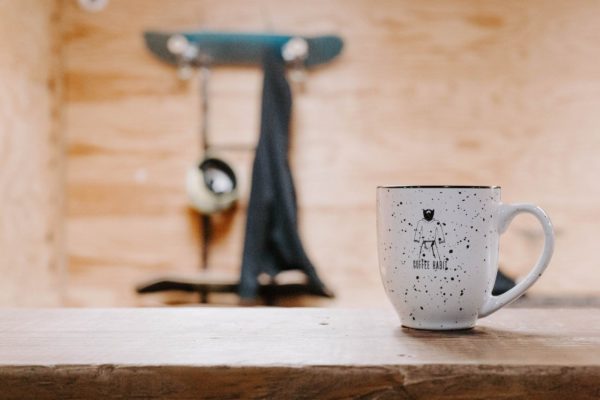 Love this "Coffee Habit" mug!
DISCOUNT: 20% off entire purchase with discount code -holly20
Brick House in the City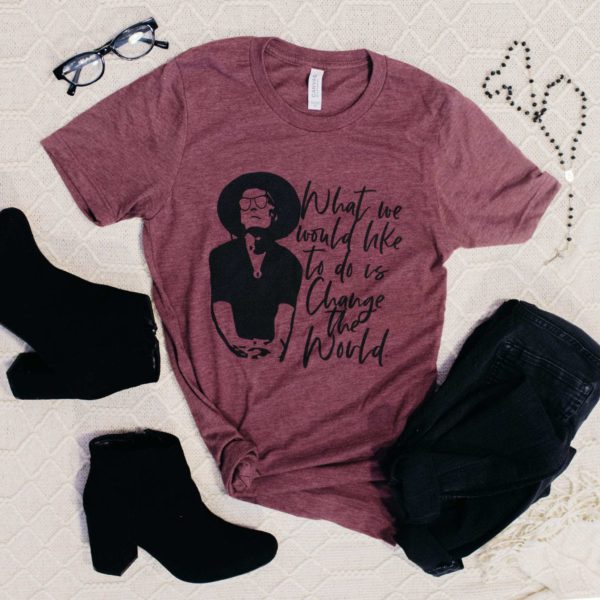 Love this Dorothy Day tee!
DISCOUNT: Free shipping when you purchase 2 shirts.
Betty Jo Sews.
I am IN LOVE with these little plush saints (the shop has male saints, too!) and I got some as stocking stuffers for my kids last year. And the quiet books for Mass (there's one for Latin Mass,  Novus Ordo Mass, and ones about the saints) are just gorgeous. And who can resist Chesterton leggings?! Definitely check out the whole etsy shop.
DISCOUNT CODE: 20% off orders of $30 or more through Monday!
Live Well Today Collective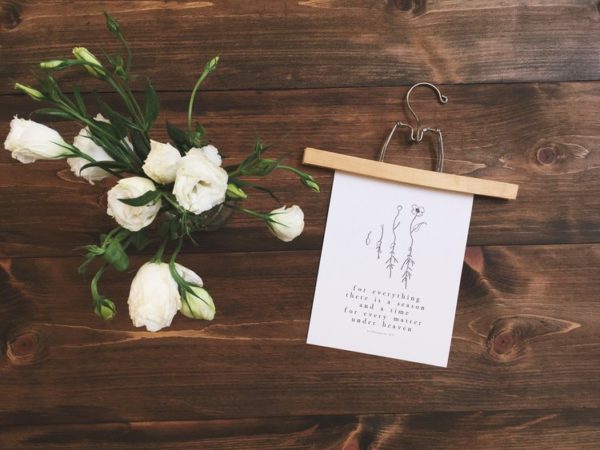 DISCOUNT: This pretty shop has 15% off on Cyber Monday!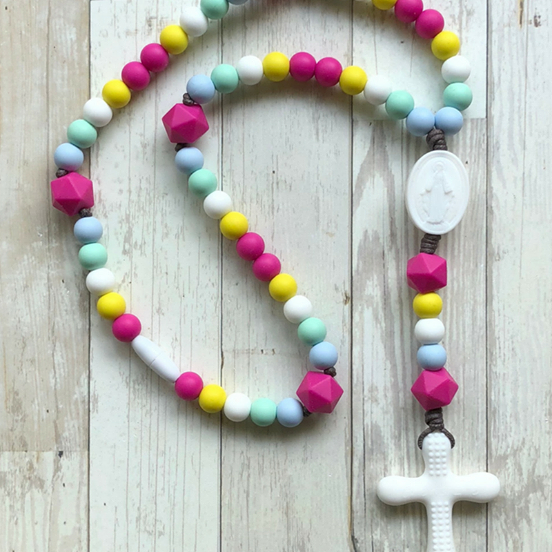 ChewsLife has some of my FAVORITE gifts for godchildren. Rosaries and saints bracelets made of food grade silicon that your toddler can chew on to their heart's content. They also feature beautiful mother's rosaries and other gorgeous products.
DISCOUNT: Use CYBERMONDAY for 15% off!
Santa Clara Design is an Etsy shop with everything from our saint prints, posters and postcards, to tees and stickers! run by mother-daughter team Lauren and Emelie Gulde from College Station, Texas. Lauren is a wide and mom of five and Emelie is a college freshman at Texas A&M majoring in business.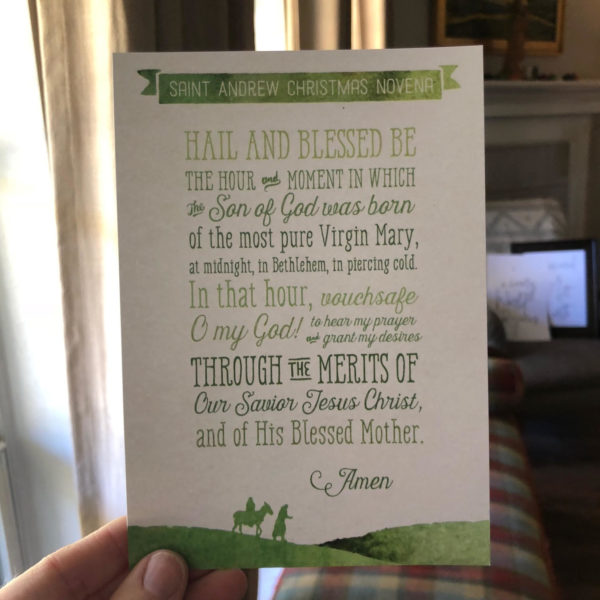 DISCOUNT CODE: Just for Carrots readers,  get 15% off your order, until Dec. 15: BRIGHT2018
Toys and Games
Blocks
This set was Benjamin's most played with toy for ages when he was a toddler!
DISCOUNT: (12% off on Amazon today)
Baby Stella. These baby dolls are fantastic. The girls each have one and they have been well loved. I toss them in the wash every so often and they're no worse for wear because of it.
DISCOUNT: 32% off today on Amazon, plus an Amazon coupon to clip
Stamp Sets. My girls have gotten tons of use out of these. 
DISCOUNT: 15% off on today on Amazon.
Potholder Loom. My kids are obsessed with this loom. It's easy enough for my 5yo to do (with a little big of help getting started). I LOVE these. Grab it here at Amazon.
Building Toys. And if you've got kids that LOVE to piece things together, I recommend  Duplos for the littles and you can't beat LEGO for the bigger kids.
And they're 30% off on Amazon today!
Whew! And that's a wrap.