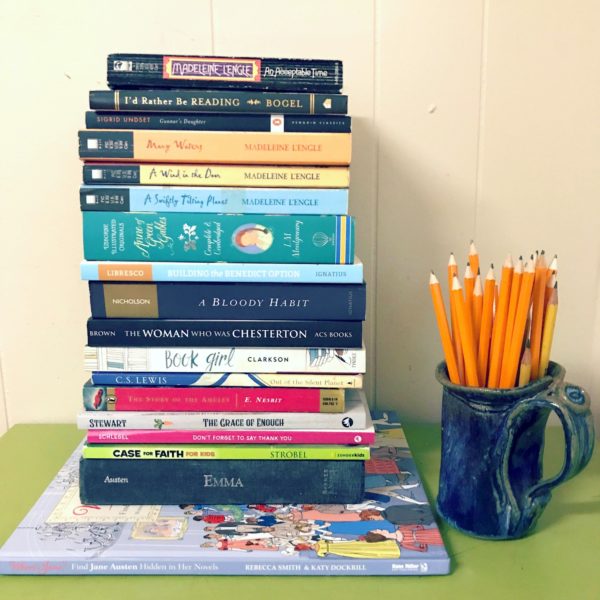 Since I love chatting about books, I've been trying to share our family's current reads on a regular basis here on the blog. And I want to celebrate that MY book is releasing next Friday (eek!!!!) by giving away a copy to a lucky reader. The giveaway is at the bottom of the post!
Here's a few of the great titles I've picked up lately:
(This post contains Amazon affiliate links.)
Lately I Finished…: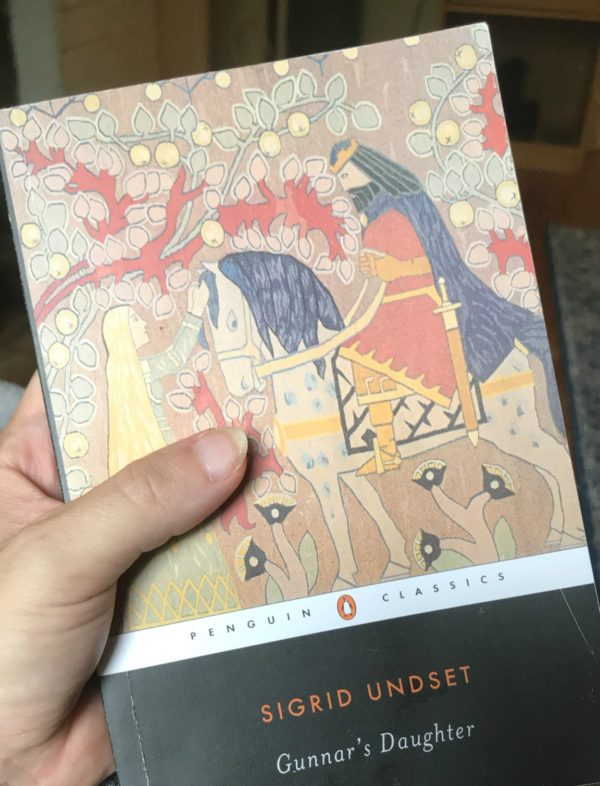 Gunnar's Daughter by Sigrid Undset
This is our next Fountains of Carrots podcast book club pick! Christy and I will be recording the episode about it ASAP and releasing it in October so you still have some time to finish it. Unlike Undset's Kristin Lavransdatter, Gunnar's Daughter is a quick read. It's intense, exciting, and features another fascinating female protagonist. But be warned that there is difficult subject matter like rape and child loss.
The Woman Who Was Chesterton by Nancy Carpentier Brown
I finished this biography of G.K. Chesterton's wife and loved it!
Building the Benedict Option by Leah Libresco
I love following Leah on Twitter and so I was excited to pick up her new book. It's primarily an invitation to practicing intentional hospitality and community-building for Christian culture.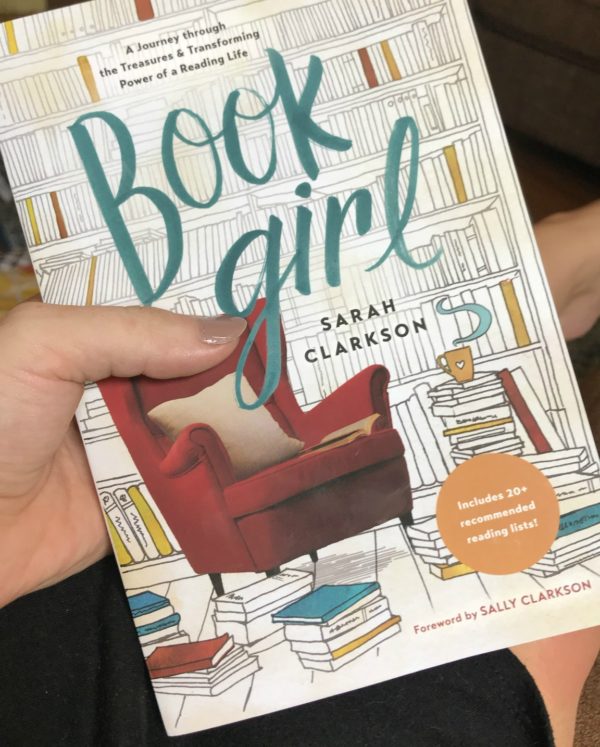 Book Girl by Sarah Clarkson
This book is an absolute treat for any bookish woman. It's reflections on the importance of good stories on our formation as woman that will make you want to curl up with a cup of cocoa and a good book. And thankfully, Clarkson includes oodles of fabulous book lists so you'll know just want to reach for.
Current Reads:
I'd Rather Be Reading by Anne Bogel
Another lovely read on the bookish life!
A Bloody Habit by Eleanor Bourg Nicholson
We had a blast chatting with the author of this gothic vampire novel on the podcast recently and I am thoroughly enjoying this read! Almost done!
Books the Kids Are Reading: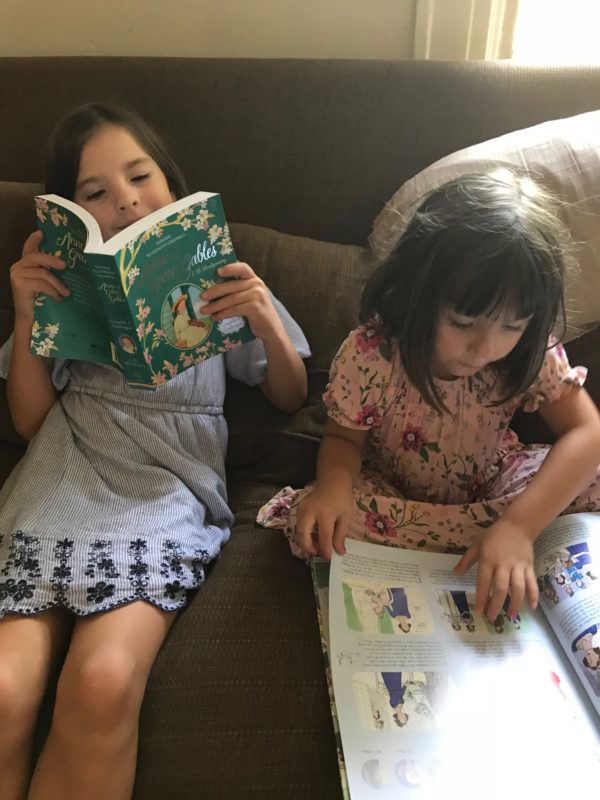 Where's Jane? by Rebecca Smith and Katie Dockrill
This is such a cute book! It's kind of a Where's Waldo for Janeites and has introductions to each of Austen's novels as well as fun illustrations for you to find the characters in. We're all loving it. (I get my Usborne books from Sarah Ortiz.)
The Story of the Amulet by E. Nesbit
I'm a big fan of E. Nesbit's books and this is Benjamin's current read.
Good Pictures, Bad Pictures: Porn-Proofing Today's Young Kids by Kristen Jenson
I just finished reading this one with my 9yo and I highly recommend! It's very well done.
Case for Faith for Kids by Lee Stroebel
Part of a great series of apologetic books for kids. This my current bedtime apologetics read with Benjamin!
The Hound of the Baskervilles by Sir Arthur Conan Doyle (Benjamin's current audiobook)
Audiobooks:
During the end of my pregnancy I listened to most of the Time series by Madeleine L'Engle:
I'm currently listening to Emma. You can get the Amazon kindle version for free and "add" on the audible for 99 cents!
Listening with the kids: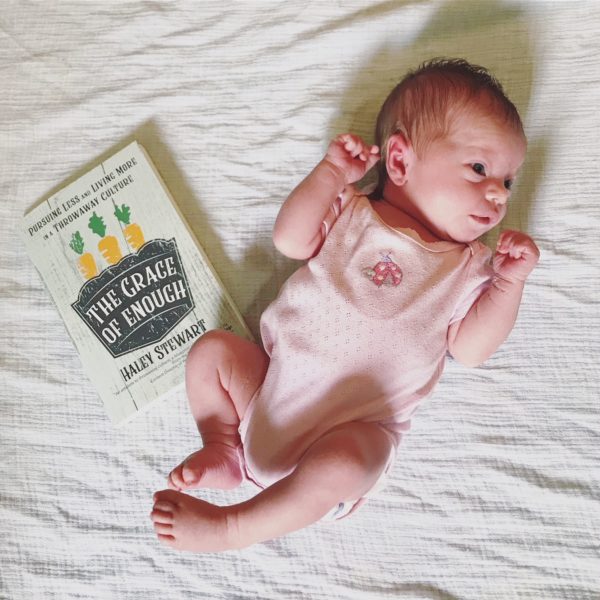 The Grace of Enough: Pursuing Less and Living More in a Throwaway Culture by Haley Stewart (that's me!!!!)
We are only 7 days out from the release date of my book! This week I've had lots of friends text me pictures of their copies since the pre-orders seem to be going out a few days early (yay!). And to celebrate, I want to offer a signed copy to a lucky winner. (To enter the giveaway to win a signed copy, head over to my Instagram account: @haleycarrots).
What are you reading and enjoying lately? Let me know in the comments!