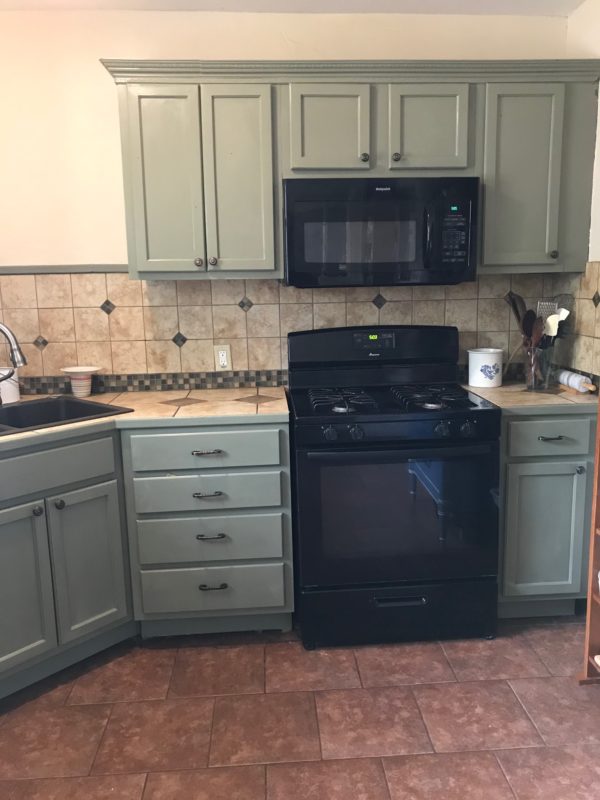 We JUST put the finishing touches on our cabinet painting project! When we moved into our house in Waco two years ago the one thing I knew I HAD to change was the cabinets. They were an awful cherry stain that clashed horribly with the backsplash and floor tile. Ready for the before pic?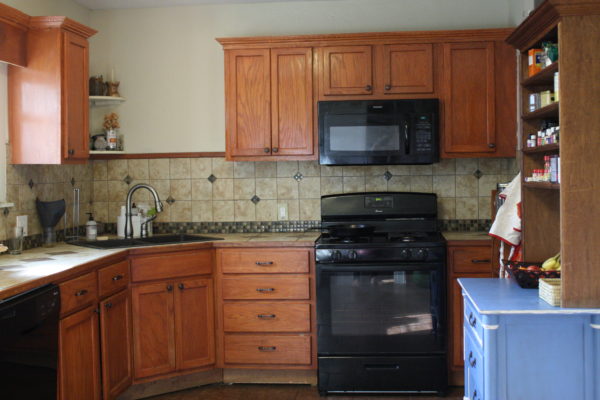 See?! The bizarre combination of kitchen components made me wonder if the people who flipped the house just went to Lowe's and said, "what's on sale today?" and just threw the kitchen together not considering how the combination would fail. And the baseboards were never finished at all.
So of course I planned to fix up the kitchen IMMEDIATELY. Before we even moved in. But that didn't happen. I finally got the project going this summer knowing that if we waited until after the baby arrived it would take another two years. Here's an in progress photo so you can see the contrast!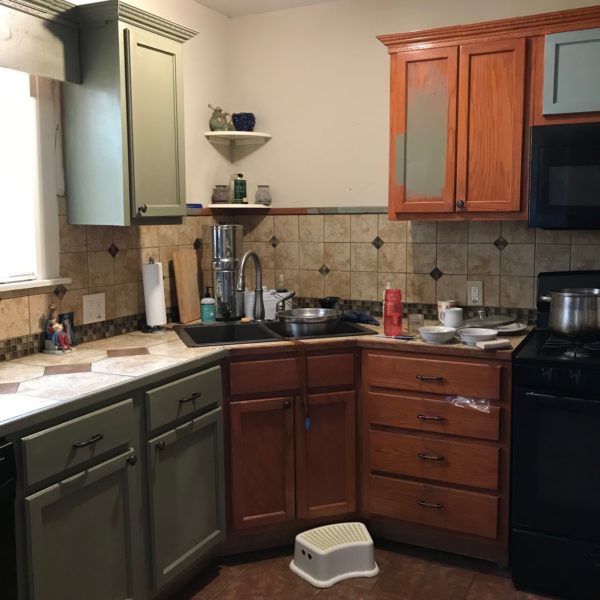 These cabinets are not super high quality, but now that they're painted a color I love that goes with the rest of the kitchen, I think I can be happy as a clam with them for several years. And the entire project cost me just a couple of cans of chalk paint and some polyurethane and was completed to the tune of about $125.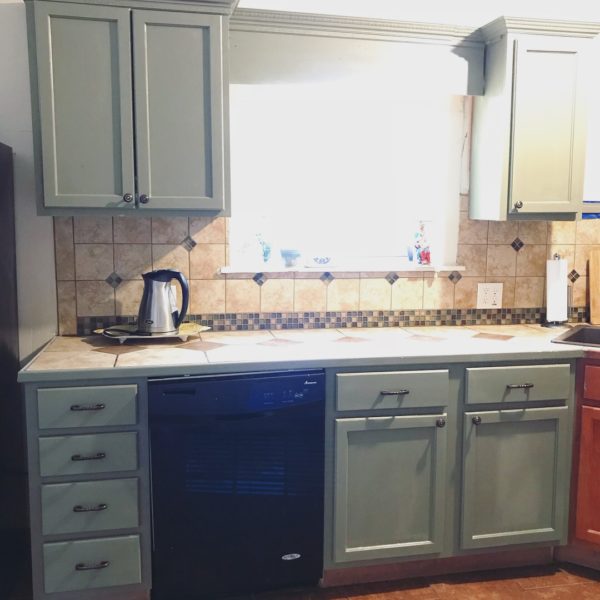 (The halfway done pic)
This post contains affiliate links.
Here's what I learned:
–Cabinets are a BEAST to paint. Everyone told me and I kind of believed them, but whoa. Lots of man hours.
–Chalk paint is magic. I'm so glad we opted for chalk paint instead of sanding everything (oh my gosh, can you even imagine) and going with regular paint. I used Annie Sloan's Chateau Grey.
–Greys are weird! I knew I wanted greyish/green cabinets to go with the backsplash tiles but it took me four tries to find the right color that didn't look lavender or robin's egg blue once I tried it on the cabinets in our kitchen's light. Tricky! But I used the samples to paint this little dresser to put Baby Hildie's things in so win-win.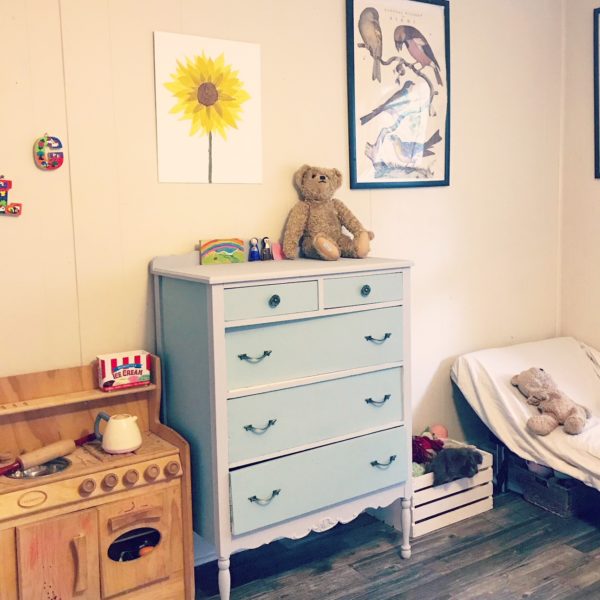 –Having a kitchen at sixes and sevens is stressful. I mostly painted in small sections so that everything wasn't pulled apart at once and the kitchen was still usable but by the end of the project things were OUT OF HAND and I dreaded figuring out how to do meal times with drying cabinet doors covering the dining room table!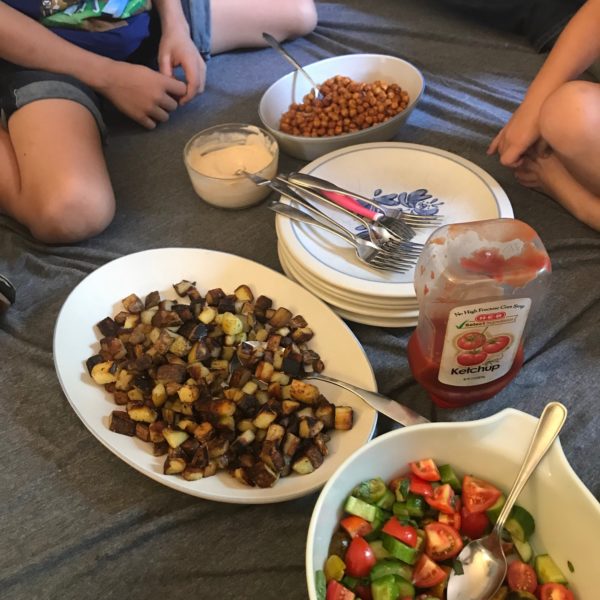 We did a lot of meals outside in the heat or when it was just unbearable, as living room picnics like so.
I'm pretty sure this will be my last house project for a good long while, but I'm so pleased with how it turned out!
At this point, I'm just trying to get my house clean and organized before the baby arrives. The nesting instinct is HERE but I'm also anemic and exhausted so not much is happening. Luckily, today some goodies from Grove Collaborative arrived to get me motivated (why is cleaning so much easier when you have good smelling products you love?).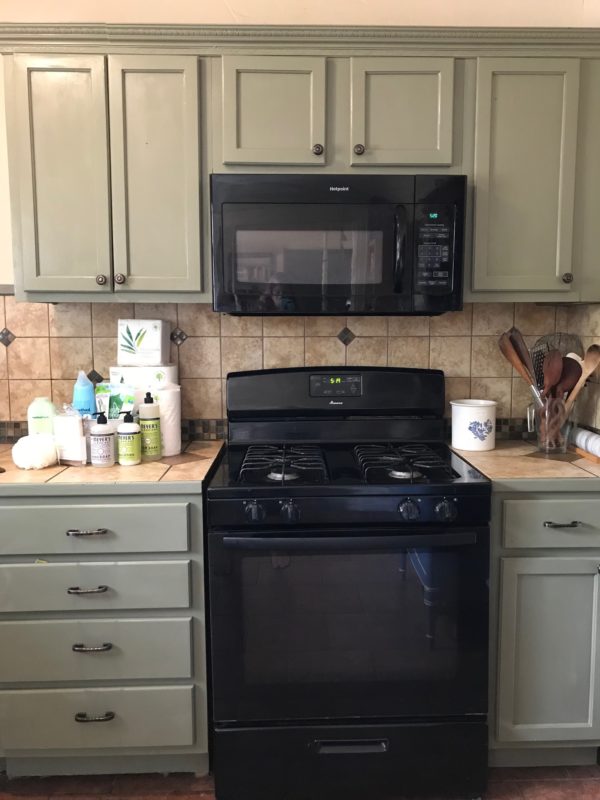 AND they're offering freebies for my readers! New Grove customers will get this FREE set with your first order of $20 now through Sunday, July 15th: 
Free Mrs. Meyer's hand soap

Free Mrs. Meyer's hand lotion

Free Mrs. Meyer's dish soap

Grove Collaborative cleaning caddy

FREE SHIPPING & 60 day VIP trial
Grab your set here!
I love this cleaning caddy! I have one I keep by the kitchen sink with a dish scrubber, sponges, counter spray and dish soap and one above the washer in the laundry room with spot cleaner and the essential oils I add to loads of musty towels.
And if you're an existing customer, you get some of my favorite walnut scrubber sponges!  
The three Mrs. Meyer's products all come in lavender, honeysuckle, lemon verbena, geranium and basil. When you grab your free set from Grove, you can mix and match to create your own custom combination! Here's what my order looked like this month: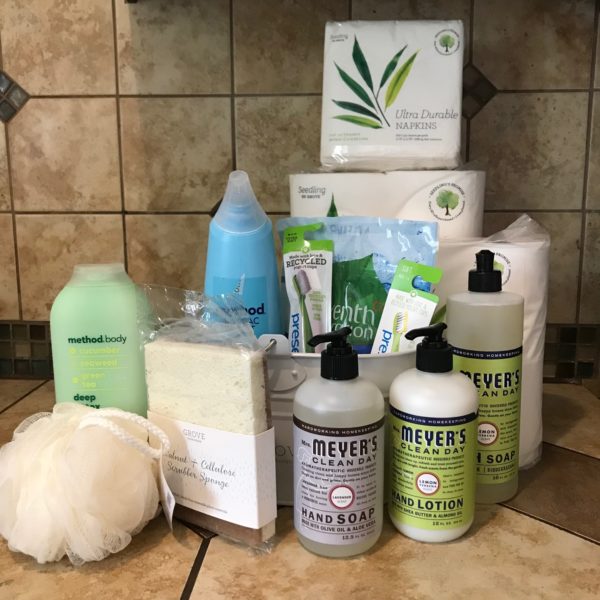 Here are some products I think you should try: 
Grove Collaborative walnut scrubber sponges $3.95

Method antibac toilet cleaner $3.99

Seventh Generation Auto-Dish Packs $5.99

Jason's Strawberry Kids Toothpaste $5.99
Ecover Stain Remover $4.99

Mrs. Meyer's dish soap FREE

Mrs. Meyer's hand soap FREE

Mrs. Meyer's hand lotion FREE

Grove Collaborative cleaning caddy FREE
You'll get all these products for $24.91 plus free shipping when you place your first order from Grove Collaborative! And when you sign up for Grove right now, you'll also get a free 60 day VIP trial. For 60 days, you'll save even more with free shipping, free gifts, price matching, exclusive sales, and personal service. (With my last order, for instance, I got some lovely free body wash and a free loofah worth $11.94!)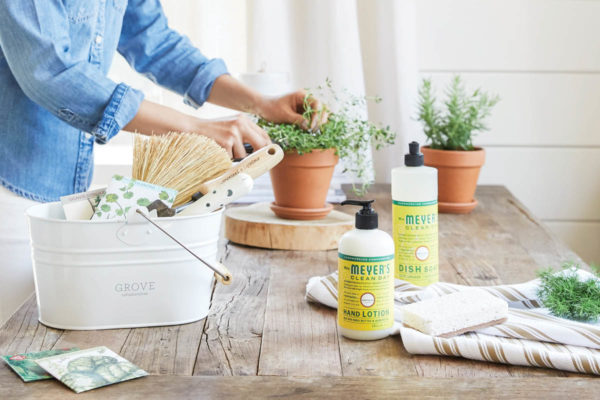 Here's how to take advantage of the free offer:
Sign up for Grove Collaborative here. 

You will receive the summer cleaning caddy set 

for free when you sign up!

To receive this offer, your order needs to be a minimum of $20. Choose the combination of products and scents you love and receive your first box within a few days.

You made it! Click Finish & Pay and place your order.
And don't forget that you have to order by Sunday, July 15th to grab your free set!
Woohoo! Here's to kitchen cabinet renos and good smelling freebies!