Every so often, we chat fashion at Carrots. I hope it feels like going shopping with a friend, but not having to try on jeans….or leave your couch.
Ah, the first trimester. When you are always glowing and life is full of just the blissful joy of impending motherhood! Well maybe the first trimester is when YOU are glowing. I on the other hand am in bed or on the couch, popping Zofran to control the vomiting, going several days between showers and feeling generally completely awful. And I'm not the only one. For many of us, even though the prospect of a new baby fills us with excitement, the day-to-day survival through the first three months isn't pleasant.
Whether it's the typical exhaustion and queasiness experienced by most pregnant women or the more unusual and miserable experience of an HG pregnancy (extreme morning sickness), most women don't feel at their best during the first few weeks. And as someone who has been spending most days of this pregnancy in bed with greasy hair, frumpy reindeer pajama pants, and giant t-shirts, while my house descends into a terrifying chaotic mess, it's not exactly my favorite season.
That's partly why I was really excited to order my first fix from Stitch Fix in eight months! I have used their styling service over the past several years to slowly build up a wardrobe I love ever since my youngest was a baby. But I've never tried them out for maternity wear. As a 4th time mama, my clothes stopped fitting before I even got a positive pregnancy test. "Hey belly, you know what to do!" *POP* this pregnancy seemed to say….
And when you're feeling physically crummy already, feeling like you've got nothing that fits adds insult to injury. And the LAST thing in the world I felt up to was dragging my three kids out on a shopping trip for maternity clothes. I couldn't even drive or leave my house for a few weeks! So I am more than happy to leave all that up to Stitch Fix to handle and enjoy unpacking my beautiful box of hand-picked for me items by my stylist. Want to see what was in my fix? I made my longsuffering husband take photos. But before we get to that…
I may be compensated for my affiliate links in this post, but all opinions are my own.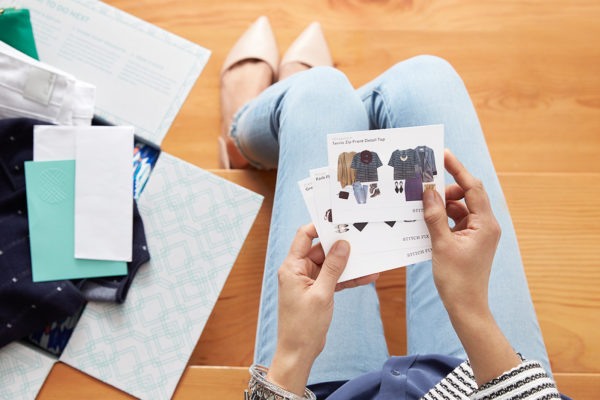 Don't know how Stitch Fix works? 
Here's the basics: you answer some questions about your style, size, and preferences on their site and write a note to your stylist about what you have in mind. (From experience, I know that the more specific your notes to your stylist are, the better your fix will be!)  Five items are chosen just for you by your stylist! They arrive in a box right to your doorstep with notes from your stylist and a style card to give you inspiration. You try 'em on, pay for the items you love, and send back what you don't want with the easy peasy return bag. If you purchase any of the items, your styling fee ($20) is waived. If you send everything back, you pay the styling fee.
For this fix I updated my style profile to add my pregnancy and any sizing changes since my last fix. I have been wanting to try Stitch Fix maternity for ages, but…well…I wasn't pregnant so…I had to be patient. And in the note to my stylist I explained that I wanted items that I could wear during the first trimester that could do double duty as post-partum wear. I also explained that I wanted really soft fabrics with comfortable fits because of my morning sickness (anything too structured feels icky). I told her that I'd love basics and definitely needed maternity leggings or jeans. She was right on the money!
Ok, let's do this:
Sweater: c/o Stitch Fix, Jeans: Old Navy, Boots: ThredUP, Scarf: Storiarts
Item #1: Wynette Knit Top by American Able. I wore this sweater to my first prenatal appointment when I was super nauseous and the idea of any item that wasn't soft and as comfortable as pajamas was intolerable. This fabric is just what the doctor ordered and it's loose and long enough to be perfect for post-partum days, too. Since Texas has had several unusual cold snaps, I have been wearing it frequently and it feels like a hug from my stylist every time. (I'm about 12.5 weeks now and feeling SO much better as long as I don't over do it–then I spend a couple of days in bed recovering and kicking myself for being dumb.)
I'm still in the "is she pregnant or….?" stage and this item fits the bill.
Jeans: Old Navy, Shoes: c/o Stitch Fix
Item #2: Aviee Lace Up Flat by Lucky Brand. This is the first time I've gotten shoes from Stitch Fix and I was a little nervous about sizing because I have kind of weird feet (SUPER wide). These Lucky Brand flats are perfect for looking cute but still so comfortable and I plan to wear them every day until my feet swell up this summer and my life becomes a flip flops only situation. I need to remember that on days when I'm despairing from the nausea an addition of sensible but cute shoes is a boost.
Sweater: c/o Stitch Fix,  Jeans: Old Navy, Shoes: c/o Stitch Fix, Purse: c/o Stitch Fix
Item #3: Bathilda Pullover by Noisy May. I really like the fitted sleeves with the loose waist. And I love the color!
Oh hey. There's that bump.
Top: c/o Stitch Fix,  Jeans: c/o Stitch Fix, Shoes: c/o Stitch Fix, Kimono: Stitch Fix
Item #4: Malla Knit Top by American Able. This is my best "can't tell I'm pregnant" look. Due to my terrible pregnancy nausea basically everyone who knows me at all knows I'm pregnant a week or two after I get a positive pregnancy test and take to my bed for a couple of months. But if you feel semi-human in the first trimester and would like to keep your pregnancy quiet at work for awhile, this is a good way to go. This black top is such a great basic and the material is soft and just to die for. And I plan to wear this kimono I got in a fix last year anytime I just don't want to deal with the pregnancy love handles (they're a real thing! At least in my world!).
And the final item my stylist included for me are these great maternity jeans. I am ALL about switching to elastic waists as soon as I know I'm pregnant just in order to be comfortable. And these are just the thing.
Item #5: Elizabeth Super Skinny Jean by Liverpool. I've discovered from former fixes that I really like the fit of Liverpool jeans/pants/shorts and I hunt for them in online consignment now that I know what size works for me. My stylist Rachel told me in her little note that these jeans were one of her favorite items to wear during HER pregnancy last year which is just cute and I love it.
So there we have it. Flowy, soft, and comfortable items for first trimester survival that I can wear and feel cute in again during those awkward post-partum days. What are your fashion survival go-tos during the first tri?
If you've been eyeing Stitch Fix for awhile but haven't pulled the trigger, now is your chance! So head on over to fill out your style profile.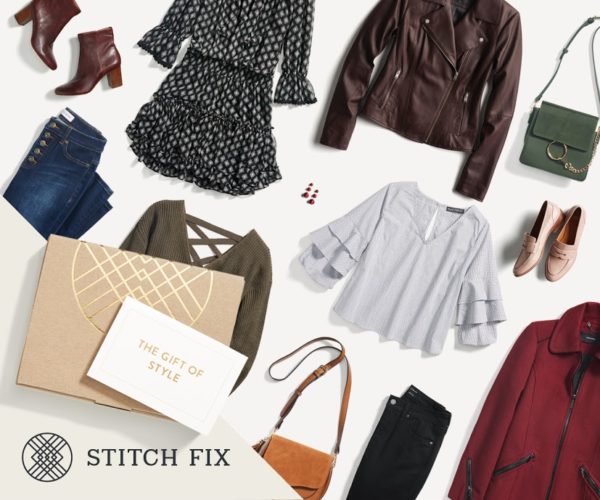 Disclosure: I partnered with Stitch Fix to create this post and received a complimentary fix for review. All opinions are my own. I only share with my readers products and services that I love and would purchase myself.