I usually don't even leave the couch on Black Friday. But this year we had brunch plans with my brother and his fiancee. So we brunched and we brunched well. But fighting the crowds for deals is the last thing I want to do between slices of leftover pie. So want to join me in finding some great deals from the couch? Great!
I've collected coupon codes when possible well as some pretty great Amazon deals, so I hope this makes your Christmas shopping easier and your holiday weekend lovelier. Some links (including Amazon) are affiliate links.
(And psst! I posted earlier this week about gifts that don't take up any space on the shelf. So you might want to check that out before jumping into shopping!)
CYBER MONDAY NOTE: I'll try to keep up with coupon codes and mark when they've expired. So just let me know if one is not working. And Amazon deals are changing constantly! These are the sales available on Cyber Monday.
For the Infants and Toddlers in Your Life:
Books.  Books are always my go-to gift for the kids. They fit on a shelf nicely and can be enjoyed year after year by other kids in the family. They also don't involve glitter or tiny parts. You're welcome.
Not sure what to order? Well just click over to some of our favorite picture book authors, the books we keep in our Mass bag, or our favorite Advent/Christmas reads.
Betty Jo Sews. I am IN LOVE with these little plush saints (the shop has male saints, too!) and I got some as stocking stuffers for my kids this year. And the quiet books for Mass (there's one for Latin Mass,  Novus Ordo Mass, and ones about the saints) are just gorgeous. And who can resist Chesterton leggings?! Definitely check out the whole etsy shop.
DISCOUNT CODE: To get free shipping on the Betty Jo Sews Etsy shop for Carrots readers from now through Dec. 15 use code SHIPCARROTS
Adorable onesies. I love this one from brickhouseinthecity.
DISCOUNT CODE: THANKYOU2017 gets you pre-order price on all apparel today!
Or this one from Tea with Tolkien.
DISCOUNT: Free worldwide shipping for $100 or more.
Classic Toys. Who didn't have one of these growing up?!
And one of these! (15% off on Amazon today)
And this one was Benjamin's most played with toy for ages when he was a toddler!
Balance Bike. Our kids have LOVED balance bikes starting at about 18 months old. (Gwen still scoots around one hers at age 4 sometimes!) This one's 25% off on Amazon for Cyber Monday!
Chews Life Rosary from Chews Life. Also at the top of my list for little ones this year is this awesome toddler rosary. Chews Life also has bracelets that are adorable. My kids all love them!
Baby Stella. These baby dolls are fantastic. (And they're 32% off on Cyber Monday.)The girls each have one and they have been well loved. I toss them in the wash every so often and they're no worse for wear because of it. But that time Lucy slathered her dollies face with vaseline was unfortunate. For real, they are played with DAILY.
For the Little Kids in Your Life:
Stamp Sets. My girls are 4 and 6 and this is right up their alley. I'm a big Melissa and Doug fan and this set is 28% off on Cyber Monday on Amazon.

Peg Dolls. We just discovered how fun these can be! I love these saint dolls from Three Jolly Owls:
DISCOUNT: Everything is 15% off through Monday!
Train Set. These are always a hit and this one is a great deal right now at 38% off!
Play Kitchen Sets. We got this set of pots and pans years ago and the girls still use it all the time! It's 38% off on Amazon today.

Snap Beads. This set looks like a good option.
Kids Table. We were able to find something similar used through some friends, but our girls use it constantly for their art projects and play! This one is 42% off right now on Amazon.
Lacing Beads. I think my 4yo would love these.

And Magnetic Tiles are always a big hit!
For the Bigger Kid in Your Life:
Building Toys. Some LEGO sets are on super sale today for Cyber Monday. (See the deals here!) And if you've got kids that LOVE to piece things together, I recommend Fischer-Price Trio blocks or Duplos for the littles.
Books. I've got a couple of lists geared for girls (find them here and here). But you might want to start with The Penderwicks.
And for boys? What about The Hobbit: Illustrated Edition? And my 8.5 year old is currently loving all things Shel Silverstein. Like this one:
And for everyone? What about The Mysterious Benedict Society. Benjamin and I read this series together and I LOVED it.
Or this beautiful illustrated edition of Harry Potter and the Sorcerer's Stone.

Who had a Spirograph?! I so vividly remember getting one for Christmas and playing with it for hours.
This one's 14% off today on Amazon.
Sewing Kit. This is what my 6yo is begging for this Christmas. But considering that my 8yo son is also really into sewing, I should probably look for a manly kit for him, too.
Potholder Loom. My kids are obsessed with this loom. It's easy enough for my 5yo to do (with a little big of help getting started). I LOVE these. Grab it here at Amazon.
Building Toys. And if you've got kids that LOVE to piece things together, I recommend Fischer-Price Trio blocks or Duplos for the littles and you can't beat LEGO for the bigger kids.
Perler Beads.  These Perler Beads are a favorite for everyone over here. My kids have spent HOURS and HOURS using them. It's time to restock!
For the pre-teens and teenagers in your life:
I don't have any pre-teens or teenagers so I'm probably not the person to ask about this, but here's one idea:
UPDATE: These are out of stock right now, friends!
Fujifilm Instax Mini and Film. I kinda want one of these.  Grab one from Amazon here while they're 29% off for Black Friday!
For the Whole Family:
Decor:
I love having beautiful art on the walls of our home. Often, Daniel and I will buy each other icons or Catholic art for each other's birthdays or Christmas.
Here's a few places that have beautiful things to hang up and enjoy:
Rose Harrington. Daniel got me her botanical sorrowful mysteries print and framed it for my birthday this year and it is BEAUTIFUL. The botanical prints are my favorite, but the mugs are also to die for!
DISCOUNT CODE: Use SHOPSMALL2017 for 25% off paper goods from Saturday, November 25th to Monday, November 27th 11:59 PDT. This includes hand lettering, botanical rosary art and calendars
Brass & Mint. I LOVE Carolyn's style. You can find her Etsy shop here.
DISCOUNT CODE: And you can buy one print and get a second print free with code BOGOBRASS17 until Monday at Brass & Mint!
DelphinaRoseArt. I am so tempted to get this Our Lady Star of the Sea for my little Gwen Stellamaris!
DISCOUNT: And the shop is 20% off giclee prints and 40% off digital prints and Catholic Coloring Pages through Tuesday!
Sleightholm Folk Art (formerly Audrey Eclectic) by Heather Sleightholm has STUNNING religious art, folk art, and your favorite literary heroines. I adore Heather's style.
A Puzzle to Work on Together. I thought this one looked beautiful!

Or a favorite Christmas movie like this one to treasure.

For the Cook in Your Life:
Instant Pot. I got one of these for Christmas last year and it really is a thing of beauty and a joy forever.
And they're 38% off for Cyber Monday!
Or a Vitamix since they're 46% off (the cheapest I've ever seen them!) on Amazon for Cyber Monday!

For the Ancestry Nerd in Your Life:
I think these these genetic ancestry text kits are so cool! My parents did them last year and the results were fascinating. I'm tempted since they're 44% off on Amazon for Cyber Monday.
For the Reader in Your Life:
Kindle Paperwhite's are 25% off today on Amazon!
Or check out this Personal Library Kit. All the heart eyes.
Or this adorable Tolkien-themed baseball tee:
DISCOUNT: Free worldwide shipping for $100 or more.
For the Fantasy Aficionado in Your Life:
Despite it's inferiority to the books, we actually love the Extended Edition of LOTR and it's a whopping 78% off today for Cyber Monday!

The 8-film Collection on Blu-Ray. We watch these ALL the time. And for some reason, they feel like Christmas movies to me (especially the first one). We're sharing them with the kids one-by-one over the years. Benjamin has seen the first five and the girls have only seen the first three.
For the Man in Your Life:
Beard Balm. I know Daniel's a fan of Professor Fuzzworthy's Beard Care Balm & Gloss Conditioner. 
Or if you're feeling thrifty and crafty, you can MAKE beard balm with Daniel's recipe, or use the same recipe for lip balm and hand salve.
Drinking with the Saints: The Sinner's Guide to a Holy Happy Hour.This is SUCH a fun book written by one of our college professors and fellow parishioner at our church in Waco. Christy and I also devoted a podcast to the book that you can take a listen to here.
Or how about some Whiskey Stones to chill without diluting the drink?
Stitch Fix for Men? Yup, it's a thing now. And I ordered a box for Daniel. He still has shirts from 12 years ago and isn't exactly a shopper. But he's kinda persnickety about his clothes, so it's hard to shop for him. All but one item fit really well. I'll do an official review of the experience later, but for now I'd say a SF for Men Gift Card is a good bet.
For the Mom/Sister/Friend in Your Life:
I put this Catholic Journaling Bible from Blessed Is She on my Christmas list!
This year I also discovered this site, Storiarts. Get yourself Sense and Sensibility writing gloves, Anne of Green Gables shirts, a Pride and Prejudice scarf or other literary delights.
(And all the writing gloves are 20% off for Black Friday!)
I didn't put one of these on my Christmas list and now I wish I had. I LOVE the warm glow of these beauties. And this particular Himalayan Salt Lamp is 47% off on Amazon today!
And I think I desperately need one of these to put Anne of Green Gables quotes on.
 These are so fun! And they're 30% off for Black Friday.
Stitch Fix Gift Card. I know I just mentioned the men's box, but SF for ladies is basically my favorite thing. Buying clothes for other people is tricky. But maybe it's easier for a legit personal stylist. And besides, it's just FUN to receive a box of beautiful clothes you didn't have to pick off the rack. Get your gift card here, easy peasy.
And if you've been dying to try Stitch Fix but haven't made the leap yet, they're waiving the $20 styling fee for all new signups if you order by the end of the month! So give it a try!
Books. Try a winter read like Kristin Lavransdatter (the Tiny Nunnally translation, you can thank me later) or something lighter like a Dorothy Sayers Mystery? Or grab a gorgeous edition of a favorite classic like these clothbound beauties.
On my Christmas list are some longtime recommendation like this clothbound edition of Middlemarch

This classic from Evelyn Waugh
And this one that I keep hearing about

I shared a few of my all-time favorite reads in this post if you want some inspiration!
And for the liturgical year aficionado in your life, why not a print version of Daniel and my liturgical living cookbook Feast! Real Food, Reflections, and Simple Living for the Christian Year? Just sayin'.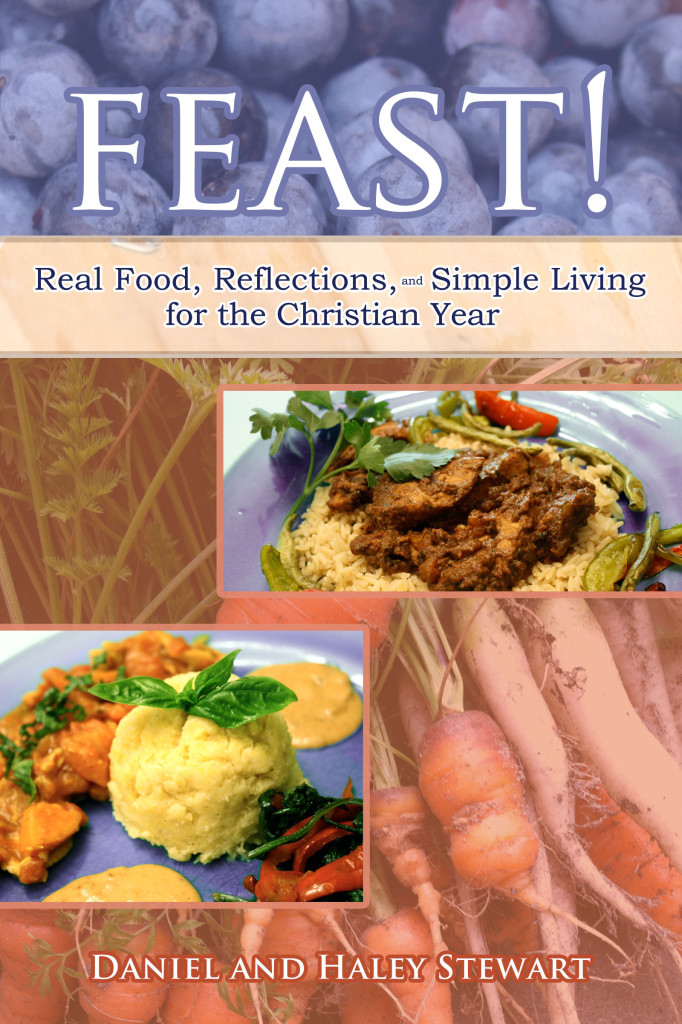 Whew! And that's a wrap. Happy stay in your pajamas on the couch while eating pie day!
Disclosure: This post contains affiliate links to Amazon.