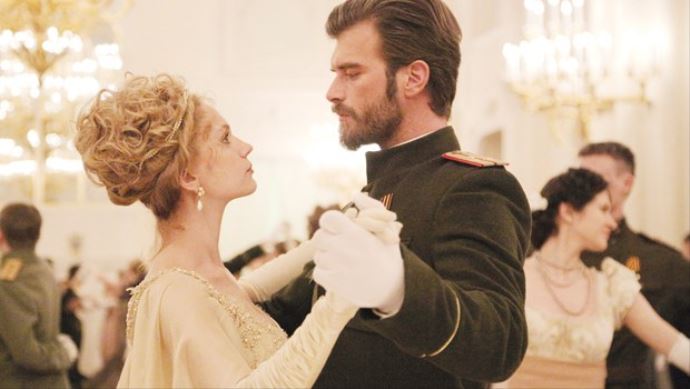 Every time I fall in love with a great period film or series and realize there's no more episodes left I always think, "That's it. I've seen them all. Nothing will ever be what (Downton Abbey, Poldark, fill-in-your-favorite-here) was to me!" But I'm usually wrong and there's a new favorite waiting to be discovered.
Lovers of binge-worthy historical dramas, hear ye, hear ye: I have a new favorite that you've gotta see. 
But it does require reading subtitles for all 46 episodes. Are you opposed to subtitles?
Of course not! Subtitles are charming!
Great, I agree. Lest you think I'm sharing this gem selflessly, I'm basically writing this because nobody seems to know about this show and I need about 8000 people to discuss it with yesterday. 100% selfish endeavor.
So here it is: Kurt Seyit ve Sura. It's a Turkish series, available on Netflix, set during and after WWI centering on the love story of a Russian aristocrat (Sura–pronounced "Shura") and a Crimean lieutenant (Seyit) fighting for the Tsar. Since I was a nerdy homeschooler who checked out every book on the Romanovs available at my local library at age 10, KSvS's setting is a dream come true. Then as the plot drives the characters from Russia to Crimea to Turkey, I learned so much about Turkish culture which I knew embarrassingly little about.
The story is based on real events. In fact, the series is drawn from novels written by the real Kurt Seyit's granddaughter, Nermin Bezmen. She did extensive research to write her books including finding Sura's sister, Tina (another character in the story) in her final years and interviewing her.
If you're like me and very much into historical shows with elaborate costuming, romance, and a side of melodrama, then this one's for you. It took me several weeks to finish the series (it is 46 hour-long episodes, after all) and it's very much in the same vein as the recent (and fabulous) production of War and Peace.
Some of the show will feel a little quirky to audiences used to American and British shows. Halfway into the series random voiceovers begin and there's a couple of awkwardly placed and completely unexplained scenes of actors playing Nermin Bezman interviewing Tina. There are lots of unfortunate moustaches, a few weird dream sequences, and the hair and make up is often very anachronistic. But the music and cinematography are wonderful.
Here's what to expect:
Everyone is beautiful.
There's no way you can talk about this show without just getting straight to the point and admitting that this cast is full of seriously gorgeous folks.
Kıvanç Tatlıtuğ plays Seyit Eminof and I'm very confused why he is not cast in every movie ever. He wears the heck out of a beard and swaggers through Russia and Turkey.
Farah Zeynep Abdullah plays lovable Sura and I had to keep reminding myself that she was not Lily James playing Natasha.
TWINSIES, right?!
Seyit and Sura really carry the show and are fascinating characters. Both flawed but likable and undergoing heartbreaking experiences of war, loss of family, and betrayal. But pretty much every cast member is stunning. Even the villains. I don't know how they found all of the world's most beautiful people to be in one show, but well done, casting director.
So much vodka is consumed.
So. much. vodka.
Hats, coats, and veils a plenty
Who doesn't love excellent hats and fur coats worn in Russian snowscapes?
Hats, y'all.
And as the setting moves to Crimea and Turkey the women wear beautiful veils. (The men don unfortunate moustaches so let's just focus on the pretty veils.) But the costuming in the entire show is on point. And because the scenes vary from imperial Russian ballrooms to tiny apartments in Istanbul, the styles change drastically.
Emotional Train Scenes
No one does heartwrenching train platform goodbyes like Kurt Seyit ve Sura.
He's leaving, she's leaving, someone's leaving and it's very dramatic.
Expect an absurd number of forehead kisses and tears. Speaking of…
Everybody cries a lot.
Like a lot a lot. Everyone is always crying. I don't know if this is a cultural thing or if it's just a melodramatic TV show thing. But every character cries at least 583984734838972 times over the course of the show. Except Evil Petro. Evil Petro only smirks. Always.
See, I told you.
Very Over the Top Romance.
The show is super clean. Maybe because of Turkish TV regulations? I don't know, but I appreciated that it wasn't full of gratuitous sex scenes. Thumbs up, Turkey. But the romance is absurdly over the top. Which makes for a fun show. And a LOT of staring into people's eyes.
I cannot overemphasize how much of this show is simply gorgeous people staring into each other's eyes.
So if you're ready to have your heart broken by Russian tragedy and learn some Turkish (Ok, so all I picked up was "hello," "yes," "no," and "I hope so," but at least that's something) get thee to Netflix and enjoy and then come back here so we can discuss EVERYTHING. Thank you, kindly.
P.S. The book the series is based on, written by Kurt Seyt's granddaughter, Nermin Bezmen, is now available in English! You can grab it from Amazon (affiliate link below):
Kurt Seyt & Shura by Nermin Bezmen