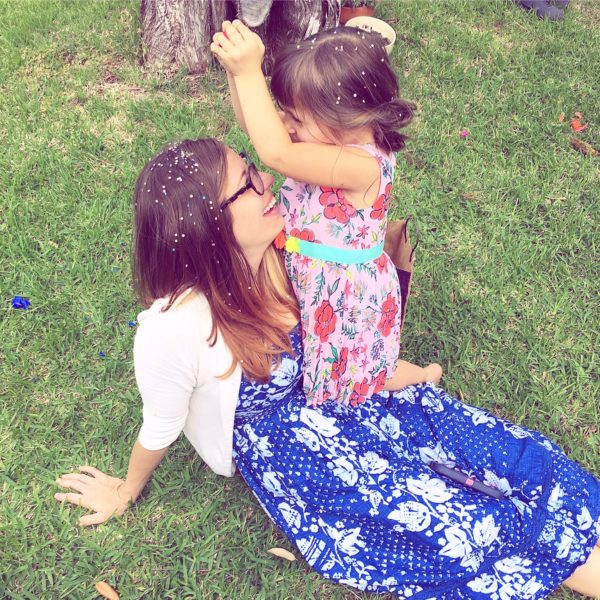 If you're a parent, you definitely understand the whole parenting perfectionism phenomenon. It tells us, don't EVER take your eyes off your child. Interact with them every day 24/7 –no breaks for laundry, sending a text message, or talking to your spouse! Sacrifice your health, your sanity, your passions, and everything else in order to make their childhood perfect.
Everything from food choices to traveling sports teams to owning only wooden toys to teaching them multiple languages before kindergarten should consume every second of your life. You need to go out to dinner sans kids? What about your child's ATTACHMENT? You signed up for this gig, you can't just be MIA for 2 hours so you can eat Pad Thai uninterrupted!
I've been thinking about the pitfalls of the parenting perfectionism trend ever since I heard Jennifer Fulwiler discuss the problem on her radio show. Jen had some insights that I had never considered before and really hit home for me.
I fell into this kind of perfectionist thinking when I first became a mom. If we consider parenthood to be the thing we must extensively plan for and excel at for a brief season–something that's carefully scheduled into life, then it's easy for this mindset to take hold. Yes, you'll get no sleep and no time to yourself until your kid is school-aged but YOU SIGNED UP FOR THIS and you better make it perfect.
Once this season of mothering is over you can "get your life back." Have you heard that phrase? As in, "we just donated all the baby stuff because we decided we're done and I'm going to GET MY LIFE BACK." I think every mother can relate to that desire, but as Christians, are we ever supposed to "get our life back"? Or does our life belong to someone else? Shouldn't it always be poured out for someone…whether that's kids or others in need of love and service?
When you are open to life, you know that there's no guarantees you're "finally out of the baby stage." The kind of intense sacrifice of a new baby could be just around the corner. Instead of being something that's scheduled with a five year plan, parenthood becomes just one (very important) part of life. But furthermore, it's simply the brand of Christian servanthood parents are practicing in that season.
When your days in the trenches of parenthood are over, you will be asked to served in other ways–caring for your community, caring for aging parents, caring for family members with special needs. The Christian life is a life of outpouring–a life of generous love. 
If this motherhood thing isn't just a season to neglect ourselves before "getting our lives back" and doing whatever we want, if instead it's one beautiful piece of a life of servanthood, then we have to be intentional about making that life of sacrifice sustainable.
Perhaps it's possible to spend two or three years of your life getting no sleep, getting no time to yourself, and neglecting exercise, physical health, mental health, and relationships. (In fact, I know it's possible because I've done parenthood that way only to watch my health completely fall apart. I felt like I was drowning in every aspect of my life until I made some major changes in my attitude toward motherhood.) But if we're called to serve others with our lives instead of treating a small season of parenting as the sacrifice window and motherhood is one important piece of that calling, then it is ESSENTIAL that we practice self-care in order that we have something left to offer.
We cannot run on fumes our whole lives. And for those of us who end up having larger families, we cannot treat motherhood as the season when we completely neglect ourselves, because that season will last a loooooooong time. It is simply not sustainable to ignore self-care and an attitude that does so will end up hurting our families in the long run.
I know when we had our first baby–a colicky little guy who NEVER slept and I was working full-time and Daniel was finishing his degree and we were states away from any extended family, I felt like we couldn't ask for help. I didn't get the support I needed from my community because I felt like, "well, Haley, you should have planned better. You signed up for this motherhood thing. So you're starting to hallucinate because you've had 10 hours of sleep total in the past seven days? Too bad! Push through that post-partum depression!"
I had no idea how to practice self-care. I felt like I had to be on call every second or else I was a bad mother. I shouldn't even WANT time away from my baby or I was a bad mother. By the time our third baby came along, something had to give. I could not be a healthy mother by neglecting my own needs. I could not continue functioning and serving my family when I was exhausted, touched out, and empty.
I had to face the lie I had believed for years, "If you need time away from your children, that's because you don't really love them." Thinking about it now I can't believe that I actually took that ridiculous lie to heart! But I did. I believed it. So I not only neglected my needs, but I felt guilty for even wanting to take care of myself.
Over time, I realized that to be the mother I wanted to be, I needed to figure out self-care. I knew how to take care of my family, but I had been ignoring my own needs for years and didn't even know how to take care of myself. What could I do to feel refreshed and able to live out my vocation?
It took me awhile to figure it out. I started making alone time away from the kids a priority. I would sneak away with a novel and a cup of coffee, Panera bound at 5:45am before Daniel left for work. That's often what it took to have those moments alone. I took on a weekly holy hour. I started diving into my writing career more and even hiring a mother's helper once in a blue moon if I was working on a big project.
I realized that soaking in the bath with Epsom salts and watching a movie while Daniel handled bedtime was something I should do now and then and not feel guilty about.I slowly started developing a "grown up" wardrobe of items that make me feel beautiful and branch out from the t-shirts and ratty jeans I'd been wearing since college. I started getting together with mom friends for dinner once a month and staying out til 11pm when the Thai place would finally have to kick us out.
And all those little things together revolutionized not just my personal health, but also the joy I could take in mothering. I had something to give again. I didn't just feel like ushering my children outside where they couldn't ask me questions anymore because I was JUST SO TIRED OF TALKING. I didn't feel resentful toward Daniel for going on a trip for work, or volunteering at church because I wasn't drowning anymore. (Yes, at one point I actually felt resentful of him leaving to volunteer at church because that's how burnt out I was.)
And the thing is, I am a better mom if I get time away and take care of myself. I yell less. I listen more. I read that extra bedtime book. Because I don't feel like I'm gasping for air.
When new moms ask me for advice, I don't tell them anything about how to parent. At this stage in motherhood, I'm pretty sure I don't know anything. I'm definitely no longer the "expert" I was before having kids. But I do know that moms MUST take care of themselves to mother well. We encourage pregnant women to get sleep, good nutrition, and exercise for their unborn little one but then as soon as the baby's born, we ignore the crucial truth that the child's well-being still is highly dependent on the wellness of the mother. And that mothers deserve to thrive as well.
So please, take care of yourself. Prioritize your mental, physical, emotional, and spiritual health. Instead of neglect and exhaustion, pursue the self-care you need in order to serve. Whether that looks like the sacrifices of motherhood or whether you're serving in a different way. We are all called to serve, no matter our vocation. Not just for a season, but with our whole lives.
Do you practice self-care? How do you take care of yourself so you can serve in whatever way you are called to?