This morning it's rainy outside, I have pie hangover, and there's several hours of the new Gilmore Girls revival season waiting for me on Netflix. So obviously I'm going to continue my beloved tradition of not changing out of pajamas or going ANYWHERE on Black Friday. I have exactly zero desire to fight crowds for sales….ever. So want to join me in finding some great deals from the couch? Great!
I've collected coupon codes when I can to share with you as well as some pretty great Amazon deals, so I hope this makes your Christmas shopping easier and your holiday weekend lovelier. Some links (including Amazon) are affiliate links.
CYBER MONDAY NOTE: I've been trying to keep up with all the coupon codes since I posted on Friday and mark when they've expired. So just let me know if one is not working. And Amazon deals are changing constantly!
For the Infants and Toddlers in Your Life:
Now I don't really buy gifts for infants, because they won't know the difference. But it IS fun to wrap up some cute clothes and have the older siblings unwrap them for baby. And I'm a big fan of giving gifts to my godchildren, even when they're too little to notice.
CheruBalm. This chrism-scented baby balm is to die for. It's officially my go-to baptism and baby shower gift. Great as a stocking stuffer for your hard to shop for newborn. Grab yours here.

Books.  Books are always my go-to gift for the kids. They fit on a shelf nicely and can be enjoyed year after year by other kids in the family. They also don't involve glitter or tiny parts. You're welcome.
Not sure what to order? Well just click over to some of our favorite picture book authors, the books we keep in our Mass bag, or our favorite Advent/Christmas reads.
Memorial Ornaments from Happy Nest Home. I may have been partial to this one because it's a Lucy, but I really love this idea. It can commemorate a baby's first Christmas or honor the life of a child lost to miscarriage or stillbirth.
DISCOUNT CODE: 20SBS35 for 20% off on orders of $35 or more for Small Business Saturday! (NOW EXPIRED)
Anthony's Blocks. These beautiful handmade wooden blocks from Timberlocked are named in honor of my friend Karen's son who was lost to miscarriage.
Not only are they heirloom quality, a portion of each sale benefits Open Door Women's Clinic, a Catholic pregnancy center. Timberlocked's Rolly Toys are also stunning.
Chews Life Rosary from Chews Life. Also at the top of my list for little ones this year is this awesome toddler rosary. It is a Mass lifesaver because Gwen can gnaw to her heart's content instead of chewing on the missal (what? Your toddler doesn't chew on the missal? Tell me your secrets). Made of food grade silicon beads, this is my favorite toddler Rosary of all time.
DISCOUNT CODE: And you can use the discount code CARROTS to get 20% off anything in the store through Monday! (NOW EXPIRED)
Baby Stella. These baby dolls are fantastic. The girls each have one and they have been well loved. I toss them in the wash every so often and they're no worse for wear because of it. But that time Lucy slathered her dollies face with vaseline was unfortunate. For real, they are played with DAILY.
There's also some lovely toddler options over at ABCatholic. Including My First Rosaries, plush St. Teresa of Calcutta and Sister Softy dolls, board books, and more!
DISCOUNT CODE: Use this promo code ABC10 to save 10% off your ABCatholic order through the end of the year. Head over to use the code here.
Rosary Roses from Annery's Handmade for keeping toddler fingers busy while learning the Rosary.
DISCOUNT CODE: SMALLBIZ20 for 20% off (good from Small Business Saturday to Cyber Monday) (NOW EXPIRED)
For the Little Kids in Your Life:
Green Toys Tea Set. We got this set when Lucy was a baby and it has been used and abused for over four years. It's still in great condition, one of our favorite toys of all time. And the tea set is made from recycled materials, so what's not to love?
Play Food. I really love the Learning Resources Farmers Market Color Sorting Set. And they come with the little baskets to fit all the fruits and veggies in. We've also had this one for ages and it's held up SO WELL.
Dolls from Heaven. Last year we got this lovely doll to Lucy for Christmas.
"St. Thewese the Widdle Fwower" has always been her fave, so it was kind of a no-brainer. And then Gwen was born of St. Joan of Arc's Day so I'm sorely tempted to order St. Joan for her this year!
DISCOUNT CODE: Use the code MERRYCHRISTMAS to get 20% off your purchase through November 28th! (NOW EXPIRED) Check out Dolls from Heaven here.
If you're looking for a less spendy stocking stuffer kinda saints doll, we love Shining Light Dolls sold through ABCatholic. And they have St. Nick, St. Patrick, St. Francis, St. Joseph which Benjamin appreciates.
DISCOUNT CODE: Use this promo code ABC10 to save 10% off your ABCatholic order through the end of the year. Head over to use the code here.
For the Bigger Kid in Your Life:
Books. I've got a couple of lists geared for girls (find them here and here). But you might want to start with The Penderwicks.
And for boys? What about The Hobbit: Illustrated Edition?
And for everyone? What about The Mysterious Benedict Society. Benjamin (age 7.5) and I read it together this fall and I LOVED it.
Adventure Bags. Oh my goodness, I love these beautiful leather bags filled adventuring supplies from Wild Things Adventure Shop. 
Each bag contains a hand stitched, leather bound journal with 24 watercolor pages, a Prang watercolor set with small water jar,, branch pencil, compass, binoculars, and a folding magnifying glass!
DISCOUNT CODE: Wild Things Adventure is offering a free gift with purchase through Cyber Monday and you can use Carrots10 for a 10% off coupon!(NOW EXPIRED)
Decor. How about these ADORABLE literary heroine banners from Carrot Top Paper Shop created by Jenny Williams?? Named after my beloved Anne Shirley, how could you go wrong? I also need a local friend to be expecting a baby girl ASAP so I can use them to throw a bookish baby girl shower, please. There's Anne Shirley, Hermione Granger, Jane Eyre, Elizabeth Bennet, and Scout Finch!
I have to tell you that I am 100% obsessed with this shop. I just sent some of the Anne-inspired stationary to some of my essential oil clients.
And I'm 100% in love with my "hey, Carrots" coffee mug.
Maybe I should have titled this section: For the Anne-of-Green-Gables-Lover in your life. But seriously, check out the whole shop. 
DISCOUNT CODE: Use the promo code CARROTS15 to get 15% off anything in the store!
RELATED: Has anyone watched the new Anne movie on PBS yet? I'm scared to watch! I love the old one too dearly.
Potholder Loom. My kids are obsessed with this loom. It's easy enough for my 5yo to do (with a little big of help getting started). I LOVE these. Grab it here at Amazon.
Building Toys. And if you've got kids that LOVE to piece things together, I recommend Fischer-Price Trio blocks or Duplos for the littles and you can't beat LEGO for the bigger kids.
Perler Beads. We discovered these Perler Beads when we stayed with our friends Karen and Tommy (The Catholic Hipster) during our road trip last summer. My kids have spent HOURS and HOURS using them. It's time to restock!
For the pre-teens and teenagers in your life:
Fujifilm Instax Mini and Film. I kinda want one of these. They come in black, pink, blue, and white. Grab one from Amazon here.
These little numbers were on sale for Black Friday, check out Amazon's current deals here.
For the Cook in Your Life:
At our house, this means Daniel. He is the food guy. The kids are a LITTLE bummed when they know that mom's cooking dinner. But, I think I would enjoy this one, too.
Instant Pot. I hear the BEST things about these and I'm putting this on my Christmas list right now.
These little numbers were on sale for Black Friday, check out Amazon's current deals here.
For the Harry Potter Aficionado in Your Life:
The 8-film Collection on Blu-Ray. We watch these ALL the time. And for some reason, they feel like Christmas movies to me (especially the first one). We're sharing them with the kids one-by-one over the years. Benjamin has seen the first four and the girls have only see the first couple.
This collection was on sale for Black Friday, check out Amazon's current deals here.
For the…..Tablet User in Your Life?
I've held off on getting a tablet for our kids because I don't want it to become a THING to deal with all the time. But now that Benjamin is starting to use a language app (DuoLingo) for Spanish and Khan Academy for Math, it would probably be worth it to get one. Anyhow, today is a good day to do it since Amazon usually has deals on the Fire.
These little numbers were on sale for Black Friday, check out Amazon's current deals here.
For the Man in Your Life:
Beard Balm. I know Daniel's a fan of Professor Fuzzworthy's Beard Care Balm & Gloss Conditioner. 
Or if you're feeling thrifty and crafty, you can MAKE beard balm with Daniel's recipe, or use the same recipe for lip balm and hand salve.
Drinking with the Saints: The Sinner's Guide to a Holy Happy Hour.This is SUCH a fun book written by one of our college professors and fellow parishioner at our church in Waco. Christy and I also devoted a podcast to the book that you can take a listen to here.
Or how about some Whiskey Stones to chill without diluting the drink?
Stitch Fix for Men? Yup, it's a thing now. And I ordered a box for Daniel. He still has shirts from 12 years ago and isn't exactly a shopper. But he's kinda persnickety about his clothes, so it's hard to shop for him. All but one item fit really well. I'll do an official review of the experience later, but for now I'd say a SF for Men Gift Card is a good bet.
For the Mom/Sister/Friend in Your Life:
The Catholic Woman's Companion. This planner is everything. And would make an awesome gift! If you're interested in ordering The Catholic Woman's Companion, I recommend doing it before December when the price jumps from $34.99 to $38.99. You can order it here.
DISCOUNT CODE: This is a GOOD one, but I'm not sure how long the code will last since it's through the printer, not Nancy who created the planner. Use NIGEL35 to get 35% off the planner!
Sleightholm Folk Art (formerly Audrey Eclectic) by Heather Sleightholm has STUNNING religious art, folk art, and your favorite literary heroines. I adore Heather's style.
DISCOUNT CODE: Use THANKFUL15 as 15% off  for all items in the etsy shop through the end of November! 
Stitch Fix Gift Card. I know I just mentioned the men's box, but SF for ladies is basically my favorite thing. Buying clothes for other people is tricky. But maybe it's easier for a legit personal stylist. And besides, it's just FUN to receive a box of beautiful clothes you didn't have to pick off the rack. Get your gift card here, easy peasy.
Essential Oils Starter Kit. Essential oils have only been my obsession for a year or so, but I might never have really bit the bullet and ordered a kit if my SIL hadn't gifted it to me. And now I use and enjoy them DAILY.
The Premium Starter Kit includes 11 different oils, a diffuser, and sample packs and goodies (And through December 31st, you'll also get a freebie oil, Christmas Spirit which is my favorite holiday scent). After ordering the starter kit, you get 24% off retail price when you need to replenish your stock….which you will because they're lovely–and no strings attached (you don't have to every sell oils, even though you'll be enjoying distributor prices). And if you order through yours truly, I'm currently offering a $25 cash back deal for every starter kit sold to a new member now through December 11th. So give me a holler if you have any questions: haley@carrotsformichaelmas.com) Or just follow the ordering instructions here.
It's really an awesome gift for your mom, sister, aunt, MIL, SIL, or friend!
And speaking of EOs. I LOVE these Essential Oil Bracelets from Chews Life. All the Heart Eyes.
And their Rosary bracelets are beautiful and you can save your spot when you're interrupted by a small child needing a snack….not like that would ever happen. (And remember you can use CARROTS as a discount code to get 20% off through Monday on the Chews Life Rosaries, EO bracelets, and Rosary Bracelets!–NOW EXPIRED)
Books. Try a winter read like Kristin Lavransdatter (the Tiny Nunnally translation, you can thank me later) or something lighter like a Dorothy Sayers Mystery? Or grab a gorgeous edition of a favorite classic.
I shared a few of my all-time favorite reads in this post if you want some inspiration!
And for the liturgical year aficionado in your life, why not a print version of Daniel and my liturgical living cookbook Feast! Real Food, Reflections, and Simple Living for the Christian Year? Just sayin'.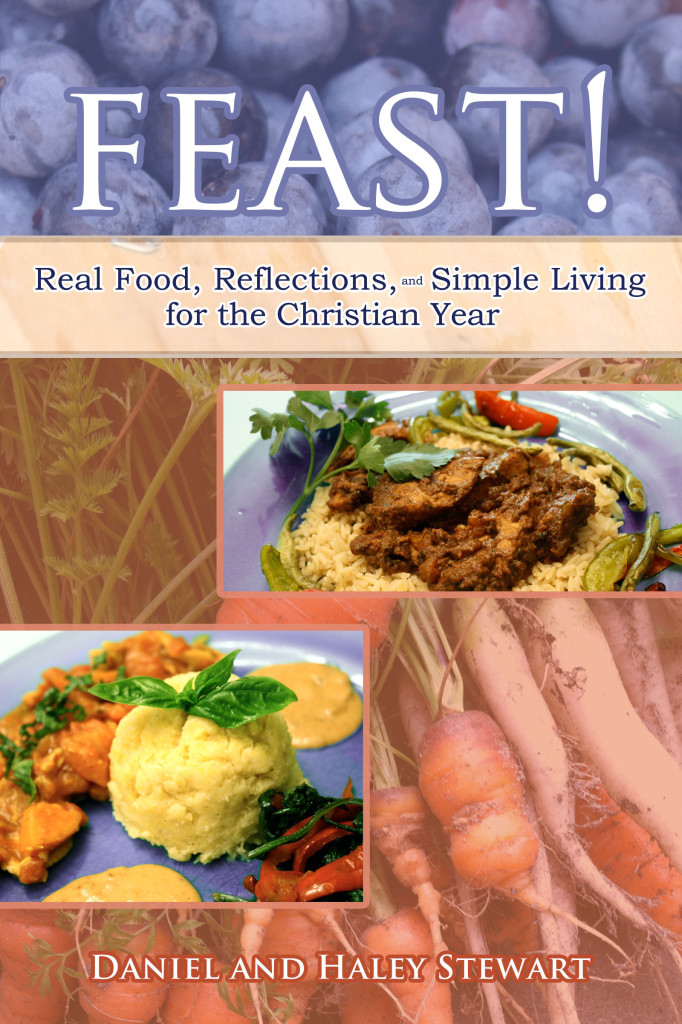 Whew! And that's a wrap. Happy shopping and Gilmore Girls watching, friends!
Disclosure: This post contains affiliate links.