Y'all. We threw a party. A big party for our 10th wedding anniversary. And it was one of the sweetest days of my life.
And yup, I wore my wedding dress. But that's not all, oh no that's not all…
So did these lovely ladies. It was a BYOWD event. My friends Rachael, Jen, Rebecca, and Cate all humored me by wearing their dresses from years past, too. And if you've read Something Other Than God, YES, that is Jennifer Fulwiler's famous purple wedding dress!
Friends who wear their wedding dresses together stay together. Or something like that. We had sweet friends, not just from Waco, but from Austin and Belton drive in and we felt so loved.
I really can't believe it's been 10 years since we said our "I do"s and cut our wedding cake. 3 kids, 9 moves, and a lot of awesome. So much growing up together. We've been married for 1/3 of our lives!
Lucy told me that anniversary parties are more fun than weddings because your kids get to come, too. She's totally right.
She's also a big fan of snacking on sushi.
It was so great to be surrounded by friends celebrating this milestone with us. I feel so grateful to have come this far together, but also very conscious of the grace that has carried us here. We haven't done this all by ourselves. We've made it 10 years by the support and encouragement of family and friends and the grace of God. And I'm just so grateful.
Me and Lucy's godfather, Luke.
And this is my dearest friend Ellie with one of her TWO new baby boys. Rock star.
Speaking of boys, careful they don't jump in the coolers.
But boy, they're cute when they do. So refreshing.
Lucy and her bestie, Bryce.
Me and my bestie.
I still like him so much, y'all. And I'm proud of all the hard work we've put in the past decade and especially this past year to pursue some dreams and live the life we want.
I remember when we were engaged college students and so terribly poor thinking that I'd rather eat beans and rice with Daniel than live in a palace with anyone else.
I still feel that way. So much so, that I made a GIF of us dancing: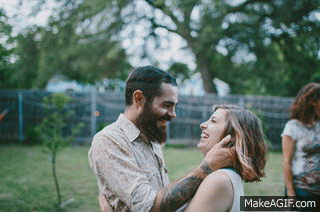 Sorry, I don't know what got into me.
Happy 10 years, Daniel. Let's throw another party for our 20th….not promises that my wedding dress will still fit for that one, though.
And a HUGE thanks to our generous friends Rebecca and Chris for hosting the party and to the lovely Holly Fish who brought her camera and incredible talent to the night resulting in the beautiful photos. You're the best, Holly!