Since Daniel and I starting bringing the liturgical year into our family life one of the things I love most is how celebrating feast days helps us learn about the saints. I had never heard of the Cristero War and the Mexican Martyrs until a couple of years ago. Now two of the brave martyrs of the Cristero War are some of our family's favorite saints: Bl. Miguel Pro and Bl. Jose Sanchez del Rio. I know May 21st is still three weeks away, but I thought I'd send it out there in plenty of time.
Before I share a little more about the Mexican Martyrs and the recipe we like to use to celebrate them, I want to mention that the liturgical year is a gift, it is not supposed to be a burden. Nobody can celebrate every saint's day on the calendar! And a feast doesn't have to mean an elaborate meal that took you hours and hours to craft. It can be simple. And you can celebrate it differently than other families. That's allowed!
Winning the prize for Best Liturgical Family is not the goal. In fact, they don't even HAVE that prize! (I'm not sure who "they" is here, the Vatican?) The goal is to orient our lives and families toward holy time. Maybe your family practices that by lighting Advent candles or celebrating the patron saints of the members of your family. Maybe it means deciding to learn about a new saint every month and find a way to honor him/her. The point is that it's not a competition, and it doesn't have to be overwhelming. Don't try to do it all!
So, without further ado, this is one of the feast day recipes thats included in our first liturgical year cookbook, Feast! Real Food, Reflections, and Simple Living for the Christian Year. 
About the Mexican Martyrs
In the 1920s, Mexican President Elias Calles began enforcing brutal anti-Catholic laws. Priests who ignored the laws were fined, arrested, and even killed. Soon, many Catholics rebelled against the government, beginning the three year Cristero War. Thousands of federal troops, rebels, and civilians were killed and the cruel treatment of priests and laypeople at the hands of the government deepened. Pope St. John Paul II canonized 25 saints from this period, most of them priests who did not take up arms but continued to carry out their ministry in the face of persecution and death. This feast day is a reminder that religious persecution is not relegated to a distant time or a distant land. Still, more importantly, we celebrate the courage, faithfulness, and selflessness of these saints.
Rajas con Crema
This is a popular dish in central and southern Mexico that can be served at breakfast or dinner and eaten as a side dish or a main course with beans and eggs. Poblano peppers are best but bell peppers will work just fine (especially if your garden overflows with them like ours does!).

Ingredients
6 large peppers (poblanos or bell)
1⁄2 large onion cut into strips 1 TBSP of butter
1⁄2 cup sour cream
1⁄2 cup milk
1⁄2 cup cheese (Monterey jack or cheddar) salt
tortillas
Char the peppers on all sides. The best way to do this is over the open flame of a gas stovetop. Just set them on the grate and turn them with tongs. Let them get nice and black. You can do this in an oven on broil if you have to, but an open flame is best. And more fun!
Let the peppers cool then use your fingers to peel off the charred skin. The blackened parts will come off easily. You can run the peppers under water quickly if you need to.
Remove the tops and seeds from the peppers and then cut them into thin strips.
Heat the butter in a skillet and add the sliced onion. After a few minutes, toss in the peppers and add a bit of salt. Stir and cook for a minute. Then add the sour cream and milk, simmer for another three or four minutes. The peppers should be soft but not mushy. Remove from heat, add the cheese and stir.
Serve with warm tortillas.
Saints of the Cristero War, pray for us!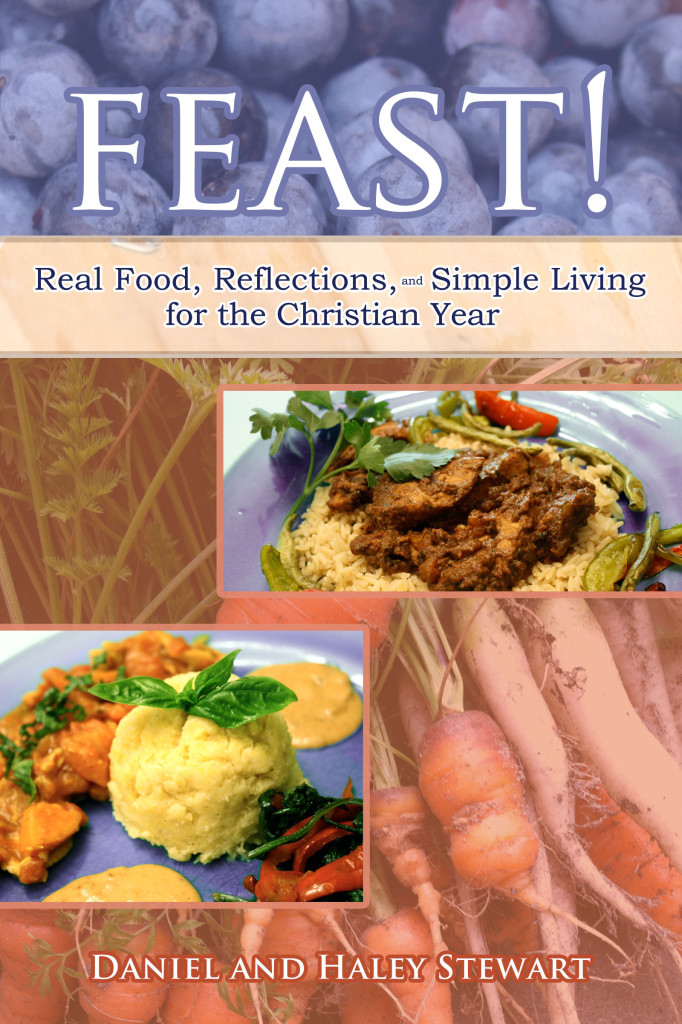 And if you'd like to see more recipes for the liturgical year, remember that you can get our cookbook, Feast!