Do you read Olivia at To the Heights? You should! I've been an Olivia fan for awhile and when she recently posted the Total Life Overhaul series at her blog (so good!) I knew I needed her to guest post and share about the simple but wonderful ways her family has sought order in the chaos while they transition into parenthood. Enjoy! -Haley
The kitchen table was sticky from stray honey that had been there for a week. Laundry was so untouched that it had found its way to my feet, in the kitchen, as though it was following me. I hadn't showered in, admittedly, days. My face was salty from tired, frustrated new-mom tears and I looked down at my nursing baby, wondering where takeout would come from that night.
We were about three months into the parenting gig, and our life was a wreck. The survival mode never bothered me in the beginning of our son's life, but now, it was starting to wear me down, weighing heavy on my shoulders. I needed some order. I needed some relief from feeling overwhelmed. I needed some change.
That night, when my husband returned home from work, we made a game plan to totally overhaul our life. We implemented changes we thought were necessary in order for our household, our family, and ourselves to function at their best so that we could better serve God and one another.
Change can be a slow process, especially when it comes to deep-seated habits and routines. We are still working on reshaping many areas of our life (and will be forever, am I right?) and are far from perfect. But over the course of our mission to lessen the burden of survival mode, I discovered a few practical ways to jumpstart change in our lives. These have been immensely helpful in establishing new routines that keep myself and our family sane.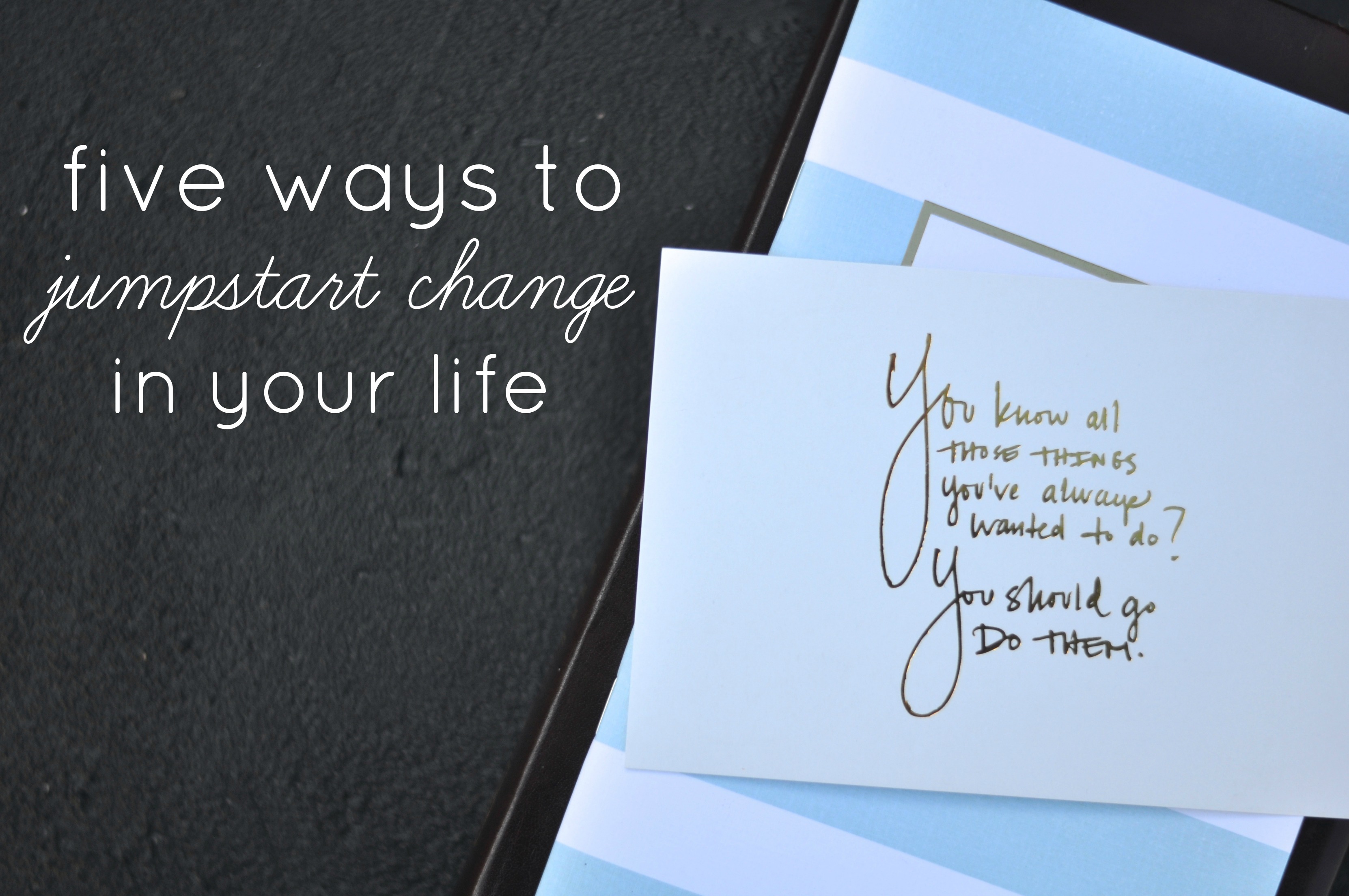 1. Set Clear Goals
The person who sets the goals of "eat out less" and "better family spiritual life" will see radically different and lesser results than the person who sets out to "cook from home more by getting the kids involved in the process" and "celebrate the liturgical year as a family by incorporating special activities and meals on feast days". To achieve the change we want, we actually have to name that change. How do we want things to be different? What specific improvements are we aiming for? How will we get there?
When we fail to set clear goals, it's like beginning a road trip with no destination. We will waste time, money, miles, and sanity trying to get somewhere, anywhere. But when we know our destination, we stay focused, taking the shortest route possible and actually enjoying the ride. So the first step to jumpstart change in our life is to know where we want to go.
If you'd like to explore the topic of setting goals in more detail, click here to get my FREE ebook, Write It Down, which is all about determining and achieving your goals!
2. Get Mad
Why do you want to make a change in the first place? Why does it matter to you? What good will come from it, and why is that good so desirable in your eyes?
Goals that are not tied to emotion are flat and boring. It is our emotion that will get us revved up and ready to practice discipline and open our hearts and minds to growth. For example, let's say the change I want to make is to stop eating so much processed sugar. If my reason for this is "because it's bad for me", I won't get very far, because that just doesn't fire me up. But if my reason is because it makes me too tired to play with my son and grouchy toward my husband, then all of a sudden I become the Hulk. That strikes a chord in my heart, and it makes me mad. I desire to be a loving and giving wife and mother, and if something is standing in the way of that, I'll plow it over.
Do you see? Sometimes it takes getting a little ticked to light that fire in our bellies that will fuel our efforts. What gets you fired up about making changes? Why do you want to change?
3. Tell Someone About It
Accountability is a mega-factor when making a change in our life. Letting someone else in on your plan will hold you accountable. There's something about our human nature that does not want to disappoint (or be embarrassed by quitting in the middle of a task or another perceived failure). We can use this to our advantage by seeking an accountability partner. This may be a spouse, a friend, or even the whole internet. I have found that the best accountability partner is someone:
Who knows me well
Who I find trustworthy
Who will simultaneously push me yet be understanding/encouraging when I falter
4. Undertake the 21-Day Challenge
Do you have a post it note pad nearby? Along the (nonstick) edge, write the numbers 1-21. I typically fit three numbers at a time on a regular sized post it note, so I use 7 post-its total. Then, cut or rip the pieces of paper into their individual numbers and stick them, in order, along the doorframe of your bedroom. Now, choose a change you want to make. Let's say you want to spend time reading each day. Starting today, make your goal to stick to a designated reading time each day for 21 days straight. Once you complete the task, take down the next number (obviously, starting with number 1).
Why 21 days? Most popular research has found that it takes 21 days to establish a routine or habit. By literally seeing the 21 days in front of you and being able to physically check them off, we are better able to stay motivated (because who wants to get all the way to 18 and stop?).
5. Eliminate Obstacles
I don't know about you, but I can make about a thousand and one excuses to avoid doing something I don't want to do, even when it's a goal of mine. If my goal is to exercise, but I don't really feel like it, then I can come up with every reason in the book why it just can't happen that day. So, I eliminate obstacles to my goals to make them easier to achieve. If I tend to be ill-prepared in the morning, putting me behind for a workout, then I'll lay my shoes and water out the night before and sleep in my workout gear. If social media often distracts me when my goal is to spend more time in prayer, I'll put my phone and computer in the other room during my designated prayer time. The more we can set ourselves up for success, the better, and this often means eliminating that which hinders our progress.
Above all, don't give up! We all fall short from time to time and if you find yourself struggling to jumpstart change, keep trying! Do your best to not get discouraged and try, try again. Making the effort and persevering are what will make the personal transformation happen, which is what truly matters most.
What about you? What ways are you able to kickstart change in your life? Add some wisdom to the list, Carrots gang! 🙂
Special thanks to sweet Haley for allowing me to post on her fruitful site. I've been a Carrots lover for a long time and feel privileged to share the space today. Giving a big Southern hug to Haley and all her beloved readers! XOXO
Olivia lives in Kentucky, where sweet tea and bourbon flow like milk and honey. She's a middle school religion teacher turned SAHM who is married to her high school best friend. She spends her time changing diapers, exploring the crunchy side of life, organizing anything she can get her hands on, and dancing in the moonlight. You can come along for the adventure at To the Heights.