This post is sponsored by Holy Heroes. 
Is it just me, or is Lent painfully early this year? I feel like I'm still recovering from Christmastide. On the other hand,
I'm a big Lent fan
. I love that the Christian Year offers us a time set aside to clean house. And no, I'm not talking about my dusty baseboards, although that would be a good thing to tackle during Lent, too. I'm talking about our
souls
. It's the chance to strip away distractions so that we have the vision to see ourselves as we are–how much we need God's mercy–so that with his grace working in our hearts we can become more like him.
But while I'm starting to feel like I understand this Lent thing, I'm still a newbie at observing Lent with my kids. So here's a few things we've tried and a few things I aspire to do this year!
1. Change the decor.
During Advent we have an Advent wreath on the table, during Lent we switch to a simple grapevine wreath, light a candle each night, and use the grey-ish-purple tablecloth. We also cover our crucifixes and sacred art with purple cloth. In the past we've done this on Ash Wednesday, but I read that it should actually be done on the Fifth Sunday of Lent. We make a game of finding all the crucifixes in the house when we veil them and then the kids LOVE unveiling everything on Easter morning when it's time to celebrate!
2. Fish Fridays.
We typically don't eat meat on Fridays all year long simply because if I plan to do a different Friday penance I inevitably forget to do it. So this isn't a big change for us, but it's a good weekly reminder to explain why we won't be eating bacon with breakfast on Friday mornings. Kids notice changes in the meal plan. Especially if the change involves a lack of bacon.
3. Pray the Sorrowful Mysteries as a family.
For a long time we were too intimidated to try to pray the Rosary as a family, but a spiritual director encouraged me to nurture this tradition in our home, so we gave it a shot. Our kids are ages 6, 3, and 1. And the six-year-old and one-year-old are of the wiggly/climb the walls persuasion. Our three-year-old is of the three-year-old persuasion (AKA emotional volcano of insanity…it's just how three is).
Folks, if WE can get through a couple of decades on a regular basis, anyone can. Yes, someone will get hit in the face with a rosary. But it's actually something our kids love to do as a family and we want to make it a priority during Lent to pray the Sorrowful Mysteries frequently. Our two oldest kids each lead a decade and if things are going really well, Daniel or I will lead a third one. That's as much as they seem to be able to handle right now, but hey! It's something! Here's a few things that have helped:
Everybody has their own special rosary to hold.
We gather in a corner of our living room that has our sacred art on the wall so there are things to look at.
Sometimes we light a candle to set the mood.
We make a big deal over good behavior during prayer (obviously different expectations for different ages).
The kids also love listening to
the Rosary CDs from Holy Heroes
and I think they really help to both make the prayers familiar AND to help them understand each mystery. Lucy actually 
demands
to listen to t
he Sorrowful Mysteries
during nap time. I'm not gonna try to figure that one out, I'm just going with it. The Rosary is recited by children and I think hearing children's voices is key. If I can pry the CD out of her fingers, I plan to keep it in the car during Lent for us to listen to when we're driving around.
4. Learn about Jesus' life and ministry together.
While it makes sense to focus on stories of God's redemption that lead up to Jesus' birth during Advent, Lent is a great time to focus on the life of Jesus and his ministry. We love reading the New Testament section in Tomie de Paola's Book of Bible Stories as well as his The Miracles of Jesus. I also love to pull out the Ministry of Jesus Coloring Book by Holy Heroes (which is free with any purchase for Carrots readers, more on the details at the end of this post). I'm kind of a coloring book snob, but I find the pictures to be really attractive and I'm a little obsessed with all the Holy Heroes coloring books.
5. Give kids a sense of Lent as a journey.
Last year we used this great printable from Catholic Icing and the kids lost their minds over coloring one square each day (what can I say, they're easy to please?). For older kids (like Benjamin who just turned 6) Holy Heroes has a free Lenten Adventure that arrives in your email inbox every day. (We loved the Advent Adventure, so we're really looking forward to the Lenten one.)
6. Bury the alleluia.
Easiest liturgical crafty thing ever for this uncrafty mama. Rock, write alleluia on it, bury it. (But seriously, don't forget where you buried it or else Easter Sunday's a little anti-climactic…lesson learned.) Then I try to point out to the kids when the alleluia is missing from the Mass during Lent.
 7. Learn a new prayer and hymn together.
During Advent we learn an Advent song together as we light the candles at dinner (O Come, Divine Messiah) and I'd like to do the same thing during Lent! Any recommendations for favorite lenten songs? Last year we learned the Memorare as a family and now it's my three-year-old's favorite prayer. Not sure which one we'll learn this year!
8. Have a "Bits and Pieces" Meal/Meatless Meal.
In our most recent Fountains of Carrots podcast, Bonnie Engstrom of A Knotted Life was telling us about an idea she read at Like Mother, Like Daughter about having a bits and pieces meal of leftovers once a week. That way families can learn not to waste food and be good stewards, and also simplify mealtime during Lent. She also recommended adding a second meatless dinner (maybe Wednesday?) and then letting the kids put a dollar or two in a bowl or jar on the counter to be given to a charity at the end of Lent. I think this is such a great idea! Especially since children often don't get to participate in raising money and this way they really are sacrificing (by going without meat) and can think about sharing with children who are hungry. We do a lot of soups and simple slow cooker meals from this cookbook during Lent. For more great advice about Lent (and just a general good time) check out the latest episode of the Fountains of Carrots podcast featuring Bonnie: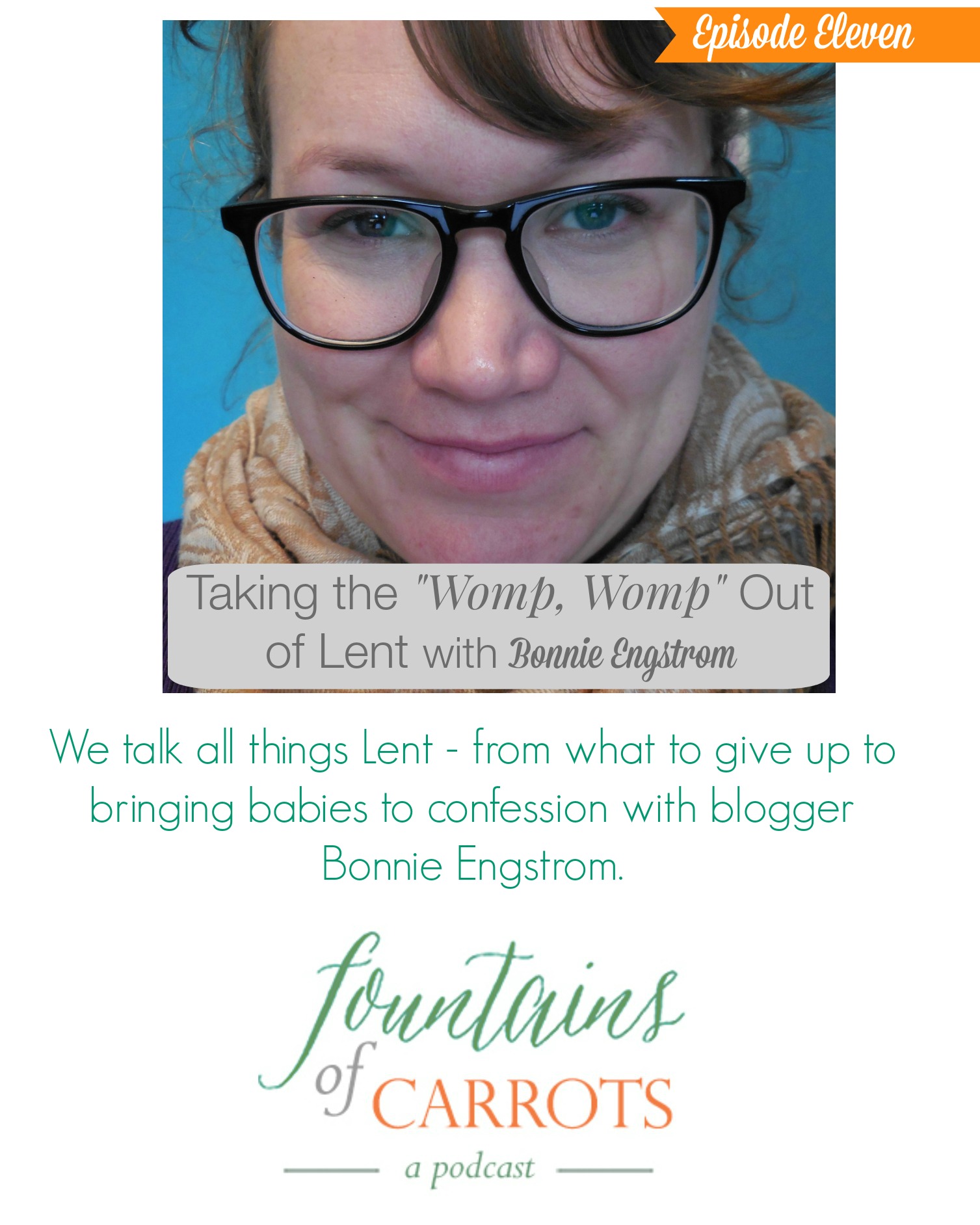 9. Go to Stations of the Cross.
It is such a beautiful service and we would like to go more often this year. The thing is (at least in our experience) Stations is much harder to get through with small children than Mass. So, I'm REALLY excited about practicing with the Holy Heroes Stations of the Cross CD and booklet that we can use at home. I tried it out on the kids already and they love listening to the CD and looking at the booklet. I'm also going to have the box of Stations objects for little hands to hold (I made it last year after seeing Bonnie's tutorial. It's super easy to put together!)
And here's some great news! Carrots readers can receive a free
Ministry of Jesus Coloring Book
with any purchase from
Holy Heroes
.
The coupon code is l3ntc4rr0ts so just add the coloring book to your cart and enter the coupon code at checkout to make it free!
 So head on over!
Do you have any tips for observing Lent with kids? I wanna hear 'em in the comments!
Disclosure: This post is sponsored by Holy Heroes. All opinions are my own. I only share about products I love.