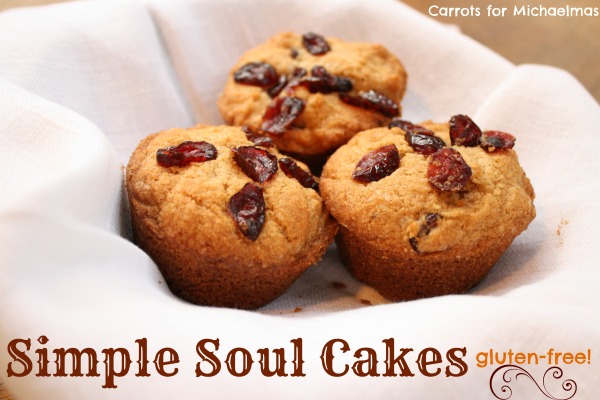 Making Soul Cakes during Hallowtide (All Hallows Eve, All Saints Day, and All Souls Day) has become a little tradition at our house. I wanted to share my recipe with you in time for All Souls on Sunday!
The History of Soul Cakes
As a kind of early version of Trick-or-Treating, folks would go door-to-door and ask for Soul Cakes in exchange for saying prayers for the dead. I really love the way Hallowtide puts death in context. We remember our dead, we say prayers for the souls in Purgatory, we celebrate the lives of the saints, and we remember that Christ has ultimately conquered death. It's power was broken by the power of the Cross. Especially in our culture that seeks to avoid the topic of death, I think observing Hallowtide is really important.
So, make some Soul Cakes and celebrate!
I was inspired by this recipe and then changed it around due to what I had on hand in the pantry. The recipe is gluten-free, but if you're not allergic like my kids, just use regular baking mix instead of the gluten-free.
Recipe: Gluten-Free Soul Cakes
Ingredients:
Coconut oil or butter to grease muffin tin
Butter: (softened) 3/4 cup
Sugar: 2/3 cup
Eggs: 3 yolks
Gluten-Free Baking Mix: 1 3/4 cup
Pumpkin Pie Spice: 2 tsp
Milk: 1/2 cup
Dried Cranberries: 1/2 cup (plus some to decorate top)
Preheat oven to 375. Grease muffin tin (I used coconut oil). Cream the softened butter with the sugar. Mix in egg yolks. Add GF baking mix, pumpkin pie spice, milk, and dried cranberries. Fill muffin tins 2/3 of the way up with mixture. Add raisins on top in the shape of a cross. Bake for 15 minutes (longer if your muffin tin is for larger muffins, mine is for smallish ones). Check to see if your Soul Cakes are done by seeing if a knife comes out clean.
To remove them from the muffin tin without crumbling, let them cool completely. Then loosen the edges of the Soul Cakes (I used a bowl scraper) and carefully remove. Gluten-free baked goods are often crumbly, so I had the best success in flipping over the muffin tin and letting the Soul Cakes fall out that way.
It's an easy recipe that children can help with (especially fun to add the cranberries on top!). Enjoy!
(For more recipes for the liturgical year, check out our book Feast! Real Food, Reflections, and Simple Living for the Christian Year.)