What an exciting week! We're still on the road, but will be arriving home tonight after an amazing trip from Florida to New Orleans to Texas and back. We attended the wedding of a dear friend at the church where we were confirmed (and it was the first Catholic wedding we've ever been to!) Gorgeous wedding, glorious reception under the Texas stars.
Then we got to visit my best friend's newborn (one hour old!) in the hospital (after an 80 hour labor! Can you believe that?! EIGHTY. HOURS. With no interventions or drugs. What a rock star.) Here he is. Safe and sound and perfect after that crazy long labor.
And THEN we got the news that Gwen's godparents found out they are expecting…just one week after bringing home their beautiful new daughter from Taiwan. What a blessed year for their family! My heart is full.
And, OK, this doesn't measure up to those earth-shattering events, BUT there is some exciting news for those of you interested in the Ultimate Homemaking Bundle (which ends TODAY!) who don't have it in the budget until the end of the month and thought you'd have to miss out.
I am so impressed by the organizers of the sale and how much work they've put into making an incredible library of books on homemaking available at such a low price. But they are also caring and wonderful gals and after getting lots of feedback that some readers wanted to purchase the bundle but didn't have it in the budget until pay day, the organizers have created "Pay in May" to make it possible to order the bundle on the final day (TODAY!) but not charge your card until May 1st.**details at the bottom of the post.
How awesome is that?! They have been such a pleasure to work with and I'm so thrilled that they chose to include our book, Feast!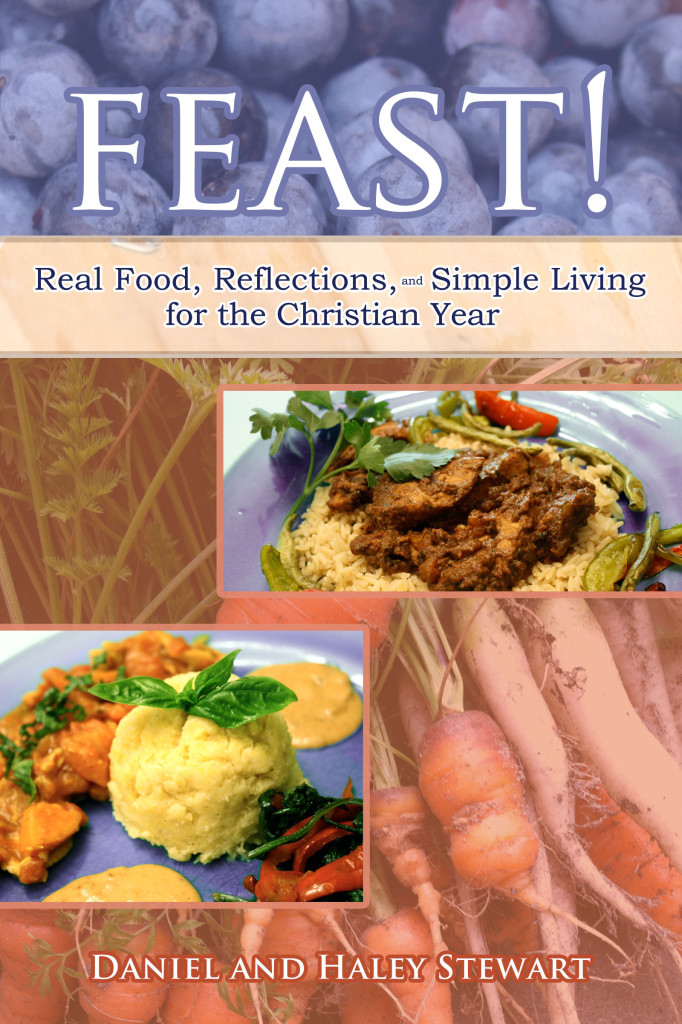 Not sure if you need the Ultimate Homemaking Bundle? Here's a few reasons you might want to snatch it up before it disappears forever:
Need a gift for a mama? Want a great gift for yourself? With everything from food to finances to faith, there's really a book in here for everyone. And if you've been eyeing it all week, maybe you should drop a hint that you'd like it before midnight EST when the sale ends 😉
Daniel's Super Secret Recipes
In addition to all the recipes in our book and all the amazing books in the food section of the bundle (I mean check these out!):

If you order through my affiliate link and email me (haley.s.stewart@gmail.com) your receipt, I will send you two of our favorite family recipes that Daniel typed up for you as a thank you gift in PDF format complete with pretty photos! They're not in the book or anywhere on the blog, they're just a special gift for you.
When you purchase your bundle, you can get two more bundles for the price of one.
Free eye shadow from Redeeming Beauty Minerals? Free art prints and store credit from Hope Ink Studio? A one-month membership to Once a Month Meals? Sixty-four loads of eco-friendly laundry detergent from Dizolve? That's just a few of the bonuses that come free with the bundle.
With a total value of more than $200, these deals are worth over six times the price of the Ultimate Homemaking Bundle. So you're up on the deal right away!
I am particularly thrilled to finally read Stephanie Langford's Real Food on a Real Budget, Katie Kimball's The Healthy Lunchbox, Jamie Martin's Steady Days, and Kat Lee's The Blog Planning Kit. But I'm also excited to discover some new authors!
THE SALE ENDS TONIGHT (APRIL 28th) at midnight EST! Then the bundle will never be available again, so don't miss it!

A HUGE THANK YOU to all of you who purchased the bundle through my affiliate link. It's been so fun sending out Daniel's super secret recipes to you (don't forget to email me your receipt so I can send them over!). Many of you have told me how much you love the bundle and how you bought extras for friends. Your support is an amazing blessing to our family!
And now…you won't be hearing anything else from me about the sale. Back to the usual Carrots programming!
**We've heard from many who want to buy the bundle, but simply don't have it in the budget until May 1st. Since the sale ends for good on Monday, April 28th @ 11:59 PM, we've come up with a way for you to have your cake and eat it, too. From now until the sale ends on Monday night, you can choose to order the bundle but defer payment until May 1st.
By completing this payment form, you are purchasing the bundle today, but your card will be charged on May 1st, 2014 in the full amount of $39.97 (Kindle version) or $29.97 (PDF version). Once it has been processed, you will receive access to your bundle
Disclosure: This post contains my affiliate link. Thank you for supporting me!
Psst! Don't miss new Carrots posts! Sign up to get new posts delivered straight to your inbox here .