(Flowers from our garden and simple homemade raspberry cupcakes for Lucy's first birthday party.)
We do simple family birthday parties at our house. Not that we don't make a fuss over our kids! We make a fuss. It's just not an expensive, stressful fuss. It's more of a homemade laid-back fuss. We really can't afford large, extravagant parties and the details of event-planning are not (really really really not) my strong suit. Now some mothers delight in planning parties and crafting intricate party bags and going to town on decorating. I am not one of those mothers. If you are, more power to ya! Just don't invite my kids to your parties and clue them in to the fact that their mother is a bit….shall we say "relaxed" about the whole thing?
So, what do these simple parties look like? Here's what we do:
We keep it small. Our guest lists include only family and godparents. We have lot of family in town which is wonderful. But, it means that if we added friends to the guest list, things would get ginormous real fast. So our parties stay in the 12-15 people range. In additional to making it less stressful/expensive for us to plan and execute, small parties are more enjoyable for my kids because they're not overwhelmed by tons of people or people they don't know very well. They can revel in being the center of attention, but they don't have emotional meltdowns due to the overstimulation of too many people.
(Benjamin's farm birthday setup for when he turned two)
We keep decorations simple. We pick a simple theme and go with it. If decorations can be foraged from our yard, so much the better!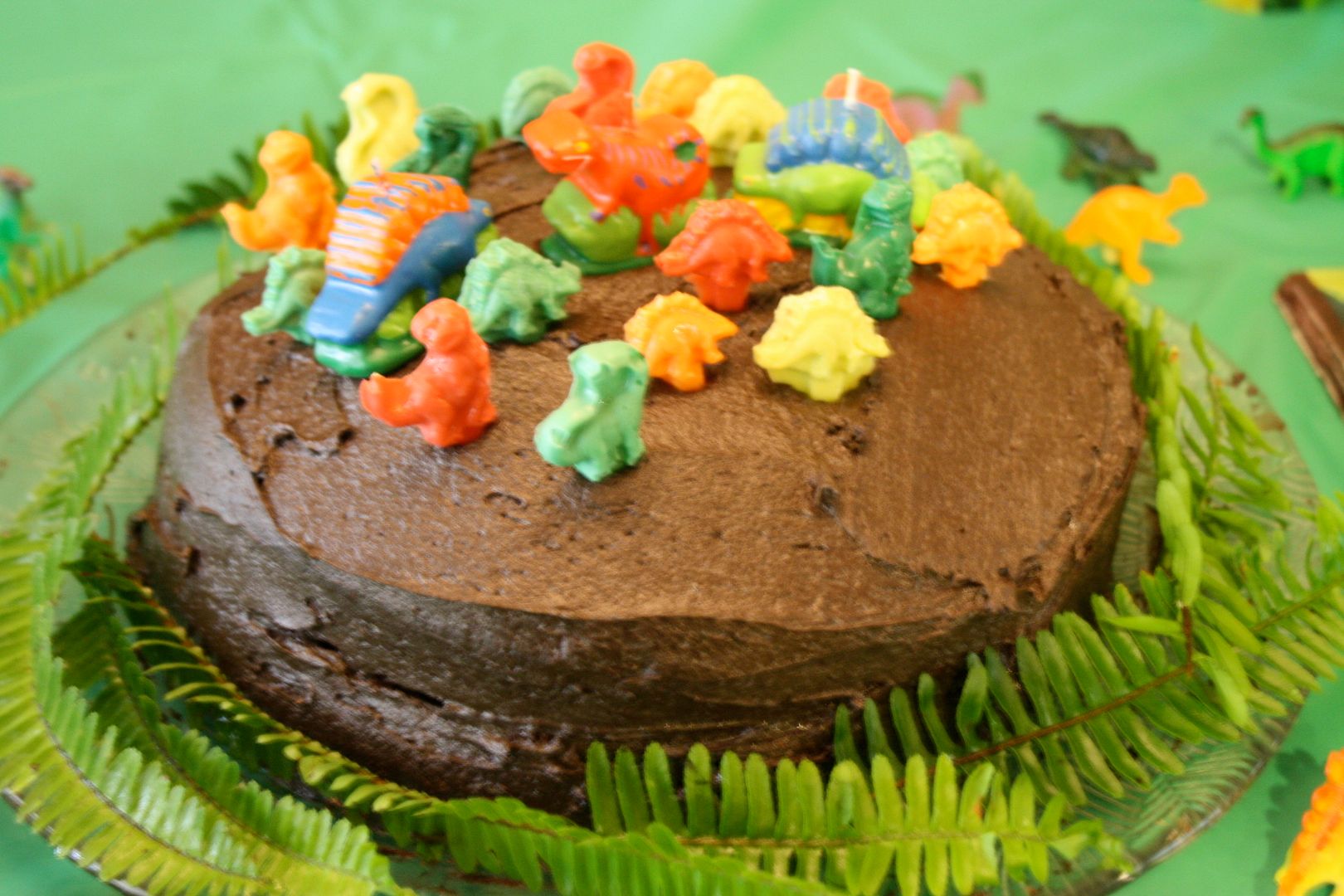 (Benjamin's dinosaur cake for his third birthday. Jurassic ferns compliments of our backyard.)
We open some presents. The birthday boy or girl gets a present from us, each set of grandparents, and aunts and uncles.
(A homemade carrot cake for Benjamin's farm-themed second birthday)
I bake the cake or cupcakes. I can bake something tasty and gluten-free for my allergic kids and it's cheaper than ordering from a fancy place, but I bake it myself because I really like the tradition/ritual of it. After the birthday kid goes to sleep on their birthday eve, I stay up and bake the cake and remember the day they were born. I think about my labor and the delivery. I sneak a taste of the frosting and get all teary-eyed thinking about my kids. I love it.
(Benjamin's pirate cake when he turned four)
And our kids love their parties. They talk about what theme they want for their next party all year long, they wrap their toys up in towels and afghans and pretend they're giving me "birthday presents," they sing Happy Birthday ALL THE TIME. They know they're loved and celebrated.
I know there are many ways to handle birthdays and I'm certainly not presenting the way we handle things as the "right" way or the only way. But I just wanted other event-planning challenged parents out there to know that their party doesn't have to be pinterest worthy to be beloved by their children. I love our little family parties and treasure the memories. I know someday my kids will get to the age where inviting friends will be important to them and we'll figure out how to make it happen when we get there! But at this point, they're all content to party with family and I'm grateful.
And since I haven't shared most of the photos of Lucy's second birthday, I'll give you an idea of what we do for birthdays with her Beatrix Potter party. First of all, when she turned one, we slapped together a party in one afternoon because I was miserably ill with all the time morning sickness and one Sunday morning when I felt up to sweeping my floors and throwing together some cupcakes, we called our families and invited them over for an impromptu party. It was a bit simple even for me. Luckily, she was too little to remember this themeless birthday and she had a great time, but I wanted to make her second birthday special. Far in advance, we settled on a Beatrix Potter theme and I picked up little Peter Rabbit things all year.
These pretty yellow flowers always crop up in our garden right around her birthday so Benjamin had a big time collecting some to decorate the table.
I got out the pretty china tea set my sweet mother-in-law passed down to us to make chamomile tea (like Peter Rabbit had.)
We had some little snacky foods like veggies (from Mr. McGregor's garden?) and chips and dip and I asked my mom to bring berries and cream (since Peter's well-behaved sisters had bread and milk and blackberries for supper.)
I made gluten-free chocolate cupcakes with pink and purple cream cheese frosting (colors chosen by the birthday girl.) I got the sweet cupcake toppers when they were on sale at zulily. We made a stack of pretty books to display them on a china plate (I don't own a cupcake holder.)
I found this adorable pop-up Beatrix Potter scene for $1 at the Goodwill used bookstore. Score!
How do you handle kids birthday parties? Any other event planning challenged parents out there? (Please say yes!)