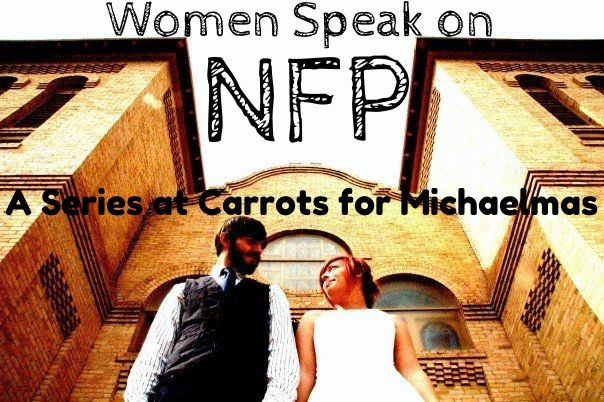 This is a guest post by Bonnie of A Knotted Life in the Women Speak on NFP series. In this series you will hear from women using various methods of NFP, some to avoid pregnancy, some trying to conceive, and their experiences.
Disclaimer: This series is not meant to be a substitute for any method of training in NFP! If you are interested in one of the methods introduced in this series, please contact a certified instructor for information about training in that method of NFP.
My husband and I took a class on the symptom-thermal method of natural family planning (NFP)* when we were engaged. There were four other couples in the class and by the last session we were the only ones still attending.
Sometimes I think about those other couples, the NFP drop-outs, and I wonder if life in their marriage beds is easier than it is in mine. Because I'll you what, Carrots for Michaelmas readers, NFP has been a cross for me. It has brought about some wonderful things and people in my marriage, but has been a cross.
If you are thinking about practicing NFP I want to tell you a few things about my experience with it.
Let's begin with the positives.
NFP has taught me a great deal about my body. Health issues have been resolved and finally understanding why my body does what it does has been empowering for me.
The practice of NFP in our marriage has strengthened our bond. My husband and I often talk about our home, our health, our support system, our budget, our plans, our kids, our hopes, our aches, our love, our God. We don't argue about these things, or at least we seldom do, because we so frequently are discussing them. Our marriage, our friendship, our trust, and our appreciation of one another are all stronger because of those discussions.
Finally, using NFP (and being really bad at it) has given us six wonderful gifts from God: our kids. I may have gone through some of my pregnancies kicking and screaming (or moping and whining) but in the end God knew better than I did. My kids are awesome and being their mom is tied for first place with being their daddy's wife in the "Best Thing I Ever Got to Do – Evah!" category.
But all that aside, it's hard.
 First, no matter what kind of NFP I use there is always someone waiting to tell me how I'm doing it wrong, not using the right one, or I just need to breastfeed my baby twenty-four hours a day and then! I will be able to use it effectively and not get pregnant. Believe me, it is not helpful, just frustrating.
Charting is a little bit of a pain in the rear, too.  It takes a while to figure out what is what, and postpartum it can be incredibly difficult to play "Name That Fluid". With kids waking me through the night, watching me pee, and commenting on my toilet paper it can be hard to feel like I'm doing my scientific best.
Postpartum NFP is confusing and near impossible to do for me. It's come to a point where we don't even practice NFP postpartum anymore because charting is so frustrating. The months of abstinence are tough because I really love my husband, he really loves me, and we have a happy marriage. It's a sacrifice we make, though, because we also love God and want to follow His commands. But sacrifice, by its very nature, is tough.
Begrudgingly I will admit that, in the end, this is also a positive. Picking up my cross and following Christ has made me trust God more. It's made me love God more. It's even brought more peace to my life.  So maybe NFP isn't all bad.
But it's still a cross.
*To clarify terms, when I use the term "NFP" I mean the couple is both charting and praying. Just charting? I'd call that practicing FAM (fertility awareness method). Just praying and letting happen what happens? I'd call that having sex.
Bonnie Engstrom: Catholic wife and mom of 6; I bake, cook, blog, and ignore the laundry. I'm really good at ignoring the laundry. 
(Be sure to check out Bonnie's blog, A Knotted Life, and her video series about celebrating the liturgical year!)