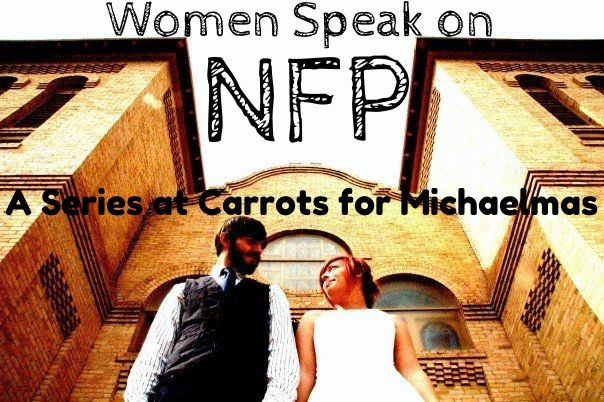 Over the summer 17 women shared about their experiences using various methods of Natural Family Planning. I was so pleased from the feedback I received about the series and how it has been informing, encouraging, and helping women. I'd like to share some reflections about what I learned from the wonderful contributors and how it's affecting my life. 
Because we've never been trained in NFP (we've just been practicing Ecological Breastfeeding and what we like to call "Awesome Family Planning (AFP)" since our conversion), there was so much I wanted to learn about Natural Family Planning and the contributors to the series did not disappoint! I learned so much about the various methods and options available, the reasons behind choosing NFP, and the beautiful stories of women's experiences.
Here's a few things I've been reflecting on over the course of the series:
The term NFP is confusing. Natural Family Planning can mean more than one thing. It can be an umbrella term for a lifestyle that doesn't use artificial contraception, it can refer to postponing pregnancy through charting for fertility signs, it can mean awareness of your cycle in order to conceive. I really think it would all be less confusing if NFPers could just say, "We don't contracept." And that could be followed up with "we're using Creighton method to postpone pregnancy" or "we are charting using Sympto-Thermal Method and are hoping to conceive."
I always feel weird saying "we don't use NFP" because what I mean is that we don't chart and don't try to postpone pregnancy (until now, more on that later). But it could sound like "we don't use NFP, we use contraception." Does that make sense? So, I wish there was a distinction between "using NFP" meaning not using contraception and "using NFP" meaning using the scientifically-based methods available to detect fertility signs in order to try to postpone pregnancy or try to achieve pregnancy. Personally, I'm a big fan of the term "Fertility Awareness Method" instead of "Natural Family Planning." Maybe I'm the only one that finds this confusing! Thoughts?
NFP is a lifestyle. When you buy in to a mindset that is open to life and views sex with a procreative purpose as well as a unitive purpose, it's more than just not contracepting. It's a completely different way to view the world, your body, your fertility, children, and marriage.
NFP is a beautiful gift for so many families. Reading the stories of contributors like Michele and Kelley who are postponing pregnancy for serious health issues (issues which would only be exacerbated by the negative health effects of artificial contraception) really gave me insight into why many couples need to avoid pregnancy. There could be so many reasons. This series also reminded me of the important truth that I need to always be careful not to judge another family by their number of children. Ever. Ever, ever, ever. Karen Edmisten has a beautiful and moving post about the cross of miscarriage and how treating larger Catholic families as poster children for what a faithful Catholic family should look like and judging smaller families because they have fewer children is terribly painful to couples struggling through miscarriage or infertility. I don't know the reasons other couples might have for avoiding pregnancy. It could be health, finances, infertility, you name it. It's none of my business and it's between them and God. What I need to concern myself with is my marriage and our openness to life. Which brings me to….
I'm learning NFP.
For the first time ever (since converting), we are trying out NFP in order to postpone pregnancy. We're taking a break from what we've been doing (not bothering to learn any NFP method and just havin' babies close together). Honestly, I love living my life that way and have found such freedom in not even attempting to "plan" our family. I love not giving whether I might be fertile or not a second thought. I love not having to abstain or make the weighty decision every month about whether or not we're ready for another baby. I love leaving all of that in God's hands. The past three years of "AFP" have been amazing and I can't wait until we're not postponing pregnancy. But during this season, we think it's the right choice to postpone.
My third pregnancy (Gwen) was tough. I felt like I couldn't take care of my other two kids. I spent weeks in bed with morning sickness that made me more miserable than I have ever been physically. I am doing everything I can health wise to prevent such severe morning sickness in the future, but I need a few months to really focus on my health and focus on caring for the three little ones I've been blessed with. Ideally, I'd like to make it to Gwen's first birthday before getting pregnant again. Would it be a huge disaster if I was pregnant this blessed minute? No. My husband is amazing and would pick up the slack. We have family in town that would help us through it. So, it's not something I'm anxious about. But I think learning a method of NFP at this point would be wise. If I were one of those women whose fertility doesn't return until 12+ months post partum, I probably wouldn't bother learning NFP. But since Gwen is 3 months old and my fertility is already back, I'm going to give it a shot.
I'm trying out the Marquette method for post-partum/breastfeeding. My reasoning is that most of the other techniques sound difficult to learn during this post partum period (other couples have done it successfully, so I know it's not impossible!). But because the Clear Blue fertility monitor takes some of the guesswork out, it seems like the easiest method for us right now. I also think of times in the future (such as if I ever have a cesarean birth) when it might be more important for us to space out my pregnancies, so it seems a wise decision to learn a method now.
I would be really interested to hear about other women's experiences with NFP post partum (especially if you used Marquette).  And I want to thank all of the amazing contributors who were willing to share their stories!
I will probably revisit the series in a few months because I've had so many women offer to contribute and I'll be sharing a list of resource links in the near future.
Have you enjoyed the Women Speak on NFP series? What did you learn that you didn't know before?