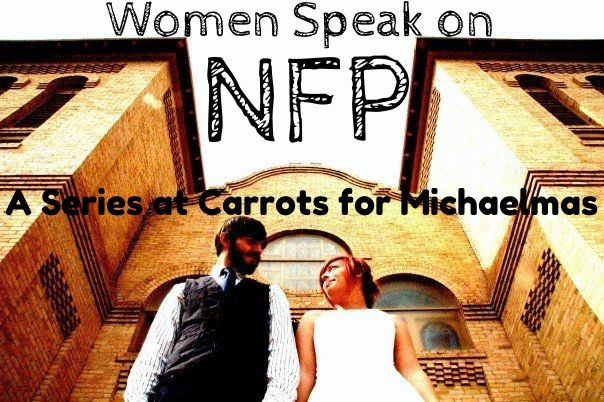 This is a guest post by Erin of Seven Little Australians in the Women Speak on NFP series. In this series you will hear from women using various methods of NFP, some to avoid pregnancy, some trying to conceive, and their experiences.
Disclaimer: This series is not meant to be a substitute for any method of training in NFP! If you are interested in one of the methods introduced in this series, please contact a certified instructor for information about training in that method of NFP. 
When engaged, my fiancé and I made an appointment to learn Natural Family Planning, as practicing Catholics from large families wherein both sets of parents had been faithful to the magisterium of the Church nothing else ever occurred to us.
The method available in our regional city was the Sympto-Thermal Method.  This method is a combination of observing cervical mucus and reading the basal body temperature, then recording both details onto a chart.    It was rather interesting to look back over each cycle and note just when my body temperature was rising and falling, to know when I was ovulating and when I was infertile.  As we were not yet married (therefore not enjoying marital relations) it was a very easy matter to read just what my body was doing, I always had a 'standard' 28 day cycle, give or take a day or two, with very clear signs to read.  'Standard' cycles were the foundation of the old Rhythm method.  Not all women have the same length cycles, some have short cycles, some longer, some have very little mucus to observe, and a women's personal cycle is not always repetitive but can change each cycle too.
Based on our new knowledge and with a couple of recorded cycles, we blithely set our wedding date secure in the knowledge that we could honeymoon 'safely', planning to wait a little as our financial and housing situation was rather tenuous, though we were always open to God's will.   What we failed to account for was that cycles can change; contributing factors include illness, travel, bereavement and stress.  Stress! Now that's a certainty when planning a wedding and dealing with a whole host of issues.
Six months after becoming engaged we were married, nine months later we were blessed with our honeymoon baby.   We settled down to enjoy life with our precious newborn, a world which revolved around breastfeeding, sleeping and caring for our little one's needs.  Thanks to solid teaching we were aware of our fertility but as I was showing no signs of a return to fertility, charting was only on the peripheral of our thoughts.  After a few months I began charting intermittently, taking the basal body temperature with a newborn was very different to when I was a single. Your temperature needs to be taken first thing in the morning before your feet hit the floor, but when you have a screaming baby needing her mama to pick her up 'now' it is rather hard to make your darling wait whilst you take a reading.  Anyhow when our baby was six months we thought it was time for a refresher course with a focus on fertility and breastfeeding.
My husband and I had moved to a country town when we married so we needed to find a new teacher, which we did through our local parish.  Unbeknownst to us at the time there was more than one Natural Family Planning Method, this teacher taught the Billings Ovulation Method.  This was a method I really loved, it was easy to understand and simple to implement, before I knew it I was training to be a Billings Ovulation Method teacher.
The Billings Ovulation Method is based on the observation of cervical mucus, of primary importance is the sensation at the vulva a woman feels as she goes about her daily life, secondary is what she sees.  This method is adaptable for many situations, simple enough for complicated situations such as blind women or women in tribal villages, and for women/couples in all phases of their fertility.   We quickly became confident in understanding the fertile and infertile phases, to comprehend the rules for delaying a pregnancy and in applying the rule to achieve a pregnancy.  The Early Day Rules, the Peak Rule and other phrases became quite familiar to us; then  observations were recorded on a paper chart, though there is now the option of charts via iphone apps!
My years, of a more than a decade, as a Billings teacher were rich ones, meeting and assisting clients was a privilege and incredibly satisfying.  The Billings 'family' consisted of an incredible group of scientists, researchers, doctors, teachers and religious, whom were all dedicated to helping women/couples and totally committed to Humane Vitae and to their Faith.  I was privileged to meet Drs John and Lynn Billings a few times and was totally impressed by them, sadly both have now passed to Eternal Life.  Through trainings and conferences I learnt the incredible science behind the knowledge, yet more impressive was the dedication to helping women/couples in all phases of their fertility; breastfeeding, menopausal, sub-fertile and fertile.
Twenty years of marriage has bought joy and challenges, during this period we have been blessed with 9 living children (losing one at 18 weeks gestation).  We have fairly easy pregnancies and mostly trauma free childbirths and while I'm breastfeeding, generally for 13-16mths, my fertility doesn't return which has allowed for natural spacing.   Unlike many we have not been called to grapple with difficult fertility issues.  Being faithful to the Church's teaching has necessitated self sacrifice which in turn has enhanced respect and led to a spirit of generosity.  We are incredibly grateful that we were led to an 'openness to life' and for the graces that the spirit of trust has bought to our marriage.
Erin and her husband recently celebrated their 20th Wedding Anniversary.  With their nine children they live on 150 acres, on the North Coast of New South Wales, Australia.  Currently they are owner building their home in their 'spare time', after homeschooling and raising their family.  A passionate lover of all things print, Erin always makes time to read.  Snippets of their family life can be found at Seven Little Australians.