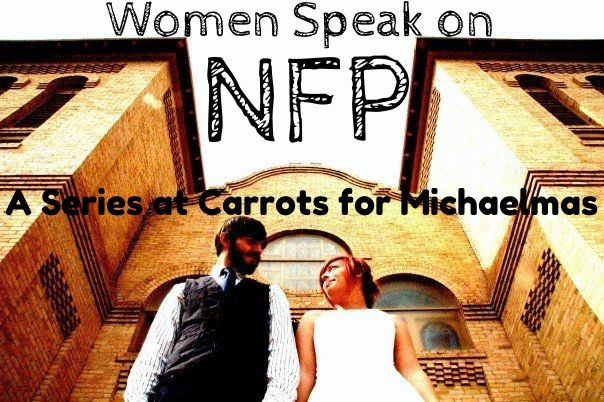 This is a guest post by Christy of fountains of home in the Women Speak on NFP series. In this series you will hear from women using various methods of NFP, some to avoid pregnancy, some trying to conceive, and their experiences.
Disclaimer: This series is not meant to be a substitute for any method of training in NFP! If you are interested in one of the methods introduced in this series, please contact a certified instructor for information about training in that method of NFP. 
Natural family planning, and the science and research behind it, has come a long way in the last 50 years. The effectiveness of the major methods when followed correctly approach 95-99%. But what happens when natural family planning is difficult or ineffective for a woman? When no confidence or trust can be found in a woman's charting and cycle in regards to avoiding pregnancy the ramifications can touch almost every part of her and her husband's life. The self-sacrifice usually required by natural family planning can become momentous and a heroic act of virtue. God's will and His loving generosity of children to a couple and marriage can become difficult to accept. In short, practicing natural family planning can become a true trial of faith.
The discussions usually involved in natural family planning tend to always drift towards the overly positive, mainly because natural family planning  just has so many great benefits, but the conversation should also include the genuine openness to new life natural family planning creates regardless of how much we wish to control our fertility. We need to acknowledge that natural family planning is not simply a scientific formula but a concrete way which God uses to bring about life – even when our human plans seem to deem the timing to be wrong. With the science of natural family planning progressing all the time hopefully most women who experience NFP ineffectiveness will soon be able to resolve the health issues that can cloud the accurate reading of their fertility, but when going through this difficult period of their lives its also so important to remember that God's perfect will can use these sacrifices for the good, and the children that they are blessed with are truly gifts from God.
I'm one of those women in the small statistical percentage of those who have yet to find effectiveness through the practice of NFP. My husband and I are both Catholic and knew before we were married that we would be practicing natural family planning for the spacing of our children. When we began dating and talking about marriage we both were fairly open to the number of children we wanted to have and I've felt firmly for a long time that only God can plan your family and have always been open to His plan for any children He would bless us with. I began charting before our marriage and was well aware that my cycle was not of the average variety and hoped with both practice and time to master recognizing the signs of fertility in my own body and in turn only get pregnant after careful planning and scheduling on my part. Of course God's plan for our family turned out to be much different!
My husband and I have been married for almost seven years and have five children age five and under. My children closest in age are 11 months apart. We've had a honeymoon baby, a baby conceived at 8 weeks postpartum, one baby who's conception couldn't be explained by my NFP teacher with over 25 years experience, and another baby conceived in an near abstinent state and while still 100% breastfeeding. Our first three children could be explained by the rare instances we stretched NFP rules, the last two are very much indicators that for some reason my body is most definitely not functioning the way it should in showing signs of fertility. I'm more than well educated in the method we have always used, the Billings Ovulation Method, and have charted and worked diligently with a great teacher for the entirety of our marriage. My husband and I haven't broken a rule since 2009. In comparing my charts with the rules and protocols of all the other major NFP methods its clear that I would have gotten pregnant if I were following those methods as well. I'm a walking NFP research case! When I think about my crazy super-fertility, or the statistical chances in conceiving my children my mind literarily boggles.
I can also safely say that practicing NFP and, in turn, accepting and welcoming surprise pregnancies has been the most difficult part of our marriage. Obviously the practice of natural family planning for a woman with a normal and recognizable fertility cycle requires self sacrifice on both the part of the husband and wife. The vocation of marriage and motherhood is also inherantly self-donative in its nature. But when there are no signs to depend upon in the woman's cycle, natural family planning can become stressful, burdensome, and feel like an almost hopeless exercise to both husband and wife in trying to space children, and this can impact almost every part of married life.
Personally, our situation with NFP has also greatly affected my own relationship with God. Its stretched me in every possible way. I've felt many times as if my faith is being tested, that God is asking way too much of me, that I couldn't possibly follow His will. I'm not sure if I've been truly tempted to use artificial contraception, because I fully believe it to be a moral evil, but the easiness, the illusion of it being a safety net, and the temptation to gain control over something I feel to have no control over has indeed tempted me. Its safe to say that NFP has become a cross for me and my husband during this season of our marriage.
But we all have to embrace the cross in order to embrace holiness and God's will for our lives. Natural family planning is very much a huge sacrificial part of our lives. I'm really not sure what God's plan is for this suffering. I'm not quite sure yet if this is producing any virtue within myself at all as I struggle with it on almost a daily basis! I do know that my children are the greatest gifts I've ever received. And I always say that they must be the most intended by God as they've defied all natural family planning odds in being conceived! My experience with motherhood and our family life itself is intense due to the closeness in our children's ages but also very rewarding in seeing our kids so close to one another. We are constantly awed by how fast they change, how much they learn, and their constant joy and love. They're a priceless gift and worth so much more sacrifice than we've made.
Our marriage has also been made stronger through all these difficulties. We really are the only ones who truly understand our strange situation and we've become pretty good at supporting each other and loving each other through the ups and downs. My husband has somehow even survived me being on an almost constant pregnancy/postpartum hormonal roller coaster for the past six years!
Right now I know we have a long road ahead of us before we'll be able to be confident in my body's signs of fertility. We first have to discover and treat whatever underlying health issue is at the heart of this problem. Then we have to somehow begin to trust and feel confident again in our natural family planning. I also have a long way to go in fully trusting God's will for our family, its a daily trust I have to choose. I still believe strongly that God plans our family. And I know that when you come down to it, only God can make a baby. Babies are truly miraculous and it still blows me away that God can use us in His creation of beautiful, individual souls.
Our vocations as wives and mothers call us to self-sacrifice, and although natural family planning has become an especially trying and difficult part of my life I hope and pray that God is using it all for the good. I also sometimes pray that this cross of natural family planning might require a little less heroic virtue from us. I have learned through this experience that we sometimes need to direct the conversation surrounding natural family planning in general from one of method effectiveness in preventing pregnancy towards a conversation more about following God's plan for our families, His intimate working within natural family planning, and the openness and blessings that this brings.
Christy Isinger is a full-time, at-home, sometimes crazy mom to five(!) children aged 5 to newborn. She herds toddlers and tries to keep a chaotic but loving home in northern Alberta, Canada. You can keep up with the craziness at her blog fountains of home where she writes about family, living the Catholic faith, books, and other random observations and opinions.