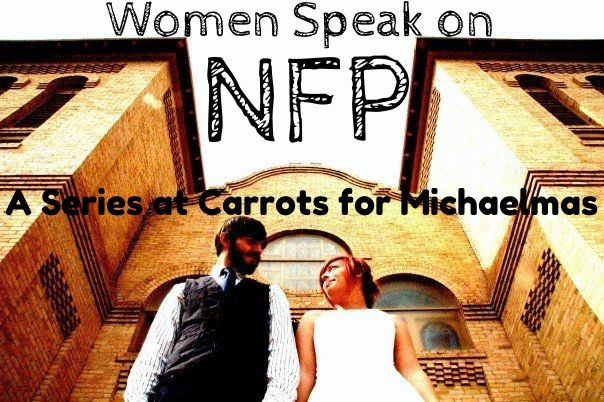 This is a guest post by Mary of Better Than Eden in the Women Speak on NFP series. In this series you will hear from women using various methods of NFP, some to avoid pregnancy, some trying to conceive, and their experiences.
Disclaimer: This series is not meant to be a substitute for any method of training in NFP! If you are interested in one of the methods introduced in this series, please contact a certified instructor for information about training in that method of NFP. 
I remember sitting in the living room of our Creighton instructor when my husband and I were engaged learning about fertility signs and the dynamics of Natural Family Planning.  I had been sure for a long time before then that if I was to be married, learning and using NFP would be a part of the deal.  I knew some of the very basics to fertility awareness but those first meetings were instrumental in being confident about God's design for fertility and the crazy wonderful way we are made as male and female.  In theory, it was also a great way to get used to using words like mucus with your betrothed thus further cementing our eventual union and deepening our intimacy.  Or…not.  Eleven years later and those words are sometimes still weird to use.  But the occasional awkwardness is far outweighed by the many benefits of NFP.  We chose Creighton for the simple and easy fact that it was the "official" NFP method promoted by our diocesan NFP office.
I think one of the main draws for me with NFP is the recognition that a woman's body makes sense just the way it is.  With just a few little lessons, my husband and I could understand our fertility cycle and we were then able to make decisions regarding it.  It is empowering information in that you truly appreciate and have respect for the tremendous capability of the human body.  For me it was mind-blowing to TRULY realize that our actions in the bedroom could have eternal consequence.  In our culture we don't necessarily like that.  Our contraceptive mentality shrugs off responsibility to a pharmaceutical company, a doctor, or a piece of latex until we don't even realize the purpose and power of the sexual union anymore.  If contraception fails then it is someone else's fault.  With NFP it is entirely different.  A couple knows that they are the ones who are ultimately responsible for their actions in the bedroom and that those actions hold incredible power and will impact every sphere of life and society – the power to bring another eternal soul into existence impacts everyone.  Before a child is even created, a man and woman are already recognizing their responsibility in the creation of that new life.  And I think that's how it is supposed to be.
On a smaller scale, once I learned NFP, I was finally able to pinpoint the exact day to expect my menstrual cycle, something I had never before been able to do!  We women know how important that can be, right?  I remember just being amazed that my body actually made sense, contrary to the message I had received in health classes and advertisements and even the doctors office.  I don't think I even realized until writing this that my experiences learning and using NFP were instrumental in my decision to become a doula and foster that same type of attitude when it comes to birth.
I was blessed in that I didn't have a hard time learning or interpreting my signs so Creighton as a mucus-only method worked well for us.  Using the knowledge of my fertility signs and Creighton's method of charting, my husband and I did not conceive until we were married for fourteen months.  And then the first cycle we used fertile days, bam, John Paul came into existence.  We now have four children here on earth (we did experience one miscarriage after John Paul) and I know the day that we conceived each one of them.  In between each baby, due to nursing without a strict schedule, my cycles did not return until 15-17 months postpartum and by then we felt we were ready for another baby, if God willed.  Each subsequent baby was then conceived within a few months or so.  During those postpartum times I didn't chart until my cycle returned.  Learning my signs and how my body worked, it was very clear when I was still infertile and when fertility was returning so I didn't even bother to chart.  Once they did return I did my own form of pseudo-charting in a small notebook in my nightstand so that I would have an accurate due date if we conceived.
After the birth of our youngest, we discerned that we need, at least for a time, to chart more diligently.  A few months back I heard about a new app called
MyFertilityMD
.  I hadn't used the official Creighton charts and stickers in about eight years (they were long since gone and I didn't necessarily feel the need to have those laying in my nightstand drawer just waiting for a curious child) and my pseudo charting via notebook wasn't going to cut it if we were truly serious about avoiding a pregnancy.  This new way of charting piqued my interest.  After scanning the introduction on their website 
www.myfertilitycycle.com
, I thought it might be just what we were looking for.  At that time it cost $4.99 for the app so we happily paid and began charting.  I personally think that it is imperative for those who want to foster awareness and use of NFP to utilize the most modern technology available to appeal to current culture and MyFertilityMD does just that.  Since we started using the app, the folks at MyFertilityMD have also begun offering charting via their website so now you don't even need a fancy phone to use it!

MyFertilityMD has combined the best research of all the other methods into one extremely easy to use program.  It is primarily a mucus based method but does take into account other fertility indicators if they are observed.  Once I understood the format, I have felt completely confident with my background in Creighton to use this as our method of NFP (or as they call it: organic family planning).  From their site:  "This app combines 10 years of medical research and iOS simplicity to bring charting to a new level. In less than 20 seconds a woman can record her vital fertility signs and make informed decisions to either enhance or avoid pregnancy. The app includes over 15 videos to guide every user though this safe an organic method of family planning. MyFertilityMD offers 120 different Pathways to determining your fertility. MyFertilityMD always uses Bleeding, Lubrication, and Mucus Bio-Markers, but also allows you to add Temperature, Cervical Observations, Saliva Ferning, urinary Estrogen, and Luteinizing Hormone. This equates to many possible combinations and a lot of flexibility in one app."
It is very helpful to have a background in another method to utilize MyFertilityMD BUT I don't think it is absolutely necessary.  If you simply answer the questions prompted by the app to chart each night, you will get an accurate assessment that charts your potential fertility for that day.  There are videos to help understand how to observe fertility signs if that has never been previously learned. We've been very happy so far with our use of my husband's phone to chart using MyFertilityMD.
Here are some of the things that I appreciate about MyFertilityMD:
You have 24/7 access to a real doctor for any questions or concerns that may pop up.  (Did you read that?  Try calling your normal doctor at 8 p.m. with a question about your mucous pattern.  "Dr. Smith?  This is Mary.  I was just in the bathroom checking my mucous and…" "what?  Mary.  I saw you a few months ago?  The crunchy granola one with the weird ideas about birth control?"  "Yeah, that one.  Anyway, my mucous stretched but I couldn't tell whether it was cloudy or clear. and…Dr. Smith?  Yes, my mucous…Um, yes…from there….Hello?")
When I actually tested out this feature out on a SUNDAY NIGHT, I had an email back within an hour addressing my specific question.  Amazing.
Your charts are stored in your phone.  Or in my case, my husband's phone.  Which is actually kind of helpful when he's wondering during the day where we are fertility-wise.  Because…ahem.
If you do happen to already work with a doctor, nurse, midwife or NFP teacher who understands and respects fertility awareness, you can email them your chart right from your phone.  So MyFertilityMD does NOT need to replace a method that you like.  It can simply be a much easier way to chart.
To chart each day, the app asks you questions about your fertility signs that day.  For some reason having it laid out like that makes it simpler for me to remember the signs to look for.  Answer the questions.  It's that simple.
For people who use additional signs to confirm ovulation there is an option to add those to your observations, too.  Temperature, ferning, Clearblue monitor readings, and cervix positioning can all be charted.
They call it "organic" family planning.  NFP is the only method of family planning that is completely eco-friendly and fosters health, rather than harming it.
Right now it is selling for $9.99.  That's it.  Forever.  That's way less than one month of birth control pills, a box of condoms (I think…), an appointment to insert an IUD, etc.  They aren't making millions off of this.
Your phone will alert you to remind you to chart at the end of the day.  I need that.
There are photos available if you have a question about the specifics of your observations.
Charting your cycle with various methods of organic family planning is an incredible diagnostic tool to treat infertility, hormonal imbalances, PCOS, endometriosis, PMS, and other health issues.  The fact that you can email your charts or very easily bring them into an appointment with your doctor, midwife or instructor means that women can be treated – and healed – that much more effectively.
Let's be real.  The app looks way cooler and more modern than the old paper charts.  And since it looks cool and it's on my husband's gadget phone, he's more into it as well.
Lastly, I feel like it respects women and men to be able to understand their fertility.  The app lays things out simply without being condescending.  It's not rocket science but it is effective and empowering.  I really feel like being told to take a pill or get "fixed" (i.e. broken) while easier in some ways is condescending.
Some of the things that I felt could use improvement before have now been remedied.  There is now a feature for keeping notes on your chart on specific days like if you experience ovulation pain you can write that down.  Or if you are sick or under stress (which can alter your cycle) you can note that.  You can also now chart online and they have added a bit more help in special circumstances.  I do feel like if you are having trouble understanding your cycle or getting confusing charts, it would be helpful to go beyond their resources.  
My experiences with NFP have truly helped me view my body in a positive light.   Our bodies truly are fearfully and wonderfully made and because they are made by a God of order and reason, our bodies make sense.  NFP is not easy in the sense that you get to pass responsibility over to someone else and there certainly are times when it is challenging.  It requires a certain amount of diligence and self-control and sacrificial love but all those things, while hard, are good.  For me, knowing my body through NFP has been empowering and freeing and now, just a way of life.
If I can help anyone with any questions, you can find me at Better Than Eden and I'm happy to help in any way I can.  Thank you to Haley for inviting me to share my experiences with you all!
Mary has been married for eleven years to her husband Brian.  They live in Western New York with their four boys, a brood of chickens, and a whole lot of mud.  She has a degree in Theology from Franciscan University and is a certified labor and birth doula.  When not homeschooling, you can probably find her cleaning something, remodeling something, knitting something, reading something, cooking something or blogging about a combination of all those things at www.betterthaneden.com.