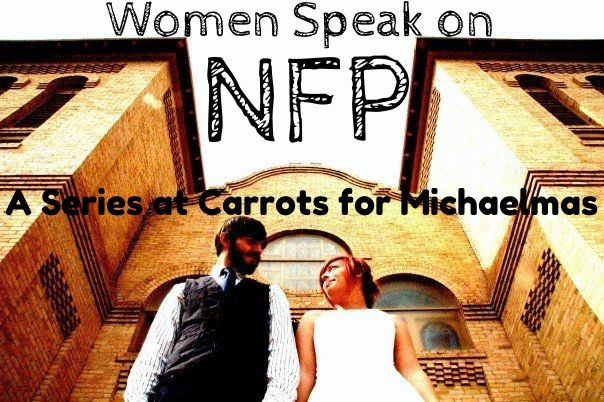 This is a guest post by Deirdre of Like Mother, Like Daughter in the Women Speak on NFP series. In this series you will hear from women using various methods of NFP, some to avoid pregnancy, some trying to conceive, and their experiences.
Disclaimer: This series is not meant to be a substitute for any method of training in NFP! If you are interested in one of the methods introduced in this series, please contact a certified instructor for information about training in that method of NFP. 
What I have to share with you is a mere introduction to this practice, which is simply a way of understanding one's fertility and knowing how to work with it. I learned the STM from The Art of Natural Family Planning: Student Guide, which is published by the Couple to Couple League. Understanding was my motivation for learning NFP in the first place. I think for some women, the cycle is very regular and the body is straightforward and easy to read. This has never been the case for me, so I liked the idea of learning some tracking techniques so that I would come to have a better grasp of what was going on with me, both physically and emotionally.
Based on my experience, I would say that, no matter what your situation — whether you're hoping to conceive or whether you are currently seeking to avoid pregnancy for a time, or even if you're single and pregnancy is not a potential part of your life — it could be a helpful exercise to do some charting on your cycle and learn some more about yourself in this area, especially if you are not already particularly regular or aware of your phases.
Have you ever been very tuned into nature, such that you can wake up in the morning and look at the sky and listen to the wildlife, and predict the day's weather, based on the signs around you? There is a pleasant and satisfying feeling that goes with being in the know in this way. You learn a practical wisdom and sensitivity that can be very useful but is also enjoyable in itself — maybe it's helpful to know that rain is coming, so that you can get the things out of the yard and into the shed; or maybe it's nice to know just because it's nice to be able to grasp and work with nature, rather than being taken by surprise or at nature's mercy. Coming to know your fertility cycle is a similar experience.
All this being said, I am not an expert on the STM! But I can tell you a few things about it, and perhaps the introduction will be helpful.
Basics
The "thermal" part of Sympto-Thermal is the easy starting point of the method. The basic idea is that you track your fertility by taking your temperature with a high-quality thermometer at the same time every morning, right when you wake up. By doing this, you capture your Basal Body Temperature (BBT), which is an indicator of where you are in your cycle. Each day, you make a note of your BBT on a chart. Over the course of the month, you will be able to see trends in your BBT. From these, you should be able to identify your different cycle phases, and in particular your time of ovulation. From this alone, you can garner key information about what days of the month you can expect to be fertile.
The "sympto" part of STM is a little more complex. This part is about identifying the various qualities of your cervical fluid as it changes throughout your cycle, and learning how these changes are also clues of where you are in your cycle. This takes a bit more effort than a moment with the thermometer in the morning; you really have to be conscious of it it throughout the day and diligent about it throughout the month if you want to get an accurate read on yourself. The basic way to approach this kind of "research" is at each bathroom break. Sometimes it may mean simply taking a look at your used toilet paper before discarding it and sometimes it may mean doing a little self-inspection, testing your cervical fluid between your fingers in order to identify its consistency. I find that it's easiest to gather this information during the day, making mental notes, and then do your formal notation on your chart at the end of the day.
If you get into this method and are doing a thorough job with it, you can also opt to keep track of your cervical opening on your chart, which would be another element of the "sympto" part. I personally have not done this part, and it's not as important as the other two, but you can certainly find info on it in whatever official STM reading materials you pick up and it will increase the accuracy of your charting.
So that's the basic picture for you of what activity the method entails: a morning notation of your BBT and an evening notation of your cervical fluid (and your cervix itself). Both are noted on the same chart so that, after a few weeks, you have a one-stop-shop visual of the various factors that indicate your fertility. If you are charting for the purposes of achieving or avoiding pregnancy, you will learn more about exactly how to use the information on your chart for reliable decision-making.
Experience and Challenges
Two major perceived deterrents with this method are 1) that morning thermometer routine part is probably obnoxious and 2) that cervical fluid part is probably disgusting. The good news is that neither fear is accurate.
It is not that much of a burden to take your temperature once you get in the habit of it. Fortunately, it doesn't have to be at the EXACT same time every morning; as long as you're measuring your BBT within the same space of about a half-hour, you'll get the proper read. That means that, if your normal waking time is 7am, you can plan to take your temp anywhere between, for example, 6:45am and 7:15am, and you'll be able to track accurately enough. It would only be a problem if you were measure at 7am three days out of the week and then 10am on the other four days. Also, if you have a thermometer that stores your temperature for you, you don't actually have to read it and write it down immediately. In my experience, it worked to take my temperature at 6am and then immediately shut off the thermometer for the day. Then, in the evening, when I was making my other notations, I would power the thermometer back up and read what it had recorded that morning, thus getting all my charting done in one go. On the weekends, when I wanted to sleep a little later, I would simply set my alarm for 6am, take my temperature, set the thermometer aside for later, and roll back to sleep! Not too bad.
Also, I never bought the high-accuracy thermometers that some sources talk about. I just used the one I already owned (for fever-detecting purposes) and it seemed to serve me just fine.
As for the cervical fluid, it can be a bit off-putting to read about it at first, but I believe that's something to get over once the initial surprise factor is behind you. After all, this is a natural and healthy process of your body and there's no reason to be afraid of or repulsed by the proper functions of your systems – even more intimate ones. Actually, for me the challenge was not any 'yuck' factor, but simply the fact that the cervical fluid can be hard to read. I've talked about it with friends as well and we have agreed that it is not always as straightforward as the literature presents it. The expectation is that you'll have a certain kind of fluid for each phase of your cycle and that differentiating among them will be simple, as long as you know what you're looking for. This may well be true for you! In my experience, however, it can be a frustrating process when this doesn't quite happen. How do I make note if it's not quite one type or the other, but somewhere in between? What if it changes back and forth every day? In the end, I found that it could be helpful to keep a note of what I saw, but that I depended more on my BBT to get a chart that made some sense. The cervical fluid part was more like occasional corroborating evidence than a guide unto itself.
The Chart
The chart itself is probably the most daunting part when you first see a STM kit in front of you. I remember when I first saw my friend's chart and I thought it was impossibly complicated. Fear not! Once you get a very basic tutorial on what notation goes where, you'll find that it's actually extremely simple. I never actually bought a kit for myself, so at first I was simply borrowing some chart sheets from someone else. When I ran out, I went ahead and just drew up my own charts, which I enjoyed doing because I could tailor them for my exact purposes and needs (and eliminate the one small expense of this method). Of course, if you enroll in a program, like the Couple to Couple League — through which you can actually send a copy of your chart to a consulting, expert couple so that they can give you feedback — you will probably want to stick with the standard-issue charts, which include a carbon copy.
General Thoughts
As I said before, I think it is a good thing to learn how to learn about yourself and your body in this particular way. Sometimes it can be extremely clarifying and even comforting to have a visual resource (your completed or semi-completed chart) to refer to and to give you insights into the crazy world that is your hormonal shifts. Charting can also be a great way to uncover any anomalies or problems existing in your reproductive system, so it's worth trying for a while if you have concerns in that area.
I would be sorry, however, to provide all this information if it ended up being an aid in anyone's pursuit to avoid having children who could otherwise be happily welcomed into the world. One of the best things about my (short, thus far) experience with the STM is that I was informed enough to know pretty much the moment I had conceived, and to begin to enjoy my pregnancy right from the start. While the STM is easy to learn and the basics can be put into practice quite simply, at the end of the day, it would still be a challenge to use it for purposes of avoiding pregnancy – and in a way that is natural, because of course the joy of frequently and freely giving yourself to your spouse and the accompanying promise of life can't be easily set aside. As we know from the Psalmist:
"Children are a heritage from the Lord: and the fruit of the womb is his reward. As arrows are in the hand of a mighty man; so are children of the youth. Happy is the man that hath his quiver full of them"
Deirdre Folley is a young Catholic wife living in the DC area who is passionate about advocating for Life and all other beautiful things. She and her husband John are expecting their first child this summer. You can visit her at Like Mother, Like Daughter where she blogs, along with her mother and sisters, about Catholic domesticity and maintaining the collective memory.