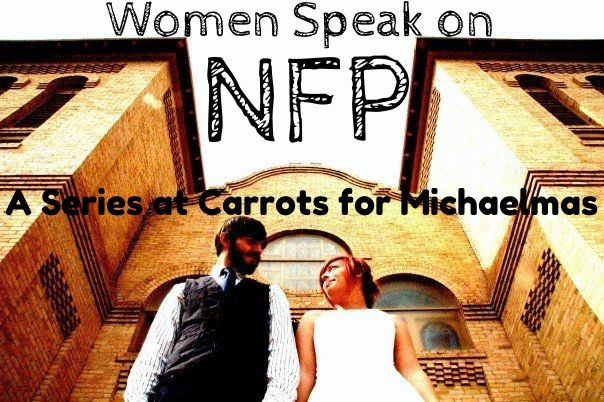 This is a guest post by Michele Boda in the Women Speak on NFP Series about her experience with NFP using the Creighton method. This series of women's experiences is not meant to serve as training in NFP, if you are interested in learning more about the Creighton model, please visit: www.creightonmodel.com
www.naprotechnology.com
or www.fertilitycare.org to find a Practitioner near you
When Zac and I were married just two years ago, doctors told me not to risk using natural methods because surely I would get pregnant and that would be dangerous, both for me and the baby. I have Type 1 Diabetes and getting pregnant before my blood sugars were totally in control would mean serious complications. Those doctors were, however, quick to push the pill, the implant and all sorts of IUDs, all methods with lengthy lists of side effects and dangerous health risks (Increased risk of breast cancer? Perforated uterus? Decreased libido? No thanks). Because of my disease we are dedicated to a healthy lifestyle and these methods just didn't sit well with us. And as faithful young Catholics we were looking for a system that respects the dignity of women and marriage.  So we took a leap of faith and began charting with the Creighton Model FertilityCare System, a completely safe, all natural and effective method of avoiding (or achieving) pregnancy, and reaped lots of benefits we were not expecting.
It's not always easy, but Zac and I feel peace knowing that I am not loading my body with artificial hormones, but that we are avoiding pregnancy naturally and benefiting my reproductive health at the same time. So when we are able to start our family I know I will be the healthiest I can be. My wonderful husband and I now talk to engaged couples about the awesomeness of this natural method. In true Letterman style we call this our Top 11 reasons why we use Creighton (because 10 were just not enough):
11. NaProTechnology! Creighton is the first method of NFP to be fully integrated with a new women's health science. My PCP and OB/GYN were unconcerned with my abnormal cycle, faulting stress and offering birth control pills as a swift solution. Thankfully, my Creighton practitioner saw the irregularity in my chart and referred me to a NaProTechnology (Natural Procreation Technology) doctor. Because of the Creighton System, I was able to connect with NaPro docs who were not interested in masking my symptoms with destructive drugs but who tackled the cause of my symptoms with a cooperative and healthy approach.
10. Affordable– and who doesn't appreciate that?
9. Zero side effects– Nothing bad is going in, and I'm feeling pretty great.
8. Natural– Nothing artificial about this gal!
7. Eco-friendly– Using my own body to monitor my fertility- talk about true organic living.
6. Morally acceptable – We have a problem with the post fertilization effects of artificial birth control- with that and any barriers limiting our marriage and lowering the dignity of the human person. Using NFP we are open to life even when we are avoiding pregnancy.
5. Increased communication– Natural methods involve attentive communication about charting signs of fertility and also our intentions in using the system. And if you can talk about "biological markers," you can talk about anything.
4. Easy to learn- With the help of a dedicated practitioner, Creighton Model System is easy to learn and easy to interpret. Checking for biological markers (cervical mucus) is as quick and easy as going to the bathroom. (No internal exams, no thermometers, no monitors. Just you and your toilet tissue).
3. Effective- 99.6% perfect use and 96.8% typical use effectiveness is a number we could really stand behind (Sorry oral contraceptives, 91% typical use is not gonna do it (Trussel 2011)).
2. Shared System- I observe, he charts, and we use the system together- because we always knew we were a great team.
1. There are possibly, I suppose, a few things my husband wishes he could change about me- my dangerous habit of using dish towels for ovenmits, my unbearable reliance on morning coffee, or perhaps my insistence to always sing the harmony to our favorite tunes– but my fertility is not one of them.
We believe in this system so much I am now not only a satisfied user but a proud FertilityCare Practitioner Intern out of the Pope Paul VI Institute in Omaha. NFP is a part of our Catholic lifestyle and is now my vocation and career.  Creighton has changed our lives and it's a privilege to share the good news about natural methods with other young couples.
Michele Boda, FCPI & Zachary Boda
Michele is a graduate of the University of Pittsburgh and John Cabot University in Rome. She lives in small town Butler, PA with super-husband, Zac. Wed in 2011, they love to talk to fellow young couples about the awesomeness of the Creighton Model System. Michele recently started her education as a FertilityCare Practitioner Intern in Omaha, NE at the Pope Paul VI Institute for the Study of Human Reproduction under the instruction of Creighton and NaProTechnology founder Dr. Thomas Hilgers. She is totally excited to share the system with you to make for healthier women and happier marriages! She can be reached at michele.a.boda@gmail.com or visit her blog: http://bodafide.wordpress.com/. 
www.creightonmodel.com
www.naprotechnology.com
www.fertilitycare.org to find a Practitioner near you!