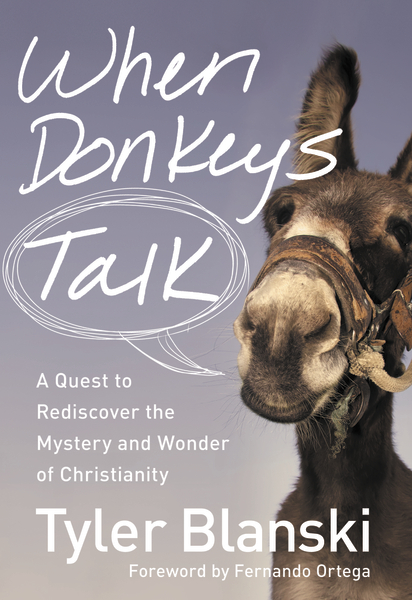 Soon after delving into Tyler Blanski's new book, When Donkeys Talk: A Quest to Rediscover the Mystery and Wonder of Christianity (Zondervan 2012), I knew I had found a kindred spirit. And it wasn't just because mutual friends kept showing up in the text: G.K. Chesterton, C.S. Lewis, Anne of Green Gables, Jane Austen, and even Martianus Cappella. You see, like Blanski, I have always been a medievalist at heart and there's not many of us haunting this modern world.
When Donkeys Talk begins with author Tyler Blanski, an Anglican writer and musician in Minneapolis, in a spot I was very familiar with: facing disillusionment with modern Christianity. He commits to a holy pilgrimage to find answers. As the book begins, I find myself begging, "please don't say you've got some new, progressive, and emergent idea figured out that 2,000 years of Christians have ignored"–a claim every 20-something who writes on theology seems to profess. But to my delight, he didn't say that at all! He does something far more exciting, wise, and humble: he journeys to the past.
In his quest for the true richness of Christian faith, I saw my own journey mirrored. As a little girl I devoured every book about Greek mythology and Camelot I could get my hands on and those worlds were alive to me. It wasn't that I was confused about reality, I knew the difference between myth and fact, but I was aware of the truth that I lived in an enchanted world. As I grew up I became more acquainted with modernity, but I never felt quite at home there.
As I developed a love for literature, no era fascinated me like the Middle Ages. From the Early Modern period and forward, it all seemed rather dull. When I finally read Max Weber in college, I discovered that this was due to a phenomena called "the disenchantment of modernity." After the Enlightenment, the physical world and the spiritual world simply didn't intersect. The supernatural did not touch the material. The world was not enchanted. There was nothing left to wonder at. There were no more mysteries.
This modern materialism infiltrated my theology. Was baptism really a big deal? My unbaptized, church-attending friends explained that it was just a symbol. "Why do I need to do it? I know what I profess in my heart," they said. "There's nothing magical about the water." Even Christianity ceased to be mysterious and fascinating. It was as vague as a cloud yet as cut and dry as a business meeting. I longed for something more but feared that I was being irrational. "No need to be superstitious. This modern Christianity is very progressive and factual," I told myself. It wasn't until I started reading the Church Fathers that I realized that my longings had a home. What I had been missing was the historical Church.
In grad school I wrote a paper about the disenchantment of modernity and modern artistic attempts to re-enchant the world, to see the world again with wonder. "The problem," my professor explained to me, "is that you have to be progressive, you have to do something new. You can't just go back to the Middle Ages to find the answer!"
Tyler Blanski steps up next to other modern medievalists like C.S. Lewis to respond with the brazen question, "And why not?" Why shouldn't we look back to a world saturated with the supernatural? Why can't we question modern materialism and instead encounter a sacramental world?
The delightful read really hits its stride in Part II when Blanski paints a picture of "Atomland," the world we inhabit with our often unexamined conceptions of modern materialism. With help from G.K. Chesterton, Wendell Berry, St. Augustine, and others, Blanski offers a mirror to show us the materialistic worldview we don't often realize we have embraced. Then Blanski juxtaposes this City of Man with the City of God, in which the physical and the spiritual are ever-intertwined. His pilgrimage leads him to examine what we have to learn from the God-bathed world of medieval Christianity. Since C.S. Lewis' The Discarded Image, I haven't read a book that presents the medieval mind in such an accessible way. His synthesis really is wonderful. I found myself saying, "Yes!" and reading passages out loud to my husband when I couldn't contain myself.
But how can we enter into this sacramental world of ancient Christianity? I applauded Blanski when he claims that one place to start is the liturgical year. I loved Blanski's description of how embracing holy time, setting our clocks by the Gospel, can direct us toward sacramental living. He writes, "In Christendom we celebrate the feast days of the saints, the holidays that retell the biblical narrative. Good Friday is our Memorial Day. Pentecost is our Independence Day…The Christian calendar invites us to escape the straitjacket of individualism and pluralism, and instead to get our orientation and sense of self in this larger story."
Blanski calls out for a "holy renaissance" in which ancient Christianity is reborn in our lives today. And it's a cry we need to hear because Christians always seem to be following in the footsteps of the disciples who, when accompanying Christ in the Garden of Gethsemane, failed to stay awake with Our Lord. Indeed, we are a people who are always falling asleep and we need to be reawakened. In addition to embracing the liturgical year, Blanski bids a return to the historical church's understanding of the sacraments of Baptism and the Holy Eucharist. His description is beautiful and rich and it's a message that would be accessible and inspiring no matter which Christian denomination you hail from.
As a former evangelical Protestant, I closely sympathize with Blanski's wondrous journey into the joy and richness of liturgy and Christian tradition. I see my story reflected in almost every page. But as a Catholic convert, I found myself asking, now that we have journeyed into the depths of historical Christianity, where do we go from here? Blanski gives us an itinerary for the beginning of our quest: holy time, holy sacraments. But there is so much more to be found. Blanski's holy pilgrimage seems to end just shy of the truths to be found in Roman Catholicism. His work points toward these truths, serving as a useful beacon to those only just setting out, and to those who have arrived at the final destination and have begun to make a home. 
I believe that the Church (note the big "C") has never lost touch with the truth that our world is enchanted by the presence of God. The water we dip our fingers in as we enter Mass is not merely a gesture or a reminder. It is itself holy, sacred. The Church never falters in its belief that the Holy Eucharist is truly the Precious Body and Blood of Our Lord, knowing as Flannery O'Connor fiercely put it, "Well, if it's a symbol, to hell with it." It's more than a symbol. It's heaven touching earth. When a holy renaissance awakens us to these truths, what path do we take? What adventure lies in store?
I was so inspired and reawakened to the beauty of our faith through this wonderful book and I would highly recommend it no matter where you are in your journey, interested in a pilgrimage, traveling through the dark ancient forests of Christianity, or ready to reach journey's end.
Disclosure: I was not compensated to write this review. I did receive a complimentary review copy and 5 giveaway copies of this book for my readers.