After explaining how we fast from Christmas music during Advent (and then turn up the jams during the Twelve Days of Christmas until Epiphany!), I get a variety of reactions including "Are you insane?" Well, probably. And "so, what DO you listen to during Advent?"  To be honest I am just now discovering "Advent music" instead of just abstaining from Christmas music and I have completely fallen in love with the haunting and hopeful liturgical music of the season. I can't wait to share it with you and I've even created an Advent playlist for your listening pleasure (at the bottom of the post)!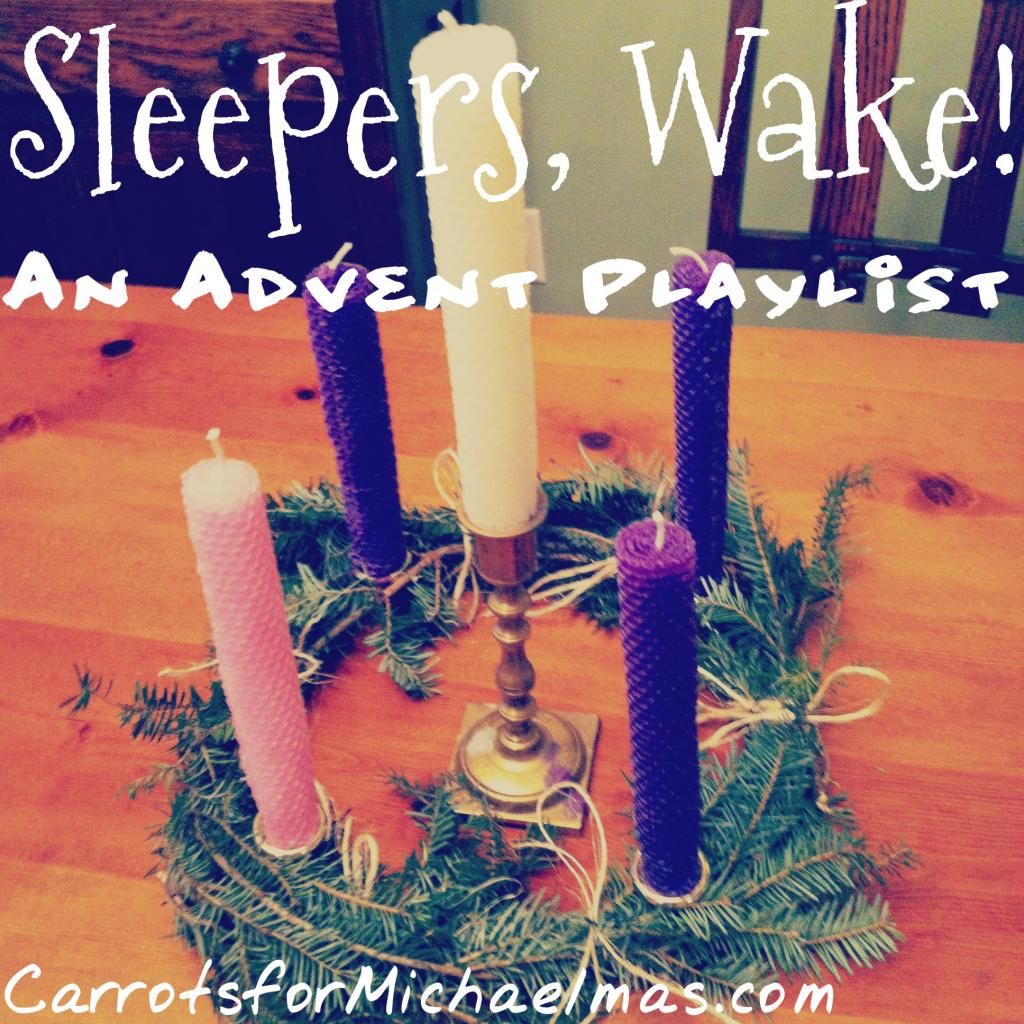 So, here's my guide to Advent music so that you don't have to play "O Come, O Come, Emmanuel" on repeat for several weeks until you're ready to blast "Joy to the World!" on Christmas morning.
First of all, you might discover, like I did, that some of your favorite "Christmas" tunes aren't actually Christmas tunes at all! "O Come, O Come, Emmanuel" and "Lo, How a Rose E're Blooming" have always been my favorites and behold! They're Advent songs, so you can jam out to them right here, right now!
Now, it's time to discover some Advent hymns you might not be familiar with. Maybe I'm the last person on earth to hear "O Come, Divine Messiah" but it's so beautiful and I am hooked! We've started singing it each night as we light our Advent candles. A great introduction to some traditional Advent songs is the Advent at Ephesus album. A reader first suggested it and then sweet Melanie of Trendy Traditions gifted me with the album and I haven't stopped listening to it! In the car, at the house, all the time.
Another Advent favorite in our household is Handel's Messiah. It's not all Adventy, there's some Christmasy parts and even Lenten and Easter sections but I love how it depicts the big picture of God's redemption which is an important idea to reflect on during Advent.
One of my most beloved Advent tradition is going to the community "Messiah Sing" with my mom every year. A couple hundred folks show up and create the chorus and amazing soloists take on the difficult solos. My mom and I have our own scores and we rock the Alto section. I took Lucy last year in the Maya wrap because she was still nursing every hour or so and I think I nursed her all the way through the Hallelujah Chorus.  I even flew home from Texas to attend with my mom when she was going through chemo for breast cancer. It was the best way I could think of to show my encouragement and support. Even though she felt crummy from her treatment, going together that year is one of my favorite memories and I'm more grateful each year to have the honor of sharing this tradition with her and the grace of her presence in my life.  So the Messiah is a big part of Advent for me.
I also saw some great Advent music inspiration from Christy from Fountains of Home and Abbey of Survivng Our Blessings. Great Advent suggestions and Abbey even included an Advent Playlist.
Here's my playlist of all my favorite Advent songs (and some songs that kinda sorta fit the theme even if they're not technically religious.) Enjoy! (You'll need Spotify to listen, but it's free and awesome so you'll thank me later.)
A few remarks on the Sleepers, Wake! Advent playlist:
"O Come, O Come Emmanuel" – Sufjan Stevens (This is my all-time favorite version of this song. I love Sufjan always and forever even though the Age of Adz tour made me want to cry and go back to listening to Seven Swans.)
"Come Thou Long-Expected Jesus" – St. Olaf Choral Ensembles (One of my favorite hymns. I didn't realize til recently it was an Advent song.)
"I Will Wait" – Mumford and Sons – (Waiting, Hope, Expectation….it's a stretch but it works, right?)
"Lo, How a Rose E'er Blooming" – Charlotte Church  (Again, one of my favorite hymns. I love Sufjan's version, too.)
"O Come, Divine Messiah" – Benedictines of Mary, Queen of Apostles (Currently my favorite Advent song. We are singing it when we light our Advent candles each night.)
"Til Kingdom Come" – Coldplay (OK, it's a reach but "For you, I'd wait 'til kingdom come.Until my day, my day is done. And say you'll come, and set me free…" It works, right?)
"Gabriel's Message" – King's College Choir (Classic Advent hymn.)
"Creator Alme Siderum" – Gregorian (Gorgeous.)
"The Man Comes Around" – Johnny Cash (Perfect for Advent. Perfect for anytime. I love you, Johnny Cash. If this doesn't get you fired up for Advent, I don't know how to help you.)
"Rorate Caeli" – Chant Meditation (Didn't know this one until trying to find Advent songs. So lovely.)
"Alma Redemptoris Mater" – Sequentia (Same story. I want a class on beautiful Church music.)
"People Look East" – The Girls Choir of Bath Abbey (One of the beautiful Advent songs that we actually sing at my parish. Wish there were more but I'm grateful this one is so good.)
"Comfort Ye" from the Messiah – Handel (This gives me chills.)
"Lo, He Comes with Clouds Descending" – Choir of St Edmundsbury Cathedral (Another classic.)
"Sleepers, Wake" – Bach (Didn't realize this was Adventy, but I've always loved it so I'm excited for another excuse to listen.)
"Rejoice, Rejoice, Believers" – St. Olaf Choir Ensembles (Who's ready for Christmas!)
What are your favorite Advent tunes?