Welcome to our first Little HolyDays link up and Happy New Year! No, I haven't gotten the months confused, it's the beginning of a new liturgical year. Yesterday was the first Sunday of Advent. Let's hope you were more organized than I and didn't spend part of your Sunday scrambling around looking  for your Advent wreath (don't worry! I found it!).
Anyhow, for our very first Little HolyDays link up (yay!) I wanted to share with you about what we'll be doing to celebrate the Feast of St. Nicholas on Dec. 6th. (The Little HolyDays link up is at the bottom).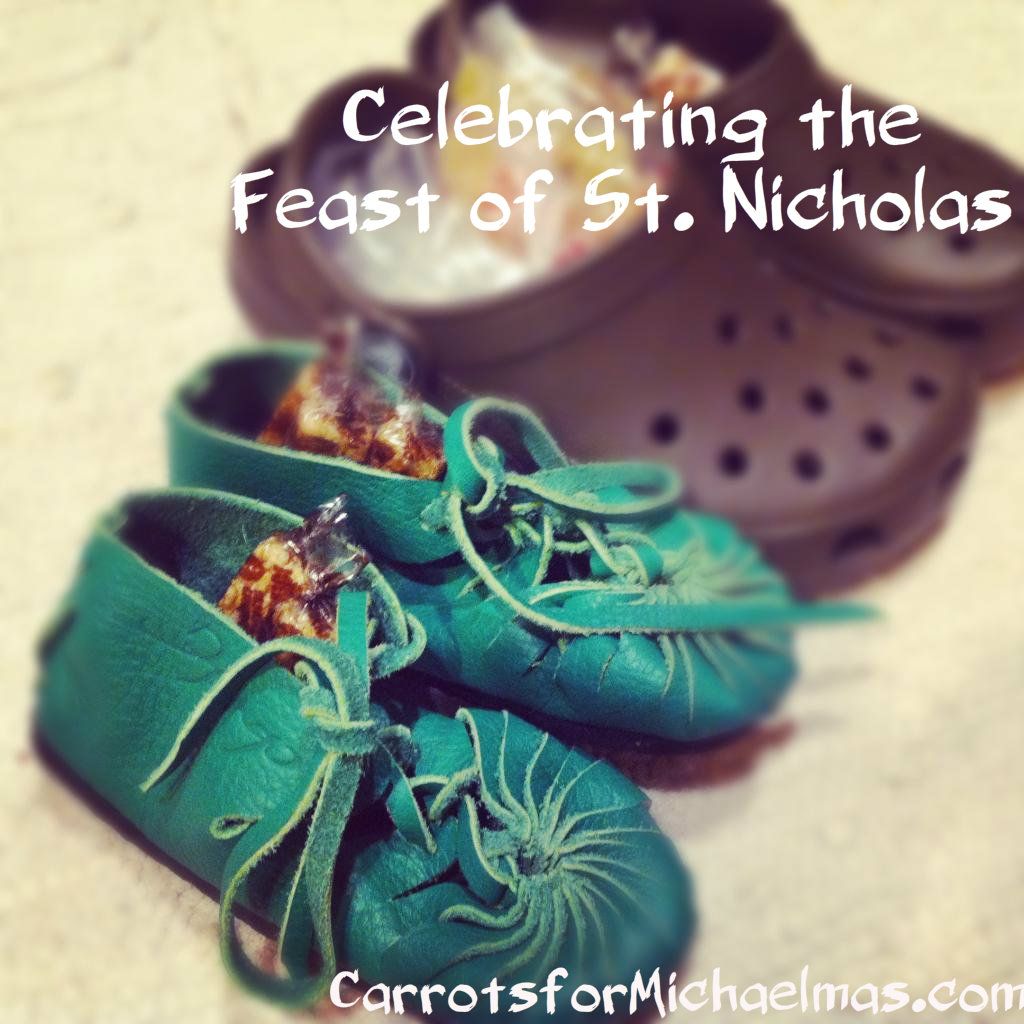 Until recently, I didn't know anything about St. Nicholas other than the fact that Santa Claus is his strange holiday descendant of sorts. When I did get to know St. Nicholas a little bit, he turned out to be a huge surprise. This ain't yo' grandma's saint! Well, I don't know your grandma. Maybe she has a great devotion to St. Nicholas. But what I'm trying to say is, St. Nicholas is nothing like his jolly, rosy-cheeked, red-suited, cookie-snarfing counterpart who is concerned with everyone's "niceness." In fact, I don't think St. Nicholas put much stock in "being nice" but he was a fighter for the truth—literally.  From examinations of this holy bishop's relics in Bari, Italy, it's clear that he sported a seriously broken nose. It appears to be broken multiple times and some legends even claim he grew up as a street fighter. We do know that he was kicked out of the Council of Nicea for punching the heretic Arias in the face. Arias was teaching that Christ was not fully divine and St. Nicholas just couldn't listen to another word.
Image from cantaur.blogspot.com
Fist raised and causing a riot. Jolly Old St. Nicholas, right?!
While I'm not advocating punching heretics in the face, (and he did get in big trouble for his violent act), I can't help but love St. Nicholas for his fiery passion for the truth. In case the face-punch tale has you convinced that St. Nicholas was a big jerk, let me tell you a couple more stories to reveal this saints courage and compassion. Upon hearing that three innocent men were going to be executed, St. Nicholas ran to the scene and demanded that the executioner put down his sword. The courage and authority of the saint halted the execution and the prisoners were freed. Or maybe the executioner heard about what happened to Arias. When St. Nicholas heard that a poor man's three daughters had no dowry to marry and would likely be forced into prostitution, he anonymously provided them each with a generous dowry. This may be how the tradition of giving gifts to children on St. Nicholas Day got started. I love St. Nicholas's passion and active love, even though it must have gotten him into trouble sometimes. I think his devotion to justice, truth, and charity is something that merits a big celebration.
At our house, we exchange gifts on St. Nicholas Day instead of Christmas Day. It's traditional to fill children's shoes with little presents and so we buy each child a new pair of shoes, fill them with little edible treats, and wrap up any other little gifties we're giving our little ones. Presents at our house are a simple affair, but we don't want them to be the focus of Christmas so we like enjoying them together on a different day. We do join my husband's family on Christmas Day to exchange gifts with them, but so far I think our kids enjoy being together with their extended family as much as the gifts. The presents themselves don't seem to take the spotlight off the meaning of the day. How do you arrange gift-giving in your Christmas traditions?
This year, as St. Nicholas Day falls on a Thursday, we'll try to attend the 7am Mass followed by presents and we'll end the day with a feast: Sparkling Pear Juice as a special treat for the kids (and this pregnant gal), Cranberry Chicken from this cookbook, fresh greens from our urban garden, and I'll try to create a gluten-free version of these traditional St. Nicholas Day spice cookies.  In general, our Advent is pretty somber: lots of vegetarian meals, simple soups, and quiet evenings. St. Nicholas Day is a bright spot in the First Week of Advent.
We don't really celebrate Santa Claus, although our kids know who he is and know that many families do Santa-related things during the month of December. And I don't think Santa is bad or that family's with special Santa traditions should give them up. But let's be real, in a contest for awesomeness, I think the generous, brave, face-punching saint is the clear winner. 
***********************************************************************
Now it's time for you to share your traditions!
We are three Catholic bloggers who love to observe the liturgical year to deepen our families' faith and build up the domestic church. We would love to hear about your family's celebrations and traditions! Please join us in "redeeming the time" in this Year of Faith by sharing your posts (old or new) about feast days, liturgical seasons, etc. in this new linkup. We are starting at the beginning of the Liturgical Year: The Season of Advent!
Some topics we would be excited to read about during the Advent and Christmas seasons are (but not limited to!):
Sustainability and Responsible Gift Giving/Food
Food & Recipes
Simple Holiday traditions, crafts and activities
Reflections on the seasons
Charity
Teaching and Learning  about the Christian Year with Children
This link up will be open until Thursday evening, December 6th. There will be a new link up open on Monday, December 10th, and we will highlight some of our favorite links from the previous week in the new post, and on a Little HolyDays Pinterest board.
For the three of us, this link up is a way in which we plan on exploring and deepening our Catholic faith, but we would really love to hear from bloggers of all denominations.
We welcome you to share your own feast, festivals, and celebrations that fall within each week of December.
As moderators of this link up, we will reserve the right to remove any offensive or off-topic posts as we see fit, in order to maintain a kind and positive atmosphere.
So, here's what you do:
1. Click the linky below to add your post to the Little HolyDays link up.
2. Add the Little HolyDays button (code below) to the bottom of your post so your readers can find the other great links!
3. Come back next week to see our favorite posts from the previous week and link up again.
We can't wait to read your posts and get inspired by your traditions!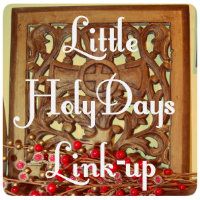 <a href="http://carrotsformichaelmas.com/2012/12/03/little-holydays-the-feast-of-st-nicholas/" title="Carrots for Michaelmas"> <img src="http://i1145.photobucket.com/albums/o515/Mollymakesdo/DSC_0740-1.jpg" width="200″ height="200″ alt="My Button" style="border:none;" /></a>
Powered by Linky Tools
Click here to enter your link and view this Linky Tools list…
(You won't see the links until you click through. Thanks for joining us!)